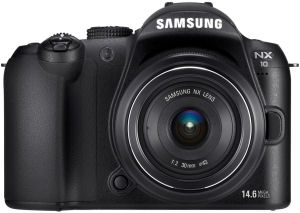 Samsung NX10
(Interchangeable lens camera)
Well, Samsung did it - they achieved two things today: being the first camera manufacturer to launch something new for the year 2010, and releasing the first (out of many to come) camera in the new mirrorless, interchangeable lens NX camera system. Let me introduce to you, the new Samsung NX10!
What makes the Samsung NX10 different is that it's a whole lot smaller than conventional digital SLR cameras, and roughly the same size as Panasonic's G1/GH1 cameras. That's been made possible by removing the mirror mechanism and optical viewfinder prism found in traditional SLRs. The NX10 features a 14.6 megapixel APS-C sized CMOS sensor, 3 inch display (along with a VGA resolution electronic viewfinder), full manual controls that you'd expect in a digital SLR and 720p HD movie recording capabilities. A more complete of specifications include:
14.6 megapixel CMOS sensor (2.0X crop factor)
New Samsung NX lens mount (see below for 3 announced lenses)
Dust reduction
3 inch high resolution AMOLED display has 514,000 pixels; promises better contrast ratio and viewing angles versus LCD
Electronic viewfinder has 921,000 pixels (VGA resolution), 0.86X magnification
On-board flash
Smart Auto mode simplifies automatic shooting; Smart Range feature improves dynamic range
Full manual controls with RAW mode and flash hotshoe
720p (1280 x 720 at 30 FPS) movie mode with sound; H.264 codec
Takes SD/SDHC memory cards
Uses a lithium-ion battery
Available this spring; exact price and availability to be announced
Samsung will also be releasing completely new lenses made specifically for the NX camera system (means that you won't be able to use any existing camera lenses with the NX10 at the moment). Unlike digital SLR makers like Olympus, Pentax and Sony which have in-body image stabilization, Samsung here is taking the same route as Canon, Nikon and Panasonic - with in-lens image stabilization (also known as optical image stabilization). As usual, the presence of optical image stabilization inside the lens is denoted by the "IS" in the name. The three lenses that they've announced today are a 18-55 mm f3.5-f5.6 IS kit lens, 55-200 mm f4-f.5.6 IS telephoto zoom lens and 30 mm f2.0 pancake lens. The Samsung NX10′s APS-C sized sensor means all lenses will be subjected to a 1.5X focal length crop factor.