With a "few" hours left till the official Canon announcement, a picture of the PowerShot G11 has just leaked out! Note the detail of the new camera (especially the swiveling LCD) and the new button design on the upper left corner on the back - this surely ain't a fake picture!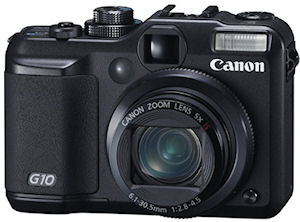 Here's a picture of last year's G10 for comparison's sake.
So here's the new PowerShot G11 is a prosumer camera… Canon seems to be backing out of the megapixel race with this camera since they probably know photo enthusiasts aren't easily fooled by insane, ever-increasing megapixel counts (usually accompanied by an increase in noise, decrease in burst speed and little to no 'real' resolution advantage). Canon has opted to fit the new G11 with a 10 megapixel sensor (versus 2008's G10 14.7 megapixel CCD), which will hopefully produce better images.


Update (almost forgot to include this; thanks for asking, Lloyd): The Canon PowerShot G11 will sport a 1/1.7 inch sensor.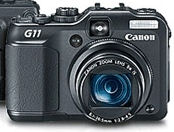 Canon PowerShot G11
(Prosumer compact camera)
10 effective megapixels
28 – 140 mm (f2.8 – f4.5) 5X optical zoom lens
Optical image stabilization
3 inch rotating LCD; optical viewfinder available
Full manual controls with RAW mode and hotshoe
Similar 'retro' body design to 2009's G10
30 FPS movie mode with sound
Takes SD/SDHC memory cards
Uses a lithium-ion battery
Available in fall 2009
RELATED NEWS: