After about two weeks of their 'Tap and Take' teaser campaign, Samsung finally took the wraps off three new touchscreen (as you might have guessed) cameras today. The main star of today is the new ST1000 AKA CL65, which features WiFi, GPS, Bluetooth, a huge, super high-resolution 3.5 inch touchscreen and a ton of other bells and whistles
The new ST500 AKA TL220 and ST550 AKA TL225 cameras are unique in other ways. They lack the three connectivity options of the CL65 but instead, feature dual LCD displays - a huge touchscreen on the back, and a smaller non-touch LCD in front (I wonder how they'll handle fingerprints). The front display can display things from 'fun animations' to attract the attention of children, live preview for self-portraits, a 'hey I'm gonna snap a picture' smiley face and a summary of the camera's main settings.
All three cameras announced today also feature Samsung's Smart Gesture user interface which allow input from both touchscreen and physical actions (which the camera detects using its accelerometer).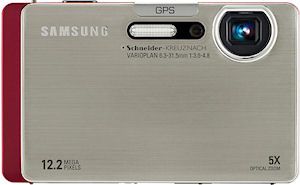 Samsung ST1000 AKA CL65
(Ultra-compact camera)
12 effective megapixels
35 – 175 mm (f3.6 – f4.8) 5X optical zoom lens
Optical image stabilization
3.5 inch touchscreen with an insane 1,152k pixels
Touchscreen user interface, the camera also supports gestures via its built-in orientation sensor
Built-in WiFi, Bluetooth and GPS connectivity allow for uploading, transfer/sharing and geotagging of photos
Face, blink and smile detection with face recognition and beauty mode
No manual controls
720p 30 FPS movie mode with sound
Takes micro SD/SDHC memory cards
Uses a lithium-ion battery
Available in September for $400
Comes in your choice of black, beige and red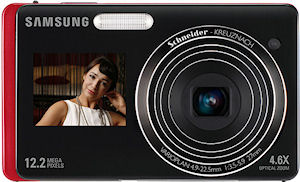 Samsung ST500 AKA TL220
(Ultra-compact camera)
12 effective megapixels
27 – 124 mm (f3.5 – f5.9) 4.6X optical zoom lens
Optical image stabilization
3.0 inch touchscreen (230k pixels) on the back; front 1.5 inch LCD (61k pixels)
Touchscreen user interface, the camera also supports gestures via its built-in orientation sensor
Face, blink and smile detection with face recognition and beauty mode
No manual controls
720p 30 FPS movie mode with sound
Takes micro SD/SDHC memory cards
Uses a lithium-ion battery
Available in September for $300
Comes in your choice of silver, red and blue
Samsung ST550 AKA TL225
(Ultra-compact camera)
Same main features as TL220 above but adds:
Increases rear LCD size to 3.5 inch touchscreen (1,152k pixels)
Comes in your choice of black, gold, orange and purple
Available in September for $350