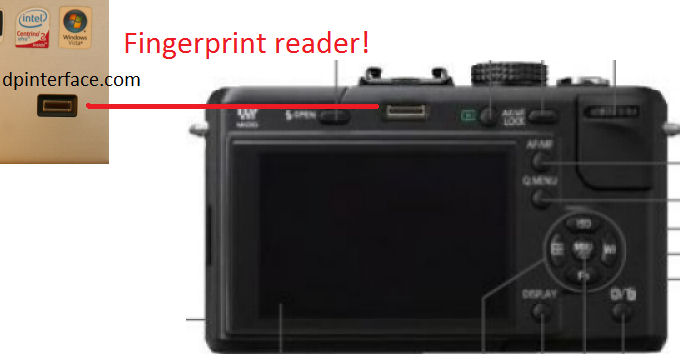 Click on the image for a larger view (and sorry, the camera pic had to be interpolated)
Well, I'm not really a big fan of covering leaks and stuff, but when I noticed much of the internet community talking about the Panasonic GF1 (which was leaked this evening) and the 'mysterious port/slot/piece/button thingy' below the hot shoe, I thought I'd chime in to help solve the puzzle. It's not a slot, it's not a button, IT'S A FINGERPRINT READER!
The instant I saw the rendered pictures of the camera, I just knew what it was - I simply looked down to the palmrest of my notebook and boom, the exact same thing! *Of course, it could just be an electronic connector for an electronic viewfinder or external microphone or to plug in that popcorn machine you saw at Walmart. Happy speculating! (I have no idea what's with the many cameras being leaked this summer, it's almost as if it has become a new norm; how disturbing)
Update: For our readers' sake, here's what's already known about the camera (you can also find this info elsewhere on the net)
It'll be called the Panasonic Lumix GF1
It's a Micro Four Thirds camera
There is an on-board flash, as well as a hotshoe for an external one
720p HD movie mode with mono sound; there's a dedicated movie button on the top of the camera
Two new lenses (20 mm and 45 mm primes) will be announced with the camera
Update 2: This is a speculation post. All the full juicy details available will have to wait until the camera becomes official on September 2nd!