I've just published my review of the Nikon Coolpix S710, a really high resolution compact camera with a wide-angle lens and large LCD. Be sure to check out full-sized photos taken straight out of the camera in the Nikon Coolpix S710 photo gallery too. Hit the link for the full review of the camera.
DPInterface Nikon Coolpix S710 Review
Brad Soo – March 19th, 2009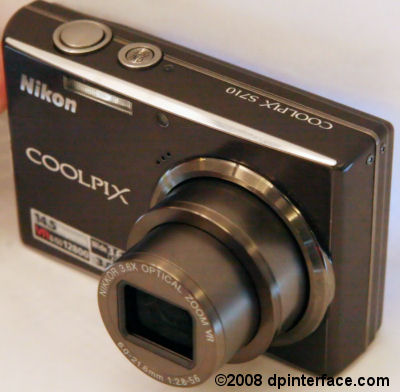 Five years ago, you would've been lucky to get a 4 megapixel compact camera. And five years later, now we're seeing 15 megapixel compact cameras with wide-angle lenses and full manual controls. That'll be the Nikon Coolpix S710. There's also a 3 inch LCD here, which is the biggest you can get on a 15 megapixel compact camera today.
The Nikon Coolpix S710 has to face competitors with very similar feature sets from the likes of Canon and Panasonic so let's find out how the Coolpix over here performs now.
Size and Weight
(186.8) 96.7 x 62.2 x 27.9 mm (160 g) - Canon PowerShot SD990 IS Digital ELPH
(174.6) 92.5 x 59.2 x 22.9 mm (163 g) - Fujifilm FinePix F60fd
(192.8) 89.5 x 64.3 x 39.0 mm (164 g) - Kodak EasyShare Z1485 IS
(163.0) 90.0 x 55.0 x 18.0 mm (145 g) – Nikon Coolpix S710
(175.5) 96.7 x 54.0 x 24.8 mm (151 g) – Panasonic Lumix FX150
(174.3) 94.9 x 59.5 x 19.9 mm (138 g) – Samsung TL34HD
(180.1) 94.3 x 59.0 x 26.8 mm (156 g) - Sony Cyber-shot W300
All the weight figures above show when the camera is empty without a battery or memory card
Nikon claims the Coolpix S710 to be the thinnest 14.7 megapixel currently in the market… and their claim proves to be true – the Nikon Coolpix S710 is the thinnest and also smallest of the bunch of high-resolution compacts in the list above. The camera is one of the lightest too, so you won't find it hefty or difficult to stuff in your pocket.
Box packaging
In the box, the Nikon Coolpix S710 comes with:
Rechargeable lithium-ion battery
Battery charger
Wrist strap
USB and A/V cables
Camera software CD
User's manual
The Nikon Coolpix S710 has only 42 MB of built-in memory so I'd recommend getting a memory card right away. The Nikon Coolpix S710 uses SD and SDHC (SD cards which are 4 GB and above) but not MMC memory cards (which are slower than their SD counterparts; no wonder Nikon didn't care about compatibility with them).
You should buy at least a 2 GB SD card with the camera or even better, a 4 GB or 8 GB SDHC – memory isn't expensive nowadays. The Nikon Coolpix S710 doesn't seem to benefit very noticeably from the use of high-speed memory cards; so it's up to you if you wanna get one (which may shave a few fractions of a second here and there).
280 shots - Canon PowerShot SD990 IS Digital ELPH
230 shots - Fujifilm FinePix F60fd
250 shots - Kodak EasyShare Z1485 IS
250 shots – Nikon Coolpix S710
330 shots – Panasonic Lumix FX150
200 shots – Samsung TL34HD
300 shots - Sony Cyber-shot W300
All the cameras above are rated with rechargeable batteries according to CIPA Standard
The Coolpix S710 uses the EN-EL12 rechargeable lithium-ion battery and comes with a battery charger. The Nikon Coolpix S710's 250 shot-per-charge battery life (CIPA Standard) falls just a tad short of the average battery life of 260 shots. Don't get me wrong, the Nikon Coolpix S710 is still capable of taking a lot of pictures on a single battery charge, just not as many as the offerings from Canon and Panasonic.
Accessories
Nikon offers very few accessories for the Coolpix S710: an optional AC adapter and various camera cases are all you can get.
Camera Tour
The Nikon Coolpix S710 is a plain looking camera which means no oddball or hippie designs here. The Coolpix S710 is made mostly of plastic (including the tripod mount) but is solid. Ergonomics wise, you'll get the standard affair with a compact camera here: big screen, few buttons on the back along with a rear control dial (which is easy to bump unfortunately). And like all other modern compact cameras, the Nikon Coolpix S710 comes in three colors: silver, red and black (it's more of dark gray than black actually).
The Nikon Coolpix S710 sports a 3.6X optical zoom lens equivalent to 28 – 101 mm with an aperture range of f2.8 – 5.6. Just a note: the competition from Panasonic and Samsung sport similar lenses. To keep up with them, the Coolpix S710's lens features a Vibration Reduction VR system, which is Nikon's term for optical image stabilization.
To the upper left corner of the lens rim is the Coolpix S710's microphone, and above that is the AF assist/self-timer lamp. Then there's the camera's flash unit. Nikon hasn't provide any numbers about its range but based on my testing, the flash power was comparable to the competing Panasonic FX150 and Canon SD990, and managed to reach around 11 feet in a few of my "people photo" tests.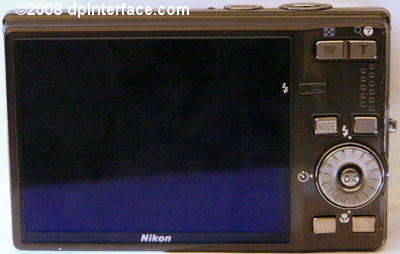 Turn the camera around and you'll find the camera's 3 inch LCD screen which is the largest you'll get on a 14.7 megapixel compact camera. The screen has a decent resolution of 230,000 pixels and brightens up nicely in low-light (though as expected, the display gets grainy and a bit choppy). Outdoors, the screen is viewable but not nearly as bright as I would've liked.
To the right of the screen are a row of buttons; thankfully they're not that cluttered and there's a little space for your thumb to go when holding the camera. The first of the buttons is the zoom rocker which controls the camera's lens and playback zoom. Pressing the "zoom in" button will also bring up a help tooltip when you're in the menu system.
Below that is an indicator light for the camera's flash charging status; followed by a mode button and playback button to directly access playback. The mode button will bring up a virtual on-screen mode dial where you'll get to select a shooting mode by rotating the rear control dial. Here are the modes available:
Full automatic
Program mode – All the settings are unlocked but the camera still decides exposure for you
Shutter priority – Select a shutter speed and the camera will automatically choose a matching aperture value
Aperture priority – Select an aperture value and the camera will automatically choose a matching shutter speed
Manual mode – All the menus are unlocked AND you get full control over shutter speed and aperture
Smile shot mode
High-speed burst
Scene mode
Auto scene selector
Audio recording
Movie mode
Setup mode
Below those two buttons is a combined navigation pad/rear command dial. You can press it in four directions as well as spin the dial to change settings, navigate menus and browse pictures. I wasn't happy with the loose feeling and lack of physical feedback on the rear dial of the Canon SD990 I reviewed last month. The one over here on the Coolpix S710 feels close to that, and though it has subtle (and I mean very subtle) clicks when you rotate it but that's still not enough, in my opinion, and the dial is still too easy to bump by accident. Right, let's move on to the navigation controls:
Up – Flash setting (Auto, auto with red-eye reduction, on, slow sync with red-eye reduction, off)
Down – Focus mode (Normal, macro, landscape)
Left – Self timer (Off, on)
Right - Exposure compensation (+/-2 EV in 1/3 steps)
Center – Main menu/Set
The last two buttons are the MENU button and delete photo button.

On the top of the camera are two buttons which are the power and shutter button… and that's about it, let's move on.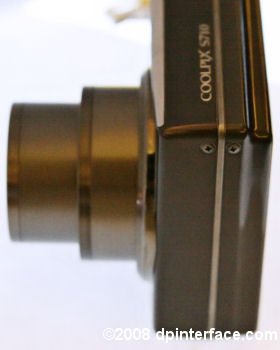 Nothing else to see here either…

Down here, you'll see a few things: the camera's speaker, connectivity port (the Coolpix S710 supports USB 2.0 High speed), plastic tripod mount and the battery/memory card compartment. The connectivity port is used for USB and A/V Out connections and has a rubber cover over it, while the battery/memory card compartment has a plastic door with a locking mechanism. The plastic door is average, it doesn't feel like it'll come off easily but you'd better treat it right too.
Taking pictures (Shooting mode)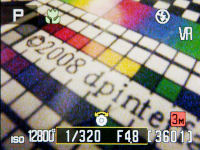 The Nikon Coolpix S710 displays shooting and exposure information on its display screen, and also has a zoom indicator but lacks a live histogram and battery indicator. A program shift feature in Program mode enables you to select different shutter speed/aperture combinations using the rear control dial.
The camera only takes photos in JPEG format; no RAW format here. There are several image resolution options available here, ranging from 14.5 megapixels, 8 MP, 5 MP, 3 MP, 1 MP, VGA and widescreen (11 MP or 2 MP). There are two image quality (compression) options available here: High and Normal, but this is only available for the highest setting which is 14.5 megapixels. If you choose another image size, you're stuck with "Normal" quality.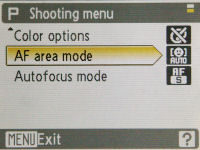 The Nikon Coolpix S710 has very few shooting options in its menu:
Picture size and compression
White balance
Metering mode (Evaluative, center weighted, spot)
Drive mode (Single shot, continuous)
ISO sensitivity (Auto, High Auto, 100, 200, 400, 800, 1600, 3200, 6400, 12800)
Color options
Autofocus area (Face detection, multiple, center)
Autofocus mode (Single, continuous)
The Nikon Coolpix S710 many ISO sensitivity options; you can select a setting yourself or let the camera do it for you. Auto ISO automatically selects between ISO 100 to 1600, while High Auto ISO will go up to ISO 3200. Another note is image size will be lowered to 3 megapixels if you select any of the last two manual options; ISO 6400 and ISO 12800.
There's also a Motion Detection feature here which automatically boosts ISO speed when there's a lot of subject movement to freeze action and also lowers ISO in static/low movement scenes. Other than that, there are the usual features Nikon usually touts on their cameras: Face-priority autofocus (face detection), in-camera red-eye fix and D-Lighting (brightens dark areas of your photos).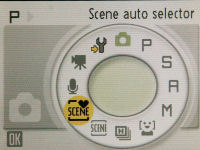 The Nikon Coolpix S710 features 16 scene modes, but in case you're not sure of which to choose (or too lazy to pick one), the camera can do it for you via its Scene Auto Selector mode, which does just what I sounds. For example, point the camera at a subject which is near the lens and the camera goes into macro mode; point it at a face and it switches to portrait mode.
The full list of scene modes available for the Nikon Coolpix S710 is: portrait, landscape, sports, night portrait, party & indoor, beach & snow, sunset, dusk & dawn, night landscape, close-up, museum, copy, backlight, food, fireworks and panorama.
Speaking of modes, the camera has macro mode which allows you to go as close as 10 cm. That may not sound as great as the macro modes of its competitors, but do note this 10 cm figure is with the lens positioned somewhere between wide-angle and telephoto… so it's closer than it sounds.
Video Recording
The Nikon Coolpix S710 has an unspectacular VGA movie mode. With the camera, you can record VGA (640 x 480) quality movies at 30 FPS with sound. There's a 2 GB per movie clip limit, which is about 30 minutes at the highest settings. You can also opt to lower frame rate to a choppy 15 FPS or resolution to QVGA (320 x 240) to extend recording times. The Coolpix S710 records movies in AVI Motion JPEG format like other Nikon compacts.
Zoom is unusable but you can activate image stabilization when recording movies. Video quality was decent but as usual, audio was out of sync. Why can't Nikon just fix this problem?! It's been around on all their compact cameras for years now!
.
Performance
All performance testing of the Nikon Coolpix S710 was performed using a high-speed 4 GB SanDisk Ultra II SDHC (90X) card.
The Nikon Coolpix S710 has a decent start up time of 2 seconds. Focusing is snappy, taking 0.2 to 0.4 seconds in bright light and 0.8 to 1.2 seconds in low-light. The camera managed to perform very well in low-light; not only could it manage to lock focus, but the Coolpix S710 never felt "unsure" either (ie, no focus hunting).
Shot-to-shot speed - 1 shot every 2.1 seconds, fast
Flash recharge time using a fully charged battery - 4 seconds on average
The Nikon Coolpix S710 has a full-resolution continuous shooting mode which snaps at a decent 1.4 frames per second, but things start to slow down after 10 photos. The camera also has a high-speed burst mode which can shoot at your choice of 4, 6 or a whopping 12 frames per second. The catch here is that resolution is lowered a lot (you can't shoot at a full blown 14.5 megapixels).
The Nikon Coolpix S710 moves its lens from wide-angle to telephoto in just 2 seconds, and a zoom indicator is shown on-screen as you operate the lens. The camera powers down with its lens at telephoto in 3 seconds.
All-in-all, the Nikon Coolpix S710 demonstrated generally good performance. Focusing and shot-to-shot were both quick; but the camera's full-res burst mode is limited (the competition can shoot at a constant frame rate till the memory card fills up).
Image Quality
Right, now let's find out how the Nikon Coolpix S710 does in the image quality department:

ISO 100 (f2.8, 1/8 sec)

ISO 200 (f2.8, 1/13 sec)

ISO 400 (f2.8, 1/25 sec)

ISO 800 (f2.8, 1/60 sec)
ISO 1600 (f2.8, 1/125 sec)
ISO 3200 (f2.8, 1/200 sec)

ISO 6400 (f4.8, 1/160 sec)

ISO 12800 (f4.8, 1/400 sec)
The first crop, at ISO 100, is clean. We already start seeing some noise at ISO 200 and by ISO 400, things get quite grainy already. As soon as you hit ISO 800 on the Coolpix S710, picture quality is already very noisy (worse than competing cameras). You won't be able to do much with the picture, even after cleaning up. You can practically forget about using anything above ISO 1600 because image quality becomes completely unusable then. Image resolution is lowered to 3 megapixels at the ISO 6400 and ISO 12800 settings.
.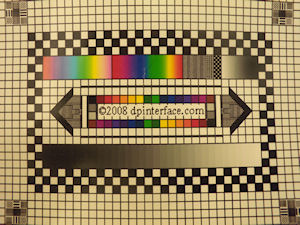 On the fortunate side of things, there's little lens distortion with the lens, and color fringing (chromatic aberration) and redeye are not issues. I did notice some edge softness though. What I can say here is that the Nikon Coolpix S710 is good in some areas (ie low lens distortion, redeye and fringing) but noise and edge softness let it down in terms of image quality. Image quality is so-so with noise levels higher than that on the competition. While you could use ISO 800 for emergencies on competing cameras, the setting on the Nikon Coolpix S710 is not usable.
Photo gallery
Wanna check out full sized photos from this 14.7 megapixel compact? Check out the Nikon Coolpix S710 photo gallery.
Playback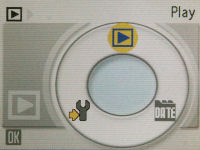 The Nikon Coolpix S710 has a pretty basic playback mode with functions like print marking, slideshows, voice clip recording, image protection and rotation. You can scroll through photos via the left & right buttons or rotating the rear dial, and magnify still photos by 16X and pan around using the 4 navigational buttons.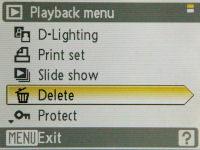 Pressing the MODE button in playback will bring up a virtual mode dial again; this time there are just three modes – normal playback, playback by date and setup. A Copy feature lets you move photos from the Coolpix S710's internal memory to your memory card. The D-Lighting feature will allow you to apply the same effect as in shooting mode to brighten dark photos (at the same cost of some added noise) while the Small Pic feature will create a small version of a photo that you can quickly post online.
Unfortunately, when it comes to playback info, the Nikon Coolpix S710 barely tells you ANYTHING about your photos. No exposure information, no histogram and close to zero shooting information.
Conclusion
The Coolpix S710 is Nikon's offering in the "compact super high-resolution" camera market. The camera features a whopping 14.5 megapixels, a 3.6X wide-angle zoom lens and the biggest screen in its class (measuring 3 inches). The Coolpix S710 is the smallest and lightest in its class, and also has the largest LCD. Unfortunately, the screen visibility outdoors isn't great and you'll have to make some effort in order to see the image. The camera also has comparably worse battery life versus the competition.
Like its competitors, the Nikon Coolpix S710 offers full manual controls. The thing it has over the competition is the availability of aperture and shutter priority modes (versus only a full manual mode). For a camera which offers full exposure control, one thing I find odd with the S710 is that it skimps in information display (the camera barely tells you anything about your photos, in neither playback nor shooting mode). In terms of taking pictures, the camera performs well in autofocus and shot-to-shot performance as well as has good image quality in some areas. The downside is that the camera's burst mode is a let-down and noise levels too.
Bottom line is the Nikon Coolpix S710 is a decent (not great) camera with full manual controls and image quality you can use as long as you stick to ISO settings below 400. It's the smallest, lightest 14+ megapixel camera on the market right now, with the largest LCD display and has "priority" modes in addition to the full manual mode. However, the camera compromises movie mode, burst mode, info display and noise/edge softness, so you might want to look at its competitors instead for more all-rounded performance.
What's hot:
Decent image quality till ISO 400, low fringing and distortion
Smallest and lightest super-high resolution compact at the moment
Large LCD
Good autofocus and shot-to-shot performance
Full manual mode, with aperture & shutter priority modes
What's not:
Noise levels are higher than competition
Lack of on-screen info in both shooting and playback modes
Control dial feels loose
Limited full-resolution burst mode
Movie issues: No HD movie mode, no zoom, audio is out of sync
Recommended Accessories:
2 GB or 4 GB high-speed SD/SDHC memory card