I've just posted my review of the Olympus FE310, a very simple entry-level camera (and cheap too). Also check out the Olympus FE310 photo gallery for full sized photos taken with the camera.
DPInterface Olympus FE310 Review
Brad Soo – December 1st, 2008
The Olympus FE310 is one of the many point-and-shoot cameras Olympus has released this year. In addition to the usual 8 megapixels and simplistic controls typical of an entry-level camera, the FE310 offers a bigger than average 5X optical zoom lens and Olympus' Perfect Shot Preview which let's you see the effects of various camera settings at one go. With so many choices in the market of compact cameras, read on to see how the Olympus FE310 stands up against the competition.
Size and Weight
(200.6) 104.8 x 55.1 x 40.7 mm (165 g) - Canon PowerShot A470
(196.4) 101.2 x 63.8 x 31.4 mm (160 g) - Canon PowerShot E1
(163.8) 94.2 x 54.6 x 15.0 mm (113 g) – Casio Exilim S10
(168.0) 91.0 x 55.0 x 22.0 mm (110 g) - Fujifilm FinePix J10
(167.7) 92.0 x 56.5 x 19.2 mm (116 g) - Kodak EasyShare M883
(163.0) 90.0 x 55.0 x 18.0 mm (145 g) – Nikon Coolpix S210
(185.2) 93.0 x 61.7 x 30.5 mm (116 g) - Olympus Stylus FE310
(192.8) 97.5 x 62.0 x 33.3 mm (141 g) - Panasonic Lumix LZ10
(182.0) 98.0 x 59.0 x 25.0 mm (130 g) – Pentax Optio E60
(170.1) 91.4 x 58.4 x 20.3 mm (110 g) – Samsung SL201
(181.5) 91.4 x 61.0 x 29.1 mm (140 g) - Sony Cyber-shot S730
All the weight figures above show when the camera is empty without a battery or memory card
The Olympus Stylus FE310 is not a particularly big camera but not as small as others either. The camera uses 2 AA batteries which is why it isn't "ultra-slim". The camera will fit into your pocket but using a belt holster or putting the camera in a case would be easier.
Box packaging
In the FE310's box, you'll find these:
2 AA alkaline batteries
Wrist strap
USB and A/V cables
Camera software CD
User's manual
The Olympus FE310 has a mere 20.5 MB of internal memory which is why you need to buy at least a 1 GB or 2 GB memory card with the camera. The Olympus FE310 uses xD-Picture cards only and does not come with an adapter for microSD cards.
The Olympus FE310 uses two AA batteries for power. The included batteries are alkaline and non-rechargeable. Olympus says they'll last for about 120 shots (CIPA Standard) before you'll need to throw them away.
Accessories
As a low-end budget camera, the Olympus FE310 isn't compatible with a lot of accessories; various camera cases, 'premium' colored wrist straps and a silicon case for the camera.
Camera Tour
In my opinion, the Olympus FE310 looks very stylish for an entry-level camera, though it isn't very slim since the camera uses AA batteries – something that cannot be helped in cameras that use AA batteries. The FE310 is mainly constructed using plastic with some metallic accents; the camera is comfortable to use and doesn't feel cheap in hand. The FE310's shape is curved upwards slightly towards the right hand grip so you can get a good hold of the camera.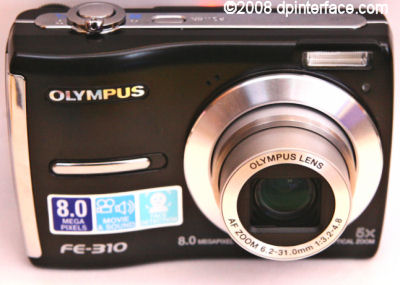 The front of the Olympus FE310 features its 5X optical zoom lens, which as I mentioned, is more than average for a camera with a sub-$100 price tag. The lens is equivalent to 37 – 185 mm and has an aperture range of f3.2 – f4.8.
To the upper right of that lens is the FE310's self-timer countdown lamp and the flash unit. The flash has a range of 20 cm to 4.7 m at wide-angle which sounds fairly powerful. Do note, however, that's only at maximum ISO which may introduce more noise into your photos, and the flash is less effective when used at telephoto. The camera's microphone is located to the top left of the outer lens rim, represented by the two little holes.
The Olympus FE310 has a 2.5 inch LCD with 154,000 pixels. That isn't too high in resolution but the difference is unnoticeable most of the time. Above the LCD are two buttons for the camera's modes: left button for shooting mode and the right one to enter playback light. The indicator light between the two buttons glows solid red in shooting mode and yellow for playback mode. When the light blinks, it shows the camera is processing a file.
The upper corner of the camera, where your right thumb goes, is the FE340's mode dial. The mode dial has the following modes available (going clockwise):
Program
Digital image stabilization
Portrait
Landscape
Scene modes
Shooting guide
Movie mode
Automatic
Directly below that is the DISPlay button which toggles the information shown on the FE310's LCD display and also doubles to bring up a help screen in menus. Next up is the five-way controller used for menu navigation, browsing pictures and quick access to some settings:
Up – Exposure compensation (+/- 2 EV in 1/3 steps)/Print marking in playback
Down – Self-timer for 12 seconds (Off/On)
Left – Macro mode (Off, macro, super macro)
Right – Flash setting (Off, on, auto, on with red-eye reduction)
Center - FUNCtion button lets you quickly access just ISO (80, 100, 200, 400, 640) and image size/compression.
The Olympus FE310 has two macro modes. The normal macro mode allows you to go in as close as 20 cm while super macro mode reduces the minimum focusing distance to just 5 cm.
The final two buttons are the MENU button (self-explanatory) and the backlight boost button which turns up the LCD display brightness in shooting mode, so you can see what you're framing outdoors. This Brightness Boost also doubles to delete photos in playback mode.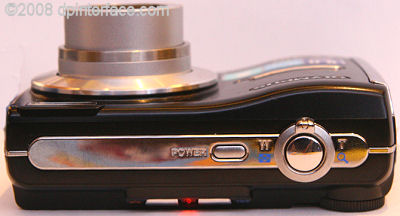 On the top of the Olympus FE310, you'll find nothing else other than the camera on/off button and shutter button with a zoom controller wrapped around it.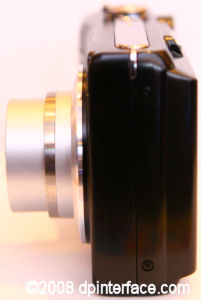 There's nothing on one side of the Olympus FE310…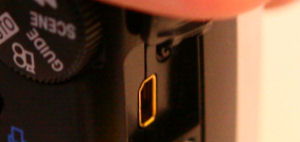 …while the wrist strap mount and connector port for USB and A/V Out are located on the right side.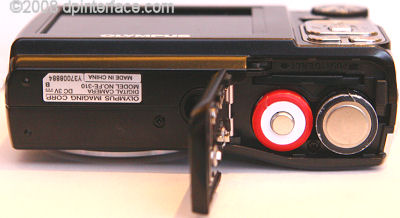 At the bottom of the Olympus FE310 is a plastic tripod mount and battery/memory card compartment. Because of the location of the tripod mount, you obviously can't swap memory cards and batteries while the camera on a tripod.
Taking pictures (Shooting mode)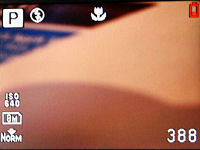 The Olympus FE310 doesn't show much information on its display – shooting settings, mode, a simple battery indicator and remaining pictures are all you will get. Nope, there's no live histogram or exposure information shown on the camera's screen.
You can select a range of image resolutions from 8 megapixels, 5 megapixels, 3 megapixels, 2 megapixels, 1 megapixel, VGA or widescreen 2 megapixels; along with two compression options.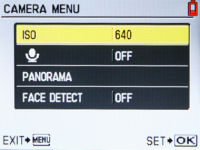 In the camera's main menu, you can toggle face detection, voice recording or activate the camera's panorama mode. There are thirteen scene modes available on the Olympus FE310: Portrait, landscape, night portrait, sports, indoor, candle light, self-portrait, sunset, fireworks, behind glass, cuisine, document and auction. Face Detection and Perfect Shot Preview are both available on the Olympus FE310 too.
The Olympus FE310 has no manual controls at all, not even any preset white balance modes! Aside from setting ISO yourself, you're stuck with the scene modes or auto mode where the camera makes all the decisions. There's no CCD or optical image stabilization here either so the usefulness of the 5X lens is limited to outdoor/bright conditions, or else you'll have to lug along a tripod with you.
Video Recording
The Olympus FE310 has a below average VGA movie mode with sound which records at a choppy 15 FPS. Reducing resolution down to QVGA (320 x 240) doesn't help matters much either as the camera still records at 15 FPS. You can't use zoom or focus while recording a movie clip. Unless you record subjects that don't move much, you won't quite appreciate the choppiness of the FE310's movie mode.
Performance
All performance testing of the Olympus FE310 was done using a 1 GB Type M Olympus xD-Picture card.
The Olympus FE310 is fairly quick to extend its lens and boot up – that takes about 2.2 seconds. Focusing is just average in well-lit conditions, clocking speeds of 1/3 to a second on average, and is terrible in low light since the camera struggles to focus without an AF assist lamp.
Shot-to-shot speed - 1 shot every 3.2 seconds, a tad below average
Flash recharge time using a fully charged battery – Usually around 7 seconds
Like some other low-end models I've reviewed, the Olympus FE310's shot-to-shot speed is slow because of writing times to the memory card and the fact the camera prevents you from taking another picture while the camera is busy. And the fact that the FE310 has no burst mode whatsoever doesn't help much either.
The camera is able to move its 5X zoom lens to telephoto in a fairly quick 2 seconds while power on takes a tad over 2 second with the lens at full-zoom. Other than the decent start up time of the camera, you can obviously tell the Olympus FE310 is not a speed demon, but instead a below average performer.
Image Quality
And now, it's time for image quality tests with the Olympus FE310:

ISO 80 (f3.3, 1/8 sec)

ISO 100 (f3.3, 1/10 sec)
ISO 200 (f3.3, 1/20 sec)

ISO 400 (f3.3, 1/50 sec)

ISO 640 (f3.3, 1/80 sec)
The Olympus FE310 takes fairly good pictures throughout most of its ISO range. Pictures are clean, as expected, at ISO 80, ISO 100 and ISO 200. At ISO 400 there's more noise but the camera is still able to produce decent quality photos up till its max ISO of 640.
There is some redeye in the FE310's photos but little of lens distortion and chromatic aberration (color fringing). It's quite a shame actually that the FE310's image quality is good but its picture taking performance and features in other areas are quite mediocre.
Photo gallery
View full-sized photos in the Olympus FE310 photo gallery!
Playback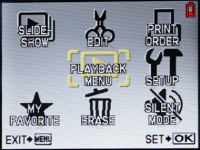 In case you haven't noticed, everything about the FE310 is 'simple'; and the playback mode isn't any different. You can view photos and videos in playback while the only playback functions are image rotation, resize, cropping and print marking. A simple slideshow mode is also available. Photos can be enlarged up to 10X so you scroll around using the five direction controller.
Images can be displayed as single photos, in thumbnail sets of four, nine, sixteen or twenty-five (tiny) thumbnails and also by date via a calendar view. You can tag photos as "My Favorites" as well so you can access them quickly.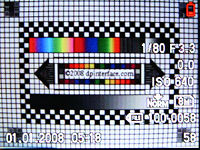 The information that the Olympus FE310 displays about your photos includes exposure and shooting details, which is good enough for most people. You won't see a histogram here, however.
Conclusion
The FE310 is a simple entry-level model from Olympus which features only the 'basics' of a digital camera. As you'd expect from a low-end camera, the FE310 is strictly point-and-shoot with its large, usable LCD paired with many scene modes and a shooting guide built into the camera. Heck, there aren't even any preset white balance settings on this camera to choose from! The only setting you can change is ISO, whose range is from 80 - 640.
Despite its low price tag and very decent image quality up to ISO 640 (which is a good thing), the Olympus FE310 has too many compromises in other areas to deserve a recommendation from me (ie battery life, performance, movie mode, lack of anything other than scene modes… whoa it doesn't even have a burst mode!) which is quite a shame. There are some very capable cameras in the sub-$100 price range (without so many compromises too), but the FE310 is not one of them.
What's hot:
Decent looking design with 5X lens and simple controls (perhaps too few controls?)
LCD viewable in various conditions (Especially with backlight boost)
Many scene modes available
Helpful built-in guide and help system
Good image quality up to ISO 640

What's not:

No manual controls; even white balance is fixed to 'auto'
Below average battery life
Poor movie mode
Burst mode is nowhere to be found
Below average performance; poor low-light focusing and slow operation
Redeye in photos and no optical image stabilization
Recommended Accessories:
2 GB microSD/xD-Picture card
Set of 4 AA rechargeable batteries and a charger