Here's my review of the Olympus Stylus 840; a stylish 8 megapixel camera with 5X zoom. Oh, and be sure to check out the Olympus Stylus 840 photo gallery too. Hit the jump for the full review of the camera.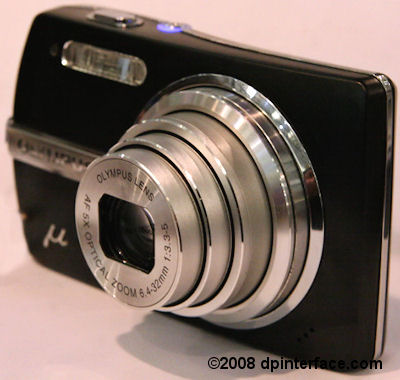 Another one of those stylish Olympus cameras that made its way into the market this year is the Olympus Stylus 840. The line of wedge-shaped compact cameras by Olympus has come a long way since I took a look at them a few years back - we now have all the modern bells and whistles like face detection, more scene modes than ever and a large bright LCD. Is the Olympus Stylus 840 a point-and-shoot camera that's worth considering? You're about to find out now.
The Olympus Stylus 840 is also known as the Olympus mju 840 in other parts around the world.
Size and Weight
(163.6) 86.8 x 54.8 x 22.0 mm (125 g) - Canon PowerShot SD1100 IS Digital ELPH
(160.4) 86.0 x 54.0 x 20.4 mm (130 g) - Canon PowerShot SD770 IS Digital ELPH
(160.4) 89.7 x 51.7 x 19.0 mm (100 g) – Casio Exilim Z85
(174.1) 96.7 x 57.3 x 20.1 mm (126 g) – Casio Exilim Z150
(167.7) 92.0 x 55.7 x 20.0 mm (150 g) - Fujifilm FinePix Z200fd
(172.2) 93.7 x 57.8 x 20.7 mm (126 g) - Kodak EasyShare M1033
(179.5) 97.5 x 60.0 x 22.0 mm (145 g) – Nikon Coolpix S60
(176.9) 96.4 x 56.5 x 24.0 mm (130 g) - Olympus Stylus 840
(174.3) 93.0 x 62.0 x 19.3 mm (152 g) - Olympus Stylus 1050SW
(170.8) 94.9 x 53.4 x 22.5 mm (119 g) - Panasonic Lumix FS5
(168.6) 94.7 x 51.9 x 22.0 mm (125 g) - Panasonic Lumix FX37
(180.4) 99.0 x 56.0 x 25.4 mm (145 g) – Pentax Optio W60
(165.8) 93.6 x 57.2 x 15.0 mm (126 g) - Sony Cyber-shot T77
(174.7) 94.0 x 59.3 x 21.4 mm (151 g) - Sony Cyber-shot T300
The Olympus Stylus 840 is not a very hefty camera as you can see. Checking in at 130g, it's about as light as a high-end mobile phone. In terms of size, the Stylus 840 is small as well – don't look too much at the numbers over here, the Stylus 840's weird shape makes it sound bigger than it really is.
Box packaging
Open up the camera box and you'll find these along with the Olympus Stylus 840:
LI-42B rechargeable lithium-ion battery
Battery charger
microSD to xD-Picture card adapter
Wrist strap
USB and A/V cables
Camera software CD
User's manual
Not many digital cameras nowadays come with a lot of internal memory and the Olympus Stylus 840 is no exception. The Olympus Stylus 840 comes with a petty 14.8 MB of internal memory. My recommendation here is, as usual; get at least a 2 GB memory card with the camera.
The Stylus 840 supports xD-Picture cards natively and is also able to use microSD/microSDHC memory cards as well via the included adapter. It might be a better idea to start using microSD cards with the camera, unless you already have some xD-Picture cards on hand; the reason being microSD's are more widely used (in electronic devices such as mobile phones) and available in capacities up to 16 GB (versus 2 GB for xD cards).
In terms of battery life, the Stylus 840 doesn't fare that well compared to most of the competition – most cameras do about 25-50% better than "just" 190 shots:
240 shots - Canon PowerShot SD1100 IS Digital ELPH
300 shots - Canon PowerShot SD770 IS Digital ELPH
240 shots – Casio Exilim Z85
280 shots – Casio Exilim Z150
170 shots - Fujifilm FinePix Z200fd
275 shots - Kodak EasyShare M1033
140 shots – Nikon Coolpix S60
190 shots – Olympus Stylus 840
200 shots – Olympus Stylus 1050SW
300 shots - Panasonic Lumix FS5
310 shots - Panasonic Lumix FX37
205 shots – Pentax Optio W60
220 shots - Sony Cyber-shot T77
260 shots – Sony Cyber-shot T300
*All the battery life numbers above are rated according to CIPA Standard.
Extras
In terms of accessories, there's a waterproof case available for the Olympus Stylus 840 which allows you to bring the camera deeper into water – up to 40 meters, compared to without the case. There are also various camera cases, including one which allows you to attach the camera to your arm, and an AC adapter too.

Camera Tour
Appearance wise, the Stylus 840 is a stylish camera and "potato wedge shaped" (it slants and becomes thinner to one side). This surely makes the camera easier to hold. Speaking of ergonomics and usability, the Stylus 840 also has a built in help system and very simple (but a little tight for some) controls. Build quality was acceptable as a compact cameras but let me note the camera is no longer weatherproof. I'm saying this because previous Stylus cameras have been weatherproof (ie the camera is better protected from the elements like dust, compared to other cameras) and this one is not.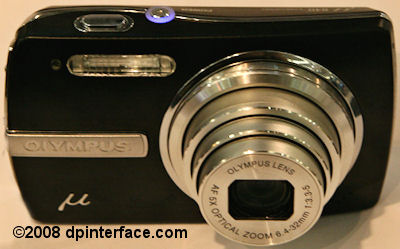 The Olympus Stylus 840 has a 5X optical zoom lens equivalent to 36-180 mm. That's better than most cameras this size which only have 3-4X zoom lenses. The lens isn't particularly fast with an aperture range of f3.3 to f5.0, but there's sensor-shift stabilization here to help a little in low-light (but not action) shots.

It's not very visible here but to the bottom right of the lens is the camera's microphone unit, used for recording sound in playback and movie modes. To the upper left of the lens is the internal flash of the Stylus 840 and also a self-timer countdown lamp. The flash is bordering the 'below average' mark, with a range of 20 cm to 3.6 m at wide-angle and 60 cm to 2.4 m at telephoto.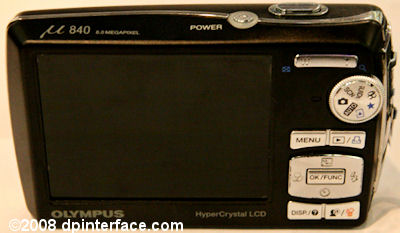 Turn around to the back and you'll see the Stylus 840's 2.7 inch LCD display. It has 230,000 pixels and is really sharp. Visibility in low-light and outdoors were both good since the display brightens up in those conditions. To the right of the LCD display, there's a zoom controller, the mode dial and an empty area for your thumb to go when holding the Stylus 840. Here is what's on the camera's mode dial; we'll start with the mode marked with "AUTO" on the dial and go clockwise:
Auto mode
Shooting mode – essentially program mode where you can decide and change everything except shutter speed and aperture
Scene mode – select one of the scene modes available, and there are many:
Guide – A guide which gives useful tips on taking better pictures. It's almost like an in-camera user's manual which is simple to understand.
Movie mode – Record VGA videos at 30 FPS, more on movie mode in the dedicated section in this review
Favorites – Essentially like a photo album: Select and view your 'favorite' photos
Playback mode – Browse through photos you've taken
Next, we'll cover the rest of the buttons on the back of the camera and the 5-way controller. These buttons aren't the easiest to press, especially if you have large hands (and fingers). The MENU and playback/print marking buttons on above while to the bottom of the five way controller are the DISPlay button (which toggles the information you see on the LCD display) and a button to toggle Shadow Adjustment. The DISPlay button also serves to bring up the help menu in menus and the Shadow Adjustment button also deletes photos in playback mode.

Shadow Adjustment brightens dark areas of your photos at the cost of increased noise in your photos. It seems that such a feature is all in the rage nowadays, coming under many different names (such as D-Lighting for Nikon cameras), but basically, they all do the same thing. And now, we'll move to the five-direction controller, each with their respective short-cut functions in shooting mode:
Up – Exposure compensation (+/- 2 EV in 1/3 increments)
Down – Self-timer (On/off)
Left – Macro mode (Off, macro, super-macro)
Right – Flash setting (Auto, auto with red-eye reduction, on, off)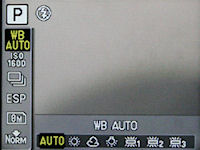 The center button acts as a 'confirm' button for the usual menu item selection and settings. It also brings up the FUNCtion menu, which lets you quickly change a handful of important camera settings, namely white balance, ISO sensitivity, drive, metering, image size and quality.
The top of the Stylus 840 features an on/off button for the camera and a shutter button to take pictures. One side of the camera is blank, but over here you can see a stylish wavy chrome line across the top of the camera.
The right side of the Stylus 840 features a wrist strap eyelet, speaker as well as a single port covered by a sealed door. This port is used to connect the Olympus Stylus 840 to your computer, printer or television via the supplied in-the-box cables.

Under the Olympus Stylus 840 are the battery/memory card compartment and a tripod mount.
Taking pictures (Shooting mode)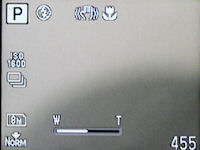 The Olympus Stylus 840 has a fairly simple display of information on its screen – there's no battery indicator or live histogram here but you do get a zoom indicator, some shooting details and exposure info. Hitting the menu button on the camera brings up a grid of submenus, some settings are actually accessible via the FUNCtion menu, but they're here as well in case you can't find them:
Image quality – Set the camera's image quality (You can do this via the FUNCtion menu).
Reset – Performs a reset so all settings will be restored to their default values.
Camera menu – Change settings on the camera, there's everything from the Function menu here as well as other things like focus mode and you can also turn on digital zoom too (not that you'd want to).
Setup menu – Set the date/time, language, screen brightness, etc.
Panorama – The camera sets itself up to guide you to take up to ten photos so they can be combined into a single large 'stitched' photo. A 'combine on camera' option does the same thing for up to 3 shots but saves you the hassle of stitching it later on the computer. An Olympus-branded xD-Picture card is required for panorama.
Scene mode – Pick another scene mode (only available when using the scene mode spot on the dial)
Silent mode – Turns off all the camera sounds; great when taking photos during a presentation or play
You can select a range of image resolutions from 10 megapixels (with a widescreen 16:9 setting) to VGA with two compression options. The widescreen image option shoots at 1080p resolution (1920 x 1080) which is essentially two megapixels and enough to fit your television perfectly. Other image resolution options available in between include 5 MP, 3 MP, 2 MP, 1 MP and VGA.
The Olympus Stylus 840 features a "Fine Zoom" option, another feature found on many compact camera recently. Fine Zoom enables you to extend your zoom range by using reduced resolution. Instead of digital magnification (Which lowers image quality) when using digital zoom, Fine Zoom is a cropping feature which seemingly brings you closer to your subject.
The Olympus Stylus 840 also has Perfect Shot Preview which lets you preview various photo effects and make changes to achieve the desired effect before taking a photo – it's really useful, saving the time and hassle needed to take multiple photos and sort thru them.
There are two macro modes available on the Olympus Stylus 840. Regular macro mode lets you go as near as 20 cm to a subject, while super macro mode reduces that distance to a nice 3 cm.
For your shooting pleasure, the Olympus Stylus 840 has about twenty scene modes: Portrait, landscape, landscape+portrait, night scene, night portrait, sports, indoor, candle, self-portrait, available light portrait, sunset, fireworks, cuisine, behind glass, documents, auction, shoot & select (two modes here), beach, snow, underwater snapshot and 2 underwater wide modes. Face Detection is here too.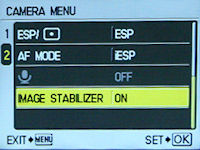 Other camera settings you can adjust on the Stylus 840 include:
White balance (Auto, daylight, overcast, tungsten, 3 fluorescent presets)
ISO speed (Auto, 64, 100, 200, 400, 800, 1600)
Metering method (ESP, spot, Face Detect)
Autofocus mode (iESP, spot center, Face Detect)
4 second audio narration for each picture (On/off)
Image stabilization (On/off)
There's sensor-shift image stabilization available on the Stylus 840 but no further options. You can only turn it on when snapping daily photos and off if the camera is already on a stable surface (like a tripod).
Video Recording
The Olympus Stylus 840 features a pretty standard 30 FPS VGA movie mode with sound. There's nothing much to say about the movie mode. You can record longer clips by reducing the resolution to QVGA (320 x 240), cutting the frame rate by half (15 FPS) or both. Nothing else, you can't use autofocus or zoom while recording.
Performance
The Olympus Stylus 840 has a fairly quick start up time of 1.4 seconds, including the time needed to extend its lens. Autofocus was snappy in general, taking about 1/5 to 1/3 seconds to focus in bright to fairly bright conditions. In low-light however, the camera had a lot of trouble to focus – it couldn't focus at all in most cases.
Shot-to-shot speed - 1 shot every 2.2 seconds, about average
Flash recharge time using a fully charged battery - 7 seconds on average
There's just a little shutter lag when using the camera in dark places, but otherwise, it's not an issue. Like its other siblings, the Olympus Stylus 840 has two burst modes. One does full resolution photos at around one frame per second while a high-speed mode shoots at about 7 frames (albeit at 3 MP) for up to 10 photos.
For a camera with a large-ish 5X zoom lens, the Stylus 840 moves its lens from wide-angle to telephoto really quickly in just a little over a second, and powers down in about two seconds, with its lens at full zoom.
Image Quality
Let's have a look at the Olympus Stylus 840's image quality:


ISO 64 (f3.3, 1/5 sec)


ISO 100 (f3.3, 1/8 sec)


ISO 200 (f3.3, 1/15 sec)


ISO 400 (f3.3, 1/30 sec)

ISO 800 (f3.3, 1/60 sec)


ISO 1600 (f3.3, 1/125 sec)
Noise is generally low at ISO 64 and ISO 100. At ISO 200, noise increases slightly, though you'll find image quality still good for display on your computer, digital photo frame and decent letter sized prints until ISO 400. At ISO 800 image quality starts going south with more noise and at ISO 1600, I think it's unusable. Chromatic aberration (color fringing) levels were low and only noticeable in the most extreme of cases. Redeye did appear in photos and so did some vignetting, both are expected on a small camera with a big zoom lens.

Photo gallery
Check out more photos in the Olympus Stylus 840 photo gallery!
Playback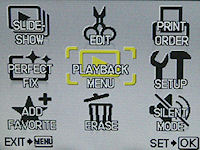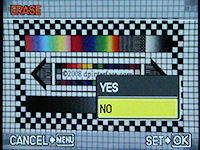 The Olympus Stylus 840 has a rather simple playback mode. There's image rotation, slideshow and some editing features (Perfect Fix from shooting mode), image protection, print marking, voice clip recording and the ability to tag photos as your favorites. You can magnify still photos by 10X and take a look around using the 4 arrow buttons.
There are also several ways you can view your images: as single photos, thumbnails of four, nine, sixteen or even twenty-five and also by date in calendar view.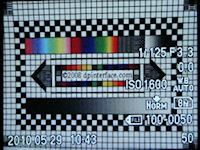 The camera does show you everything you need to know about your photos here; exposure info, shooting details and all.
Conclusion
Ever fancied having a compact, stylish camera like everyone else without breaking the bank? The Olympus Stylus 840 offers just that with a decent 5X stabilized lens. The Stylus 840 sets itself as one of the lower-tier cameras in Olympus' line of stylish cameras and offers simple picture taking and a user-friendly interface. This also means the camera is no longer weatherproof (some of its predecessors, as well as more expensive current models have this) and like most other point-and-shoots, it has no manual controls either.

It's a good thing the Stylus 840 takes decent pictures, but a bad thing that its battery life and low-light focusing are both below average and performance in other areas is so-so. Since Thanksgiving and Christmas (holiday sales!) are both coming up, I would recommend (though hesitantly) the Stylus 840, if and only if you can get a really low price and you're cool with just taking pictures in well lit areas. What's hot:
Stylish wedge design, easy to hold
Compatible with both xD-Picture and microSD cards
Big 5X lens, with sensor-shift image stabilization
Very usable sharp LCD outdoors and indoors
Helpful built-in guide and help system
Perfect Shot Preview and Shadow Adjustment
Good image quality at ISO 400 and below
What's not:
No other manual controls
No longer weatherproof (versus its predecessors)
Below average battery life
Lacks autofocus assist lamp; bad low-light AF
Small clustered buttons on the back
Redeye, some vignetting
Recommended Accessories:
2 GB microSD/xD-Picture card