Here's my review of the Panasonic Lumix TS1 aka FT1 – Panasonic's first ever rugged camera. Be sure to check out full-sized photos taken straight out of the camera in the Panasonic Lumix TS1 photo gallery too. Hit the link for the full review of the camera.
DPInterface Panasonic Lumix TS1 aka Lumix FT1 Review
Brad Soo – May 14th, 2009 (Updated May 31st, 2009)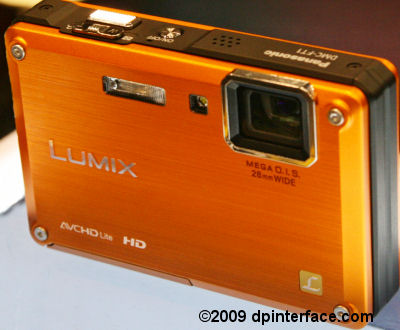 The Lumix TS1 is Panasonic's first rugged digital camera and on paper, it looks pretty good for their first attempt. Here's a rundown on what's hot on the Lumix TS1:
12 effective megapixels
4.6X optical zoom lens (the largest you'll find on a rugged camera)
Waterproof (3 m), dustproof and shockproof (1.5 m)
New Venus Engine HD imaging processor
HD 720p video at 30 FPS using efficient AVCHD Lite codec; dedicated movie button
Intelligent Auto mode which selects appropriate camera settings; it now operates in movie mode too!
Face Recognition remembers faces and face detection in movie mode
HDMI output port
Those specifications look very impressive… Are we looking at the winner in the rugged camera category here? Let's find out now.
The camera is actually known as the Panasonic Lumix TS1 in the US and the Panasonic Lumix FT1 everywhere else around the world (ie Europe, Japan, Australia, etc). I don't know why Panasonic had to start this confusing naming convention for many of their 2009 cameras.
Size and Weight
(219.3) 103.6 x 66.9 x 48.8 mm (190 g) – Canon PowerShot D10
(172.2) 92.0 x 59.6 x 20.6 mm (110 g) - Fujifilm FinePix Z33 WP
(179.5) 97.5 x 60.0 x 22.0 mm (145 g) – Nikon Coolpix S60**
(181.1) 95.3 x 63.4 x 22.4mm (149 g) – Olympus Stylus Tough 6000
(178.2) 95.0 x 61.7 x 21.5 mm (182 g) – Olympus Stylus Tough 8000
(184.4) 98.3 x 63.1 x 23.0 mm (163 g) - Panasonic Lumix TS1 aka Lumix FT1
(180.4) 99.0 x 56.0 x 25.4 mm (145 g) – Pentax Optio W60*
(172.0) 97.9 x 57.8 x 16.3 mm (124 g) – Sony Cyber-shot T900**
All the weight figures above show when the camera is empty without a battery or memory card
*Waterproof only
**Non-rugged camera
The Panasonic Lumix TS1 aka FT1 has gotta be one of the larger rugged cameras out there. Don't look away just yet, study those dimensions – the Lumix TS1 is slightly taller and longer than other rugged cameras but is still quite slim. That means you can still fit the camera into most pockets and bag compartments without putting up a struggle.
Box packaging
The Panasonic Lumix TS1/FT1 comes boxed with your standard digital camera accessories, which are:
Rechargeable lithium-ion battery (with case)
Battery charger
Wrist strap
USB and A/V cables
Camera software CD (Photo Fun Studio viewer HD Edition, ArcSoft Media Impression & Panorama Maker, Quick Time and a USB driver)
User's manual
The Panasonic Lumix TS1 aka FT1 comes with 40 MB of internal memory which isn't much for taking 12 megapixel photos or recording high-definition video clips. At most, it'll come in handy for storing your "favorites" photos. The TS1 supports SD, SDHC and MMC cards, but can only take still photos if you use the latter. I'd suggest sticking to the first two, and using at least a 2 GB (preferably 4 or 8 GB) with the TS1.
The Lumix TS1 is able to perform faster when using a high-speed memory card (60X to 90X speed will do) so consider picking up one with the camera.
220 shots – Canon PowerShot D10
200 shots - Fujifilm FinePix Z33 WP
140 shots – Nikon Coolpix S60**
230 shots - Olympus Stylus Tough 6000
240 shots – Olympus Stylus Tough 8000
340 shots - Panasonic Lumix TS1 aka Lumix FT1
205 shots – Pentax Optio W60*
200 shots – Sony Cyber-shot T900**
All the cameras above are rated with rechargeable batteries with LCD on according to CIPA Standard
*Waterproof only
**Non-rugged camera
The Panasonic Lumix TS1 aka FT1 comes with a rechargeable lithium-ion battery with a charger. The TS1 absolutely rocks the house in terms of battery life – its 340 shot per charge rating is above average for both the rugged and regular compact camera categories.
Accessories
There aren't a whole lot of accessories available for you to soup up the Lumix TS1 with. The accessories that do exist include an AC adapter, optional HDMI cable (though you can get one outside for cheaper) and various camera cases.
Currently, there isn't an external waterproof case so you can bring the camera deeper underwater.
Camera Tour
The Panasonic Lumix TS1 aka FT1 is a nice looking yet rugged digital camera. It's made mostly of metal, is very solid and I like the brushed metal front. The TS1 is easy to hold with one, but preferably both hands – the zoom controller here is a little different from what you'll find on your average camera. In terms of ruggedness, the Lumix TS1 is waterproof to 3 meters (10 feet), dustproof and shockproof to 1.5 meters (5 feet). No word from Panasonic whether the Lumix TS1 is 'officially' freezeproof but I tried putting it in my fridge (0 degrees Celcius which is freezing point) for about 2 hours and then pressed the power button – the camera managed to turn on.
The Panasonic Lumix TS1 aka Lumix FT1 comes in your choice of four colors: silver, dark green, orange and sea blue (the color descriptions are by me, since I've seen all four colors).
On the front of the Panasonic Lumix TS1, you'll spot its big 4.6X optical zoom lens – this is the largest you'll find on a rugged camera (the others have 3X or 3.6X lenses). This zoom lens is equivalent to 28 – 128 mm in 35 mm terms and has an average aperture range of f3.3 to f5.9. Inside the lens, there's Panasonic's Mega OIS system (Optical Image Stabilization) here which helps reduce the effects (blur) of shaky hands on photos.
Looks like Panasonic did their homework before entering the rugged camera market – directly to the left of the TS1's lens is its autofocus assist/LED illuminator lamp (a feature I found very useful on Olympus' rugged cameras). Not only does it help the camera focus in low-light, you can use it to illuminate your macro subjects and in movie mode too.
Next to that is the camera's fairly powerful flash unit. At wide-angle (Auto ISO), it covers a range of 30 cm to 5.1 m and the maximum range drops to 2.8 m at telephoto.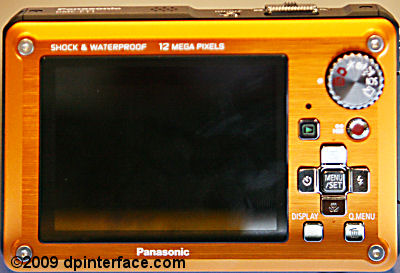 On the back of the camera is the Lumix TS1's nice 2.7 inch LCD which is sharp with 230,000 pixels. The LCD has good visibility in both bright and low-light. The Power LCD feature certainly helps a lot in making the screen image much brighter for improved visibility under bright light. An "Auto Power LCD" mode is available so you don't have to toggle the feature yourself - the camera will brighten the screen automatically based on surrounding conditions.
To the upper right is the Panasonic Lumix TS1's mode dial:
Intelligent Auto – Fully automatic with Panasonic's "Intelligent" features activated
Program mode – All the settings are unlocked but the camera still decides exposure for you. Program shift is available so you can select different aperture/shutter speed combinations
Sports mode
Snow mode
Beach & Surf mode
Other scene modes
Clipboard – for storing and easily accessing pictures of maps, schedules, etc
Whenever you rotate the mode dial, a virtual on-screen one appears on the LCD which is handy in the dark/so you don't have to look at the dial itself. Intelligent Auto mode is Panasonic's replacement for the "regular old" Auto and Simple modes on previous models. In Intelligent Auto mode, the camera activates face detection, auto scene detection, subject tracking, Intelligent ISO, Intelligent Exposure, optical image stabilization and backlight compensation are both set to automatic (Thus, the camera handles everything). You can also toggle the "Intelligent" features manually in other modes; more on them in a bit.
Next up is the five way navigation pad:
Up – Exposure compensation (+/-2 EV in 1/3 steps)/Exposure bracketing
Down – Macro
Left – Self timer (Off, 2 seconds, 10 seconds)
Right - Flash setting (Auto, auto with red-eye reduction, on, slow sync with red-eye reduction, off)
Center – Main menu/Set
The Panasonic Lumix TS1 has an exposure bracketing feature (I don't think any of the competition have such a feature) which allows you to take three photos in a row, each with a different exposure value (adjustable to +/- 1 EV in 1/3 steps).
Lastly, we have the DISPLAY and QUICK MENU buttons. The DISPLAY button toggles the information displayed on-screen while the other button brings up the TS1's Quick Menu which contains a handful of camera settings you can quickly change. The Quick Menu button also doubles to delete photos in playback mode

You'll find a speaker and microphone on the top of the Lumix TS1. There are also the camera's power button, shutter button and zoom controller. Both the shutter button and zoom controller are made of metal and have nice, textured feel to them.

This side of the camera is blank… let's move on.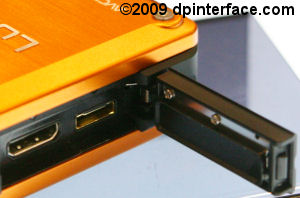 One side of the Panasonic Lumix TS1 is blank while on the other side are its connectivity ports (one combined for the optional A/C adaptor, A/V out and USB 2.0 High-speed as well as mini HDMI).
At the bottom of the camera is a metal tripod mount and battery/memory card compartment. Needless to say, the compartment door is sturdy and well sealed to prevent any moisture or dirt from getting in.
Taking pictures (Shooting mode)
The Panasonic Lumix TS1 aka FT1 displays plenty of on-screen information; including details on camera settings, exposure, a live histogram, a four-step battery indicator and compositional gridlines (with your choice of two grid patterns). An on-screen zoom indicator appears whenever you operate the camera's zoom mechanism.
The Panasonic Lumix TS1 offers several dozen combinations of image resolution, compression and aspect ratio settings for you to choose from. Image resolution choices include 12 MP, 8 MP, 5 MP, 3 MP, 2 MP and VGA; while the aspect ratios available are traditional 4:3, print 3:2 or widescreen 16:9. And lastly, the two image compression settings available are Fine and Standard.
Like all of Panasonic's other cameras, the Lumix TS1 has an "Extra/Extended Optical Zoom" function, which is essentially cropping, so you can get additional reach without lowering image quality (unlike traditional digital zoom). You can extend the TS1's total zoom range up to 9.1X when you lower resolution to 3 megapixels.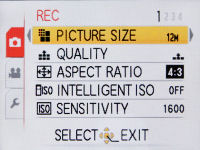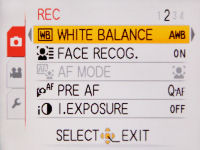 Some of the camera's main settings can be adjusted via the Quick menu I described in the previous section, but now let's head on to the full menu of the camera:
Picture size, quality and aspect ratio
Intelligent ISO On/Off
ISO sensitivity (Auto, 80, 100, 200, 400, 800, 1600)
White balance (Auto, daylight, cloudy, shade, halogen, custom)
Face recognition On/Off
Autofocus mode (Face detection, AF tracking, 11 multi-area, center, center high-speed, spot)
Pre AF (Off, quick AF, continuous AF)
Intelligent Exposure (Off, low, standard, high)
The Panasonic Lumix TS1 has white balance tuning option available for all the preset (except auto) and custom white balance modes. While it isn't nearly as advanced as what you'll find on digital SLRs or Panasonic's own prosumer cameras, it should be good enough for most people. The white balance tuning feature allows you to adjust things towards either direction: "cool" (bluish tint) or "warm" (orange-reddish tint).
The camera has two "Pre AF" modes which try to improve response time by focusing before you half-press the shutter button. Quick AF activates autofocus when camera movement is detected while the camera is constantly focusing in continuous AF (though battery life may take a hit because of this).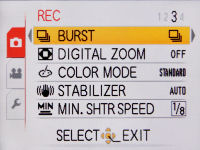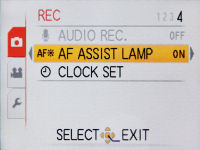 Burst mode Off/High-speed/Unlimited
Digital zoom
Color mode (Standard, Natural, Vivid, Black & White, Sepia, Cool, Warm)
Optical image stabilization mode (Off, auto, mode 1, mode 2)
Minimum shutter speed – Set the slowest shutter speed the camera will use
Audio record – Record a 5 second audio clip every time a photo is taken
Autofocus assist lamp
Clock set
The Panasonic Lumix TS1 has two optical image stabilization modes. Mode 1 keeps the system on continuously so everything from composing the shot to taking the picture is steady, while Mode 2 activates the image stabilization only as a photo is taken (which is both more effective and less power consuming). If you're not really bothered with fiddling with things, there's an Auto Stabilization mode which switches between Mode 1 and Mode 2 as the camera sees fit. Or you could turn off image stabilization if the camera is already on a steady surface (ie tripod, table).
I'm surprised that metering mode cannot be changed on the Lumix TS1 since I was able to on some of Panasonic's other cameras.
While there aren't any manual exposure controls on the camera, the Panasonic Lumix TS1 does sport plenty of scene modes: portrait, soft skin, transform, self-portrait, scenery, sports, panorama assist, night portrait, night scenery, food, party, candle light, baby 1 & 2, pet, sunset, high sensitivity, high-speed burst, flash burst, starry sky, fireworks, aerial photo, film grain, pin hole and underwater. Here are some details on the more interesting scene modes on the TS1:
Transform mode is "sort of like Beauty Mode" as it compresses/stretches your subject and also smoothens their skin
High sensitivity mode reduces resolution to 3 megapixels while automatically selecting an ISO speed between 1600 - 6400
High speed burst lowers resolution to 3 megapixels and allows you to take up to 100 photos at 6 FPS
Flash burst lowers image resolution and boosts ISO to take several flash photos in quick succession
Panorama assist brings up a guided user interface for taking multiple shots in a row, to be combined into a single panorama later on
The camera will select a shutter speed up till 8 seconds in Night Scenery mode while Starry Sky allows you to select a preset extra-long shutter speed (15, 30 or 60 seconds)
If you're not sure what the various scene modes do, no worries - the Panasonic Lumix TS1 displays a helpful tooltip for each of its scene modes; telling you a brief description of what every mode is suited for.
Let's discuss the various "Intelligent" features that the Panasonic Lumix TS1 has. First off would be Intelligent Scene Selection where the camera will automatically select one of five scene modes for you (portrait, scenery, night portrait, night scenery and macro).
Intelligent ISO adjusts ISO according to the amount of movement in the frame. More movement would mean the camera will use a higher ISO setting to freeze action while a static scene will make the camera choose a low ISO setting.
Intelligent Exposure is just like D-Lighting, iContrast and Shadow Adjustment on other cameras, and brightens dark areas of your photo at the cost of some increased noise. It's a shame that this feature is available only in shooting mode – which means you cannot brighten your photos in playback mode after you capture them.
The Panasonic Lumix TS1 has a pretty good macro mode which allows you to go as close as 5 cm to a subject at wide-angle and from 30 cm at telephoto. A new "Zoom Macro" mode fixes the camera's lens at wide-angle and allows you to use digital zoom to magnify your subject (identical to how Canon's Digital Macro mode works). In my opinion Zoom Macro mode isn't really useful as digital zoom degrades image quality of your photos – if you wanna get closer, you mind as well use the cropping tool in the TS1's playback mode.
Face Detection and Recognition
If you enjoy taking pictures of people, then you'd most likely appreciate what the Panasonic Lumix TS1's face detection feature with face recognition. The camera can detect up to 15 faces in a frame and offers to remember up to 6 faces that frequently appear in your shots (you can also manually add them to the list). The face detection system will then give priority to those faces that it recognizes (indicated by the orange frame around a person's face, along with their name beneath the box), and you can even pick a custom focus icon, if you want.
Video Recording
The Panasonic Lumix TS1 aka FT1 has one of the best movie modes you can find on a rugged camera. The Lumix TS1 can record 720p HD (1280 X 720) movies at 30 FPS with sound, which is a nice step-up from VGA quality videos on other rugged compacts. To clear up some confusion regarding the camera's supposed 720p 60 FPS modes - the camera's imaging sensor essentially records at 30 FPS (25 FPS for PAL video) and doubles the frame rate when playing videos. So the real output of the sensor is actually just 30 FPS, with double the FPS rate in playback to give the illusion of "60 FPS".
Though things aren't as sweet as they sound on paper, the Lumix TS1 still has a very good movie mode. You can choose to record movies at 30 FPS at 720p resolution (1280 x 720), WVGA (848 x 480), VGA (640 x 480) or QVGA (320 x 240). The camera also has three "Recording quality" settings for overall movie quality (both video and audio): Super High (17 Mbps), High (13 Mbps) and Low (9 Mbps) quality.
Note: Clarification about recording quality added May 31st, 2009
There are two video codec settings to choose from on the Panasonic Lumix TS1: the very memory efficient AVCHD Lite format or the more traditional MJPEG-MOV format. Why would anyone NOT want to record their movies using the AVCHD Lite codec? After all, file sizes are smaller and you can record longer movies right? That's true, but videos recorded in AVCHD Lite typically have to be re-encoded first before they become usable (ie watching using Apple Quicktime/Windows Media Player, uploading online or sharing with friends and family).
Aside from being able to watch AVCHD Lite movies straight out-of-the-camera on a Blu-ray player, Panasonic's own Viera television sets or via HDMI output, they are unusable for anything else until re-encoded into a more conventional format such as MPEG4 or AVI. The other option (MJPEG-MOV) on the other hand, is playable right out of the camera, but consumes more space on your memory card. Movies are limited to 2 GB per clip.
AVCHD Lite or MPEG MOV, that is the question… though I get the feeling many people will be sticking to the latter, it actually depends on what you're planning to use your movies for and whether smaller file sizes matter to you (AVCHD Lite loses some of that "small size" advantage after you convert it into another format).
As for other aspects of movie mode, you can operate optical image stabilization and optical zoom while recording movies since the lens construction is self-contained and operates silently. A wind filter is also available – helpful if you're recording movies on a breezy day.
And here's the last bit of icing to the cake: face detection, the LED illuminator, Intelligent Exposure and Intelligent Scene Selection all work in movie mode. Intelligent Scene Selection picks one of four modes (Portrait, scenery, low light and macro).
Overall video quality was very good and fluid along with good audio quality.
Performance
All performance testing of the Panasonic Lumix TS1 was performed using a high-speed 4 GB SanDisk Ultra II SDHC (90X) card.
Without having to extend any lens, the Panasonic Lumix TS1 starts up in 1.4 seconds. Auto focusing was quick – the camera takes 1/8 to 1/4 seconds to focus in good light and 1/2 to 1.3 seconds in low-light/telephoto. The camera's built-in AF-assist LED lamp helped low-light focusing a lot.
Shot-to-shot speed - 1 shot every 1.4 seconds, very fast and above average
Flash recharge time using a fully charged battery - 4 seconds on average
In terms of continuous shooting, the Lumix TS1 can shoot indefinitely at full resolution at 1.8 frames per second in "unlimited" mode, provided you use a high speed card with the camera. In high-speed mode takes up to 3 "Fine" or 5 "Standard" full-resolution photos at 2.3 FPS.
If high-speed continuous shooting is your cup of tea, the Lumix TS1 has a high-speed burst mode (which is classified as a Scene Mode) where resolution is reduced to 3 megapixels but shoot up to 100 shots at amazing speeds. Image Priority places emphasis on image quality and shoots at 6 frames per second while Speed Priority boosts ISO so you can snap at a blazing 10 frames per second.
The Lumix TS1 is able to move its lens from wide-angle to telephoto in just 1.7 seconds and shuts down instantly since there's no lens to retract.
Over the last couple of years, performance has been one of the strong points of Panasonic's cameras and the Lumix TS1 continues that tradition with snappy autofocus, shot-to-shot and continuous shooting speeds.
Image Quality
Time for image quality tests with the TS1:

ISO 80 (f4.3, 1/8 sec)
ISO 100 (f4.3, 1/8 sec)
ISO 200 (f4.3, 1/13 sec)

ISO 400 (f4.3, 1/25 sec)
ISO 800 (f4.3, 1/50 sec)

ISO 1600 (f4.3, 1/100 sec)
At ISO 80 and ISO 100, images are detailed but there's a touch of grain here. Not to worry though, image quality is very good and the grain doesn't interfere with details in photos. It's also proof that Panasonic has done away with noise reduction at lower ISO speeds, which used to make pictures look muddy and soft.
Up ISO to 200 and image quality is still very good, though you can see the line between blue/dark blue is starting to become blurry. At ISO 400, there's a bit of color blending added to the mix with a hint of softness. Despite that, noise levels are still fairly controlled and for most uses (mid to large size prints or display), quality is still usable.
At ISO 800, the camera's noise reduction helps reduce the grainy look of photos but the effects start to show – pictures become soft and details begin to disappear. Unless you study such photos at pixel-levels, I don't see why you couldn't make a small print out of this setting.
ISO 1600 is unusable with noticeably grain AND noise reduction, along with noise reduction artifacts. I wouldn't bother with the camera's high sensitivity mode either – it lowers resolution to 3 megapixels while boosting ISO as high as ISO 6400, resulting in very muddy output photos which lack detail.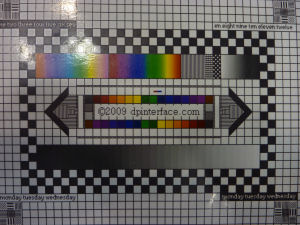 Distortion levels were low with no visible vignetting or chromatic aberration (color fringing). The camera's processor removes are red-eye and chromatic aberration (color fringing) automatically. Software based redeye removal is not available in playback mode though, so you'll have to remove the occasional red-eye that slips past the camera on your computer instead.
The Panasonic Lumix TS1 isn't perfect in terms of image quality, but it produces surprisingly good pictures up till ISO 400 (considering the high resolution sensor and self-contained lens design, such a combination produced troubling results on Olympus' cameras). Overall image quality here (especially sharpness) is definitely better, more usable than the rugged Stylus series cameras I've been reviewing over the years.
The Lumix TS1 produced sharp, detailed pictures, fit for large prints/display up till ISO 400 while ISO 800 still comes in handy for emergencies. Lens distortion, aberration and redeye were all non-issues.
Photo gallery
There are full-sized photos available in the Panasonic Lumix TS1 photo gallery.
Playback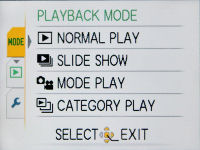 The Panasonic Lumix TS1 has a fairly fancy playback mode with four sub-playback modes: normal play (which is your traditional "browse through pictures and play back video with sound"), slideshow mode (complete with sound effects and music), mode play (which allows you to playback photos only or videos only) and category play (which lets you play back photos by category). Of course, there are the usual playback functions here: print marking, voice clip attachment (up to 10 seconds), image protection and the ability to tag photos as "favorites". Photos can be enlarged by 16X so you can inspect details/confirm focus and also can be displayed in sets of 12 or 30 thumbnails.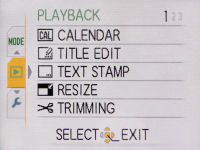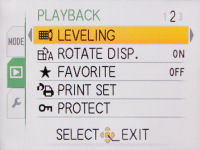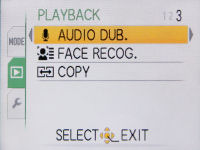 There are a couple of editing features worth looking at on the TS1 such as title editing, resizing, trimming (aka cropping), image leveling, image rotation and the ability to add text stamps to photos. You can also copy images back and forth between the camera's internal memory and memory card.
Some more interesting playback functions include a calendar view of days you took pictures and the ability to look through photos based on person thanks to the camera's face recognition feature.
There aren't any movie editing features in the camera but one interesting thing to mention is that you can "grab" a frame from a movie clip and turn it into a photo. Two things that are missing here are red-eye removal and Intelligent Exposure – both of which can be used in shooting mode, but these two actions cannot be performed AFTER a photo is taken.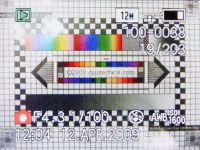 The Panasonic Lumix TS1 shows you exposure and shooting details in playback mode but seems to be missing a histogram.
Conclusion
Until recently, the rugged camera market has been dominated by Olympus for years (the reason being, up till this year, no one else in the market came up with any offerings in the rugged camera sector). Yes, at the time, those cameras were unique – built as solid as a tank, able to survive a lot of abuse and still being able to take pictures afterward. What I wasn't a fan of was "sacrificing image quality for a rugged design" in Olympus' cameras.
2009 is the year that's gonna get Olympus off their chairs and straight to work on improving the image quality of their cameras (hopefully). One of the biggest threats to their throne is here: the Panasonic Lumix TS1 aka Lumix FT1, which lets you have your cake (rugged build quality) and eat it too (good image quality)! The Lumix TS1 is solid – waterproof, crushproof and freezeproof – and has the biggest zoom lens in its class: 4.6X optical zoom with optical image stabilization.
It's apparent that Panasonic didn't enter the battle without a plan – the Lumix TS1 aka FT1 has all the features, usual Panasonic bells & whistles and a few borrowed ideas (such as the front LED lamp) which make it look like the perfect rugged camera.
To begin with, the Lumix TS1 has the best battery life in the rugged camera category, and even out-performs many 'normal' compacts. The camera has an LED illuminator lamp which, in addition to working as the TS1's autofocus assist lamp, doubles as a torch/video light. Then there's the 2.7 inch LCD which is sharp and viewable, both indoors and out – pretty useful for diving in the day and when attending a poolside party in the evening.
Ergonomics were decent; the Lumix TS1 doesn't feel slippery or clumsy in any way and buttons, though not terribly large in size, were well spaced. One thing worthy of note is the Lumix TS1 has a zoom controller which is slightly different from what you'll find on an average camera. I wouldn't say it sucks, the controller is nicely textured and operates smoothly, but it surely needs some getting used to.
The Panasonic Lumix TS1 is primarily a point-and-shoot camera and doesn't have any manual exposure controls. I'll give credit when it's due: the camera does have manual white balance with a certain degree of tuning available (warmer or cooler colors), auto exposure bracketing and Starry Sky mode, a faux-bulb mode; none of the competition have any of the 3 features.
Of course, with point-and-shoot operation comes a variety of scene modes (there are many on the Lumix TS1 and the camera provides helpful tooltips for each of them) and automatic "jingle bells". There's Intelligent Auto mode where the Lumix TS1 handles everything (literally, from subject tracking to post-shot software redeye removal) and all you have to do is press the shutter button, Intelligent Exposure which brightens dark parts of photos, Intelligent ISO adjusts ISO automatically based on amount of movement in the frame and Intelligent Scene Selection which picks a shooting mode for you (the latter even works in movie mode!)
The Panasonic Lumix TS1's face detection system is quite elaborate – it can detect up to 15 faces in a frame and 'recognizes' people you frequently snap/enter into the system. Face recognition gives priority to those faces the camera recognizes and even displays their names beneath focus points; I'm sure this will be something you'll be getting ooh's and aah's from when flaunting the camera. Face detection (but not recognition) also works in movie mode.
Speaking of movie modes, the movie mode department is another area where the Lumix TS1 shines. Aside from the misleading "60 FPS movie mode" (the CCD sensor still outputs 30 FPS natively, and merely doubles frame rate during playback), the 720p HD movie mode at 30 FPS on the Lumix TS1 is the best you'll find on a rugged camera, and pretty good for a compact camera. In fact, none of the TS1's current competitors have 720p movie modes as the most they'll go is VGA quality. If that isn't enough, a wind filter is also available and you can use optical zoom, optical image stabilization, face detection and more while recording video with sound.
Of course, the Lumix TS1 isn't entirely flawless – the camera does lack several playback features that almost everyone else has, such as image brightening and software redeye removal tools. That means if you forgot to activate Intelligent Exposure or the camera didn't manage to pick up redeye when it was there, you're forced to doing some post-shot editing on your computer.
The AVCHD Lite format is also a hassle to deal with if you're planning to use movie clips for anything other than viewing on your high-def TV/Blu-ray player. You'll have to convert AVCHD Lite clips into another more common format (like MPEG4 or AVI) on your computer – and Panasonic only bundles video viewing/burning software for Windows, so Mac users may need to download a free viewer or buy software for that. That's just for viewing, mind you… Panasonic doesn't include any AVCHD video conversion software in the box, at all, so regardless of operating system, you'll have to supply your own conversion software. The simple workaround to this issue would be to select the MOV setting in the camera instead.
Performance was excellent with a good full-resolution burst mode and the Panasonic Lumix TS1 aka FT1 was overall quick on its feet. As for image quality, things were generally very good with low noise and distortion levels, decent levels of detail. Chromatic aberration (color fringing) and redeye were both non-issues since the Lumix TS1's imaging processor removes them automatically. There was some slight graininess, softness and a bit of color bleeding (depending on scene conditions) introduced into photos at ISO 400, but image quality here is still usable up to midsize display/prints. That shows we've come a long way from the days of mushy noise reduction and soft images of old Panasonic processors – the crummy noise reduction is just about gone now and softness is not an issue.
The Panasonic Lumix TS1 aka Lumix FT1 earns my recommendation for being a very capable rugged camera. The camera does almost everything right, with the exception of the small handful of dislikes I listed. As of now, the Panasonic Lumix TS1 costs about $50 more than the competing Canon D10 and Olympus Stylus Tough 8000, but it's the most feature-packed among all the rugged cameras and in my opinion, that extra bit of money justifies the many advantages of the Lumix TS1 has over the competition.
What's hot:
Very good image quality till ISO 400 (ISO 800 for emergencies); automatic color fringing and redeye removal
Rugged: waterproof, shockproof and freezeproof; simple yet stylish design
Most zoom (4.6X)/most versatile lens among rugged cameras; has optical image stabilization
Powerful flash and LED illuminator
Large 2.7 inch LCD with good sharpness and indoor/outdoor visibility
Excellent battery life (best in the rugged camera class)
Very good performance; unlimited full-resolution burst at 1.8 FPS
Plenty of scene modes and 'Intelligent' assist features
Face detection and face recognition; automatic scene mode selection
720p HD movie mode; optical zoom, image stabilization, face detection and LED usable while recording, dedicated movie button
What's not:
Lacks manual controls
Tiny bit of detail softening/slight color bleeding at ISO 400 onwards; some graininess
No red-eye removal or image brighten features in playback mode
AVCHD Lite movie codec not for everyone; needs to be converted to more common formats to be shared/uploaded (and no conversion software supplied)
'60 FPS' movie frame rate setting is misleading
Recommended Accessories:
2 GB or 4 GB high-speed SD/SDHC memory card