Fresh out of the DPInterface review oven is my review of the Panasonic Lumix LX3 – a compact prosumer camera with a full suite of manual controls and an ultra-wide angle zoom lens. Be sure to check out full-sized photos taken straight out of the camera in the Panasonic Lumix LX3 photo gallery too. Hit the link for the full review of the camera.
DPInterface Panasonic Lumix LX3 Review
Brad Soo – January 21st, 2009
When Panasonic introduced the Lumix LX1 and LX2, they had full manual controls and native widescreen CCD sensors. Fast forward to recent times and the new Lumix LX3 still offers full manual controls and a high degree of expandability (with conversion lenses, external flash attachment and such) but drops the widescreen sensor for a more traditional 4:3 one. The LX3 features the latest Venus 4 imaging processor and a brand new zoom lens that's very wide (it starts at 24 mm) and very fast (with a max aperture of f2.0).
How does the Lumix LX3 perform? Here's your chance to find out.
Size and Weight
(232.7) 109.1 x 77.7 x 45.9 mm (350 g) - Canon PowerShot G10
(192.8) 89.5 x 64.3 x 39.0 mm (164 g) - Kodak EasyShare Z1485 IS
(214.5) 107.0 x 65.5 x 42.0 mm (240 g) - Nikon Coolpix P6000
(195.3) 108.7 x 59.5 x 27.1 mm (220 g) – Panasonic Lumix LX3
All the weight figures above show when the camera is empty without a battery or memory card
The Panasonic Lumix LX3 is rather compact for a prosumer camera and the slimmest of the bunch. That means you can fit the camera into your pocket relatively easily or sling it on your shoulder without feeling the heavy burden of a big camera.
Box packaging
The Panasonic Lumix LX3 comes boxed with your standard digital camera accessories, which are:
Rechargeable lithium-ion battery (with case)
Battery charger
Neck strap
Lens cap and strap
USB and A/V cables
Camera software CD (Photo Fun Studio viewer, ArcSoft Media Impression & Panorama Maker, Silky Pix Developer Studio, Quick Time and a USB driver)
User's manual
The Panasonic Lumix LX3 has 50 MB of internal memory which isn't a lot to contain your photos. Buying at least a 2 GB SD card is advisable; but it won't hurt to get something even larger if you wanna take advantage of the camera's HD movie mode (the LX3 also supports SDHC memory cards).
You can make the Panasonic Lumix LX3 perform faster via the use of a high-speed memory card. The difference is very noticeable when doing certain things, such as using the burst mode or after recording a high resolution movie clip. Any high-speed memory card rated between 60X to 90X would be sufficient; anything higher would be overkill.
The Lumix LX3 uses the CGA-S005 rechargeable lithium-ion battery and comes with a charger in the box. With the LCD screen on, the Panasonic Lumix LX3 is rated to 380 shots per charge (CIPA Standard).
400 shots - Canon PowerShot G10
250 shots - Kodak EasyShare Z1485 IS
260 shots – Nikon Coolpix P6000
380 shots - Panasonic Lumix LX3
All the cameras above are rated with rechargeable batteries according to CIPA Standard
In terms of battery life, the Panasonic Lumix LX3 fairs above averagely, being really close to the Canon G10 at the top. The other three prosumer cameras in the group have built-in viewfinders whereas an external viewfinder is available to the LX3 as only an optional accessory.
Accessories
As a prosumer compact camera, the Panasonic Lumix LX3 is expandable with a range of accessories:
Conversion lens adapter (needed to attach conversion lenses and filters)
Wide-angle conversion lens (0.75X lens factor brings wide-angle down to 18 mm)
Neutral density , circular polarizing and other 46 mm filters
External flashes (though only Panasonic flashes will sync automatically with the camera)
External optical viewfinder (fixed 24 mm view, 82% coverage and attached to the camera hotshoe)
HD Component cable
AC adapter
Various camera cases
With the native 24 mm, ultra wide-angle zoom lens being the spotlight feature of the LX3, Panasonic offers a conversion lens to go even wider, but does not offer a telephoto conversion lens for more reach.
Camera Tour
The Panasonic Lumix LX3 has a more sophisticated look that your typical Lumix compact camera and feels quite a bit more substantial as well. It looks and feels very much like its predecessors; maintaining the solid construction and that retro design (you can even now attach an external viewfinder via the hotshoe to get that rangefinder camera look). The only weak spots so far are the battery/memory card door not being sturdy and lack of space for your left hand to hold the camera once you pop up the flash.
The Panasonic Lumix LX3 comes in your choice of either black or silver. I'd say black makes the camera look more professional and Leica-like but you can't go wrong with a silver LX3 either.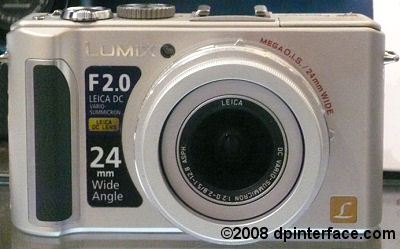 On the Panasonic Lumix LX3 is a new zoom lens, obviously different compared to the one used in its predecessors. The lens over here is equivalent to 24 – 60 mm and no doubt this 2.5X lens lacks telephoto power, its ultra wide-angle end more than makes up for that. It also has a VERY nice aperture range of f2.0 – f2.8; about one to two stops faster than your typical camera lens, depending on zoom position. Add in Panasonic's Mega OIS system (Optical Image Stabilization) and it makes the Lumix LX3 and its lens the perfect candidate for low-light and landscape shooting.
To the upper left of the lens is the camera's autofocus assist/self-timer countdown lamp which helps the LX3 to focus in low-light conditions. To the upper right is the Lumix LX3's concealed flash, which can be popped up via a switch on top (see the picture of the camera at the beginning of the review). The flash is very powerful (Auto ISO); covering a range of 80 cm to 8.3 m at wide-angle and a still above average 30 cm to 5.9 m at telephoto. If that isn't enough, you can add an external flash to the Lumix LX3 via the flash hotshoe on top.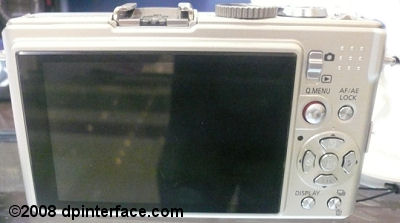 There's a 3 inch LCD on the back of the Panasonic Lumix LX3. This one is here is a 3:2 screen (versus the widescreen one on the previous model. The screen is very sharp with a high-resolution of 460,000 pixels and is very viewable in both low-light and under bright light (using the "Power LCD" mode makes it nicely visible outdoors). Speaking of LCD modes, there's Auto Power LCD which brightens the LCD automatically and Power LCD (you brighten it yourself) but no High-Angle mode like on Panasonic's other cameras.
There's a mode switch to the upper right side of the Lumix LX3 which toggles you between shooting and playback mode. Below that is the camera's joystick which is used for adjusting camera settings like shutter speed and aperture. Pressing the center of the joystick will also bring up the Quick MENU of the Lumix LX3 which contains access to several main shooting settings, without accessing the camera's primary menu, namely: film mode, metering mode, autofocus mode, white balance, Intelligent ISO, ISO speed, Intelligent Exposure, image resolution and LCD mode.
Beside the joystick is a dedicated focus/exposure lock button – this is self-explanatory; it allows you to lock focus/exposure so you can recompose the shot. Next we have a camera status light and five way navigation pad:
Up – Exposure compensation (+/-2 EV in 1/3 steps)/Exposure bracketing
Down – Function; a shortcut button that you can customize
Left – Self timer (Off, 2 seconds, 10 seconds)
Right - Flash setting (Auto, auto with red-eye reduction, on, slow sync with red-eye reduction, off)
Center – Main menu/Set
The Panasonic Lumix LX3 has an exposure bracketing feature (I don't think any of the competition have such a feature) which allows you to take three photos in a row, each with a different exposure value (adjustable to +/- 1 EV in 1/3 steps).
Lastly, we have the DISPLAY and drive mode buttons. The DISPLAY button toggles the information displayed on-screen while the drive mode button allows you to toggle between single shot shooting and the several burst modes available on the Lumix LX3.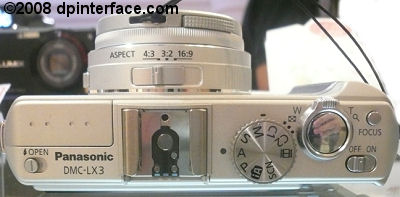 Here's the top of the Panasonic Lumix LX3 where you'll find the flash unit tucked into the camera and a switch used to pop it up. There's also a hotshoe next to that, where you can attach an external flash unit (though only Panasonic flashes will sync automatically with the camera; you'll have to use 3rd party flashes in manual mode only) or an external optical viewfinder. The hotshoe flash/viewfinder mount is directly in-line with the camera lens.
If you notice here, the Lumix LX3 has a fixed lens barrel that protrudes slightly from the camera… and on this barrel is a switch for selecting the aspect ratio of your photos (choose from standard 4:3, print 3:2 or widescreen 16:9). Next up is the camera mode dial which we'll detail going clockwise:
Scene position – Pick one of many scene modes
Intelligent Auto – Fully automatic with Panasonic's "Intelligent" features activated
Program mode – All the settings are unlocked but the camera still decides exposure for you. Program shift is available so you can select different aperture/shutter speed combinations
Aperture priority – Choose an aperture (between f2.0/f2.8 to f8.0) and the camera will pick a matching shutter speed
Shutter priority – Choose a shutter speed (between 1/2000 to 8 seconds) and the camera will pick a matching aperture value
Manual mode – All the menus are unlocked AND you get full control over shutter speed and aperture. The selectable aperture range remains at f2.0/f2.8 to f8 while shutter speed range is expanded to a full 1/2000 to 60 seconds!
Custom 1 and 2
Movie mode
Whenever you rotate the mode dial, a virtual on-screen one appears on the LCD which is handy in the dark/so you don't have to look at the dial itself. Intelligent Auto mode is Panasonic's replacement for the "regular old" Auto and Simple modes on previous models. In Intelligent Auto mode, the camera activates face detection, auto scene detection, subject tracking, Intelligent ISO, Intelligent Exposure, optical image stabilization and backlight compensation are both set to automatic (Thus, the camera handles everything). You can also toggle the "Intelligent" features manually in other modes; more on them in a bit.
The Panasonic Lumix LX3 has two custom spots (labeled C1 and C2) on its mode dial which allow you to store two sets of your favorite settings on them. I'm sure many people, especially digital SLR users, will appreciate this.
Around the mode dial, you'll see several little holes which are the camera's microphone and speaker respectively. Beside the mode dial is the LX3's shutter button wrapped around with a zoom controller – you know what these do, of course. The last two things up here are the FOCUS button and camera on/off switch.
The focus button lets you pick the focus area/move the AF point around when using autofocus… or if you're in manual focus mode, press the focus button to make the camera autofocus.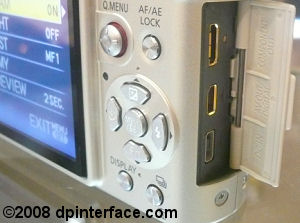 On this side of the Panasonic Lumix LX3 are three connectivity ports covered by a plastic door. And they are: HD-component out, A/V out + USB and DC-IN ports. The camera supports USB 2.0 High-speed connectivity.
And over here, there's another switch on the lens barrel which toggles the focus mode of the camera between autofocus, macro mode and manual focus. The Lumix LX3 has options for manual focus enlargement where the area you're looking at can be magnified for you to check focus.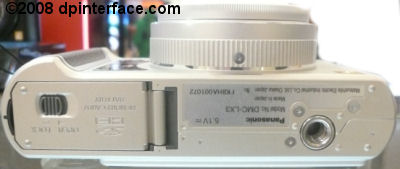 Finally, we have the battery/memory card compartment and a metal tripod mount down here. The door over the compartment is plastic and though it has a metal hinge, you should handle it carefully as the door doesn't feel as sturdy as the rest of the camera.
Taking pictures (Shooting mode)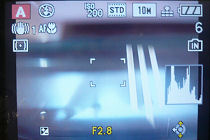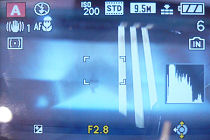 If there's one thing I like about Panasonic cameras is the amount of information shown on the LCD display… Even lower end models tell you a lot of things. As a prosumer compact, you shouldn't expect less on the LX3. There's plenty of shooting information here along with exposure info, a live histogram and a simple 4-step battery indicator. The camera also has two framing grid line patterns available and an on-screen zoom indicator (not shown in the screenshots above but available in the menu). One thing about the Lumix LX3's LCD is that its aspect ratio is 3:2 (as opposed to the usual 4:3), so expect to see black borders at the side when shooting in 4:3.
The Panasonic Lumix LX3 offers a LOT of combinations of image resolution, compression and aspect ratio settings for you to choose from. Image resolution choices include 10 MP, 7 MP, 5 MP, 3 MP 2 MP and VGA; while the aspect ratios available are traditional 4:3, print 3:2 or widescreen 16:9). There are two image compression settings available for JPEG images: Fine and Standard plus a RAW image mode.
For those who never heard about RAW mode before: In RAW image mode, the camera takes a picture as usual but doesn't process the photo for you. You'll have to process the RAW file back on your computer using software (Either the bundled Silky Pix Developer Studio software, or your own, such as Photoshop), but you'll get complete control over almost every single aspect of the image: white balance, noise reduction, contrast, saturation, exposure, colors, etc. If you messed up some camera settings but took the picture in RAW format, then most likely you'll be able to correct it later on your computer.
What's the catch of having so much control over your pictures? Well, RAW images are, by themselves, not useable for printing, display and such; and need to be processed in the computer to be turned into a JPEG image… and processing needs work. Second, RAW images have larger file sizes compared to JPEG pictures and you can only use full resolution for them. We're talking 12+ MB per RAW file, more if you use RAW+JPEG.
You can also opt to take a RAW image AND a JPEG photo (RAW + JPEG mode) if you want. This will take up more space than ever in your memory card but if you find the JPEG image "good enough" later on while post-processing, you can instantly print a photo or post it on the net without having to process the RAW file.
Selecting lower JPEG image resolutions on the Lumix LX3 automatically enables "Extra/Extended Optical Zoom", which is essentially cropping, so you can get additional reach without lowering image quality (unlike traditional digital zoom). You can extend the LX3's zoom range up to 4.5X when you select the 3 megapixel setting on the camera.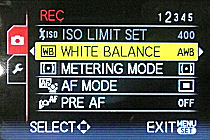 Some of the camera's main settings can be adjusted via the Quick menu I described in the previous section, but now let's head on to the full menu of the camera:
Film mode (Standard, Dynamic, Nature, Smooth, Vibrant, Nostalgic, Black & White Standard/Dynamic/Smooth, My Film 1 & 2)
Picture size and quality
Intelligent ISO
ISO sensitivity (Auto, 80, 100, 200, 400, 800, 1600, 3200)
ISO limit – Choose the maximum ISO when Auto/Intelligent ISO is selected
White balance (Auto, daylight, cloudy, shade, flash, halogen, color temperature, custom 1 & 2, white balance adjustment)
Metering mode (Intelligent multiple, center weighted, spot)
Autofocus mode (Face detection, AF tracking, 9 multi-area, center, center high-speed, spot)
Pre AF – the camera focuses faster by continuously keeping track of your subject
AF/AE Lock button – Customize what this button does (AF+AE Lock, AF lock only, AE lock only)
Intelligent Exposure (Off, low, standard, high)
Multi exposure
Digital zoom
Optical image stabilization mode (Off, auto, mode 1, mode 2)
Minimum shutter speed – Set the slowest shutter speed the camera will use
Audio record – Record a 5 second audio clip every time a photo is taken
Autofocus assist lamp
Flash sync (1st curtain, 2nd curtain)
External viewfinder
Conversion lens
Clock set
The Lumix LX3 enables you to select a Film Mode (like on their digital SLRs) preset or configure your own (My Film 1 and My Film 2) using your own combinations of contrast, sharpness, saturation and noise reduction (Each +/-2 in 1 step increments).
Intelligent ISO mode on the LX3 automatically adjusts ISO according to the amount of movement in the frame. More movement would mean a higher ISO setting to freeze action while a static scene will make the camera choose a low ISO setting. Intelligent Exposure is just like D-Lighting, iContrast and Shadow Adjustment on other cameras, and brightens dark areas of your photo at the cost of some increased noise.
The Lumix LX3 has a "Multi Exposure" feature (we first saw it on the 14.7 megapixel Lumix FX150) which allows you to take a few pictures and overlay them over each other to create a single combined photo. This is more of a "fun" feature, in my opinion, rather than something that's actually practical for a purpose.
The Panasonic Lumix LX3 has several advanced white balance controls that you'd normally see on digital SLRs only. There's the typical "white set mode" where you set white balance by pointing the camera at a uniform white or gray surface. You can adjust white balance based on color temperature (ranging from 2500 to 10000K) or via a 2-axis color adjustment scale (adjustable to +/- 9 steps in either the blue/amber or magenta/green direction).
There's also color effect bracketing which offers three options: Take a "Standard" color photo along with either a black & white or sepia photo, or take three photos with all 3 options together (Standard color, black & white and sepia)
As a compact camera for enthusiasts, the Lumix LX3 also has its fair share of automatic and scene modes. The scene modes available on the Panasonic Lumix LX3 include portrait, soft skin, self-portrait, scenery, sports, night portrait, night scenery, food, party, candle light, baby 1 & 2, pet, sunset, high sensitivity, high-speed burst, starry sky, fireworks, beach, snow, aerial photo, flash burst, film grain and pin hole. Here are some details on the more interesting scene modes on the LX3:
High sensitivity mode reduces resolution to 3 megapixels while automatically selecting an ISO speed between 1600 - 6400
High speed burst lowers resolution to 3 megapixels and allows you to take up to 100 photos at 6 FPS
Flash burst lowers image resolution and boosts ISO to take several flash photos in quick succession
The Panasonic Lumix LX3 does display a tooltip for each of its scene modes; telling you a brief description of what every mode is suited for. The Panasonic Lumix LX3 has an excellent macro mode which allows you to go as close as 1 cm to a subject at wide-angle and from 30 cm at telephoto.
Finally, there's optical image stabilization on the Panasonic Lumix LX3 with two modes: Mode 1 and Mode 2 (You can opt to turn the system off as well). The image stabilization system is more active in mode 1 to help you compose your photos steadily while mode 2 is more effective, activating the Mega OIS system only when the photo is taken. There's also an "Automatic" option which allows the camera to pick an image stabilization mode for you, depending on the zoom position of the camera's lens.
Setup menu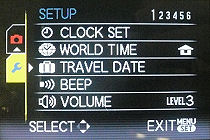 In the first three pages of the Lumix LX3's setup menu, you can set the camera's time and date, volume, customize the C1 and C2 spots plus the function button on the camera to your liking, LCD display settings and camera power saving mode.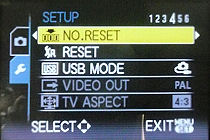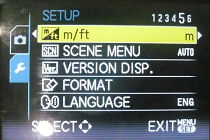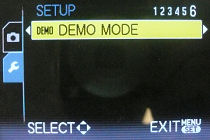 The other three pages of the setup menu contain less important things such as resetting the file numbering of photos, (usually) one-time setup when connecting the camera to your computer/TV, language settings, formatting the memory card/internal memory and demo mode.
Video Recording
The Panasonic Lumix LX3 features a HD movie mode which enables you to record 720p videos (1280 x 720) at 24 FPS with sound. There are also regular VGA 30 FPS (640 X 480) and WVGA 30 FPS (848 X 480) options available; plus a QVGA resolution (320 X 240) which allows you to choose between 10 or 30 FPS recording. All movies are recorded in Quick Time Motion JPEG format.
There's a "2 GB per movie clip" limitation on the LX3 so each clip would be around 10 minutes at max in the 720p mode, while using the VGA setting, 2 GB would mean almost 25 minutes worth of recording time.
While recording movies with the Lumix LX3, you cannot use zoom at all (you can pre set it before recording, however) but you can activate optical image stabilization. My usual small rant here is since the camera already has an "Extended optical zoom" feature in shooting mode, why not implement it here in movie mode? Then there could be at least some sort of zoom feature which won't lower image quality at the same time.
The Panasonic Lumix LX3 produced movie clips of good quality and with decent sound quality too. Like the Lumix FX150 I reviewed previously, I was able to grab stills of acceptable quality from the camera's 720p movie mode via the "frame grab" feature in playback – they came out nicely for web display.
Performance
All performance testing of the Panasonic Lumix LX3 was performed using a high-speed 4 GB SanDisk Ultra II SDHC (90X) card.
The Panasonic Lumix LX3's startup time is just average; the camera takes 2 seconds in total to extend the lens and boot up. The camera focuses quickly, with focusing speed ranging from 1/6 to 1/2 second most time, up to 1.2 seconds in low-light (but at least the camera managed to focus!). In manual focus mode, the camera is able to take a picture close to instantly (press the button and the review image appears less than a second later)
Shot-to-shot speed - 1 shot every 1.5 seconds, very fast and above average
Shot-to-shot speed (RAW mode) - 1 shot every 2.3 seconds
Flash recharge time using a fully charged battery - 3 seconds on average
Thanks to the lower megapixel count, and thus smaller file size, of the Lumix LX3, the camera's shot-to-shot speed is about 50% faster than its 14.5 megapixel point-and-shoot relative, the FX150.
The Panasonic Lumix LX3 features a very nice burst full-resolution burst mode. You can take full 10 megapixel photos at around 2.4 frames per second for until the memory card fills up with "Standard" photos. The camera also can shoot at the same rate for up to 4 "Fine" photos or 3 RAW images In addition, the Lumix LX3 has a high-speed burst mode (which is classified as a Scene Mode) where resolution is reduced to 3 megapixels but you can snap at 6 frames per second up to 100 photos.
The camera's lens moves silently from wide-angle to telephoto in under 2 seconds (which leaves me to wonder why optical zoom can't be used when recording a movie). There are many small steps throughout the 2.5X zoom lens. The Lumix LX3 features a "reverse extension" lens (like those 24-70 digital SLR lenses) where the lens barrel is longer at wide-angle and retracts into the camera at telephoto.
The camera powers down with its lens at telephoto in 2.5 seconds. The Panasonic Lumix LX3 has very good performance in all areas – it takes pictures without much delay (even RAW photos), stores them quickly and has a nice burst mode.
Image Quality
Time for image quality tests with the LX3::

ISO 100 (f2.8, 1/8 sec)

ISO 200 (f2.8, 1/15 sec)

ISO 400 (f2.8, 1/30 sec)
ISO 800 (f2.8, 1/60 sec)
ISO 1600 (f2.8, 1/125 sec)

ISO 3200 (f2.8, 1/250 sec)
Up to 200, noise is not an issue at all (neither should you expect it to be). The ISO 400 introduces some noise into the scene but nothing to make a big fuss of just yet. At ISO 800, there's even more noise though you can still savage some shots taken at this setting. Anything over that, however, is unusable as demonstrated by the very noisy ISO 1600 and ISO 3200 shots above. Throughout the ISO range, there is some slight softness and when approaching higher ISO values, detail loss in photos caused by Panasonic's approach at noise but it isn't nearly as horrible as on the cameras a few generations back.
If you want some detail back, you can either turn down in-camera noise reduction in the Film Mode section or take the picture in RAW mode and process it on your computer later on (make sure you install the Silky Pix software first).
Both barrel distortion and pincushion distortion levels are low (And this is an ultra-wide 24 mm lens mind you!) on the Lumix LX3 and vignetting was almost non-existent. A while back, there was some discussion where people suspected the camera's processing seems to magically remove barrel distortion… well, what the camera's processor also removes are red-eye and chromatic aberration (color fringing). However, like the other Panasonic models I reviewed recently, red-eye does slip past into photos occasionally and there's no removal tool in playback mode (you'll have to use a computer for that).
The Lumix LX3 proves that a Panasonic camera can indeed produce very good image quality. There's still some detail smudging, traces of the "bad gene" of Panasonic's old processor left behind but it isn't really a big issue unless you're making huge posters or are a pixel-peeper. Other areas in the image quality department are fine though.
Photo gallery
There are full-sized photos available in the Panasonic Lumix LX3 photo gallery.
Playback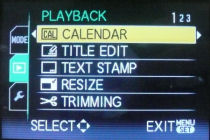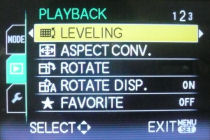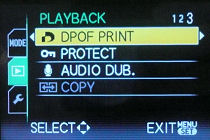 The Panasonic Lumix LX3 has a good (but not too fancy) playback mode. You can browse through pictures and play back video with sound. There are the usual playback functions here plus several editing/photo features: print marking, voice clip attachment, image protection and the ability to tag photos as "favorites". Photos can be enlarged by 16X so you can inspect details or check focus.
On to the simple editing features of the LX3, there's title editing, resizing, trimming (aka cropping), image leveling, aspect ratio conversion, image rotation and the ability to add text stamps to photos. There aren't any movie editing features in the camera but one interesting thing to mention is that you can "grab" a frame from a movie clip and make it into a photo. Two things that are missing here are red-eye removal and Intelligent Exposure – both of which can be used in shooting mode, but these two actions cannot be performed AFTER a photo is taken.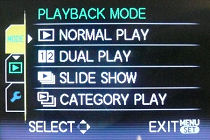 You can choose how you want to view your photos using the playback mode menu shown above: view photos one-by-one (normal play), dual play, slideshow (complete with music and effects) or by category. The dual play function allows you to play back two photos side-by-side which is useful for comparison purposes. The Lumix LX3 also has thumbnail mode which displays photos in sets of 12 or 30 thumbnails and a calendar view of photos available.
The Panasonic Lumix LX3 tells you everything you need to know about your photos; exposure information, shooting details, a histogram, they're all here.
Conclusion
The Panasonic Lumix LX3 is a capable prosumer camera that's got very good image quality traits in almost all respects (Except for some noise and detail issues); thumbs up to Panasonic for tackling the issue of image quality which used to exist a few years back.
The LX3 looks a whole lot like a Leica rangefinder camera and features a nice, bright zoom lens that starts at 24 mm. You can complete that classic look with an optional external viewfinder, or make that lens even wider by attaching a conversion lens. The LX3 is very expandable with a variety of accessories as you can tell; that includes a hotshoe on the top where you can fit an external flash unit.
You can also customize the camera to remember two sets of camera and exposure settings via the custom spots on the mode dial as well as assign a shooting function to the shortcut "down" button on the back. To top things off, the Lumix LX3 has a full suite of manual controls for times that you wanna be creative and also many scene modes and an Intelligent Auto mode for times when all you feel like doing is pointing and snapping.
Other things you'll find appealing would be the above average battery life of the camera, 720p HD movie mode and the LX3 constantly being quick on its feet. Of course, the LX3 does have some annoyances as well such as the lack of image brightening and red-eye removal tools in playback and no movie zoom. Then there's the lens which lacks telephoto power… heck, there's even no telephoto conversion lens available to the camera to make that up!
I've had no problems recommending the Panasonic Lumix LX3 to some friends and family shopping for an all-rounder digital camera and I would gladly recommend it to anyone out there as well. It's a nice camera that you can bring around with you, satisfy most of your manual control cravings and it has decent fully automatic shooting abilities as well.
What's hot:
Very good image quality; automatic color fringing and redeye removal
Very fast and very wide-angle stabilized 24 mm zoom lens
Nice 3 inch LCD and rangefinder-like camera design
Expandable: super wide conversion lens, external flash, external viewfinder and filters
Customizability: 2 custom mode dial positions and 1 function button
Great battery life (above average)
Quick performance
Full manual mode, with advanced white balance controls and RAW image mode
Abundant point-and-shoot features too; many scene modes and Intelligent Auto
720p HD movie mode
What's not:
Some detail loss from noise reduction (use RAW mode or turn NR down)
No red-eye removal or image brighten features in playback mode
Lack of white balance bracketing and color tone control
Not enough telephoto reach; no telephoto conversion lenses
Can't operate zoom while recording a movie
Recommended Accessories:
2 GB or 4 GB high-speed SD/SDHC memory card