Updated! (September 21st)
Reviews of full-production/retail cameras are our main focus here at DPInterface, but I knew I had to make an exception when I was given the chance to preview Panasonic's Lumix GF1 camera earlier this month. This is Panasonic's third Micro Four Thirds digital camera and their first non-SLR form factor camera in the Lumix G line.
With plenty of reaction when hints of the compact GF1 first came out in August and overwhelming interest in the camera when it became official two weeks ago, here's an in-depth preview of the Panasonic Lumix GF1! As usual, you can also check out full-sized photos taken straight out of the camera in the Panasonic Lumix GF1 photo gallery too.
*BRAD: Special thanks to Panasonic who made this preview possible. Normally it's only "heavyweight" publications that get their hands-on new cameras first, but Panasonic was nice enough to give DPInterface an opportunity to write about this highly talked-about camera.
DPInterface Panasonic Lumix GF1 Preview
Brad Soo – September 18th, 2009 (Updated September 21st, 2009)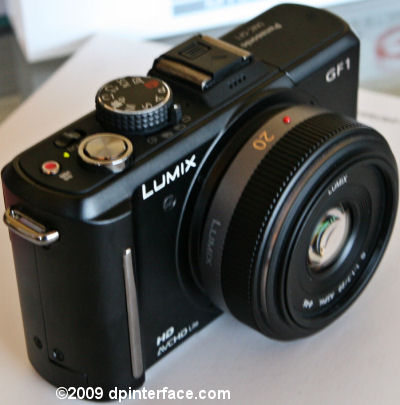 When Olympus made their PEN E-P1 Micro Four Thirds camera available, people were overjoyed over the compact size and overall feature set of the camera yet disappointed with its autofocus performance, below average LCD resolution (for a camera that price), lack of an optical viewfinder and built-in flash. Essentially, the Olympus E-P1 is a camera suited mainly for shooting outdoors and with good lighting around.
Panasonic probably decided the crowd looking for a compact interchangeable lens camera deserved better and came out with their latest Lumix GF1. The Lumix GF1 is similar in size and feature set compared to its Olympus cousin but fixes the things people were complaining about… and hey, it looks very much like the perfect camera.
Here are the Panasonic Lumix GF1's main features:
12 effective megapixels
Micro Four Thirds lens mount (Also takes full-size Four Thirds and some Leica lenses via their respective adapters)
3 inch LCD (460,000 pixels) for live view
3 frames per second burst mode
ISO range of 100 - 3200
My Colors feature (the equivalent to Olympus Art Filters)
Full manual controls
Tried-and-tested 23 point AF (Supposedly same as Lumix G1 and Lumix GH1)
HD 720p video at 30 FPS using efficient AVCHD Lite codec (MJPEG available); dedicated movie button and continuous autofocus available
Point-and-shoot modes for beginners, including Intelligent Auto mode
Optional electronic viewfinder attaches to hotshoe; can be tilted upwards to 90 degres
HDMI output port
Ready to find out more about the camera? We're gonna have a nice, good look at the Panasonic Lumix GF1 in this preview now!
But before we begin… I was told that the Panasonic Lumix GF1 model here is 'not a prototype' (as those other previews on the net have) but at the same time, not a 'mass production unit' either (shrugs shoulders). Results should be pretty darn close to that of the final camera, though Panasonic mentions that results MAY change once 'mass production' units roll off the assembly line. For that reason, you probably should wait until our full, final review comes out before judging the Lumix GF1.
Naturally, I'll be reshooting all product shots and gallery sample photos once I get my hands on a 100% finalized, retail version of the Lumix GF1.
Design and size
Kenji Onishi from Panasonic shows off the Lumix GF1 and its compact size
When Olympus first brought out their Olympus E-P1 PEN Micro Four Thirds, everyone was excited about the compact, rangefinder-esque form factor of the camera.
(326.8) 145.5 x 107.8 x 73.5 mm (730 g) – Canon EOS 50D
(226.9) 120.6 x 69.9 x 36.4 mm (335 g) – Olympus E-P1
(258.8) 124.0 x 89.6 x 45.2 mm (385 g) – Panasonic Lumix G1/GH1
(226.3) 119.0 x 71.0 x 36.3 mm (285 g) – Panasonic Lumix GF1
(195.3) 108.7 x 59.5 x 27.1 mm (220 g) – Panasonic Lumix LX3
All the weight figures above show when the camera is empty without any lens, battery or memory card
What's a big fat SLR like the Canon EOS 50D doing in the comparison? What about the fixed-lens LX3? Well, they show how compact the Panasonic Lumix GF1 – it's a lot smaller than a conventional digital SLR, and just slightly bigger than a fixed-lens camera like the LX3. In fact, the Panasonic Lumix GF1 is also a hair smaller than its Olympus cousin, the E-P1 PEN.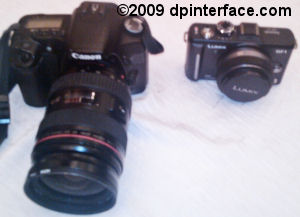 Typically, pictures can explain a lot more than words… and I'll let the picture above do all the talking about the Panasonic Lumix GF1's small size. On the left is your typical digital SLR with a great portrait lens (24-70 mm f2.8), and on the right is the Panasonic Lumix GF1 with a 'street-shooting' lens (the new 20 mm f1.7 pancake).
In case you haven't gotten over the initial 'camera-culture shock', yes, you CAN change lenses with the Lumix GF1. I'll show you the Lumix GF1 with the 14-45 mm kit lens in a bit.
Box packaging
The Panasonic Lumix GF1 comes with your standard digital SLR bundle:
Rechargeable lithium-ion battery (with case)
Battery charger
Body cap and hotshoe protector (both attached to camera)
Neck strap
USB and A/V cables
Camera software CD (Photo Fun Studio viewer 4.0 HD Edition, SikyPix Developer Studio for RAW shots, Quick Time and a USB driver)
User's manual
The Panasonic Lumix GF1 will come in two 'kits' (three in some places): the 14-45 mm f3.5-f5.6 OIS lens kit or dual lens kit (14-45 mm lens + 45-200 mm f4.0-f5.6 OIS telephoto zoom). There's a third configuration that seems to be Panasonic's answer to the Olympus E-P1's 'pancake kit' – this kit bundles the GF1 with Panasonic's 20 mm f1.7 pancake lens. No word from Panasonic on a 'body only' option so far.
The Panasonic Lumix GF1 doesn't come with any memory card or internal memory. The camera takes SD/SDHC cards.
300 shots – Olympus E-P1
330 shots – Panasonic Lumix G1
300 shots – Panasonic Lumix GH1
380 shots – Panasonic Lumix GF1
380 shots - Panasonic Lumix LX3
All the cameras above are rated with rechargeable batteries according to CIPA Standard; when using the viewfinder, unless noted otherwise
Rated at 380 shots per charge, the Panasonic Lumix GF1 has the best battery life among Micro Four Thirds cameras yet. Battery life is on par with Panasonic's similar-looking prosumer camera, the fixed-lens Lumix LX3. The average number among entry-level digital SLR cameras is 500 shots per charge, but then again, normal SLR cameras are much larger than the GF1.
Lens selection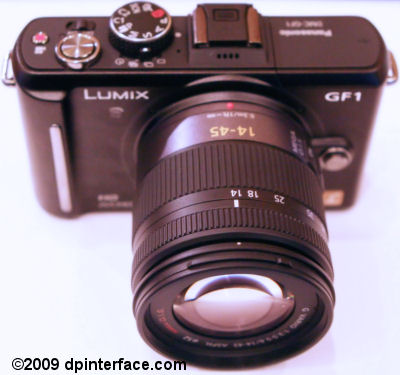 Panasonic Lumix GF1 with 14-45 mm kit lens
The Panasonic Lumix GF1 natively supports Micro Four Thirds lenses. You can choose to attach full-size Four Thirds, Leica M and Leica R lenses to the Lumix GF1 via their respective adapters. But you had better be feeling nostalgic or have a good reason for using other lenses, because only native Micro Four Thirds lenses will be able to autofocus with the camera; many older full-size Four Thirds lenses will lose the ability to autofocus when attached to a Micro Four Thirds.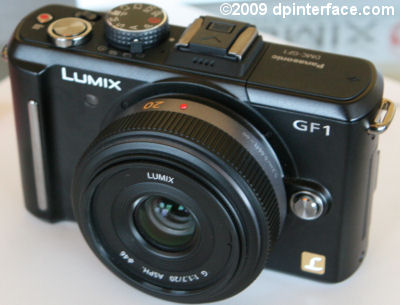 Panasonic Lumix GF1 with 20 mm pancake lens
Along with the Lumix GF1, Panasonic also unveiled a new pancake lens: the Lumix G 20 mm f1.7. This lens, in my opinion, is a lot more useful for street shooting and low-light applications compared to the Olympus Zuiko Digital 17 mm f2.7 pancake as it's brighter (in terms of aperture value) and about the same size.
Camera Tour
The Panasonic Lumix GF1 is arguably the most head-turning 'compact' camera you'd ever see. Not that its design is particularly unique – it looks like a modernized version of the retro Olympus E-P1 – but because of its compact body, and proportionally larger lens: most people aren't used to seeing 'compact' cameras with lenses as large as the body itself attached to it.
The Lumix GF1 has just about as many buttons as the Olympus E-P1 and is easy to hold. Panasonic did a good job in easing the transition for many users by including a familiar control layout (similar to that of their LX3 plus a command dial) and a good amount of space to hold the camera.
The Panasonic Lumix GF1 will come in your choice of three colors: black, silver or red. I was lucky enough to see all three colors at Panasonic's press conference and I liked silver the best – it kinda has this pearl-like tone to things. The camera you see here in this preview is of course the black model.
And before anyone asks, no, Panasonic doesn't have any color matching lenses for the cameras – at the moment, you'll get black-colored lenses only.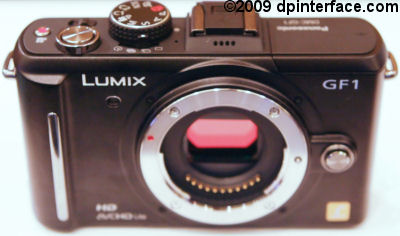 Another picture of Kenji Onishi holding the Panasonic Lumix GF1
The Panasonic Lumix GF1 has a 3 inch screen with double the dots of the Olympus E-P1's LCD. The GF1's LCD has 460,000 pixels and is really sharp. I found it easy to 'chimp' and inspect photo details on the screen and visibility in low/bright light were both very good.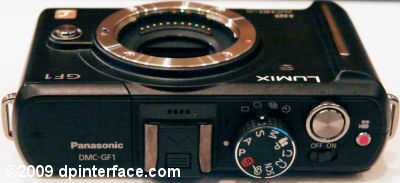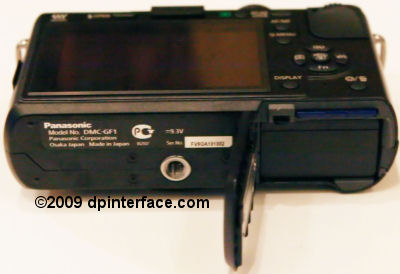 At the bottom of the camera is a metal tripod mount and battery/memory card compartment. Though it may not be that obvious here, the camera's tripod mount is in-line with the lens mount.
Video Recording
The Panasonic Lumix GF1 has a 720p HD movie mode. You can record 1280 X 720 at 30 FPS with mono sound until the memory card fills up. There are three "Recording quality" settings for overall movie quality (both video and audio): Super High (17 Mbps), High (13 Mbps) and Low (9 Mbps) quality.
You can choose to record movies at 30 FPS with your choice of four resolution settings: 720p (1280 x 720), WVGA (848 x 480), VGA (640 x 480) or QVGA (320 x 240).
There are two video codec settings to choose from on the Panasonic Lumix GF1: the very memory efficient AVCHD Lite format or the more traditional MJPEG-MOV format. The catch to having smaller file sizes is that AVCHD Lite movies typically have to be re-encoded first before they become usable (ie watching using Apple Quicktime/Windows Media Player, uploading online or sharing with friends and family).
Both optical zoom, focus and optical image stabilization (depends on lens) can be used while recording movies. Movie mode fans rejoice – there's also a dedicated Continuous AF setting in the camera menu which you can toggle on/off.
Again, more on the camera's movie mode in the final Lumix GF1 review.
Performance
The Panasonic Lumix GF1 has a burst mode that shoots at 3 frames per second. More on the Lumix GF1's performance in the final review of the camera.
What I CAN tell you however is that the autofocus performance on the pre-production GF1 I handled is pretty darn fast, noticeably faster than that of the E-P1 PEN. That bodes well to the AF performance that we will see in the finalized version of the camera.
Lumix GF1 Sample Photos
DISCLAIMER: Photos here were taken using a pre-production unit of the Panasonic Lumix GF1. The sample photos here are merely 'teasers' of what to expect from the camera, though image quality is subject to change on the finalized version of the GF1. Please wait until our final review to judge image quality.

ISO 100

ISO 200

ISO 400

ISO 800

ISO 1600

ISO 3200
Photo gallery
There are full-sized photos available in the Panasonic Lumix GF1 preview gallery.
Final thoughts
The Panasonic Lumix GF1 is a pretty interesting camera – it takes most of the larger GH1's features, adds in a few bells and whistles of its own (such as My Color modes) and puts everything into a body the size of the Olympus PEN camera (in fact slightly smaller and lighter). The Panasonic Lumix GF1 already garnering plenty of attention and with its speedy autofocus, high resolution LCD and improvements over its E-P1 cousin, I think the camera is going to be a hot seller, especially towards the year-end holiday season. If you miss (or think you'll miss) the good ol' eye-level viewfinder of an SLR-form factor camera, not to worry – Panasonic will be offering an optional electronic viewfinder that attaches to the Lumix GF1's hotshoe. There's plenty more I'd like to talk about, and a lot of pictures that I plan to take and share… but that'll have to wait until I get to review a finalized, full-production unit of the Panasonic Lumix GF1.
If you have any questions, feel free to leave them in the comments section below and I'll try my best to answer them.