There we go – it's my review of the Olympus Stylus Tough 6020 (also known as the Mju Tough 6020), one of three rugged cameras that Olympus has introduced for 2010. This new Olympus TOUGH camera gives you more than last year's models while remaining just as rugged, with a new 720p HD movie mode, 14 megapixels of resolution, a 5X optical zoom lens and 2 GB of internal memory. Also head on to the Olympus Stylus Tough 6020 photo gallery posted as well.
DPInterface Olympus Stylus Tough 6020 aka Mju Tough 6020 Review
Brad Soo – July 23rd, 2010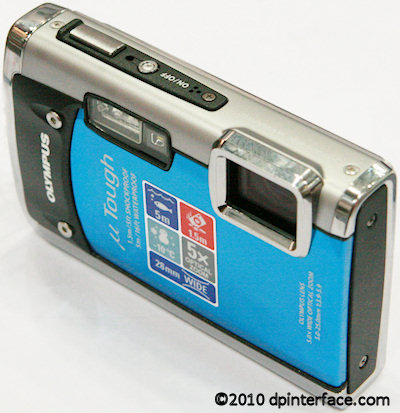 Another year, another rugged camera – that's how Olympus has been rolling ever since they first introduced their line of rugged cameras back in 2007. The 2010 Stylus Tough 6020 brings several key changes to Olympus' line of rugged cameras… namely a 5X zoom lens (up from 3.6X on previous models), large internal memory, ability to record 720p HD movies (finally) along with a revamped user interface that's a lot more straightforward and intuitive to use. Not exactly revolutionary changes you say, but at least that brings the Olympus Stylus Tough 6020 up to a more competitive level.
But just how competitive is the Olympus Stylus Tough 6020, exactly? And can it beat the competition to winning your heart (and hard earned cash)? Find out now in our review of the camera!
Size and Weight
(219.3) 103.6 x 66.9 x 48.8 mm (190 g) – Canon PowerShot D10
(172.2) 92.0 x 59.6 x 20.6 mm (110 g) - Fujifilm FinePix Z33 WP*
(177.0) 96.5 x 60.5 x 20.0 mm (140 g) – Nikon Coolpix S70**
(181.1) 95.3 x 63.4 x 22.4mm (149 g) – Olympus Stylus Tough 6010
(181.1) 96.7 x 64.4 x 25.8mm (178 g) – Olympus Stylus Tough 6020
(178.2) 95.0 x 61.7 x 21.5 mm (182 g) – Olympus Stylus Tough 8000
(176.8) 93.6 x 61.7 x 21.5 mm (127 g) – Olympus Stylus 550 WP*
(184.4) 98.3 x 63.1 x 23.0 mm (163 g) - Panasonic Lumix TS1 aka Lumix FT1
(180.0) 99.5 x 56.0 x 24.5 mm (135 g) – Pentax Optio W80
(172.0) 97.9 x 57.8 x 16.3 mm (124 g) – Sony Cyber-shot T900**
All the weight figures above show when the camera is empty without a battery or memory card
*Waterproof only
**Non-rugged camera
Not surprisingly, the Olympus Stylus Tough 6010 aka Mju Tough 6010 has exactly the same dimensions as its 10 megapixel twin. The camera winds up in the middle of the pack in terms of size – a little wide in terms of surface area but nevertheless pocketable.
Box contents
Olympus has recently introduced a very slight alteration to what they include in their camera boxes, but nevertheless, the Stylus Tough 6020 comes with an average bundle:
LI-50B rechargeable lithium-ion battery
AC adapter charger
Wrist strap
USB and A/V cables
Can you spot what's missing here? A user's manual and camera software disc! Nope, Olympus hasn't forgotten about them, but they've opted to take a more "environmentally friendly" approach by including them in the Stylus Tough 6020's internal memory.
While its predecessors came with a mere 40-something megabytes (MB) worth of internal memory, the Olympus Mju Tough 6020 comes with a whopping 2 GB of built-in memory (though I've read that North American Stylus Tough 6020 models come with just 1 GB of memory). Olympus mentions that 400 MB of the camera's internal memory is taken up by the built-in guide/manual and included IB imaging software (which you'll have to load onto your computer from the camera).
If you'd like to expand the amount of available memory, the Olympus Stylus Tough 6020 also supports SD/SDHC memory. Again, no word from Olympus regarding SDXC compatibility, but do you REALLY need to use a single 48 GB memory card with the camera? I'd really recommend one if you're planning on recording long movie clips or simply want to get your pictures across to your computer more quickly (transferring over USB 2.0 directly from the camera is really slow versus using a card reader), and 4 GB would be a nice place to start. Getting a high-speed memory card isn't a necessity as the performance difference with one is small.
220 shots – Canon PowerShot D10
200 shots - Fujifilm FinePix Z33 WP*
200 shots – Nikon Coolpix S70**
230 shots - Olympus Stylus Tough 6010
240 shots – Olympus Stylus Tough 8000
140 shots – Olympus Stylus 550WP*
340 shots - Panasonic Lumix TS1 aka Lumix FT1
170 shots – Pentax Optio W80
200 shots – Sony Cyber-shot T900**
All the cameras above are rated with rechargeable batteries with LCD on according to CIPA Standard
*Waterproof only
**Non-rugged camera
Like many of Olympus' other compact cameras, the Stylus Tough 6020 uses the familiar LI-50B lithium-ion rechargeable battery. Battery life has dropped about 15% here compared to the two models which preceded the Stylus Tough 6020 and the camera now gets a battery life rating of 200 shots per charge. That's below average compared to other rugged cameras in the market.
The Olympus Stylus Tough 6020 now supports USB charging, so you can plug the camera in to your computer (or any USB charger) to recharge the battery when you're low on juice. Speaking of charging the battery, the Stylus Tough 6020 comes with an AC adapter-style charger (versus a standalone battery charger) which plugs directly into the camera. While I'm all up for the idea of USB charging in cameras nowadays, I'm not a big fan of manufacturers abandoning dedicated chargers in favor of AC adapter chargers – it takes far longer than the standard 2 hours of dedicated chargers and you can't use the camera while you charge a spare battery because the camera IS the charger. Of course, Olympus will be more than happy to sell you a dedicated battery charger.
Accessories
There are quite a number of accessories available for the Olympus Stylus Tough 6020. First off, there's that optional standalone battery charger I was talking about which is useful (but pricey) if you want to leave and charge a battery at home while you go out with the camera. There are also accessories that cater to those who would like to take the camera swimming and diving and into water; including an underwater case that will let you take the camera as deep as 40 m (130 feet) underwater, underwater flash and light, a float strap and case and carabiner strap for keeping the camera with you.
Camera Tour
The Olympus has given the Stylus Tough 6020 a slight redesign to have more in common with its industrial-looking sibling, the Stylus Tough 8010, though it still somewhat resembles its direct predecessor, the Tough 6010, as well (albeit with less rounded edges). The camera's build quality is pretty much top notch as you'd expect from a rugged digital camera. The Stylus Tough 6020 is waterproof down to 5 meters (16 feet), shockproof to 1.5 meters (5 feet), freezeproof to 10 Celcius (or 14 degrees) and also dustproof.
The Olympus Stylus Tough 6020 has just 'decent' ergonomics. Despite sporting the same number of buttons as its predecessor, the layout here on the Stylus Tough 6020 looks a lot less cluttered – unfortunately, they're still a slight challenge to press (especially for those with large fingers). On a more positive note, the Stylus Tough 6020 now has a 'raised bump' on the front for your right hand, improved battery/memory compartment door lock mechanism and also better placement of the compartment itself. Tap Control, which allows you to change certain settings just by 'tapping' the sides of the camera, is still present.
The Olympus Stylus Tough 6020 comes in your choice of four colors (or rather, color accents around the camera): Black, blue, pink and green.
One of the biggest changes on the Stylus Tough 6020 is the new 5X optical zoom lens. This new lens now covers a range of 28 – 140 mm and is self-contained (which means it never protrudes from the camera). The lens isn't very 'bright' with an aperture range of f3.9 to f5.9. However, Olympus has included sensor-shift image stabilization which helps reduce blur caused by camera shake and/or slow shutter speeds. As usual, my caveat with sensor-shift image stabilization is that it can't be activated in movie mode (this applies to all cameras with sensor-shift stabilization, regardless of brand or model).
Typical for their line of rugged cameras, Olympus has not forgotten about that ever-useful LED lamp, which you'll find to the left of the lens. The LED lamp comes in handy when you're shooting in low-light and close-up shots where you'd probably want/need some added illumination, and can be used in both shooting and movie modes. Next up is the camera's flash, which has a pretty average sounding range of 20 cm to 4.0 m at wide-angle and 50 cm to 2.7 m at telephoto (ISO 800).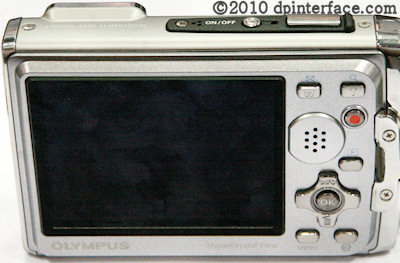 The LCD display on the Stylus Tough 6020 remains unchanged compared to its predecessor. The display measures 2.7 inches in size, has 230,000 pixels and carries Olympus' HyperCrystal 3 branding, which touts good screen visibility. During my time with the camera, I found the screen legibility to be quite good in both dim and bright light.
All of the camera's physical controls are located on the right side, making single-handed operation of the Stylus Tough 6020 possible. All of the camera's controls are located to the right of its LCD, and we'll start out little tour of the buttons here with the zoom in/out controls which can be conveniently reached and accessed using your right thumb.
New to the Olympus' compact cameras is a dedicated movie button, which the Stylus Tough 6020 has, located right below the "zoom in" button. You can use this button to start and stop recording a movie clip anytime, regardless of shooting mode. To the left of the movie button is the speaker for playing back sound memos and audio from movies (you can also rest your thumb on this blank area if you're afraid of accidentally bumping any of the camera's other buttons).
Next up, we have the playback button as well as the five-way navigation pad. Gone is the mode dial that's been around since the first generation of Olympus' rugged cameras, whose function has now been replaced by the left-right buttons on the navigation pad. Let's go to the navigation pad now:
Up – INFO (Toggles the amount of information shown on-screen)
Down – Delete photo
Left – Tap Control info
Center – Function menu/Set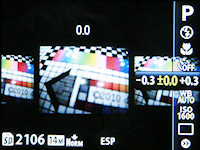 Function menu, slightly redesigned on the Stylus Tough 6020
The function menu on the camera is brought up by pressing the center button on the navigation pad:
Shooting mode (Intelligent Auto, Program mode, Magic Filter, panorama, beauty mode, scene modes, movie mode)
Flash setting (Auto, auto with redeye reduction, on, off)
Macro mode (Off, standard macro, super macro)
Self-timer (Off, 2 seconds, 12 seconds)
Exposure compensation (+/-2 exposure in 1/3 step increments)
White balance (Auto, daylight, cloudy, tungsten, fluorescent 1,2 & 3)
ISO sensitivity (Auto, high auto, 80, 100, 200, 400, 800, 1600)
Drive mode (Single-shot, normal burst, high-speed burst)
Camera menu
The Olympus Stylus Tough 6020 features a panorama shooting mode that allows you to line up several photos in a row and combine them into a single panoramic image. You can choose to snap up to three photos and let the camera combine it right after that, or take up to 10 photos and stitch them manually on the computer (using the camera's bundled software).
The camera now automatically activates Perfect Shot Preview that shows you up multiple previews of different effects/settings at once, when adjusting white balance or exposure compensation.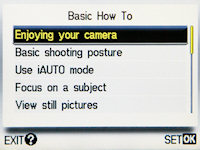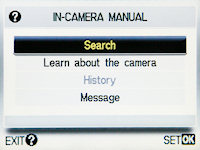 In-camera manual and guide tooltips on the Stylus Tough 6020
The last two buttons are the MENU and HELP buttons respectively. Both are pretty self-explanatory, but if you must need me to explain: the MENU button brings up the camera's main menu (now with a design revamped for 2010!) while the HELP button loads the built-in, fairly detailed shooting guide (or if you're in the camera menu, a tooltip will be shown about the selected item/menu option).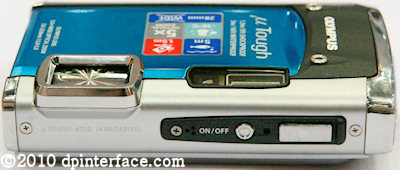 On the top of the Olympus Stylus Tough 6020, you'll find the mono microphone, power on/off button as well as shutter button.

This side of the camera is blank…


Over on this side of the Stylus Tough 6020 is a huge compartment door that hides the camera's memory card, battery and connectivity ports. The compartment door is completely sealed (see the rubber padding that fill in any seams on the door?) so rest assured that water, dust and any other gunk won't be able to enter the camera when the door is closed. There's also a nice and secure locking mechanism that prevents you from accidentally opening the door (disastrous if that were to happen underwater).
The camera has two ports flanking the memory card slot: a combo port for USB 2.0 High-speed and A/V out connectivity as well as a type C mini HDMI port for hooking the camera up to your HDTV (the Olympus Stylus Tough 6020 supports remote playback control over HDMI).

The bottom of the Olympus Stylus Tough 6020 is almost completely devoid of anything except the metal tripod mount. And that's a good thing, since you can now swap batteries and memory cards when the camera is attached to a tripod.
Tap Control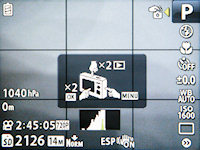 Like other rugged cameras Olympus has made before, the Stylus Tough 6020 features Tap Control which allows you to perform certain actions by simply tapping the sides of the camera. While Tap Control could work only in shooting mode on previous cameras, the Stylus Tough 6020 is the first to have Tap Control functions in playback as well!
Here's what Tap Control does in shooting mode:
Double tap top – Enter playback
Tap back surface – OK/Confirm
Tap right side – Camera MENU
In playback mode, tapping the left/right sides of the camera will move you to the previous/next picture respectively while double tapping the top of the Stylus Tough 6020 returns you to shooting mode.
Taking pictures (Shooting mode)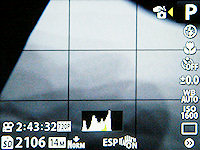 Shooting screen
The Olympus Stylus Tough 6020 shows you plenty of on-screen information in shooting mode; that includes exposure details, camera settings, a live histogram, optional 3 X 3 gridlines as well as atmospheric pressure and altitude. The only thing missing here is a battery indicator.
The image resolution options available on the Stylus Tough 6020 are 14 MP, 8 MP, 5 MP, 3 MP, 2 MP, 1 MP and VGA; along with two image compression options; Fine and Normal. There's also a 'widescreen' aspect ratio which takes either 10.3 megapixel or 2.0 megapixel photos (your call) in 16:9 ratio, so you won't get black bars above and below the picture when you display it on your widescreen TV or monitor.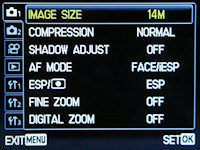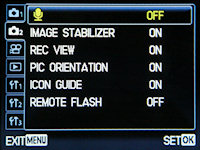 The new Menu system take you directly to the REAL menu without having to go through the 3X3 icon based main menu first
Olympus has given the menu system found on their compact cameras a much needed redesign for the new decade. The Olympus Stylus Tough 6020 is one of the first few to feature that redesigned menu system, which has a more organized, tabbed interface with no more repetitive items that appear in the Camera and Function menus at the same time:
Image size and compression
Shadow Adjustment (On/off)
AF mode – iESP (multiple point), face detection, spot, AF tracking
Exposure metering – ESP (Evaluative), center weighted, spot
Fine zoom and digital zoom – Digital zoom lowers image quality as usual by using digital magnification while fine zoom crops your pictures instead
Sound memo (On/off)
Sensor-shift image stabilization (On/off)
Record view – The camera shows a preview of the picture after it's taken
Picture orientation – Let the camera automatically rotate pictures based on the orientation they were taken
Icon guide
Remote flash – for triggering slave flashes
Setup menu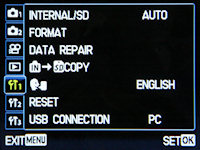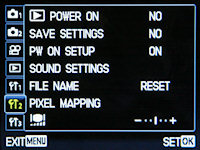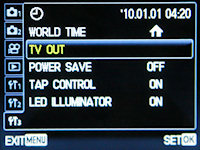 Setup menu
Internal/SD memory – choose which memory area the camera saves pictures/video to
Format memory
Data repair
Copy data from internal memory to memory card
User interface language
Reset settings
USB connection
Playback power on – turn the camera on directly via the playback button
Save settings
Password protect setup settings
Sound settings – for camera audio playback and beeps
File name
Pixel mapping – for 'refreshing' and recalibrating hot or dead pixels on the sensor
LCD display brightness
Date and time/world time
TV Out settings
Power save – let the camera power off automatically when idle
Enable/disable Tap Control and the front LED light
Macro and scene modes
The Olympus Stylus Tough 6020 has two macro modes. Standard macro has a minimum focusing distance of 20 cm at wide-angle and 50 cm at telephoto, while super macro lowers that minimum distance to just 3 cm, though the lens is fixed at wide-angle using this mode.
The Olympus Stylus Tough 6020 has no manual controls, only a bunch of scene modes which include portrait, landscape, night scene (which will use a shutter speed up to 4 seconds long), night portrait, sport, indoor, candle, self portrait, sunset, fireworks, cuisine, documents, beach and snow, pet mode, underwater snapshot, underwater snapshot and underwater wide 1 & 2 and underwater macro. If you're too lazy for that, the camera also has an Intelligent Auto mode that automatically picks one of five scene modes (Portrait, landscape, night portrait, macro or sport).
The camera has a face detection system that can find up to 12 faces in a frame.
Magic Filters
The Olympus Stylus Tough 6020 has a set of four Magic Filters (also known as Creative Art Effects in some countries), which are a set of preset effects applied to photos as you shoot them – yes, right in the camera. You CAN also do the same in Photoshop, but using the camera's built-in Magic Filters is the way to go if you prefer convenience. The Magic Filters effects available on the Stylus Tough 6020 are: Pop art, fisheye, drawing and pinhole.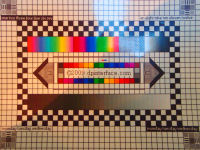 Pop Art and Pinhole effects
Pop Art intentionally increases saturation and makes photos look slightly warmer while Pinhole simulates the effect of photos taken by a pinhole camera by adding excessive vignetting (dark corners) to pictures.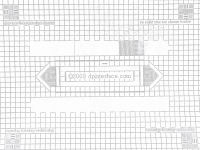 Fisheye and Sketch effects
The fisheye and sketch effects here are both pretty self-explanatory. The first three Magic Filters can be used at full 14 megapixels except Sketch, where resolution is lowered to 3 megapixels.
Video Recording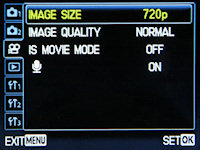 The Olympus Stylus Tough 6020 features a HD movie mode that's capable of recording 720p HD (1280 x 720) video at 30 FPS with mono sound. Olympus has also done away the "xD-Picture card or else" restriction that limited non-xD type cards to a choppy 15 FPS frame rate (since xD-Picture card is unofficially dead and the Stylus Tough 6020 only takes SD/SDHC!).
In addition to 720p HD recording, you can also opt to record VGA (640 x 480) or QVGA (320 x 240) sized movies; all at 30 frames per second. As with all other cameras, there's a file size limit of 4 GB per movie file, which is more than enough for an hour of VGA video and shouldn't bother most people. The 720p HD setting is subject to both the 4 GB file size limit and 29 minute per movie file limit (whichever comes first).
Exposure is automatically adjusted and you can use the optical zoom lens (it moves very slowly) while recording a movie. Sensor-shift image stabilization, however, is unavailable (due to the nature of the system), with a digital IS alternative taking its place. Digital IS is no substitute for real image stabilization and forces movies to be a little more 'zoomed in' than usual so the camera can digitally compensate for camera shake. All-in-all, movies were fairly average in terms of visual and audio quality.
Performance
All performance testing of the Olympus Stylus Tough 6020 was performed using a 1 GB Olympus xD-Picture card.
The Olympus Stylus Tough 6020 aka OIympus Mju Tough 6020 starts up in a speedy 1.4 seconds. Autofocus performance was just average, clocking in an average of 0.2 to 0.5 seconds with good light around, while hitting 0.8 to 1.5 seconds in low-light. One word of advice is to toggle on the camera's LED illuminator in low-light since the camera lacks a real AF-assist lamp.
Shot-to-shot speed - 1 shot every 1.8 seconds, about average
Flash recharge time using a fully charged battery - 4 seconds on average
The Olympus Stylus Tough 6020 has a full-resolution continuous shooting mode that shoots a paltry 0.33 FPS (1 picture every three seconds) until the memory card fills up. That's not surprising since the camera packs a 14 megapixel sensor, so it needs time to process such large pictures (and mind you, this is no SLR!). If you don't mind lowering resolution down to 3 megapixels, you can shoot at 1 frame per second until the memory card fills up, which is still pretty crappy considering Olympus has a 'speed burst' option on last year's cameras (that lowered resolution to 3 megapixels but boosted frame rate to 5 FPS).
Zooming is quite quick for an internal zoom lens, as the camera is able to drive its 5X lens from wide-angle to telephoto in around two seconds. Shut down time was instant since the Stylus Tough 6020 has no lens to retract.
In typical Olympus fashion, the Stylus Tough 6020 is in no way a speed-freak. In fact, the Stylus Tough 6020 had a personality, it would be "Type B". The camera performs just decently in terms of autofocus and shooting speeds, making it a camera for taking stills and casual photos; but not one to capture fast action (such as kids, pets and sports).
Image Quality
Moving on, we'll be taking a look at the Olympus Stylus Tough 6020 aka Mju Tough 6020's image quality:

ISO 80 (f4.6, 1/8 sec)

ISO 100 (f3.9, 1/13 sec)

ISO 200 (f3.9, 1/25 sec)
ISO 400 (f3.9, 1/50 sec)

ISO 800 (f3.9, 1/125 sec)

ISO 1600 (f3.9, 1/250 sec)
Heading on to check out image quality, the Olympus Stylus Tough 6020 performs pretty well at lower ISO settings. At ISO 100 and 200, images are generally clean with just a tiny bit of visible noise. Going up to ISO 400, you'll notice some noise starting to appear along with a minor reduction in color saturation but not enough to be a nuisance just yet.
Noise becomes fairly prominent at ISO 800 and this is the highest you should go if you want to use photos for medium to large printing or display (A4 printing or HD display). You'll also notice a much larger drop in color saturation here. ISO 1600 photos are noisy and should only be used for emergencies or tiny printing.

Olympus Stylus Tough 6010 at ISO 400
Olympus Stylus Tough 6020 at ISO 400

Olympus Stylus Tough 6010 at ISO 800

Olympus Stylus Tough 6020 at ISO 800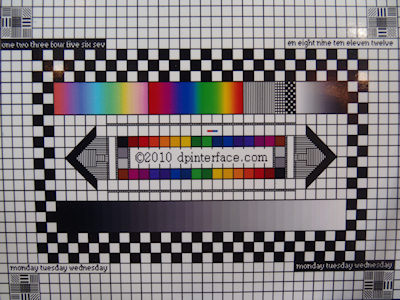 The Olympus Stylus Tough 6020 has fairly low levels of barrel and pincushion distortion, which isn't surprising since the camera's image processor runs photos through mandatory lens distortion reduction as they are taken. Chromatic aberration (color fringing) levels are low but there is still some visible in photos, along with slight edge softness at the very corners. Redeye is not an issue as the camera uses both pre-flashes and software to reduce/remove any. There is also a manually-activated software-based redeye removal tool in playback.
Image quality is overall about average compared to other rugged cameras. The camera controls noise pretty well with a sensible amount of noise reduction that preserves detail levels at lower ISO settings. Unfortunately, details still get washed away as you climb up the ISO ladder.
Photo gallery
Have a look at full-sized photos in the Olympus Stylus Tough 6020 aka Mju Tough 6020 photo gallery!
Playback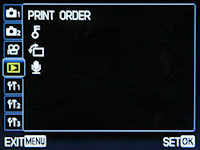 The Olympus Stylus Tough 6020 has a pretty good playback mode with a set of image editing tools. You'll find four basic playback features in the 'Playback' tab of the camera menu: print marking, image protection, rotation and voice clip attachment. The rest of the camera's other playback functions (including slideshow) are located in the Function menu, which is brought up by pressing the center button on the navigation pad. Photos can be magnified by 10X for detail inspection.
Pictures can be played back as individual photos, in sets of 12 or 30 thumbnails or by category. The camera also has a few editing functions, which include redeye removal , Shadow Adjustment edit, Beauty Fix (smoothens skin and removes blemishes), saturation adjustment and the option to turn your pictures into sepia or black and white ones. You can also resize, crop and even create a basic calendar out of photos you've taken.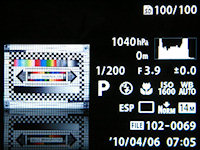 The Olympus Stylus Tough 6020 tells you pretty much everything about your photos: shooting details, exposure information (with shutter speed and aperture value) and a brightness histogram. The camera also shows atmospheric pressure and altitude of the photo taken as well. The Olympus Stylus Tough 6020 now features transition effects when you scroll from one photo to the next.
Conclusion
The Olympus Stylus Tough 6020 is a mild update over its predecessor, that brings its feature set up to par with the current competition. The main changes being 14 megapixels of resolution (up from 12), a new big 5X optical zoom lens, a new user interface, 720p HD movie mode and some other minor alterations. Olympus has also given the Stylus Tough 6020 a slight redesign that makes it look less like a toy, along with reshuffled controls and a relocated single compartment that shelters the battery, SDHC card slot and connectivity ports.
Of course, the Stylus Tough 6020 also continues to live up to its 'tough' name by offering the same level of ruggedness as its predecessor. It's waterproof, shockproof, dustproof and freezeproof, though Olympus offers a standalone waterproof case and other accessories for those enthusiastic about bringing the camera into deeper depths. Ergonomics have improved slightly with the new user interface with no more duplicate (and redundant) menu items, more intuitive "one function per button" layout but I stilll wish they made the buttons larger in size.
The camera's 2.7 inch screen remains the same as the one found on last year's model. Shooting functions and the various modes found on the camera are also extremely similar to that of previous models, but you'll find that such options are more accessible thanks to the retooled UI layout as well as the built-in help/camera guide system on the Stylus Tough 6020. Did I also mention the camera now comes with a huge amount of internal memory as well as somewhat capable "Olympus ib" software for your computer?
One of the weak areas of the Stylus Tough 6020 is the performance area, where the camera takes its time to focus and snap photos. It also has a burst mode that I would consider useless with very poor shooting frame rates. At least image quality remains on par with the competition with good sharpness and noise control, along with little lens distortion and no redeye. There's still some color fringing and edge softness (at the extreme edges) you need to keep an eye out for, however.
All-in-all, the Olympus Stylus Tough 6020 is a reasonable candidate if you're looking for a rugged camera. It's not THE best rugged camera out there, but its rather reasonable price tag might make you think twice and forgive some of its shortcomings. I would recommend the Stylus Tough 6020 if you need a solid camera, but not without reservations (it's not great when it comes to high-speed shots or in low-light).
What's hot:
Decent image quality; comparable to other rugged cameras
Rugged design: waterproof, shockproof, dustproof and freezeproof
Less cluttered control layout (though see below); very good screen legibility
LED illuminator is handy for macro/low-light shooting
Retooled user interface is much more intuitive than on previous models
Capacious internal memory; SD/SDHC card support (and dropped xD-Picture card support)
Improved movie mode; camera now captures 720P HD video (finally), no memory card limitations
Intelligent Auto mode, Magic Filters and built-in shooting guide make things more interesting for beginners
Elaborate playback mode
What's not:
Lack of manual exposure controls
Chromatic aberration (color fringing) and soft edges a minor issue
'Just' acceptable level of performance, mediocre continuous shooting mode
Buttons are still fairly small
Low-light performance (ie focusing and high ISO) still not that great