Here's my review of the Olympus Stylus Tough 6000 aka Mju Tough 6000, a compact and rugged camera from Olympus with tap control. Along with the review, I've got the Olympus Stylus Tough 6000 photo gallery posted as well.
DPInterface Olympus Stylus Tough 6000 aka Mju Tough 6000 Review
Brad Soo – March 20th, 2009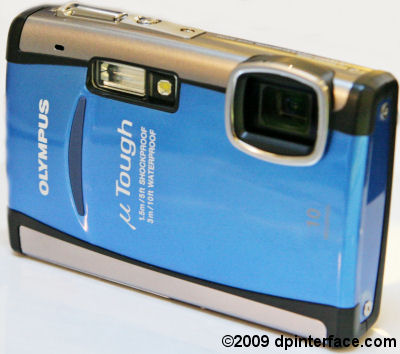 The Olympus Stylus Tough 6000 is the latest rugged compact camera from Olympus, and one of the first two cameras from them to carry the new 'Stylus Tough' model name. The Stylus Tough 6000 offers 10 megapixels, a 3.6X wide zoom lens, a 2.7 inch screen as well as being natively shock, freeze and waterproof. There's also Tap Control that we first saw on the Stylus 1050SW, Beauty Mode and an Intelligent Auto mode which automatically detects and picks a scene mode.
Apparently 2009 is the year of the rugged camera; and other manufacturers now have their own everything-proof cameras. So the Stylus Tough 6000 won't feel lonely anymore… But can it hold its own against newcomers to the turf established by Olympus?
The Olympus Stylus Tough 6000 is also known as the Olympus Mju Tough 6000.
Size and Weight
(219.3) 103.6 x 66.9 x 48.8 mm (190 g) – Canon PowerShot D10
(172.2) 92.0 x 59.6 x 20.6 mm (110 g) - Fujifilm FinePix Z33 WP
(179.5) 97.5 x 60.0 x 22.0 mm (145 g) – Nikon Coolpix S60**
(181.1) 95.3 x 63.4 x 22.4mm (149 g) – Olympus Stylus Tough 6000
(178.2) 95.0 x 61.7 x 21.5 mm (182 g) – Olympus Stylus Tough 8000
(184.4) 98.3 x 63.1 x 23.0 mm (163 g) - Panasonic Lumix TS1 aka Lumix FT1
(180.4) 99.0 x 56.0 x 25.4 mm (145 g) – Pentax Optio W60*
(172.0) 97.9 x 57.8 x 16.3 mm (124 g) – Sony Cyber-shot T900**
All the weight figures above show when the camera is empty without a battery or memory card
*Waterproof only
**Non-rugged camera
The Olympus Stylus Tough 6000 aka Mju Tough 6000 is one of the smaller rugged cameras out there. Compared to "normal" compact cameras which are not rugged, many of the everything-proof cameras are larger in size, but still pocketable (Except the bulky Canon model). The Stylus Tough 6000 is also the lightest rugged camera.
Box contents
The Olympus Stylus Tough 6000 comes with the average digital camera bundle, nothing more:
LI-50B rechargeable lithium-ion battery
Battery charger
microSD to xD-Picture card adapter
Wrist strap
USB and A/V cables
Camera software disc (Olympus Master)
User's manual
The Olympus Stylus Tough 6000 has 42 MB of internal memory which is good for storing an album of your favorite pictures. But if you want to actually go out there and take some pictures, I would recommend getting at least a 2 GB memory card. The Olympus Stylus Tough 6000 supports xD-Picture cards natively and microSD cards via the included adapter. I'd recommend sticking to microSD cards since xD-Picture cards are not used in any other electronic devices other than Olympus and Fujifilm cameras (in other words, it's a memory card format that is quite proprietary).
220 shots – Canon PowerShot D10
200 shots - Fujifilm FinePix Z33 WP
140 shots – Nikon Coolpix S60**
230 shots - Olympus Stylus Tough 6000
240 shots – Olympus Stylus Tough 8000
340 shots - Panasonic Lumix TS1 aka Lumix FT1
205 shots – Pentax Optio W60*
200 shots – Sony Cyber-shot T900**
All the cameras above are rated with rechargeable batteries with LCD on according to CIPA Standard
*Waterproof only
**Non-rugged camera
The Olympus Stylus Tough 6000 uses the familiar LI-50B lithium-ion rechargeable battery. This battery will power the Stylus Tough 6000 for 230 shots per battery charge (CIPA Standard) – that's average for a rugged/compact camera.
Accessories
There are various camera cases and an AC adapter available to the Stylus Tough 6000 but obviously no lens attachments or filters. The Olympus Stylus Tough 6000 is rated waterproof to 3 m; if you want to go deep sea diving, you should consider the external waterproof case for bringing the camera as deep as 40 meters. The last accessory for the camera is various neck straps for hanging the camera around your neck.
Camera Tour
The Olympus Stylus Tough 6000 aka Mju Tough 6000 is a small and rugged camera. Compared to its sibling (Stylus Tough 8000) with an industrial looking design, the Stylus Tough 6000 is certainly looks more fun to use. As you would expect from a rugged camera, build quality is very good - the Olympus Stylus Tough 6000 is shockproof up to 5 feet (1.5 meters), waterproof to 10 feet (3 meters) and also freezeproof down till -10 degrees Celcius (14 degrees F).
The camera's ergonomics get mixed comments from me. The Stylus Tough 6000 is easy hold and the shutter button is on a raised area, so your finger rests on it nicely. The power button is also recessed so you can't accidentally press it. On the other hand, I didn't quite care for the "button cluster" around the area of the navigation pad… it's easy to unintentionally press more than one button due to their small size and close proximity.
The Stylus Tough 6000 features Tap Control, a feature that I first saw on the Stylus 1050SW I reviewed a while back. Tap Control isn't a complete solution to the small buttons on the back, but it is well implemented and certainly helps when you're wearing gloves or have large hands.
Oh, and one more thing before we start touring the Stylus Tough 6000; the camera is available in your choice of four colors: silver, blue, yellow and orange.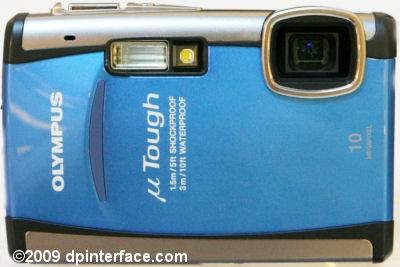 The Olympus Stylus Tough 6000 has a 3.6X zoom lens with a wide-angle component to it. The lens is equivalent to 28 – 102 mm (which underwater scenery and landscape lovers will appreciate) and has a slow aperture range of f3.5 – f5.1. One of the gripes I had against Olympus' previous rugged cameras was the lack of real image stabilization; something that is definitely a MUST for all rugged cameras since it's not feasible to set up a tripod all the time when underwater or taking the camera on a hiking trip. Thankfully, Olympus has taken care of that issue by including sensor-shift image stabilization on the Stylus Tough 6000. The image stabilization mechanism moves the sensor around to compensate for camera shake and reduce blur.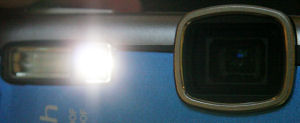 To the left of the lens is the Olympus Stylus Tough 6000's LED lamp which can be used as external lighting for low-light, movie and macro shooting. Beside the LED light is the built-in flash. The flash has numbers which are a tad above average; it covers a range of 10 cm to 4.0 m at wide-angle and 30 cm to 2.7 m at telephoto. Do note that ISO 800 was used to obtain those numbers so the range may drop if you decide to use lower ISO values. To the very right of the camera's front is the microphone for recording sound.
The Olympus Stylus Tough 6000 aka Mju Tough 6000 has a 2.7 inch Hyper Crystal 3 LCD, which is as large as displays can get on rugged cameras so far. The LCD display features 230,000 pixels so everything is sharp. In case no one noticed, the one here is Olympus' latest Hyper Crystal 3 LCD which promises better visibility in various conditions. I don't doubt Olympus' claim though; the LCD on the Stylus Tough 6000 is nicely viewable in both low-light and bright light.
For those looking for an optical viewfinder here, the Olympus Stylus Tough 6000 doesn't have one. In fact, none of the rugged cameras so far (no matter which manufacturer) have optical viewfinders at all.
You can find all the controls of the Stylus Tough 6000 to the right of its LCD. There's the zoom controller at the very top, followed by the camera's mode dial and mode indicator (the mode indicator doubles as the camera's activity indicator light). Taking a closer look at the mode dial, you'll find these options:
Program mode
Scene mode
Beauty mode
Movie mode
Playback mode
Intelligent Auto mode
Beauty mode (complete with a "Beauty and the Beast"-inspired mirror and theme)!
The screen overlay doesn't look different from normal shooting though
The Olympus Stylus Tough 6000 aka Mju Tough 6000 features two new modes: Intelligent Auto detects the scene you're shooting and automatically picks one of five scene modes for you (Portrait, landscape, night portrait, macro, sport). Then there's Beauty mode, the must-have gimmick… oops, feature of 2009 in compact cameras. Beauty mode removes blemishes in your people photos and makes their skin look better.
There's the navigation pad with four buttons surrounding it. This is where it's sometimes difficult to press a button without bumping into the nearby buttons. We'll look at the five-way navigation pad where each direction offers quick access to a shooting function:
Up – Exposure compensation (+/-2 exposure in 1/3 step increments)
Down – Self-timer (Off, on - 12 seconds)
Left – Macro (Off, normal macro, super macro)
Right - Flash setting (Auto, auto with redeye reduction, on, off)
Center – Function menu/Set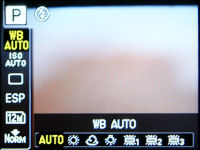 The function menu
The function menu on the camera is brought up by pressing the center button on the navigation pad:
White balance (Auto, daylight, cloudy, tungsten, fluorescent 1,2 & 3)
ISO sensitivity (Auto, high auto, 50, 100, 200, 400, 800, 1600)
Drive mode (Single-shot, normal burst, high-speed burst)
Metering method (ESP, spot, face detection)
Image size and compression
Surrounding the navigation pad are the MENU, Playback, DISPLAY and OR buttons. The DISPLAY button toggles the LCD's on-screen information display; hold the button down and it will activate the camera's LED illuminator on the front. It also brings up help tooltips about shooting functions in the menu system.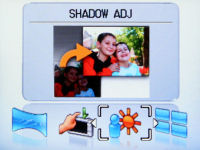 The "Olympus Recommended" menu
What is OR? It's the new "Olympus Recommended" button. It allows you to quickly access panorama shooting, toggle Tap Control, Shadow Adjustment and Perfect Shot Preview (more on these features as we go on).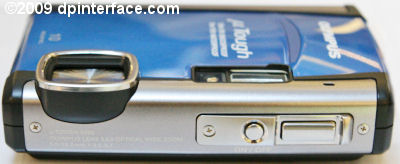 Over here is the Stylus Tough 6000's power button and shutter button.
Nothing here…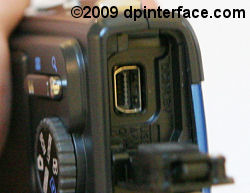 On the other side, you'll find a wrist strap loop, speaker and a single connector port. This port is used for both USB and A/V out connectivity and the cover over it is well sealed to keep dust and water out.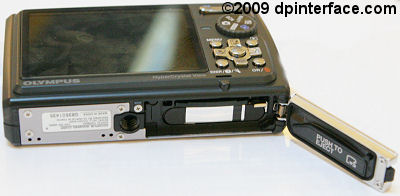 And lastly, there's the tripod mount and battery/memory card compartment over here at the bottom of the Stylus Tough 6000. You won't be able to swap memory cards here because of the tripod mount location.
Now let's talk about the Stylus Tough 6000's Tap Control. It's a unique feature which allows you to select or change settings just by tapping the sides of the camera (this does not mean the LCD is a touchscreen though, it is NOT). It's a very useful feature on a rugged camera, considering the places that you could bring the camera to (diving, skiing, surf boarding anyone?), because it makes operation easier when wearing gloves or if you're not bothered to peck at the small buttons on the back of the camera.
Here are the tap functions of each side of the camera:
Double tap top – OK/Select
Tap left side – Macro setting
Tap right side – Flash setting
Tap back surface – Enter playback mode
Tap Control is well-implemented and responsive to use; though it'll certainly be nice if Olympus allowed you to customize the function that each 'tap' performs… but right now, isn't it brilliant, you have THREE ways to enter playback (mode dial, button and tap control)?
Taking pictures (Shooting mode)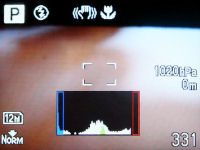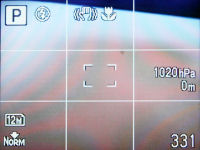 The Olympus Stylus Tough 6000 aka Mju Tough 6000 displays a lot of information on-screen – including exposure and shooting details, live histogram, 3 X 3 gridlines. The camera even indicates atmospheric pressure and altitude on its display. So there's everything here except a battery indicator.
The image resolution options available on the Stylus Tough 6000 are 10 MP, 5 MP, 3 MP, 2 MP, 1 MP and VGA. There's also two image compression options available; Fine and Normal. A 16:9 widescreen image option is available but images are shot at just 2 megapixels.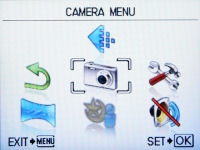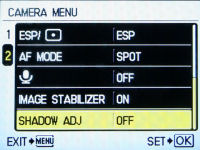 Hit the MENU button of the Stylus Tough 6000 and the camera brings up the Olympus grid of menu icons leading to different areas – this time the icons are a lot more colorful and attractive than on previous Olympus cameras. Under this main menu, you can change image resolution, reset settings, enter the camera or setup menu, panorama mode, scene modes and turn off all camera sounds.
Let's head on to the Camera Menu area which contains vital shooting settings (some of which are already accessible via the Function Menu actually):
White balance, ISO, drive and metering mode – I've talked about these when discussing the Function menu
Fine zoom and digital zoom – Digital zoom lowers image quality as usual by using digital magnification while fine zoom crops your pictures instead
AF mode – iESP (multiple point), spot, face detection/li>
Sound memo (On/off)
Sensor-shift image stabilization (On/off)
Shadow Adjustment (On/off)
There are three things I want to talk about here: panorama shooting, Shadow Adjustment and Perfect Shot Preview. The camera has two panorama modes: In-camera option allows you to take up to three pictures before the camera automatically stitches them into a single panorama, while normal mode allows you to take up to TEN photos but you will have to stitch them manually on your computer using the included Olympus Master software.
Shadow Adjustment allows you to brighten dark areas in your photos and improve contrast slightly; as with D-Lighting, iContrast, Intelligent Exposure, etc on other cameras. The catch here is a slight increase in noise levels and you'll have to wait longer while the camera is processing the shot.
The Olympus Stylus Tough 6000 has the usual Perfect Shot Preview which splits the screen into 4 different displays that allow you to "preview" the different effects of settings all at once.
Like other Olympus cameras, the Stylus Tough 6000 has two macro modes. Normal macro mode allows you to go as close as 10 cm to a subject at wide-angle and 30 cm at telephoto. Super macro is much better; it lowers minimum focusing distance down to 2 cm but locks the lens position at wide-angle.
The Olympus Stylus Tough 6000 is a rugged point-and-shoot camera – it has no manual controls. You'll find a grand total of 20 scene modes: portrait, landscape, landscape + portrait, night scene, night + portrait, sport, indoor, candle, self portrait, sunset, fireworks, cuisine, documents, smile shot, beach and snow, pre-capture movie, underwater snapshot and underwater wide 1 & 2 and underwater macro.
So you'll notice a whole lot of underwater scene modes here, which isn't surprising for a rugged camera like this one. Most of the scene modes are pretty self-explanatory – and Olympus even includes a tooltip for each one – but the one that I need to highlight is Smile Shot mode. In Smile Shot, all you have to do is press the shutter button and the camera will wait until a smile is detected before firing off 3 shots in a row.
Video Recording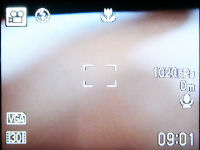 The Olympus Stylus Tough 6000 has a pretty standard movie mode which should be fine for most people. You can record VGA (640 x 480) movies with sound at 30 FPS; with the option to extend recording times by lowering the frame rate to 15 FPS, lower resolution to QVGA (320 x 240) or both.
Exposure is automatically adjusted as expected, but you cannot use optical zoom while recording a movie. Video and audio quality were both decent.
Performance
All performance testing of the Olympus Stylus Tough 6000 was performed using a 1 GB Olympus xD-Picture card.
The Olympus Stylus Tough 6000 aka OIympus Mju Tough 6000 starts up and is ready to shoot within 1.6 seconds. Focusing is generally quick but there are other rugged cameras that focus even faster. In well-lit conditions, autofocus will take 0.2 to 0.4 seconds while it may take up to 1 second or more in low-light. Turning on the LED illuminator on the front will certainly help in low-light focusing since the Stylus Tough 6000 lacks a real AF-assist lamp (which is more effective, by the way).
Shot-to-shot speed - 1 shot every 2.2 seconds, about average
Flash recharge time using a fully charged battery - 4 seconds on average
The Stylus Tough 6000 has a sluggish full-resolution burst mode which takes pictures at 0.5 to 0.6 FPS (about 1 shot per 2 seconds). The reason? The camera re-focuses between each shot. If you want something faster, a high-speed burst mode snaps at 5 frames per second up to 25 photos but the catch is image resolution is lowered to 3 megapixels.
The camera moves its 3.6X zoom lens from wide-angle to telephoto in under 2 seconds. Shut down time was instant since the Stylus Tough 6000 has no lens to retract. Overall, the Stylus Tough 6000 has performance that hovers around the "Average" mark. It's not a slow camera by any means (umm, except burst mode) but note that some of the competition can perform even better. The only place where a major improvement is needed is the camera's full-resolution continuous shooting mode.
Image Quality
Moving on, we'll be taking a look at the Olympus Stylus Tough 6000 aka Mju Tough 6000's image quality:

ISO 50 (f3.5, 1/5 sec)

ISO 100 (f3.5, 1/10 sec)

ISO 200 (f3.5, 1/25 sec)

ISO 400 (f3.5, 1/40 sec)

ISO 800 (f3.5, 1/100 sec)

ISO 1600 (f5.0, 1/60 sec)
Image quality starts out good at the ISO 50 and ISO 100 settings; pictures here are good for large display and prints. There's a small increase in noise as you go up to ISO 200 but still nothing to be concerned about yet. Up ISO to 400 and there's another bump in noise, this time, it's more noticeable.
Noise gets bad at ISO 800, with details being lost at this level and prominent amounts of noise – I wouldn't count on this setting unless you're really desperate in trying to squeeze out a very, very tiny print. At ISO 1600, a lot of details get drowned out by noise and noise reduction, and there's also a steep drop in color saturation.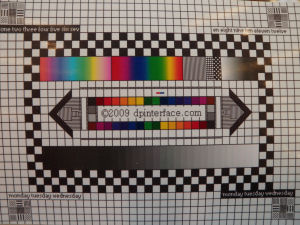 The Stylus Tough 6000's lens exhibits a mild amount of barrel distortion and low pincushion distortion. There was also a hint of edge softness as well. On the positive side, chromatic aberration (color fringing) levels were very low and not noticeable in most cases. Redeye is not an issue either as it can be removed via the redeye removal tool in playback.
The Olympus Stylus Tough 6000's image quality was a mixed bag. Image quality was good and usable up to ISO 400, but anything higher becomes too noisy. There was a bit of barrel distortion and edge softness (apparently someone here needs to improve on their 28 mm wide lenses!) but very low color fringing and removable redeye.
Photo gallery
Have a look at full-sized photos in the Olympus Stylus Tough 6000 aka Mju Tough 6000 photo gallery!
Playback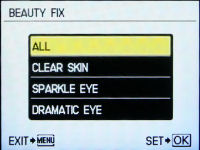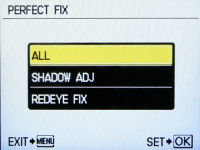 The Olympus Stylus Tough 6000 has a very good playback mode. The usual basics are all here: print marking, slideshow, voice clip attachment, image cropping, resizing and rotation. Photos can be magnified by 10X so you can inspect the little details in them.
Pictures can be played back as individual photos, by date in calendar view or in sets of 4, 9, 16 or 25 thumbnails. Here's the interesting part of the Stylus Tough 6000: its editing functions. There's the redeye removal tool I was talking about and Shadow Adjustment edit under the "Perfect Fix" section in playback. You can also opt to turn your pictures into sepia or black and white ones; and adjust their saturation.
And just in case you forgot to use Beauty Mode when taking your picture, there's a Beauty Fix tool in playback. You can apply things like Clear Skin (removes blemishes and such), Sparkle Eye, Dramatic Eye or all of the three effects. While your results may vary, depending on the person/portrait's face, rest assured you'll get some interesting (and gimmicky) results every time.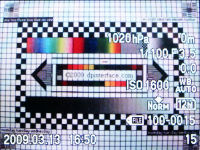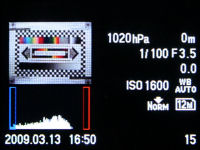 The Olympus Stylus Tough 6000 tells you pretty much everything about your photos: shooting details, exposure information (with shutter speed and aperture value) and a histogram. The camera also shows atmospheric pressure and altitude of the photo taken as well.
Conclusion
One of the two latest cameras in the Olympus rugged camera line is the waterproof, drop proof and freezeproof Olympus Stylus Tough 6000 aka Mju Tough 6000. The Stylus Tough 6000 offers point-and-shoot operation in a fun design that comes in four colors. In terms of size, there are smaller rugged cameras out there, though the Stylus Tough 6000 is still pretty compact and fits into most pockets with ease.
The Olympus Stylus Tough 6000 features 10 megapixel, a wide-angle 3.6X zoom lens and adds a useful feature that old models lacked: sensor-shift image stabilization. While the 2.7 inch LCD is large and very usable, the buttons beside the screen are too small. There are two neat features on the Stylus Tough 6000 that the competition lacks; namely an LED illuminator for low-light, close-up and movie shooting as well as Tap Control which makes the camera easier to operate with gloves on.
There are a whole bunch of other things available like Shadow Adjustment, Perfect Shot Preview, built-in help tooltips, Beauty Mode and Intelligent Auto – some of which you could still live without, some others are features you'll appreciate a lot. Some of those features are also available in the section of playback editing tools. What's missing on the Stylus Tough 6000 are manual controls… there are none on the camera.
Camera performance was just average in all areas, except in terms of continuous shooting where things are very slow. Image quality was a mixed bag – the camera produces good image quality with low noise up till ISO 400 with two side issues. Anything above ISO 800 is unusable though.
With many handy features and scene modes, the Olympus Stylus Tough 6000 aka Mju Tough 6000 is a decent point-and-shoot, rugged camera that I can recommend, with reservations. Why? The Stylus Tough 6000 isn't the best camera in town – there are other rugged cameras with HD movie modes, better battery life, faster performance and better image quality. Before you leap for the camera, be sure to take a good look and consider other rugged camera options as well.
What's hot:
Rugged design: waterproof, drop proof and freezeproof
LED illuminator is handy for macro/low-light shooting
Tap Control for eases operation with gloved hands
Nicely viewable LCD screen
Intelligent Auto mode and built-in help tooltips for shooting functions
Perfect Shot Preview, Shadow Adjustment and useful set of playback editing tools
Good image quality till ISO 400
What's not:
Lack of manual controls
Some edge softness; noisy pictures at ISO 800 and above
Tiny, cluttered buttons on the back
Sluggish continuous shooting mode
Low-light performance (ie focusing and high ISO) is not fantastic
Recommended Accessories:
2 GB xD-Picture or microSD card