Here's my review of the Olympus Stylus Tough 3000 (also known as the Mju Tough 3000), the most affordable rugged camera Olympus has to offer. The camera offers 12 megapixels, 3.6X optical zoom and the ability to record 720p HD movies in a pretty stylish and durable case. Head on to the Olympus Stylus Tough 3000 photo gallery for full-sized sample photos from the camera.
DPInterface Olympus Stylus Tough 3000 aka Mju Tough 3000 Review
Brad Soo – July 4th, 2011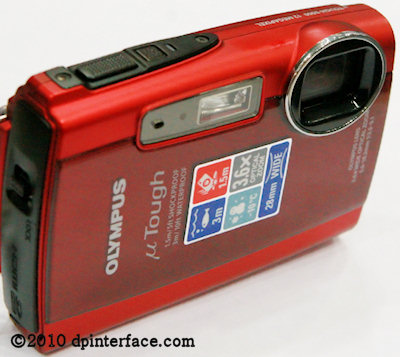 The Olympus Stylus Tough 3000 is a very affordable compact camera that is waterproof, freezeproof and shockproof. In addition to that, the Stylus Tough 3000 has 12 megapixels of resolution, 3.6X optical zoom, 720p HD movie mode, a fancy playback mode and more built-in memory than your average compact camera. Find out how the Olympus Stylus Tough 3000 performs now.
Size and Weight
The Olympus Stylus Tough 3000 measures 95.9 x 65.0 x 23.4 mm and weighs in at just 125 grams. Despite still being very portable and pocketable, it's pretty big by 2011 electronic device standards, with many ultra-compact cameras and mobile phones having smaller dimensions. Still, you won't find it tedious to put into your pocket as you head outdoors, and the camera makes up for its slightly above average size with its ruggedness.
Box contents
The Olympus Stylus Tough 3000 comes with an average bundle:
LI-42B rechargeable lithium-ion battery
AC adapter charger with USB cable
Wrist strap
A/V cable
The Olympus Stylus Tough 3000 has 1 GB of internal memory which is more than on any compact camera. Olympus mentions about 400 MB of that memory is used by the software guide and user's manual, as well as Olympus IB imaging software (which you'll have to load onto your computer from the camera), so only 600 MB of that memory is usable for taking pictures right out of the box. You might want to get a standalone memory card if you want to take plenty of photos, and also as a more convenient way to move photos to your computer; the camera takes SD/SDHC memory cards. A 4 GB memory card would be a good place to start.
The Olympus Stylus Tough 3000 uses the LI-42B lithium-ion rechargeable battery. The battery is pretty anemic and you'll get only 160 shots per charge, below average compared to what you can get with other rugged cameras. The Olympus Stylus Tough 3000 supports USB charging, so you connect the camera to your computer or included wall charger when it's time to recharge the battery. Olympus doesn't include a standalone battery charger with the camera, which makes it impossible to charge a spare battery while you're out using the camera (Olympus would be happy to sell you that charger though).
Accessories
The only accessories available for the Olympus Stylus Tough 3000 are a float strap and float case which prevents the camera from sinking too much and too quickly while underwater. There's also that standalone battery charger I mentioned earlier. Unlike Olympus' more expensive rugged camera models, there isn't any standalone waterproof case available for the Stylus Tough 3000 that will let you bring the camera deeper than 10 feet/3 meters underwater.
Camera Tour
The Olympus Stylus Tough 3000 has a less industrial-looking, more fun design compared to its rugged siblings. It's also slightly less rugged, though it'll still take a quite a beating as it's rated to be shockproof to 5 feet (1.5 meters), waterproof to 10 feet (3 meters) and freezeproof till 14 degrees Fahrenheit (minus 10 Celcius).
The camera has its button layout reworked slightly since previous Olympus rugged cameras, though it still suffers from a slight bit of button clutter. The camera feels sturdy in hand, and includes ports, doors and buttons that are sealed against dirt and water. The Olympus Stylus Tough 3000 is available in your choice of four colors: Blue, green, red or pink. This, of course, is the red model.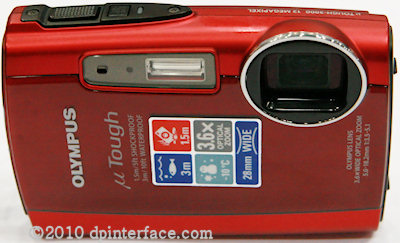 The Olympus Stylus Tough 3000 uses the 'old' Olympus 28 – 102 mm internal 3.6X optical zoom lens, nothing particular to brag about but quite suitable for a budget camera like this one. The lens has an aperture range of f3.5 to f5.1 and Olympus has included sensor-shift image stabilization behind the lens to reduce image blur caused by camera shake.
To the left of the lens is the camera's flash, self-timer countdown light and microphone hole. The flash is pretty average in terms of power with a range of 10 cm to 4.0 m at wide-angle and 30 cm to 2.7 m at telephoto (ISO 800).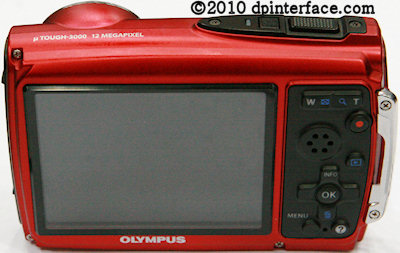 The Olympus Stylus Tough 3000 uses a 2.7 inch LCD display with 230,000 dots of resolution. Olympus calls the LCD a "HyperCrystal 3" display, which allows for good viewability under a variety of situations. LCD legibility was indeed pretty good outdoors, and the camera also boosts brightness of the on-screen image when you're shooting in low-light.
All of the camera's controls are situated to the right of its display. The first thing you'll see is the zoom controller, used for both optical and playback zoom; along with a closely placed dedicated movie button, which lets you quickly start movie recording regardless of the shooting mode you're in. Near that is a speaker, which is also weathersealed against dirt and water.
Towards the lower right of the camera are the rest of its controls. There's three buttons surrounding the multi-directional pad, which we'll take a look at first. There's the playback button, MENU button and Help button; though the last two are placed a little too near the navigation pad for comfort.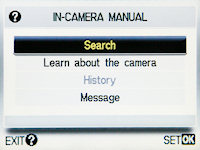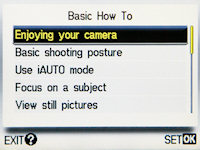 In-camera manual and guide tooltips on the Stylus Tough 3000
Next up is the navigation pad which is used to navigate menus, browse through photos and of course, directly access these functions:
Up – INFO (Toggles the amount of information shown on-screen)
Down – Delete photo
Left – Function menu
Center – Function menu/OK
New and improved function menu on the Olympus Stylus 3000
The Olympus Stylus Tough 3000 has the Function menu that Olympus first introduced into their compact cameras starting in 2010. The menu contains most of the main functions that you would normally access, including:
Shooting mode (Intelligent Auto, Program mode, Magic Filter, panorama, beauty mode, scene modes, movie mode)
Flash setting (Auto, auto with redeye reduction, on, off)
Macro mode (Off, standard macro, super macro)
Self-timer (Off, 2 seconds, 12 seconds)
Exposure compensation (+/-2 exposure in 1/3 step increments)
White balance (Auto, daylight, overcast, tungsten, fluorescent 1,2 & 3)
ISO sensitivity (Auto, high auto, 64, 100, 200, 400, 800, 1600)
Drive mode (Single-shot, normal burst, high-speed burst)
Camera main menu
The Olympus Stylus Tough 3000 has a panorama mode which lets you take and combine several pictures into a single, large panorama. If you choose do let the camera do this, there's a 3 shot limit, but if you want to take them yourself and stitch them together later using the bundled iB computer software, you can take up to 10 photos.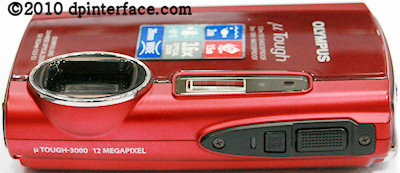 Over here, you'll find the power on/off button as well as shutter button.

This side of the camera is blank…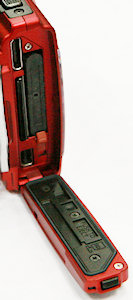 This side of the camera sports a big door that houses everything beneath: the memory card slot, battery slot and connectivity ports (which are a combined USB and A/V out port, as well as a mini HDMI port).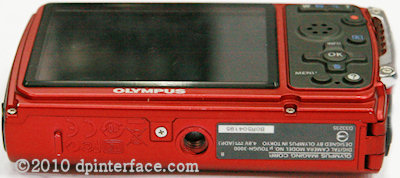 Nothing to see here except the camera's tripod mount!
Taking pictures (Shooting mode)
The Olympus Stylus Tough 3000 shows you plenty of information on its display, including a zoom indicator, camera settings, a histogram and optional grid lines as well as amount of time remaining for video and shots remaining for photos.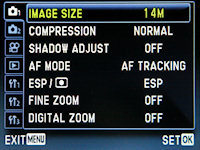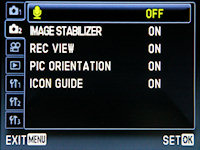 Gone is the old and disorganized grid-list mixed menu that used to plague Olympus cameras. The new tabbed menu system, though not exactly revolutionary, does its job of being intuitive. Here's what's in the shooting menu:
Image size (12 MP, 8 MP, 5 MP, 3 MP, 2 MP, 1 MP and VGA, wide 10 MP or wide 2 MP)
Image compression (Fine, normal)
Shadow Adjustment (On/off)
Autofocus mode – iESP (multiple point), face detection, spot, AF tracking
Exposure metering – ESP (Evaluative), spot, face detection
Fine zoom and digital zoom – Digital zoom lowers image quality as usual by using digital magnification while fine zoom crops your pictures instead
Sound memo (On/off)
Sensor-shift image stabilization (On/off)
Record view – The camera shows a preview of the picture after it's taken
Picture orientation – Let the camera automatically rotate pictures based on the orientation they were taken
Icon guide
Setup menu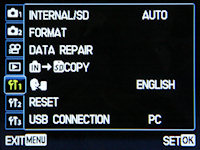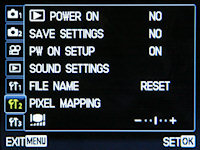 Setup menu
Internal/SD memory – choose which memory area the camera saves pictures/video to
Format memory
Data repair
Copy data from internal memory to memory card
User interface language
Reset settings
USB connection
Playback power on – turn the camera on directly via the playback button
Save settings
Password protect setup settings
Sound settings – for camera audio playback and beeps
File name
Pixel mapping – for 'refreshing' and recalibrating hot or dead pixels on the sensor
LCD display brightness
Date and time/world time
TV Out settings
Power save – let the camera power off automatically when idle
Macro and scene modes
Like Olympus' other cameras, the Stylus Tough 3000 has two types of macro mode. Regular macro mode allows you to get as close as 10 cm (4 inches) to your subject at wide-angle, or 30 cm (12 inches) at telephoto; while super macro mode disables zoom, but lowers minimum focusing distance to a mere 2 cm (0.8 inches).
There are no manual controls on the Stylus Tough 3000, but the camera lets you shoot automatically and also choose between 15 scene modes: portrait, landscape, night scene (which will use a shutter speed up to 4 seconds long), night portrait, sport, indoor, candle, self portrait, sunset, fireworks, cuisine, documents, beach and snow, pet mode and underwater snapshot. There's also a face-detection system that detects up to 12 faces in a scene.
The camera also has four Magic Filter effects, which are Pop Art, Pinhole, Fisheye and Drawing modes, which apply those self-explanatory effects onto your photos as you take them without having to go through software like Photoshop.
Video Recording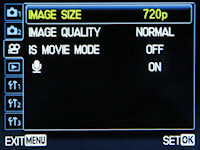 The Olympus Stylus Tough 3000 has a 720p HD movie mode, which is pretty much standard on most cameras nowadays. The camera can take 1280 x 720 video at 30 FPS with mono sound up to 4 GB or 29 minutes per movie clip, whichever comes first. You can also choose from two lower resolution setings VGA (640 x 480) and QVGA (320 x 240), which still record at 30 FPS with sound.
The camera automatically adjusts exposure while a movie is being recorded but does not allow you to use the camera's sensor-shift image stabilization. Instead, it gives you digital image stabilization which is less effective than the real thing and makes videos slightly more 'zoomed in' than it would normally be. Overall video quality was just decent for recording casual movie clips of travel and gatherings.
Performance
All performance testing of the Olympus Stylus Tough 3000 was performed using a 4 GB SanDisk Extreme SDHC memory card.
The Olympus Stylus Tough 3000 starts up in under two seconds, which is just average and in-line with other cameras of its price. Focusing speed was also average, measuring 0.2 to 0.5 seconds on average to lock focus. The camera did struggle in low-light since it lacks any sort of autofocus assist lamp.
Shot-to-shot speed - 1 shot every 1.9 seconds, about average
Flash recharge time using a fully charged battery - 4 seconds, average
The Olympus Stylus Tough 3000 has an underwhelming continuous shooting mode with a speed of 0.33 frames per second (1 photo every 3 seconds) at full-resolution. You can shoot until the memory card fills up though. A 'high speed burst' is available, but it doesn't live up to its name with a mediocre 1.1FPS shooting rate and image resolution lowered to 3 megapixels.
The Olympus Stylus Tough 3000 manages average to below average performance in terms of speed. This is certainly one camera you don't want to be snapping high speed action with.
Image Quality
ISO 64 (f3.5, 1/15 sec)
ISO 100 (f3.5, 1/30 sec)

ISO 200 (f3.5, 1/25 sec)

ISO 400 (f3.5, 1/60 sec)

ISO 800 (f3.5, 1/80 sec)

ISO 1600 (f3.5, 1/160 sec)
The Olympus Stylus Tough 3000 performs pretty decently up to ISO 400 which is when you'll start noise becoming noticeable in photos. At ISO 800, noise becomes fairly visible although you'll still be able to produce small prints out of photos here. Photos become very soft with lots of detail loss at ISO 1600; I don't think you'll be able to do much of pictures at this setting.
There were very mild but noticeable lens distortion effects in photos, at both wide-angle and telephoto, though this shouldn't bother most people. There were tiny amounts of chromatic aberration (color fringing) levels to be noticed along with corner softness. Redeye is a non-issue since the camera takes care of it using pre-flashes before taking a photo and software-based removal after you take pictures.
Image quality is overall fairly acceptable, although by no means class-leading. The Stylus Tough 3000 performs well at lower ISO levels like any other camera should, though the main issues here are corner softness and poor low-light focusing abilities paired with so-so noise levels above ISO 400.
Photo gallery
Check out full-sized photos in the Olympus Stylus Tough 3000 photo gallery!
Playback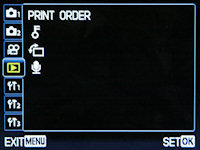 The Olympus Stylus Tough 3000 has a fairly elaborate playback mode for a camera its price. There's the standard-issue feature set such as print marking, image protection, rotation, voice clip attachment and playback zoom up to 10X.
You can view photos individually, in sets of 12 or 30 thumbnails, by category or automatically as a slideshow. There are also basic editing features like software redeye removal, Shadow Adjustment (brightens dark area of your photos), Beauty Fix (smoothens skin, removes blemishes), saturation adjustment, conversion to sepia or black-and-white, cropping and resizing.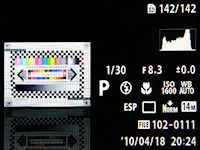 The Olympus Stylus Tough 3000 tells you all you need to know about your photos, including shooting info and a brightness histogram.
Conclusion
The Olympus Stylus Tough 3000 is a compact, rugged and affordable camera. The camera is a great solution if all you're looking for is a cheap and decent picture-snapping device for taking to the beaches during summer. Screen legibility under bright light is good, the camera comes with plenty of internal memory to begin with, and there are beginner-oriented features and simple operation of the camera and decent image quality if lighting conditions are favorable.
The Stylus Tough 3000 sports a bunch of other decent features such as a 720p HD movie mode, plenty of scene modes, shooting effects (Magic Filters) and a bunch of playback editing tools; none of which are anything to shout about, but nevertheless will serve the basic needs of users well.
The camera's weak point is when it comes to shooting in low-light, which means the Stylus Tough 3000 might struggle with keeping up with your beach and summer life once the sun starts to set. The camera lacks a focus assist lamp to help autofocus is dim conditions, image quality isn't stunning and certainly not up to snuff to handle high ISO shooting in low-light… you'll also find the camera lacks battery life stamina and you'll find yourself quickly running out of power.
All-in-all, the Olympus Stylus Tough 3000 'just' receives my recommendation but with reservations, thanks to its extremely affordable price tag. If you're looking for a rugged and brand new camera for just one Benjamin (a hundred bucks), the Stylus Tough 3000 might be for you once you consider its negative points and decide if you can live with them. If you don't need your camera to survive heavy abuse or splashing about and in water, there are better options out there.
What's hot:
Affordable little rugged camera
Very good screen legibility
Retooled user interface is much more intuitive than on previous models
Capacious internal memory; SD/SDHC card support (and dropped xD-Picture card support)
Magic Filters and built-in shooting guide make things more user friendly
Good playback mode, editing features
Decent image quality (for stills and brightly lit conditions)
What's not:
Paltry battery life numbers
Chromatic aberration (color fringing) and soft edges a minor issue
Performance not a strong point: mediocre continuous shooting mode
Fairly small and still cluttered buttons
Low-light performance (ie focusing and high ISO) not that great