Need a LOT of zoom in a small camera? Check this out: I've just published my review of the Olympus Stylus 9000 (aka Mju 9000), a pocket-sized camera with a huge 10X optical zoom lens packed into it. I've also put on the Olympus Stylus 9000 photo gallery with full-sized photos in it. Hit the link to find out how the camera performs.
DPInterface Olympus Stylus 9000 Review
Brad Soo – March 25th, 2009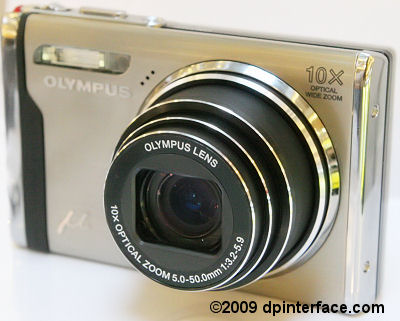 Ever since Olympus split the Stylus line into rugged and regular cameras, their regular Stylus/Mju cameras have been sporting bigger and bigger zoom lenses to differentiate themselves from their rugged siblings as well as the stiff competition.
The new Olympus Stylus 9000 has 12 megapixels, a 10X zoom lens (stabilized, of course), a 2.7 inch LCD and plenty of scene modes. If those specifications sound familiar, yes, the Stylus 9000 is straying into the territory of compact, big zoom cameras.
What does that mean? Well, the camera is gonna be in for some stiff competition. Let's see how well the Olympus Stylus 9000 holds up against the others now!!
The Olympus Stylus 9000 is the camera's name in the US. In other places around the world, it's also known as the Olympus MJU 9000.
Size and Weight
(201.1) 103.0 x 60.5 x 37.6 mm (220 g) – Canon PowerShot SX200 IS
(177.6) 96.4 x 55.9 x 25.3 mm (132 g) – Olympus Stylus 7000
(187.0) 96.0 x 60.0 x 31.0 mm (185 g) – Olympus Stylus 9000
(195.7) 103.3 x 59.6 x 32.8 mm (206 g) – Panasonic Lumix ZS3/TZ7
(200.7) 104.1 x 61.0 x 35.6 mm (219 g) – Samsung HZ10W
(223.1) 107.3 x 68.7 x 47.1 mm (250 g) – Sony Cyber-shot H20
All the weight figures above show when the camera is empty without a battery or memory card
In terms of size and weight, the Olympus Stylus 9000 is THE smallest and lightest compact super-zoom camera you can find. It's literally the size of a compact camera (albeit a little thicker than most) and will fit very easily into any pocket. However, it also has less zoom (10X) than some larger competitors (12X lenses).
Box contents
The Olympus Stylus 9000 comes with the usual "in-the-box" items for a digital camera:
LI-50B rechargeable lithium-ion battery
Battery charger
microSD to xD-Picture card adapter
Wrist strap
USB and A/V cables
Camera software CD (Olympus Master)
User's manual
Like other Olympus cameras, the Stylus 9000 aka Mju 9000 comes with 45 MB of internal memory. You'll have to get a larger memory card with the camera immediately and the Stylus 9000 supports both xD-Picture cards as well as microSD cards via the bundled adapter. I'd recommend getting at least a 2 GB memory card with the camera; and at the same time, I would also suggest sticking to the more widely used microSD cards. Hey, even Fujifilm is starting to drop xD-Picture card compatibility in favor of SD/SDHC in a handful of their cameras.
280 shots – Canon PowerShot SX200 IS
150 shots – Olympus Stylus 7000
250 shots – Olympus Stylus 9000
300 shots – Panasonic Lumix ZS3/TZ7
290 shots – Sony Cyber-shot H20
All the cameras above are rated with rechargeable batteries with LCD on according to CIPA Standard
The Olympus Stylus 9000 comes with the Olympus LI-50B lithium-ion rechargeable battery and a battery charger in the box. The Stylus 9000 is rated to 250 shots per battery charge (CIPA Standard) which is about 10-15% below average compared to other compact ultra-zoom cameras.
Accessories
Typical for a compact camera, the Olympus Stylus 9000 doesn't have a full-blown list of accessories ready for it. There are the usual AC adapter and camera cases available for the camera but no lens attachments or filters here.
Camera Tour
The Olympus Stylus 9000 aka Mju 9000 is a compact super-zoom camera which packs 12 megapixels, a 10X zoom lens and 2.7 inch LCD. The Stylus 9000 has good build quality but not-so-good handling and ergonomics. There isn't a decent right hand grip available, making the camera difficult to steady at longer focal lengths, and the controls are too tiny (especially the mode dial and zoom controller).
The Olympus Stylus 9000 comes in your choice of gold (it's a bit beige-looking here) or black.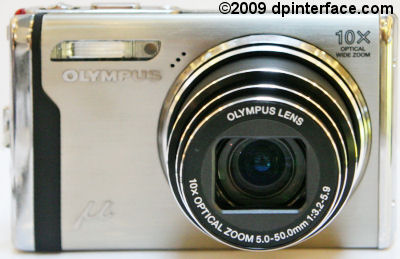 The Olympus Stylus 9000 features a new, big 10X optical zoom lens on the front which covers a very useful range of 28 – 280 mm. The lens has an aperture range of f3.2 – f5.9, so it isn't very bright at the telephoto end. As you'd expect for such a big lens on a small camera, Olympus has included sensor-shift image stabilization to counteract camera shake. There's digital image stabilization as well, but that merely boosts ISO to get a steady shot.
To the upper left of the lens are the microphone, self-timer lamp and the camera's flash. The flash is quite powerful at wide-angle, covering 20 cm to 5 m at ISO 800, but less so at telephoto, with a range of 90 cm to 2.8 m. I'm surprised that Olympus STILL insists on not including an autofocus assist lamp on the camera…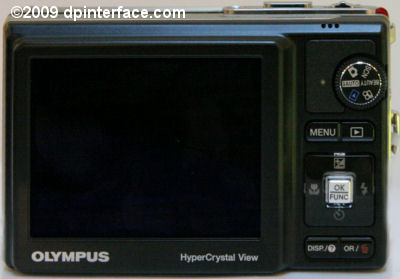 On the back of the Stylus 9000 is a 2.7 inch Hyper-Crystal 3 LCD display – Olympus touts the display has even better visibility than the previous generation of Hyper-Crystal II LCDs. Apparently Olympus isn't joking; indoor and low-light visibility is good while outdoors, the LCD image was still nicely viewable; and you can even adjust brightness up to 5 steps in the camera's menu. The LCD is sharp too with 230,000 pixels. Strange enough, the Olympus Stylus 9000's lower end sibling, the Stylus 7000 has a larger 3 inch LCD (though it's not Hyper Crystal 3)… Well I guess you'll have to choose between size and visibility, but not both.
There's a rather small mode dial on the right. The circular mode indicator is in fact the camera's activity indicator light as well. There are just six modes here on the mode dial:
Intelligent auto
Program mode - All menu settings are unlocked
Scene modes
Beauty mode
Movie mode
Playback mode
The Olympus Stylus 9000 aka Mju 9000 features two new modes: Intelligent Auto detects the scene you're shooting and automatically picks one of five scene modes for you (Portrait, landscape, night portrait, macro, sport). Beauty mode automatically removes blemishes and smoothens skin of people photos.
Below the mode dial are the MENU and direct playback buttons. I have no idea why Olympus has two ways for you to enter playback: one "playback" spot on the mode dial, and then a dedicated playback button – why not just go with one and save some space?
One of the nice touches Olympus put on the Stylus 9000 is backlit buttons – all of the buttons on the back of the camera have backlighting, so you can see them in the dark. Next is the five-way navigation pad where each direction offers quick access to a shooting function:
Up – Exposure compensation (+/-2 exposure in 1/3 step increments)
Down – Self-timer (Off, on - 12 seconds)
Left – Macro (Off, normal macro, super macro)
Right - Flash setting (Auto, auto with redeye reduction, on, off)
Center – Function menu/Set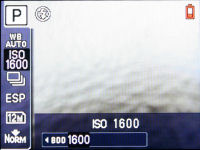 The function menu
The function menu on the camera is brought up by pressing the center button on the navigation pad:
White balance (Auto, daylight, cloudy, tungsten, fluorescent 1,2 & 3)
ISO sensitivity (Auto, high auto, 64, 100, 200, 400, 800, 1600)
Drive mode (Single-shot, normal burst, high-speed burst)
Metering method (ESP, spot, face detection)
Image size and compression
There are two more buttons after the navigation pad: the DISPLAY button used for toggling screen information/bringing up help screens and the OR button. The new OR button stands for "Olympus Recommended" and it brings up a single screen where you can access the camera's Shadow Adjustment, Perfect Shot Preview and panorama settings. The OR button also doubles as a "delete photo" button in playback.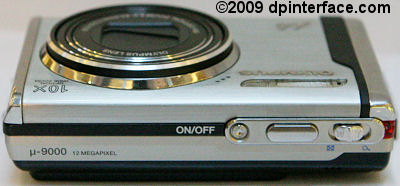 At the top of the Stylus 9000 are the camera's power and shutter buttons as well as a small zoom controller. I'm not a big fan of the zoom controller here at all because of its small size and non-ergonomic implementation (reminds me of what Sony did to their T-series zoom controllers). Next comes the speaker, which isn't very visible in this shot but it's towards the bottom edge of the camera, and also the red activity indicator light.
This side of the camera is blank…
And this is the Stylus 9000 with its lens at full telephoto.
Over on this side are the wrist strap loop and a single connector port used for many things such as USB and A/V out connection. The Olympus Stylus 9000 supports USB 2.0 High-speed.
At the bottom of the Olympus Stylus 9000 is its tripod mount and battery/memory card compartment. One thing Olympus has been doing right is the compartment door is always quite sturdy on most of the cameras.
Taking pictures (Shooting mode)
The Olympus Stylus 9000 aka Mju 9000 offers a lot of information on its display. There's shooting info, exposure details, a live histogram, grid lines and zoom indicator (When you operate the zoom controller). There's no battery indicator here on the camera though (the red low battery warning icon only appears when the camera is running really low on power).
The image resolution options available on the Stylus 9000 are 12 MP, 5 MP, 3 MP, 2 MP, widescreen 2 MP, 1 MP and VGA. The two image compression options available are Fine and Normal; I would recommend using the Normal setting – you can fit more photos in your memory card and using Fine doesn't make much of a difference.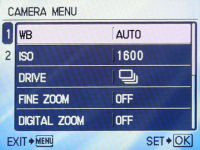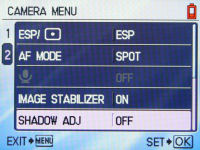 Pressing the MENU button on the Stylus 9000 calls up a grid of icons where you can enter the submenu indicated by each of the icons. Olympus has improved their menus visually, so now they're a lot more colorful with nicer icons, but functionally, it's the same as on previous cameras. The camera menu contains a list of 8 items, some of them aren't a whole lot different from what you'd find in the function menu:
White balance, ISO, drive and metering mode – I've talked about these when discussing the Function menu
Fine zoom and digital zoom – Digital zoom lowers image quality as usual by using digital magnification while fine zoom crops your pictures instead
AF mode – iESP (multiple point), spot, face detection/li>
Sound memo (On/off)
Sensor-shift image stabilization (On/off)
Shadow Adjustment (On/off)
There are three things I want to talk about here: panorama shooting, Shadow Adjustment and Perfect Shot Preview. The camera has two panorama modes: In-camera option allows you to take up to three pictures before the camera automatically stitches them into a single panorama, while normal mode allows you to take up to TEN photos but you will have to stitch them manually on your computer using the included Olympus Master software.
Shadow Adjustment allows you to brighten dark areas in your photos and improve contrast slightly; as with D-Lighting, iContrast, Intelligent Exposure, etc on other cameras. The catch here is a slight increase in noise levels and you'll have to wait longer while the camera is processing the shot.
The Olympus Stylus 9000 has the usual Perfect Shot Preview which splits the screen into 4 different displays that allow you to "preview" the different effects of settings all at once.
Like other Olympus cameras, the Stylus 9000 has two macro modes. Normal macro mode allows you to go as close as 10 cm to a subject at wide-angle and 90 cm at telephoto. Super macro is much better; it lowers minimum focusing distance down to just 1 cm but locks the lens position at wide-angle.
The Olympus Stylus 9000 is just a point-and-shoot camera with no manual controls. However, it has the Intelligent Auto and Program modes I mentioned as well as a total of 14 scene modes: portrait, landscape, night scene, night + portrait, sports, indoor, candle, self portrait, sunset, fireworks, cuisine, documents, beach and snow and pre-capture movie.
Video Recording
For a year 2009 camera, it comes as a surprise that Olympus hasn't included any sort of high-definition movie mode on their Stylus 9000. You'll get your average VGA movie mode with sound recorded in AVI format… no 720p, H.264 or AVCHD here folks! You can record movies up to 2 GB per movie clip.
You can choose between two resolution settings: VGA (640 x 480) or QVGA (320 x 240) and two frame rate settings: 30 or 15 FPS. And just another thing to note: you cannot use zoom or sensor-shift image stabilization while recording a movie clip… such a shame. Overall, movie and sound quality were both decent, though there's nothing mind blowing here.
Performance
All performance testing of the Olympus Stylus 9000 was performed using a 1 GB Olympus Type H xD-Picture card.
The Olympus Stylus 9000 starts up quickly for a camera with an extending lens – from pressing the power button, it takes only 1.6 seconds for the camera to be prepared for shooting. In terms of focusing speed, the Stylus 9000 takes 0.2 to 0.5 seconds to focus in bright light and 0.8 to 1.5 seconds to focus in low-light. Of course, low-light focusing wasn't too hot as the camera struggled (and couldn't lock focus most of the time) thanks to the lack of an AF assist lamp.
Shot-to-shot speed - 1 shot every 2.5 seconds, just average
Flash recharge time using a fully charged battery - 5 seconds on average
The Stylus 9000 has a so-so full-resolution burst mode which shoots at around 1 frame per second up to 30 pictures before pausing. Then there's high-speed continuous shooting, which shoots at a much faster 5 frames per second – the catch is resolution is lowered to 3 megapixels.
Zooming speed takes a quick 2 seconds for the lens to go from wide-angle to full telephoto. The Olympus Stylus 9000 shuts down in 3 seconds with its lens at telephoto. Overall, the Stylus 9000's performance was about average versus the competition, except for its below average low-light focusing abilities. The Stylus 9000's full-res burst mode is barely tolerable (I should note that Olympus has lower resolution cameras have worse shooting rates for some mysterious reason) but is nowhere near impressive or "good".
Image Quality
Moving on, we'll find out how the Olympus Stylus 9000 aka Mju 9000 performs in terms of image quality now:
ISO 100 (f3.2, 1/5 sec)

ISO 200 (f3.2, 1/10 sec)

ISO 400 (f3.2, 1/25 sec)

ISO 800 (f3.2, 1/50 sec)
ISO 1600 (f3.2, 1/100 sec)
Up to ISO 100, the Olympus Stylus 9000 produces clean photos. Going up a notch to ISO 200, there's already visible noise and by ISO 400, things start to get muddy and comes dangerously close to being unusable. Come ISO 800 and ISO 1600, and both these settings cannot be used at all due to a lot of noise and loss in detail.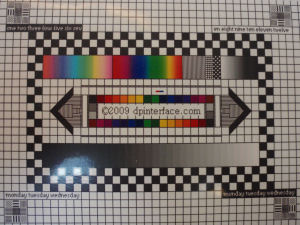 The Olympus Stylus 9000 produced a bit of lens distortion but both chromatic aberration (color fringing) and edge softness levels were relatively low (considering the camera's large zoom range). As for redeye, it was a non-issue since the camera's redeye removal methods were effective.
The Olympus Stylus 9000 may seem attractive as "the smallest super-zoom compact" but its image quality doesn't impress much, unfortunately. ISO is usable up till ISO 200 in low-light, up to ISO 400 in well lit conditions.
Photo gallery
Looking for full-sized photos taken with the camera? Head on to the Olympus Stylus 9000 photo gallery!
Playback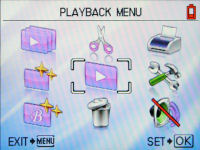 There's the standard issue Olympus playback on the Stylus 9000 which offer the basic playback features plus some editing features. Pictures can be played back as individual photos, by date in calendar view or in sets of 4, 9, 16 or 25 thumbnails. The "My Favorites" feature is gone from the Stylus 9000 though… The basic functions include print marking, slideshow, image cropping, resizing and rotation. Photos can be magnified by 10X so you can zoom in and view details in them.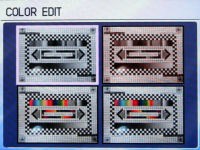 Some of the more handy editing functions include red-eye fix, shadow adjustment and beauty fix. Beauty fix removes blemishes from faces in photos, just like its shooting mode counterpart. There are also saturation adjustment and conversion to sepia or black and white features. I find it puzzling that the Stylus 9000 doesn't have the "Face Focus" feature found in Olympus' other cameras (including its lower end sibling, Stylus 7000). You cannot add after-effects or edit your movies on the Stylus 9000 (trimming doesn't exactly count).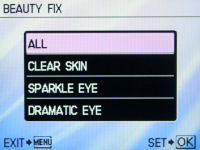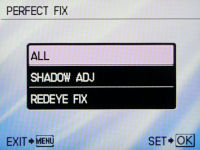 There's a Beauty Fix tool in playback so you can apply effects like Clear Skin (removes blemishes and such), Sparkle Eye, Dramatic Eye or all of the three effects together. While your results may vary, depending on the person/portrait's face, rest assured you'll get some interesting (and gimmicky) results every time.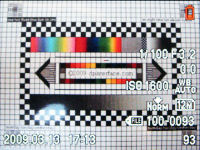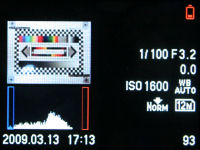 You can view just about everything about your photos on the Olympus Stylus 9000 which includes shooting details, exposure information (with shutter speed and aperture value) and a histogram.
Conclusion
The Olympus Stylus 9000 aka Mju 9000 is a really small 12 megapixel camera featuring a big 10X optical zoom lens. It's the smallest "super-zoom compact" camera you can get at the moment, and it fits nicely into most pockets. The camera has a large and very usable 2.7 inch LCD on the back and backlit controls for operation in low-light. Unfortunately, the Stylus 9000's actual performance in low-light is quite bad, with poor focusing abilities and "mushy noise" at high ISO speeds.
The Stylus 9000's operation is fully automatic – in Program mode, you get to choose preset white balance, ISO and metering mode options, and that's the most "control" you can get in the camera. Other than that, you'll find the usual handful of scene modes and Intelligent Auto, which automatically selects a scene mode for you.
The Olympus Stylus 9000 is suited for casual/leisure picture-taking in well lit conditions (its movie mode is not fantastic). It's not particularly speedy, there are no manual controls and pictures are usable only up to ISO 400. I would only recommend (even then, not whole-heartedly) the Stylus 9000 if you MUST absolutely have the smallest 10X zoom camera in the market. Otherwise, there are other compact super-zoom cameras which sell around the same price, if not slightly higher, and are well worth a look.
What's hot:
10X optical zoom lens; this is the smallest super-zoom compact camera
Very usable LCD screen in low/bright light; backlit buttons
Easy to use Intelligent Auto mode and picture taking help tooltips
Perfect Shot Preview, Shadow Adjustment and playback editing tools
Decent image quality below ISO 400
What's not:
No manual controls
Poor ergonomics: tiny controls, small zoom controller and no right grip
Battery life is a tad below average
Poor low-light performance; no long exposure mode
Paltry frame rate for burst mode
So-so movie mode, no HD capability; can't use zoom or image stabilization while recording
Recommended Accessories:
2 GB xD-Picture or micro SD card