Here's my review of the Olympus PEN E-PL1, an entry-level addition into Olympus' PEN Micro Four Thirds camera range. In this more affordable model in the PEN series, Olympus took away several things but also added a few features. Find out if the PEN E-PL1 still offers good value or if it's wiser to step up instead. Also head on to the Olympus PEN E-PL1 photo gallery for full-sized photos taken using the camera.
DPInterface Olympus PEN E-PL1 Review
by Brad Soo – June 11th, 2010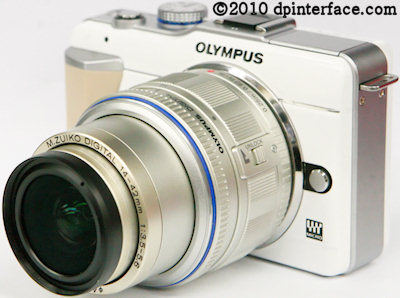 ¬¬
One of the quirks Olympus had with their PEN cameras before this; is that both the E-P1 and E-P2 were priced slightly above entry-level digital SLR cameras, and aimed more towards existing SLR owners looking to get a bring-everywhere/backup camera with a large sensor. With the launch of their latest, third addition to the PEN line earlier this year, Olympus has now taken care of the need to address the "casual user" market – people coming from fixed lens, compact cameras wanting "large sensor" image quality, without having to buy a literally large camera (Read: a full blown digital SLR).
In many ways, the Olympus PEN E-PL1 still has a lot in common with its more expensive siblings; it's main features being a 12 megapixel LiveMOS sensor, full manual controls with various live view related features (such as Perfect Shot Preview), an automatic shooting mode with scene modes available, similar form factor and size and a 720p HD movie mode.
However, as I said, being the lower priced, entry-level PEN, the E-PL1 also had a few features cut out or cut down. What did Olympus take out of the PEN E-PL1 (compared to the more upscale PEN cameras)?
Plastic build quality with no dedicated control dials
3 stops image stabilization effectiveness (compared to 4 stops on Olympus' other interchangeable lens cameras)
Smaller 2.7 inch screen (versus 3 inch on the PEN E-P1 and E-P2)
Slightly slower maximum flash sync speed of 1/160 sec (versus 1/180 sec)
Slower maximum shutter speed of 1/2000 sec (versus 1/4000 sec)
Single built-in microphone that records mono sound (compared to stereo sound on the PEN E-P1 and E-P2)
No electronic level gauge
No remote control accessory
However, what's strange is that Olympus also added a few additional features as well – things that are not available on their more expensive PEN cameras… Here's what's new and exclusive to the PEN E-PL1:
Built-in pop-up flash with wireless external flash control
Dedicated movie recording start/stop button
New "gentle sepia" Art Filter mode
New underwater case (rated up to 40 meters)
New Live Guide mode simplifies operation for beginners
So Olympus takes away a few things on the entry-level PEN E-PL1 but also gives you a few extras that aren't available on more expensive models; all at a price that's a third cheaper than the PEN E-P2. Is the Olympus PEN E-PL1 as great for beginners and casual shooters as it claims to be? Find out now.
Size and Weight
Digital SLR cameras:
(301.6) 128.8 x 97.5 x 75.3 mm (530 g) – Canon Digital Rebel T2i aka EOS 550D*
(311.0) 127.0 x 104.0 x 80.0 mm (560 g) – Nikon D5000*
(284.0) 130.0 x 94.0 x 60.0 mm (475 g) – Olympus E620
(281.5) 122.5 x 91.5 x 67.5 mm (515 g) – Pentax K-x*
(296.7) 128.0 x 97.0 x 71.7 mm (490 g) – Sony Alpha A380
Mirrorless interchangeable lens cameras:
(224.5) 120.5 x 70.0 x 35.0 mm (335 g) – Olympus E-P2*
(228.3) 114.6 x 72.2 x 41.5 mm (296 g) – Olympus E-PL1*
(252.8) 124.0 x 83.6 x 74.0 mm (558/593 g) – Panasonic Lumix G10/G2*
(226.3) 119.0 x 71.0 x 36.3 mm (285 g) – Panasonic Lumix GF1*
(249.8) 123.0 x 87.0 x 39.8 mm (353 g) – Samsung NX10*
(207.8) 110.8 x 58.8 x 38.2 mm (229 g) – Sony NEX 5*
*Features a movie mode (Video recording with sound)
All the weight figures above show when the camera is empty without any lens, battery or memory card
The Olympus PEN E-PL1 is an interchangeable lens camera that's quite a bit smaller than conventional entry-level digital SLR cameras. However, compared to its own (pricier) sibling, the PEN E-PL1 is slightly larger as a whole (thanks to the more prominent grip). It's also quite a bit taller and larger in all dimensions compared to the latest newcomer into the mirrorless interchangeable camera market, the Sony NEX 5.
Box packaging
Unlike the upscale PEN E-P2, the Olympus PEN E-PL1 doesn't come with a fancy bundle with an electronic viewfinder and all. Instead, it comes with an average bundle that includes:
BLS-1 rechargeable lithium-ion battery
Battery charger
Body cap
Neck strap
USB and video (combo) cables
Camera software disc (New ib software)
User's manual
Olympus M Zuiko Digital 14 – 42 mm f3.5 – f5.6 lens (with kit lens option)
There are two kits available for the Olympus PEN E-P¬¬L1: one that bundles the E-PL1 camera with the 14-42 mm Micro Four Thirds kit lens, and another option that gives you the E-PL1's body only. From this, we can presume that Olympus not only wants compact camera users to step up to the E-PL1 (kit lens) but also attract existing Four Thirds/Micro Four Thirds users who own lenses (using the body only option).
Like its two other PEN siblings, the Olympus PEN E-PL1 supports SD and SDHC memory cards (no word about those huge SDXC cards made available this year though). Olympus recommends using at least a 4 GB, class 6 (write speed of 6 MB/s and above) memory card. If you're shopping for a new memory card, I would back Olympus' recommendation – get at least a 4 GB high-speed SDHC, or more if you plan to take plenty of photos/videos. The Olympus PEN E-PL1 can indeed perform noticeably faster with a high-speed memory card.
Viewfinder battery life (Entry-level digital SLR):
550 shots – Canon Digital Rebel T2i aka 550D
510 shots – Nikon D5000
500 shots – Olympus E620
640 shots – Pentax K-x
500 shots – Sony Alpha A380
LCD live view battery life (SLR and mirrorless cameras)
200 shots – Canon Digital Rebel T2i aka 550D
210 shots – Nikon D5000*
200 shots – Olympus E620*
300 shots – Olympus E-P1/E-P2
290 shots – Olympus E-PL1
380 shots – Panasonic Lumix G10
360 shots – Panasonic Lumix G2
380 shots – Panasonic Lumix GF1
400 shots – Samsung NX10
230 shots – Sony Alpha A380
330 shots – Sony NEX 5
*In-house testing done by DPInterface. Our tests were conducted as close as possible to CIPA's procedures
All the cameras above are rated with rechargeable batteries according to CIPA Standard; when using the viewfinder, unless noted otherwise
The Olympus PEN E-PL1 uses the same BLS-1 lithium-ion rechargeable battery as the other PEN cameras and some entry-level Olympus digital SLR cameras. One of the mysteries here is the Olympus PEN E-PL1 is rated to a slightly lower 290 shots per battery charge (versus 300 shots for the E-P1 and E-P2) despite it having a smaller display and roughly the same components.
Compared to other cameras in its class (mirrorless interchangeable lens cameras), the PEN E-PL1's battery life is about 10 to 15% below the group average. The E-PL1, along with the other live view only cameras, is easily beaten by digital SLRs and their very low power consumption (thanks to optical viewfinders on real SLRs). However, the PEN E-PL1 does beat the live-view battery life numbers produced by the said entry-level digital SLRs.
Accessory port
The Olympus PEN E-PL1 features an accessory port, first found on the upper-tier PEN E-P2. The accessory port contains additional contacts for you to add accessories (other than an external flash) to the camera's hotshoe area. The add-ons available for the Olympus accessory port at this point are an external microphone adapter (that allows you to connect any microphone to its 3.5 mm jack) as well as an external electronic viewfinder EVF (with a high resolution of 1.44 million pixels, 1.15X magnification and has a tilt-up angle of 90 degrees).
Despite both Panasonic's and Olympus' Micro Four Thirds cameras having "accessory ports", the ports are proprietary and accessories available for either brand are not brand-interchangeable. That means you can't buy a Panasonic EVF and stick it on the PEN E-PL1 or vice versa – they just won't fit!
Accessories
Being an interchangeable lens camera, the Olympus PEN E-PL1 is compatible with a range of lenses, just like you would expect on larger digital SLR models. While the Micro Four Thirds system is just out of its infancy, I wouldn't call it a fully-matured system yet with less than twenty native Micro Four Thirds lenses currently available in the market. Fortunately, that's still plenty of choice for the average user, with most of the lenses available being zoom lenses (ranging from ultra-wide angle to telephoto to single super-zoom). There aren't enough prime lenses to choose from, however, with just two prime lenses available in "pancake" form (one from Olympus and the other from Panasonic) and dedicated macro lenses.
Not enough lenses to choose from? Well, the E-PL1 is also able to take regular Four Thirds and Olympus OM lenses via their respective adapters, though only select Four Thirds lenses will autofocus with the camera (you'll have to use manual focus with the rest). You can probably use Panasonic's Leica to MFT lens adapters as well, though you're still stuck with manual focusing. All lenses mounted (Regardless of type or brand) on the camera will be subject to the sensor's 2.0X focal length multiplication factor.
You can also add on external flash units to the camera, including third party ones, though only Olympus branded flashes will automatically sync with the camera. Olympus has a basic fixed position FL-14 flash, as well as FL-36R and FL-50R flash models. Seeing you can control external flash units directly from the PEN E-PL1, you'd want to look for flash units with the "R" designation that support wireless control.
Olympus (or any other camera manufacturer, in fact) does not currently bundle HDMI cables with their cameras. Getting a cable to connect the mini HDMI (Type C) port on the PEN E-PL1 to your HDTVs HDMI port is optional. Something worthy of note is that the Olympus E-PL1 (like the PEN E-P2 as well) supports remote control of photo/video playback over HDMI with compatible television sets. The last and most interesting accessory is a waterproof housing that allows you to take the Olympus E-PL1 with its lens up to 40 meters (130 feet) underwater.
Not surprisingly, there isn't any sort of battery/portrait grip accessory available for the PEN E-PL1 – the camera would look very ungainly with one. There also isn't any AC adapter accessory for the camera, or any sort of remote control options available (neither wired nor wireless).
Camera Tour

Olympus PEN E-PL1 compared to the Panasonic Lumix GF1
The Olympus PEN E-PL1 sports a design that's similar (but not identical) to that of the PEN E-P2. While the form factor along with controls and key design elements are much like Olympus' other PEN cameras, the E-PL1 has a slightly more modern and boxier look, along with a noticeably more prominent grip for your right hand.
Olympus has also taken build quality down a notch (in an effort to keep costs low I guess) for the PEN E-PL1 is made mostly out of shiny plastic with some metal elements here and there. Fortunately, the camera still feels quite sturdy in hand, with just the occasional creek if you hold the camera too tightly.
Ergonomics wise, the Olympus PEN E-PL1 has a more prominent grip for your right hand and a more traditional mode dial (instead of the recessed 'classic' dial on the E-P1 and E-P2) so it's slightly easier to hold. However, the shutter button is on the small side and the right side of the neck strap/neck strap mount occasionally gets in the way when trying to reach the shutter button. Tweaking and playing around with exposure and settings on the PEN E-PL1 can also sometimes be clumsy, since it doesn't have any dedicated control dials (most entry-level digital SLR cameras have one dial, while the E-P1/E-P2 have two).
The Olympus PEN E-PL1 come in your choice of black, silver, beige/white, gray and blue. Of course, the color choices may vary depending on region, so you can get 'generic' black or silver at most shops but will probably have to shop around for a bit if you want some other color.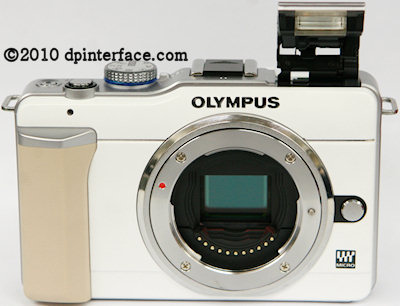 The Olympus PEN E-PL1 has a Micro Four Thirds lens mount paired with a familiar 12.3 megapixel LiveMOS sensor (probably the same one found in the E-P1, E-P2 and some entry-level Olympus digital SLR cameras). As I've mentioned in the previous section, the PEN E-PL1 works with any Micro Four Thirds system lens right out of the box, and also regular Four Thirds, Olympus OM and Leica lenses using adapters. With the Four Thirds sensor size, a 2X crop factor applies to any lens you attach to the camera (ie the 14 – 42 mm kit lens becomes equivalent to 28 – 84 mm in 35 mm terms).
Dust reduction has pretty much become a standard in all interchangeable lens cameras over the last two years or so, and yes, the Olympus PEN E-PL1 has a dust reduction system too (Olympus calls it their SuperSonic Wave Filter system which literally 'shakes' dust off the filter in front of the sensor). With quite a bit of lens changing (which involved mostly my new Panasonic 20 mm f1.7 pancake lens), I didn't find dust to be an issue – all good here on the PEN E-PL1.
The PEN E-PL1 has built-in sensor-shift image stabilization just like the other PEN models Olympus makes. The E-PL1's image stabilization allows you to work with shutter speeds up to 3 stops slower than you normally would with handheld shots; that's down from a 4 stop compensation IS system on the E-P1/E-P2, but still on par with most other image stabilization sytems. The only downside of this system is you can't use it in movie mode (for that, Olympus offers digital image stabilization, but we'll get to that later).
Towards the left side above the camera, above the beige colored grip, is the Olympus PEN E-PL1's self-timer light. The camera does not have an autofocus assist lamp. Directly to the right of the PEN E-PL1's lens mount is the lens release button. One feature that Olympus omitted on the original E-P1 and E-P2 (which many reviewers were complaining about) was a built-in flash. Thank goodness Olympus listened, and now, new to the PEN E-PL1 is a built-in pop-up flash.
Compared to the built-in flash units of entry-level digital SLRs, the one here on the PEN E-PL1 is on the weak side, with a guide number of 7 meters (22 feet) at ISO 100. The built-in flash is handy on the go, but for practical use, you'd want to use an external flash (which you can either attach to the flash hotshoe or control wirelessly from the camera).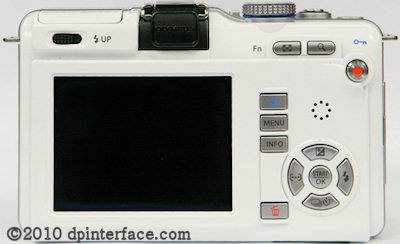 The Olympus PEN E-PL1 has a 2.7 inch LCD display, down from 3 inches on the other PEN cameras. Fortunately, resolution remains unchanged and this 2.7 inch screen still packs a decent resolution of 230,000 pixels. Olympus says their chose this display as it was the best balance between size, resolution, viewing angle and color accuracy (if I can remember correctly the details from their press conference). I was content with the size of the screen (though, yes, it would have been nice if it was bigger) and legibility both indoors and out were very good.
Above the LCD, we have a switch for the popup flash and the camera's accessory port I was talking about earlier. By the way, Olympus provides a small protective cover for the accessory port/hotshoe. Over on the right side of the camera is where all the action is – buttons and all.
To the upper right side is the zoom controls for playback zoom and manual focus magnification. You can also assign the "zoom out" button to a shooting function. Near those two buttons is the PEN E-PL1's dedicated movie button (another feature new to the PEN series) which allows you to quickly start/stop recording a movie clip. This same movie button doubles to bring up image protection in playback, and you can even assign it to another shooting function if movies are not your thing.
Next up, we have a row of three buttons beside the LCD:
Playback button
MENU button
INFO button – toggle the information shown on the display
Next to those buttons is the camera's speaker for playing back sound followed by the five-way navigation pad; used for item selection, panning around images and provides direct access to four functions:
Up – Exposure compensation (+/- 3 EV in your choice of 1/3, 1/2 or 1 step increments)
Down – Drive mode (Single shot, continuous mode, self timer 2 or 12 seconds)
Left – Autofocus area (All 11 points, freely selectable single point)
Right – Flash mode (Auto, redeye reduction, slow sync with redeye reduction, slow sync curtain 1, slow sync curtain 2, flash on, flash off)
Center – OK/Function menu
The Olympus PEN E-PL1 allows you to choose from either the full 11 point system (where the camera chooses one of 11 fixed AF points) or a flexible single point system, where you get to freely move the autofocus point to almost anywhere around the composition frame.
The last button on the back of the Olympus PEN E-PL1 is the button used for deleting photos in playback. This button doesn't have any functionality and is not customizable either.
Function menu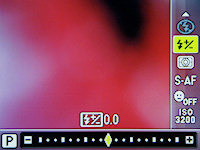 There is a bunch of other settings adjustable inside the Function menu of the Olympus PEN E-PL1. The Function menu covers:
Scene mode (only visible in Scene mode)
Art Filter choice (only visible in Art Filter mode)
Movie record mode (only visible in movie mode)
Picture mode (i-Enhance, vivid, natural, portrait, muted, monotone) – more on this later
White balance (Auto, daylight, cloudy, shade, tungsten, fluorescent [white, neutral or daylight], flash, custom, color temperature)
Drive mode
Image stabilization mode (Off, mode 1, mode 2, mode 3)
Photo resolution, compression and aspect ratio
Flash mode and flash exposure compensation (+/- 3 EV in your choice of 1/3, 1/2 or 1 step increments)
Metering mode (Multi, center-weighted, 1% spot, spot with highlight priority, spot with shadow priority)
Autofocus mode (Single, continuous, manual focus, single with manual override, autofocus tracking)
Face detection On/Off
ISO sensitivity (Auto, 100 – 3200 in choice of 1/3 or 1 step increments)
Movie sound recording On/Off (only visible in movie mode)
The Olympus E-PL1 has three sensor-shift image stabilization modes – Mode 1 is used for general shooting, compensating for camera shake in all directions while Mode 2 and Mode 3 are for horizontal and vertical panning respectively. Olympus has yet to put any label or tooltip for each image stabilization mode, and they still vaguely call them IS 1, IS 2 and IS 3 in the menu.
The Olympus PEN E-PL1 also has a unique Auto ISO mode that allows you to set the range of ISO speeds the camera can choose. By default, the camera will use anything from ISO 200 to 1600 using Auto ISO, but you can restrict the camera to use lower speeds (so there will be less noise).
The Olympus PEN E-PL1 has a bunch of advanced white balance controls that remain unchanged from the more expensive PEN models. There's a spot for custom white balance as you'd expect, advanced white balance tweaking (up to +/- 7 on the amber-blue and green-magenta axes) as well as white balance adjustment based on temperature. The latter allows you to set color temperature on a scale of 2,000 to 14,000 Kelvin in increments of 100; and I'm proud of Olympus for including this setting (because most camera makers don't even include such a feature in their entry-level digital SLR cameras!).
And finally, the Olympus PEN E-PL1 has a face detection system that can detect and track up to 8 faces in a frame. The face detection system works most of the time, but that's provided that your subject(s) are looking directly at the camera (ie no side or angled views)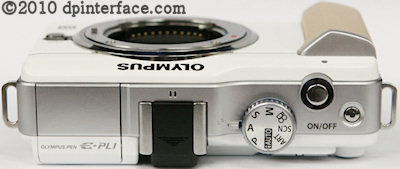 On the top of the Olympus PEN E-PL1, there's the popup flash (watch your fingers here), flash hotshoe mount and a single mono microphone in front of the hotshoe (you'll have to look really closely to see it). The Olympus PEN E-PL1 has a flash hotshoe that accepts both official Olympus and third-party flash units, though only Olympus ones will sync automatically with the camera. Maximum regular flash sync speed is 1/160 sec, and up to 1/2,000 in Super FP (High speed sync) mode. The Olympus PEN E-PL1 also has a built-in wireless flash capability that allows you to control up to 3 groups of external flash units wirelessly from the camera.
Towards the right side, you can also find the camera's mode dial along with the shutter and power buttons. During my time with the Olympus PEN E-PL1, I found the shutter button to be a little on the small side… and see that wrist strap mount on the right there? Its placement kept causing the neck strap to get in the way of shooting as well.
Minor rants aside, let's take a look at that mode dial:
Intelligent Auto mode – Just point-and-snap. There's automatic scene mode selection incorporated into this mode and will pick one of five preset modes (portrait, landscape, night portrait, sports or macro)
Program mode – the camera will select both shutter speed and aperture; there's Program Shift available so you can tweak the shutter/aperture combinations
Aperture priority – pick an aperture value (depends on lens) and the camera will select a matching shutter speed
Shutter priority – pick a shutter speed (between 1/2000 to 60 seconds in your choice of 1/3, 1/2 or 1 step increments) and the camera will select a matching aperture value
Manual mode – you get full control over both shutter speed and aperture; bulb mode up to 30 minutes available
Movie mode
Scene modes – more on this later
Art Filters – Pop art, soft focus, pinhole, grainy film, diorama and gentle sepia
The Olympus PEN E-PL1 has a slightly slower maximum shutter speed of 1/2000 sec (compared to 1/4000 on the PEN E-P1 and E-P2). The PEN E-PL1 still keeps the numerous modes of the E-P2, including Art Filters and iAuto mode for those who don't want to touch any manual controls. One new feature here is a Live Guide mode, found in Intelligent Auto mode, which allows even the newest of camera newbies to achieve various effects like "background blur" (which you know you've always wanted since you saw your friend's digital SLR)… but more on Live Guide later in our review.
This side of the camera is blank. The only thing of interest here is the structure of the pop-up mechanism of the built-in flash.
The Olympus PEN E-PL1 has two connectivity ports on the right side, hidden behind a little plastic door. The top port is a combo port for USB and A/V Out; while the bottom port is a mini HDMI for connecting the camera to your HDTV. The Olympus PEN E-PL1 also supports remote control over HDMI.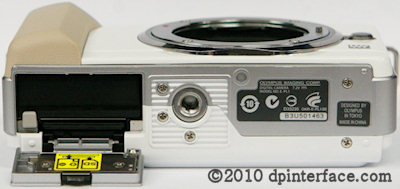 At the bottom of the Olympus PEN E-PL1 is a metal tripod mount that's not inline with the lens and the battery/memory card compartment. The Olympus PEN E-PL1 takes the same kind of battery as its PEN siblings and Olympus' entry-level digital SLRs and SD/SDHC memory cards. The compartment door has a metal hinge and feels fairly sturdy.
Taking pictures (Shooting mode)
Regular shooting display (Live histogram not shown here)
The Olympus PEN E-PL1 is a live view only camera. The advantage of this is that the camera is able to show you 100% of the frame and a real time preview of exposure, white balance, depth of field and other things – so what you see now, will be what you get later when you hit the shutter button. The camera shows you exposure, battery and general shooting information along with framing gridlines, a live histogram (brightness and RGB) and manual focus enlargement (7X, 10X or 14X zoom).
Unlike the more expensive PEN models, the Olympus PEN E-PL1 lacks a gauge level indicator/electronic bubble level, so there's no on-screen display for that.
There's also Perfect Shot Preview that splits the screen into four to show you the different effects of changing various settings such as exposure compensation, white balance and gradation. Perfect Shot Preview is a great convenience feature for everyone, and especially useful for beginners learning how to adjust different camera settings.
Live Guide mode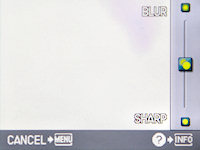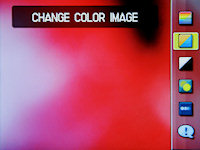 Found in iAuto (Intelligent Auto) mode, the Olympus PEN E-PL1 has a new Live Guide mode that allows beginners to quickly and easily achieve various photo outcomes/effects without having to read up on manual controls first. You can bring up Live Guide mode by pressing the center button on the camera's 5-way navigation pad.
You (and anyone, regardless of their camera/photography knowledge) can quickly adjust color saturation, white balance tone, image brightness, background blur (AKA aperture and depth of field) and "express motions" (AKA shutter speed) using a simple slider-based user interface and basic terms.
Olympus also provides a set of helpful one-line tips on shooting children, pets, flowers, food and photo composition; all of which are accompanied by pictures.
Multi Exposure
The Olympus E-PL1 has a Multi Exposure feature that allows you to combine multiple pictures into one photo. Olympus includes a gain control function which you can toggle to ensure even exposure in your photos.
In shooting mode, you can combine up to two pictures – so after you take the first photo, the image appears on-screen as a semi-transparent overlay while you compose the second shot to be combined with the first one. Multi Exposure works in playback too, and allows you can combine a maximum of three photos. The catch here is that only RAW format images will work for post-shooting Multi Exposure.
Shooting settings
The Olympus E-PL1 gives you a big bunch of image size/resolution/aspect ratio combinations; including 12 MP, 7.7 MP, 5 MP, 2 MP, 1.3 MP, 1 MP and VGA, along with numerous image compression/quality settings (Superfine, Fine, Normal and Basic) and four aspect ratios (4:3 standard, 3:2 print, 16:9 widescreen or 6:6 square). You don't see all these by in the Function menu; instead, you need to enter the camera's custom menu to configure four preset combinations of image resolution and compression. The average file size for a 12 megapixel JPEG file ranges from 2 to 8 MB, depending on compression, and a 4 GB SDHC should be able to hold around 1,200 photos at 12 MP/Normal quality.
The Olympus PEN E-PL1 has a 12-bit RAW mode as well so you can tweak settings and output of your image all you like on your computer. The advantage of RAW is that you get full control over image quality output from the camera, without the camera touching and meddling with your picture (ie noise reduction and color processing). RAW images are typically 14 MB per shot and a 4 GB SDHC is able to hold 200 RAW images. RAW+JPEG shooting is also possible.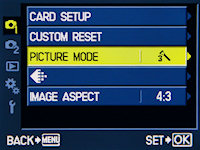 The Olympus PEN E-PL1 sports a user interface that's almost identical to the one found in the PEN E-P1 and PEN E-P2 cameras (as well as Olympus digital SLRs):
Card setup (Erase all, format)
Reset settings
Picture mode (iEnhance, vivid, natural, muted, portrait, monotone)
Image resolution and compression/Video resolution
Aspect ratio (4:3 standard, 3:2 print, 16:9 widescreen or 6:6 square)
Drive mode – not sure why they have this same option in THREE different locations
Image stabilization mode
Bracketing settings
Multiple Exposure
Flash exposure compensation
Wireless flash remote control
Picture Modes
The Olympus E-PL1 has six preset Picture Mode options: Vivid, Natural, Portrait, Muted, Monotone and iEnhance (available in iAuto mode only). Unlike the PEN E-P1/E-P2, there's no dedicated Custom Picture Mode, but you still can customize the preset options to your own liking. With the exception of iEnhance and Monotone, the other Picture Modes have user-adjustable sharpness, contrast and saturation levels; up to 5 steps. For the Monotone option, the saturation option is replaced by filter and toning options. You can set which color to filter out (yellow, orange, red or green) and the tone of the final monochrome photo (Blue, purple, green or sepia).
The iEnhance mode detects the most prominent color in a photo and boosts contrast and saturation to emphasize it further. You can select from 3 effect levels for iEnhance mode.
The Olympus PEN E-PL1 has the same gradation adjustment function found in the Olympus' digital SLR and other PEN cameras. Gradation adjustment works by evening out exposure in photos by dividing a photo into small parts and optimizing contrast. There are four gradation settings available (automatic, normal, high key or low key) which allow you to vary the intensity of the effect. High key prioritizes bright areas while low key prioritizes shadow/dark areas. The E-PL1 has two color space options: sRGB and AdobeRGB.
Bracketing
The Olympus PEN E-PL1 has four bracketing modes.
Exposure bracketing (takes 3 shots in a row in 1/3, 1/2, 2/3 or 1 step intervals)
Flash intensity bracketing (takes 3 shots up to +/- 3 EV of flash exposure compensation in each direction)
ISO bracketing (takes 3 shots up to 1/3, 2/3 or 1 step intervals using different ISO values)
White balance bracketing (takes 3 shots in a row with white balance adjustment from +/- 2, 4 or 6 on each axis (amber-blue or green-magenta)
Custom Function menu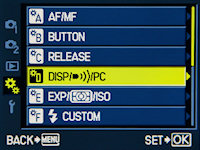 The Olympus PEN E-PL1 includes many custom functions, which are organized into nine categories in its Custom Menu. Like the PEN E-P2 that I reviewed some months ago, the Custom Menu on the Olympus PEN E-PL1 remains hidden until you turn it on via the Setup Menu.
While I think a few improvements could be made in terms of how the items are organized, let's not waste time and check out what's in the Custom Menu:
A. Autofocus/Manual focus section – Select autofocus area, AF mode, focusing in bulb mode, lens reset and focus ring direction
B. Button programming – Determine the camera's actions/functions when you press the Function button, movie button, customize your own two sets of settings using "My Mode" and set button inactivity period
C. Release priority – determine whether the camera takes a picture even if focus isn't locked; with separate set of settings for single AF and continuous AF
D. Display/PC – Set TV/PC connectivity settings, toggle live view boost & face detection and amount of information shown in shooting/playback. You can also toggle the Super Control Panel, Live guide and Live control along with playback settings
E. Exposure/Metering/ISO – Set ISO and exposure step increments (1/2, 1/3 or 1 full stop), Auto ISO range, preset bulb mode period, AF/AE metering settings and mirror lockup delay (AKA anti-shock, as Olympus calls it)
F. Flash settings – Set up flash sync speed, minimum shutter speed when using flash and flash exposure compensation linking with standard exposure compensation
G. Quality/Color/White balance – Covers noise reduction, white balance settings, vignetting reduction and 'preset' image resolution/aspect ratios/quality combinations
H. Record/Erase – Determine how the camera names picture files (default is Pxxxyyyy where x is the folder number, y is the image number), set photo DPI and a whole lot of settings covering 'how photos are deleted'
I. Movie mode – Customize movie shooting mode, sound recording and if you want the last frame of each movie to be saved as a separate image
J. Utilities – Pixel mapping, exposure shift, battery warning and level meter adjustment
The Custom Menu consists of a bunch of settings, most of which are one-time, "set and forget" options. While most of them are self-explanatory, you'll probably have to read the user's manual for adjusting some of the more complex settingsMost of the features in the Custom menu are self-explanatory. But there's one feature worth covering from the AF/MF section – since Micro Four Thirds lenses use electronic manual focusing (The lens is electronically directed when you turn the focus ring; not direct control over a focus element), you can choose whichever turning direction you'd like to use with the camera. That's quite a neat feature.
The Olympus E-PL1 features a mirror lock up function, which Olympus calls Anti Shock Release, and you can select the delay time from 1 to 30 seconds. The Pixel Mapping feature allows you to map and remove hot pixels and dead pixels from the camera's sensor.
Setup menu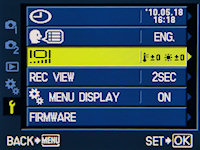 The final tab in the PEN E-PL1's menu system covers setup (I'll talk about the Playback section later). There are only six items in the Setup area:
Set date and time
Set camera language
LCD brightness and color
Image review time
Display Custom Menu
Camera and lens firmware version
Art Filters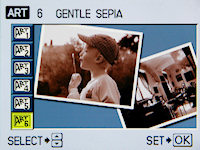 The Olympus PEN E-PL1 has just six Art Filters which allow you to apply a handful of preset (and some interesting) effects without touching a computer:
Pop Art – Increases color saturation and brightness
Soft Focus – Lightens and softens photos
Grainy Film – Increases contrast while turning photos black-and-white for that 'classic' look
Pin Hole – Makes colors warmer looking while creating artificial, excessive vignetting in photos
Diorama – Applies faux shallow depth of field to photos to make them look like miniature models
Gentle sepia – Softens photos slightly while turning photos into monochrome with a sepia tint
While Art Filters only work on JPEG settings, you can also opt to apply Art Filter effects onto RAW images after you've taken them via the playback RAW development tool. Also, another fact worthy of note is that live preview may become choppy using certain Art Filters such as Pinhole or Diorama, so you may be able to capture fast moving objects as the frame rate can't catch up.
Other scene modes and macro
The PEN E-PL1 has a nice handful of point-and-shoot scene modes (19 of them to be exact). They are: portrait, landscape, landscape with portrait, macro, sports, night scene, night portrait, children, high key, low key, digital image stabilization (This merely boosts ISO as high as needed, and I'd recommend setting ISO yourself instead), nature macro, candle, sunset, documents, panorama, fireworks beach & snow and E-Portrait. E-Portrait mode works much like the 'Beauty modes' on Olympus compact cameras, removing blemishes and wrinkles, and smoothening skin automatically. You can also apply the 'e-portrait' effect after you take a picture on RAW images in playback.
The minimum focusing distance depends on the lens being used on the camera. As of now, there's only one dedicated macro Micro Four Thirds lens available – and that's made by Panasonic: the 45 mm f2.8 Macro. Perhaps a dedicated Micro Four Thirds macro lens from Olympus themselves in the near future, but for now, if you want an Olympus branded macro lens, you'll only find one from their 'regular' (read: requires an optional adapter and may not autofocus) Four Thirds lens line.
Video Recording
The Olympus PEN E-PL1 has a 720p movie mode whose description is going to sound familiar if you've read my reviews of the PEN E-P1 and PEN E-P2 before. The PEN E-PL1 can record 720p (1280 x 720) videos at 30 FPS with mono sound (as opposed to stereo sound on the E-P1/E-P2). However, you have the option to attach an external microphone to the camera (via the external microphone adapter for the accessory port) to record stereo sound and for better audio quality.
Movies are recorded in M-JPG format with sound recorded at 44.1 kHz. There's a 2 GB per movie clip file size limitation here, which you'll quickly reach in 7 minutes (720p mode) or 14 minutes (VGA). You also have the option to lower recording resolution to VGA resolution (640 x 480); frame rate is still recorded at 30 FPS.
While recording a movie, you can operate the zoom lens, use continuous focus and manually adjust shutter speed/aperture. You can also take a full-resolution still photo while recording video, but movie recording stops and is continued in a new file. Art Filters can also be applied from the start of movies, but you cannot change Art Filter effects in the midst of recording and frame rate may drop significantly for some effects (those that require heavy post-processing such as Diorama or Pin Hole).
What you cannot use on the PEN E-PL1 while recording movies is the camera's sensor-shift image stabilization (this holds true for all cameras with sensor-shift stabilization). However, for better or worse, Olympus offers a digital image stabilization alternative, which isn't quite as effective as the real thing and crops in on your movies slightly.
The Olympus PEN E-PL1 performs quite nicely in the movie department with smooth and fairly detailed movies. The camera's movie mode is a great convenience feature but with the lack of real image stabilization, sometimes unsmooth manual zoom (depends on your hands) and sluggish continuous AF when recording, I'm not sure if the PEN E-PL1 will be replacing any but the most basic of camcorders anytime soon.
Performance
All performance testing of the Olympus PEN E-PL1 was performed using a high-speed 8 GB SanDisk Extreme IV SDHC card. A high-speed memory card is definitely recommended if you want to get the most out of the camera in terms of performance.
The Olympus PEN E-PL1 boots up in a fairly snappy time of 1.3 seconds. The reason for this slight delay compared to the instant startup time of most digital SLRs is the dust reduction cycle (which you cannot disable) that runs every time you turn the camera on.
Now, one of the quirks many had about the previous PEN cameras were their sub-par focusing abilities (in terms of speed and reliability in low-light). The improvement in the PEN E-PL1's autofocus speed compared to its siblings proves that user and reviewer rants directed at Olympus have not fallen on deaf ears. During my time with the Olympus PEN E-PL1, I called up a friend who owns and uses a PEN E-P2 and asked that we compare cameras – The verdict of a side-by-side comparison? The Olympus PEN E-PL1 indeed focuses slightly faster than the Olympus PEN E-P2 (both using the bundled 14-42 mm kit lens; the difference becomes more noticeable with more expensive lenses like the 20 mm f1.7 pancake), but there's still room for improvement as they're still slower than entry-level digital SLRs.
With good lighting around, it takes between 0.2 to 0.6 seconds for the PEN E-PL1 to lock focus, and almost thrice as long in low-light. Unfortunately, focus accuracy and reliability in low-light hasn't improved at all on the PEN E-PL1, since the camera still lacks an autofocus assist lamp. Most of the time, you'll find that the camera isn't able to focus in low-light unless you have the AF-assist system from an external flash around (or perhaps a carry-it-yourself torchlight) to help the camera focus.
Shot-to-shot speed - 1 shot as fast as you can press the shutter button; very fast
Flash recharge time using a fully charged battery – Approx 3 seconds between shots
The PEN E-PL1 has a continuous shooting mode that shoots at the same 3 frames per second as the E-P1 and E-P2. The difference here is that the PEN E-PL1 seems to have a slightly larger buffer that allows it to take more pictures in a row (yes, even compared to its pricier siblings). Based on my testing, the Olympus PEN E-PL1 can take up to 20 JPEG/Fine photos or 10 RAW images before the shooting speed starts to slow down (versus 13 and 6 images respectively on the PEN E-P2). You can also operate continuous shooting in RAW+JPEG mode, with the camera shooting at 3 FPS and slowing down significantly after 8 to 9 shots.
While for most part the Olympus PEN E-PL1 performs on a similar level compared to the other two PEN cameras (not surprising, since they probably use the same or similar hardware), I'm glad that Olympus has made some small tweaks to make autofocus noticeably faster and the buffer around 50% larger. Though autofocus speeds are still slower than that of digital SLRs (and are rivaled even by some high-end compact cameras), that's still enough to make previous PEN camera owners slightly envious of the PEN E-PL1's lower price but faster focusing abilities. Olympus is doing just fine, for most part, in the performance department… but in the next PEN (perhaps the PEN E-P3 or E-PL2), it'll be nice to see even faster autofocus and perhaps slightly faster continuous shooting.
Image Quality
Alright, let's check out the image quality of the Olympus PEN E-PL1:

ISO 100 (f4.4, 1/25 sec)

ISO 200 (f4.4, 1/50 sec)

ISO 400 (f4.4, 1/100 sec)

ISO 800 (f4.4, 1/200 sec)

ISO 1600 (f4.4, 1/400 sec)
ISO 3200 (f4.4, 1/800 sec)
All test shots, here and in the photo gallery, were taken using the default 'Natural' Picture Mode with Noise Reduction off and gradation off.

Olympus PEN E-PL1 at ISO 1600
Olympus PEN E-P2 at ISO 1600
Olympus PEN E-PL1 at ISO 3200

Olympus PEN E-P2 at ISO 3200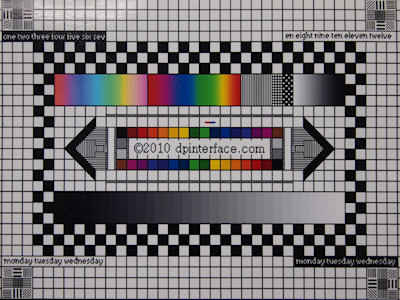 Photo gallery
Check out full-sized, unedited photos taken straight out of the camera in the Olympus E-PL1 photo gallery.
Playback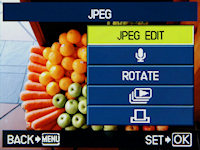 The Olympus PEN E-PL1 has the same playback mode as the other two PEN cameras. The camera can play photos with 14X playback zoom available and movies with sound. The core playback features you'd expect in a digital camera are all here: print marking, slideshows (with background music), 30 second voice clip attachment, image protection and rotation.
You can playback photos/videos individually, by date in calendar view or your choice of 4 to 100 thumbnails. The camera has a bunch of editing tools for still photos, but none for video, which include Shadow Adjustment (brighten dark parts of your pictures), digital redeye removal, trimming/cropping, saturation adjustment, image resize and black & white/sepia conversion. There is also a feature called E-Portrait (beauty mode) to remove skin imperfections and smoothen skin in photos of people.
Two other unique playback tools include RAW processing (RAW edit), that allows you to convert RAW files into JPEG photos directly in the camera, and Multi Exposure which allows you to stack up to 3 RAW images to be combined into a single JPEG photo. You don't get a full suite of editing tools in RAW Edit mode as you would get on a computer, but basic settings such as brightness, art filter setting, white balance, etc are present. However, the implementation here (borrowed from Olympus' other PEN and SLR cameras) is fairly unintuitive: you first have to select a photo in playback, head back to shooting mode to pre-set all your desired output settings and re-enter playback mode to convert the file.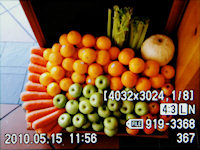 Press the INFO button and the E-P1 can tell you a whole lot more: from shooting details, mode, full exposure information (with shutter speed and aperture value) and four histograms on screen – Brightness and RGB! There's also a 'brightness histogram only' view (middle screenshot) as well as a highlight/shadow alert feature which "blinks" both underexposed and overexposed areas of your photos to warn you about them.
Conclusion
Take the PEN E-P2, cut down a few of its features (which most beginners may not miss), throw in several new ones and slash its price… and you'll get the new Olympus PEN E-PL1. The PEN E-PL1 is fairly similar to its PEN siblings in many ways, but has been redesigned slightly for the first-time/casual user in mind with a more modern/fun looking design (complete with your choice of camera body colors), fewer external controls and straightforward operation.
The Olympus PEN E-PL1 features the same 12 megapixel LiveMOS sensor, sensor-shift image stabilization, full manual controls and 720p movie mode found on previous PEN models, while adding improvements such as a new popup flash (the PEN E-P1 and E-P2 did not have any built-in flash) that comes with wireless flash control, a dedicated movie button and faster autofocus. Yes, you heard that right, the PEN E-PL1 is actually superior to its more expensive siblings in some ways – autofocus that's noticeably faster, for instance (though speeds are nowhere near SLR class yet).
To allow themselves to price the PEN E-PL1 lower than their other cameras, Olympus did move the E-PL1 a notch down in terms of build quality. The camera is made almost entirely of glossy plastic and though the camera still feels solid in hand, plastic still can't compare to the metal build of the PEN E-P1/E-P2. The Olympus PEN E-PL1 also loses both control/command dials found on the previous cameras, leaving users who like manually tweaking camera settings to a lot of button pressing.
Besides autofocus where it's quite a bit faster, the Olympus PEN E-PL1 performs on similar levels compared to its siblings in other areas from start-up time to shooting rate. Olympus did seem to include one "under the hood" tweak here, which is adding 50% more buffer to the camera, allowing it to take more shots in a row in continuous shooting mode versus the E-P2 (for both JPEG and RAW images). Autofocus still falls short of expectation in low-light, however, with sluggish speeds and failure to lock on to a subject without any AF-assist system.
On a brighter note, the Olympus PEN E-PL1 also inherits the good image quality of the PEN E-P1 and E-P2, with low noise levels that even make ISO 3200 usable (the PEN E-PL1 is missing the "high" ISO 6400 setting from the other two cameras). Photos are bright and colors are nicely saturated (even more so, if you use Auto mode) with not many hints of lens flaws from the small but mighty kit lens… though I did hear that in-camera processing also plays a part in correcting things. Of course, ultimately what matters is that the Olympus PEN E-PL1's audience (who want to point, snap and produce good looking pictures with as little hassle as possible) will be very pleased with image quality output.
The Olympus PEN E-PL1 isn't the perfect camera, but it's a good choice for anyone wanting the image quality of a large sensor camera and flexibility of interchangeable lenses, without going the whole nine yards to get a big, bulky and pricy digital SLR. The PEN E-PL1 also makes for a nice and affordable secondary camera for existing digital SLR owners. For those with more cash to splurge and/or want a higher end camera, the announcement anniversary of the first 'digital PEN' camera is coming (June 16); perhaps a PEN E-P3 isn't far away…
What's hot:
Excellent image quality; good ISO performance and quality kit lens
Affordable versus other mirrorless interchangeable lens cameras
In-body sensor-shift image stabilization
Compact design; slightly easier to hold than its PEN siblings
New built-in popup flash, in-body wireless flash control
Full manual controls with RAW mode, various bracketing modes and white balance tuning/color temperature
Beginner-friendly Live Guide mode with Intelligent Auto, shooting guide and plenty of scene modes
Good performance; faster autofocus than previous PEN cameras (though see below)
720p HD movie mode records at 30 FPS with manual controls
Fancy playback mode with lots of photo simple editing/enhancing tools
What's not:
Camera lacks any sort of command dial; means lots of button pressing to change settings
Larger and higher resolution LCD would've been nice
Focusing still not as fast as "large sensor" cameras of its class; poor low-light focusing and lack of AF-assist light
No real image stabilization, slow and noisy AF when recording movies
Sluggish processing times and choppy frame rates using Art Filters; burst speed could've been better
Playback RAW conversion tool fairly unintuitive (Especially for beginners); no movie editing tools
Recommended Accessories:
4 GB or larger high-speed SDHC memory card