From the better late than never file, I've just posted my review of the E30 digital SLR, a mid-range digital SLR model from Olympus. You can also check out photos taken straight out of the camera in the Olympus E30 photo gallery. Hit the link for the full review.
DPInterface Olympus E30 Review
Brad Soo – December 23rd, 2009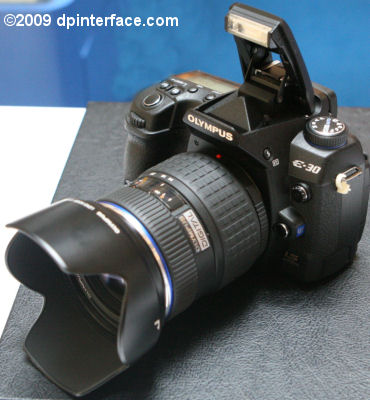 The Olympus E620 received a whole-hearted thumbs up from me when I reviewed it half a year ago. What made it a great camera was that it took many of its sibling's features (the E30) and put them into a smaller, lighter and cheaper package. But ever wished for a bigger viewfinder? How about an autofocus system plucked directly from Olympus' flagship E3? And faster shooting performance? Say hello to the midrange Olympus E30, the role model that the E620 was formed after.
Is the Olympus E30 any better and worth the extra cash over its smaller sibling? Find out now.
Comparison: Olympus E30 vs Olympus E620
Seeing that the Olympus E30 and Olympus E620 are such similar cameras, I've listed their differences in this handy table:

| | | |
| --- | --- | --- |
| Difference | Olympus E30 | Olympus E620 |
| Viewfinder | 98% coverage; 1.02X mag | 95% coverage; 0.96X mag |
| Autofocus system | 11 point AF (All cross type) | 7 point AF (5 cross type) |
| AC adapter option | Yes | No |
| Underwater case option | No | Yes |
| Backlit controls | No | Yes |
| Flash sync port | Yes | No |
| Dual command dials | Yes | No |
| Exposure bracketing | 3 or 5 frames | Fixed 3 frames |
| Shutter speed range | 60 – 1/8,000 sec | 60 – 1/4,000 sec |
| Flash sync speed | 1/250 sec fastest | 1/180 sec fastest |
| Built-in flash | 13 m, ISO 100 guide number | 12 m, ISO 100 guide number |
| Burst mode | 5 frames per second | 4 frames per second |
| Multiple Exposure | Up to 4 shots (shooting/playback) | Up to 2 shots (shooting)/3 shots (playback) |
| Aspect ratios | 9 options | 4 options |
As you can see, the Olympus E30 is a bigger (better ergonomics), faster and slightly more feature packed version of the E620. The E30 also matches or beats Olympus' aging flagship E3 in various ways, save for viewfinder specifications and body construction/weather-sealing.
Size and Weight
(326.8) 145.5 x 107.8 x 73.5 mm (730 g) - Canon EOS 50D
(312.0) 132.0 x 103.0 x 77.0 mm (620 g) – Nikon Coolpix D90
(324.0) 141.5 x 107.5 x 75.0 mm (655 g) – Olympus E30
(284.0) 130.0 x 94.0 x 60.0 mm (475 g) – Olympus E620
(312.5) 141.5 x 101.0 x 70.0 mm (715 g) – Pentax K20D
All the weight figures above show when the camera is empty without any lens, battery or memory card
Alongside the Canon 50D, the Olympus E30 is one of the larger mid-range digital SLRs, and right in the middle of the pack in terms of weight. Still, I doubt anyone's gonna be making decisions just by looking at these numbers – once you put on a lens and maybe a couple of accessories such as a battery grip or external flash, none of the cameras are going to be small or lightweight.
I threw in the E620, the "baby E30" which has a very similar feature set, for good measure and it's quite a bit smaller, lighter and slimmer compared to the E30 here. If you want a relatively compact digital SLR, then I'm afraid you'll have to step down to one of the entry-level models.
Box packaging
The Olympus E30 comes with your average digital SLR camera bundle:
BLM-1 rechargeable lithium-ion battery
Battery charger
Body cap
Eyepiece cover
Neck strap
USB and video cables
Camera software disc (Olympus Master)
User's manual
Olympus Zuiko Digital 14 – 42 mm f3.5 – f5.6 lens (with kit lens option)
You can opt to purchase the Olympus E30 body only or get the camera with the 14 – 42 mm kit lens. The Olympus E30 doesn't come with any memory; instead you'll have to use your own memory card with the camera (the E30 has slots for two memory cards; xD-Picture card and Compact Flash Type I/II). I'd recommend sticking to the latter as your primary card, as Compact Flash cards are typically cheaper, faster and available in MUCH larger capacities (32 GB as of today and growing!) and are more commonly used versus xD cards. Of course, that doesn't stop you from using xD Picture cards if you have some lying around.
You can use UDMA-enabled Compact Flash cards as well as typical high-speed ones with the E30 to improve overall camera performance. A 4 GB high-speed Compact Flash card would be a good place to start.
640 shots - Canon EOS 50D
850 shots – Nikon D90
500 shots – Olympus E620
750 shots – Olympus E30
500 shots – Olympus E620
530 shots – Pentax K20D
All the cameras above are rated with rechargeable batteries according to CIPA Standard; when using the viewfinder, unless noted otherwise
The Olympus E30 uses the larger BLM-1 lithium-ion rechargeable battery (versus the BLS-1 battery which came along with the E620) and comes with a charger. The E30 does pretty well against other mid-range digital SLRs in terms of battery life: it is rated to 750 shots per charge (CIPA Standard) using the optical viewfinder. Olympus doesn't say what kind of numbers you'll get when using live view.
Battery life would be one of the things to consider when comparing the E30 and E620 – there's a sizable difference between the two. You can also improve battery life of the E30 by using the optiona battery grip. The battery grip also serves as a way to comfortably hold the camera in a portrait position.
Accessories
The Olympus E30, as you'd expect from a digital SLR, is compatible with a large range of accessories. For starters, the E30 supports all Four Thirds standard lenses (including any third party ones that may come along); all being subjected to the sensor's 2.0X focal length multiplication factor.
You can also add on external flash units to the camera and attach flash brackets to hold those external flashes. Olympus has FL-36R and FL-50R flash models, both of which support wireless flash functionality. You can also opt for third party flash units, but only Olympus models will sync automatically with the camera.
Olympus offers wired and wireless remote control options for the camera and other things like camera bags, cases and an AC adapter.
Camera Tour
The Olympus E30 is a midrange digital SLR model and it certainly looks and feels like one. Build quality is very good as the camera feels solid and there's no creaking anywhere. The E30 is quite a bit bigger than many of Olympus' Four Thirds cameras, with the only other larger camera being the E3, but you'll find the camera feels a lot more comfortable to hold with a big, "real" right hand grip and buttons to easily access most shooting functions.
Though the E30 and E620 share similar features, one of the differentiating factors is physically noticeable: the E30 is better build but is also larger in size with more buttons. The sheer number of buttons and dual control dials will be appreciated by power users who don't want to constantly dive into the camera's menus, but may intimidate first time users and beginners until they can fully understand and remember the functions of individual controls.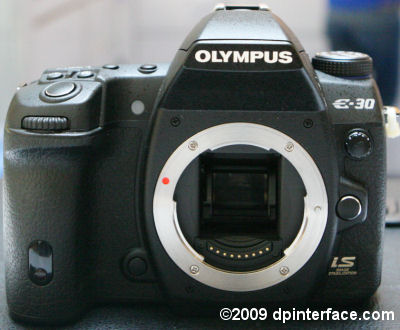 On the front of the Olympus E30 is the camera's Four Thirds lens mount, with a 12.3 effective megapixel LiveMOS sensor behind it. You can attach any Four Thirds system lens onto the camera; with the usual 2X crop factor of the sensor. That means any lens you attach will be subjected to a 2X multiplication factor (ie the 14 – 42 kit lens becomes equivalent to 28 – 84 mm in 35 mm terms).
The sensor itself is mounted on a movable platform which grants the Olympus E30 sensor-shift image stabilization which is effective up to 5 additional stops of shutter speeds. This helps to reduce blurring caused by camera shake and brings image stabilization to any lens you attach to the camera. The Olympus E30 also features Olympus' SuperSonic Wave Filter dust reduction system, which works very well by 'shaking' off the dust on the filter in front of the sensor.
On the right is a large shiny button for ejecting the lens, with the camera's flash sync port located above it (the little knob item below the E30 logo is the port's protective cover). Directly above the lens mount is the camera's popup flash unit. The flash is released electronically via the flash button on the top of the camera and has a guide number of 13 m at ISO 100. The flash is also used for autofocus assist, where it fires strobes of lighting to illuminate your subject.
The camera's remote receiver is located on the grip as well as the self-timer light. Further up, next to the shutter button is a small white window: a white balance sensor (supposedly improves auto white balance accuracy on the camera). The lone button at the bottom, between the grip and lens mount area, is for activating depth-of-field preview.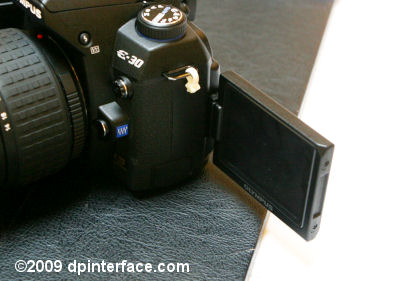 The Olympus E30 features a flip-out and rotate style 2.7 inch LCD. You can flip the LCD screen out 180 degrees and rotate it up to 270 degrees to face upwards (low angle shots from the hip), face to the front (self-portraits) or downwards (high angle shots above the heads in a crowd). The screen can also be faced inwards (closed) to protect the LCD.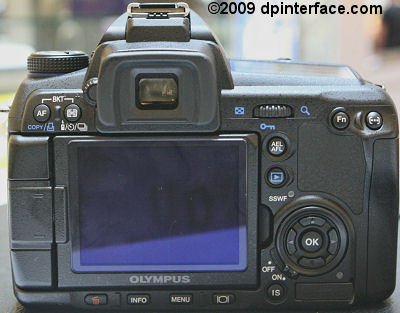 The camera's 2.7 inch display has 230,000 pixels with good legibility in both low and bright light. The screen is used for changing most camera settings, viewing photos in playback and the flip-out and rotate feature comes in handy when using live view.
Directly above the LCD panel is the E30's optical viewfinder with a big dioptric correction knob next to it. The viewfinder shows a good amount of information, covering details about autofocus, exposure, flash and general shooting details (ie remaining shots). On paper, it sounds great with 98% frame coverage and 1.02X magnification, but the viewfinder is in fact a little small compared to that of other midrange SLRs (thanks to the E30's smaller, 2X crop sensor).
To the left of the viewfinder are two buttons. One of them serves to change autofocus mode (AF – single, continuous or manual focus) and also copy/print marking in playback; while the other button brings up options for metering (ESP, center-weighted, spot [normal, highlight, shadow]) and drive mode (One shot, continuous, self timer 2 or 12 seconds, remote control). Pressing both buttons at once will bring up various options for the camera's Bracketing feature.
Moving on to other parts of the camera, we have four buttons below the E30's display:
Delete photo – Used in playback mode
INFO – Toggle amount of on-screen information
MENU – Brings up the E30's main menu
Live view – Activate LCD live view on the E30
Then there's yet another row of controls, this time to the right of the LCD. We'll start with the Olympus E30's second command dial (the primary one is located on the front grip) which you'll use for adjusting various camera settings and to operate playback zoom.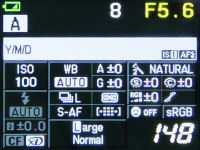 Olympus Super Control Panel screen
Next up is the AEL/AFL button for locking focus, exposure or both - You can customize this in the Custom Function menu. The button also doubles as a quick way to protect photos in playback. Further down is the playback button, SSWF (sensor cleaning) indicator light and 5-way navigation pad. Hitting the center/OK button brings up the Super Control Panel screen and from there, you can change the settings shown on the page.
The Olympus E30's power on/off switch is located to the lower left of the navigation pad, as well as the IS mode button for sensor-shift image stabilization. There are three image stabilization modes available on the E30: Mode 1 is regular image stabilization while Mode 2 and 3 are for vertical and horizontal panning respectively.
Finally, we have two final buttons to the upper right side of the Olympus E30: a programmable Function button (default function is face detection/gradation) and AF area mode (all points, single point, dynamic single point). The last AF area mode expands autofocus point coverage to the four directions around the selected point.
If you thought covering the back of the Olympus E30 was one long-winded piece of write-up, I've got bad news: there are more controls to talk about, and they're located on the top of the camera. Located at the very left is the Olympus E30's mode dial:
Manual mode – you get full control over both shutter speed and aperture; bulb mode up to 30 minutes is available
Shutter priority – pick a shutter speed (between 1/8000 to 60 seconds in your choice of 1/3, 1/2 or 1 step increments) and the camera will select a matching aperture value
Aperture priority – pick an aperture value (depends on lens) and the camera will select a matching shutter speed
Program mode – the camera will select both shutter speed and aperture; there's Program Shift available so you can tweak the shutter/aperture combinations
Automatic shooting
Portrait mode
Landscape mode
Close-up mode
Sports mode
Night portrait mode
Art Filters/Other scene modes
The Olympus E30 features a set of Art Filters, which applies special effects to give photos an unusual tone or twist. Sure, you can do the same with post-processing on your computer but why not save the trouble? The only downside of using Art Filters is lengthened processing times (so you can't use continuous shooting here) Here are the effects applied by each of the Art Filters:
Pop Art – Increases color saturation (more vivid) and brightness
Soft Focus – Lightens and softens photos
Pale & Light – Flattens colors to give photos a dull look
Light Tone – Increases brightness in dark areas to create even exposure throughout the picture
Grainy Film – Increases contrast while turning photos black-and-white for that 'classic' look
Pin Hole – Makes colors warmer looking while creating artificial, excessive vignetting in photos
Next to the mode dial is the Olympus E30 flash hotshoe (the camera comes with the hotshoe cover shown above). You can use any flash with the camera but only Olympus ones will sync automatically with the camera. The Olympus E30 can sync as fast as 1/250 sec (about 1/2 stop faster than the E620) with an external flash or up to 1/4000 using Super FP mode. If you're feeling creative, then you can create a wireless flash setup (using either Olympus FL50R or FL36R flash units) of up to 3 groups and 4 channels; and control them directly from the camera! It's noteworthy that some of the E30's competitors don't have wireless flash control built directly into the camera.
Across the flash, to the other side of the E30, are four buttons and the camera's secondary info display panel. Let's look at the four buttons from left to right now:
Light – Toggle the backlight to see the display in the dark
White balance (Auto, daylight, cloudy, shade, tungsten, fluorescent 1, 2 & 3, flash, custom, white balance adjustment)
Exposure compensation (+/- 5 EV in your choice of 1/3, 1/2 or 1 step increments)
ISO sensitivity (Auto, 100 – 3200 in choice of 1/3 or 1 step increments)
As you'd expect on a midrange digital SLR like the Olympus E30, there are a couple of advanced white balance controls available on the camera. You can opt to set white balance based on color temperature (between 2,000 and 14,000 Kelvin in 100K increments) or adjust individual preset settings up to +/-7 steps along the amber-blue and green-magenta axes respectively.
The last two items up here are the camera's shutter button and primary command dial (located towards the front of the grip). The command dial is used for changing settings on the camera, complimenting the secondary command dial on the back.
Here's the side view of the Olympus E30, where you can get a better view of the lens eject button and flash sync port. You can also spy the camera's flash button near the Olympus logo/built-in flash. Pressing this button for the first time will electronically release the popup flash unit, and from there, a second press will bring up various flash modes: auto, auto with redeye reduction, slow sync (1st or 2nd curtain), flash on, flash off or manual power (1/1, 1/4, 1/16 or 1/64). The button also brings up options for flash exposure compensation (+/- 3 stops in 1/3 increments).
On the same side of the camera, there's the DC-IN port located under a rubber cover. This is where you will plug in the optional AC adapter.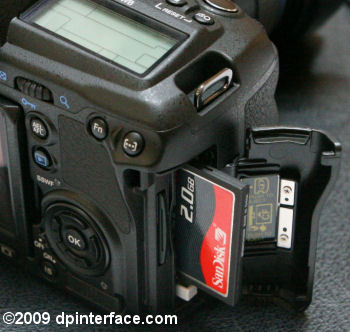 On this side of the Olympus E30 are its dual memory card slots, located under a solid door. The E30 can take one xD-Picture card as well as a single Compact Flash card. With a UDMA Compact Flash card, the camera is able to perform quite a bit faster.
At the bottom of the Olympus E30 are its metal tripod mount (in-line with the lens) and battery compartment. The compartment door is quite sturdy and is removable in order to insert the optional battery grip's connector.
Taking pictures (Shooting mode)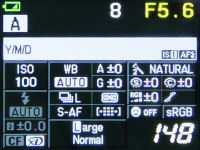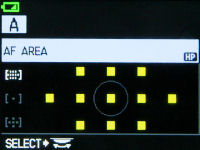 Press the OK button on the Olympus E30 and it brings up what Olympus calls the Super Control Panel. The many details and shooting aspects in the screens above are what you'll get and from here, you can change the various settings from the on-screen items.
The Olympus E30 has 11 autofocus points when using the optical viewfinder; all are cross type AF points (a notable step up from 7 AF points with 5 cross-type on the E620). In the camera's live view mode, you can still select from 11 AF points shown on the display plus an option for using face detection.
Live view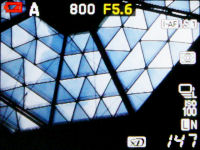 The Olympus E30 will flip up its mirror and activate live view upon the press of its dedicated live view button. The camera shows 100% of the frame with shooting and exposure information. There are also optional framing gridlines, a live histogram and focus enlargement of either 5X, 7X or 10X. There's also a handy, electronic level gauge available which guides you to adjust composition so you won't take crooked photos.
In live view, the E30 shows you a real time image preview of your picture's exposure, white balance, gradation and even optional depth of field preview. Olympus also makes their handy Perfect Shot Preview, which splits the screen to show four setting change effects simultaneously.
The Olympus E30 has three live view modes:
Phase Detect AF (aka AF Sensor mode) which blacks out live view briefly so the camera can do some mirror flipping to focus using its AF sensor, then live view comes back on again
Contrast Detection AF (aka Imager AF mode) ensures there's no screen blackout during AF by using the image sensor directly for focusing (just like compact cameras). In this mode, the E30 can also use face detection to detect and track up to 8 faces. However, you cannot use continuous focus and Contrast Detection AF is the slowest among the three live view modes and only works with a handful of newer lenses
Hybrid AF is a little bit of both of the first two modes – the camera first focuses using its imaging sensor, then when you press the shutter button all the way down, the camera 'confirms' focus by using traditional phase detection AF before taking the actual picture
Multi Exposure
The Olympus E30 has a Multi Exposure feature which allows you to combine two, three or four pictures into a single image. You can do this in live view mode or later on in playback (using RAW images only). There's an auto gain function you can activate to even out the exposure of combined photos.
In shooting mode, you can combine up to two pictures and have to use live view. After you take the first photo, the image appears on-screen as a semi-transparent overlay while you compose the second shot to be combined with the first one.
Shooting settings
The Olympus E30 allows you to mix and match from a combination of image resolution, compression and aspect ratio options; including 12 MP, 7.7 MP, 5 MP, 2 MP, 1 MP and VGA settings for resolution, Superfine, Fine, Normal and Basic compression for images and a whopping nine aspect ratio settings (4:3 standard, 3:2 print, 16:9 widescreen, 6:6 square, 5:4, 7:6, 6:5, 7:5 and 3:4). 12 bit RAW and RAW+JPEG modes are available, but only when using the 12 MP full resolution setting. I would recommend using 12 MP with Normal compression for daily JPEG shooting.
RAW file sizes are much larger (around 14 MB per shot) versus typical JPEG shots but you'll get complete control over almost every single aspect of the image: white balance, noise reduction, contrast, saturation, exposure, colors, etc. If you messed up some camera settings but took the picture in RAW format, then most likely you'll be able to correct it later on your computer. You'll probably want a high-speed memory card here so the camera can write those huge files quicker. You can store about 280 RAW photos or 1,500 Normal JPEG ones on a 4 GB card.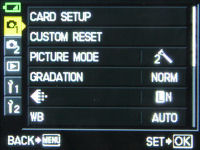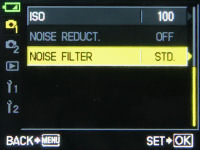 Unlike the simple grid menus on their compact cameras, the menus on Olympus digital SLRs are more comprehensive and are split into five main tabs. The first two of which on the Olympus E30 cover shooting functions:
Card setup (Erase all, format)
Reset settings
Picture mode (Vivid, natural, muted, portrait, monotone, custom)
Gradation (Auto, normal, high key, low key)
Image resolution and compression
White balance and ISO
Long exposure noise reduction (Off, on, auto)
Regular noise filter (Off, low, normal, high)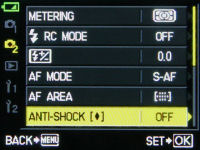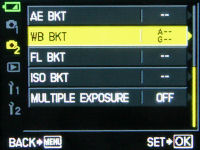 Here's the second part of the camera menu:
Metering mode
Wireless flash on/off
Flash exposure compensation
Autofocus mode and area
Anti-shock AKA mirror lockup (Off, 0-30 seconds)
Exposure, white balance, flash and ISO bracketing
Multiple Exposure
Camera beeps
Picture Modes
The Olympus E30 has five preset Picture Mode options with one custom option. The preset Picture Modes include Vivid, Natural, Portrait, Muted and Monotone. For all of the Picture Modes, presets and custom, you can adjust sharpness, contrast and saturation levels with 5 levels for each of them. For the Monotone option, the saturation option is substituted by filter and toning options. You can set which color to filter out (yellow, orange, red or green) and the tone of the final monochrome photo (Yellow, orange, red, green or sepia).
You can also set gradation adjustment (automatic, normal, high key or low key) which reduce the chances of blown highlights or dark shadow areas in photos, making exposure more even. High key prioritizes bright areas while low key prioritizes shadow/dark areas.
The E30 has two color space options: sRGB and AdobeRGB.
Bracketing
The Olympus E30 has four bracketing functions. Exposure bracketing which takes three or five shots (your choice) in a row in 1/3, 1/2 or 1 step intervals, while flash intensity bracketing, which does the same up to +/-3EV for flash exposure compensation.
ISO bracketing takes three photos in a row at different ISO values, intervals can be selected in 1/3, 2/3 or 1 step increments. Finally, there's white balance bracketing if you're using the white balance adjustment setting. You can take three pictures in a row up to +/- 2, 4 or 6 on each axis (amber-blue or green-magenta)
Custom Function menu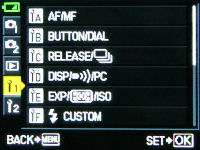 The Olympus E30 includes many custom functions, which are organized into nine categories:
A. Autofocus/Manual focus section – Select Live View mode (covered in the sub-section above), toggle AF assist, select autofocus area, mode and AF point size and focus ring direction
B. Button/dial programming – Determine the camera's actions/functions when you turn the top command dial, press the AE/AF lock button, Function button and Drive mode button at the top. You can also set 2 My Modes and button inactivity period
C. Release priority (determine whether the camera takes a picture even if focus isn't locked) and set low-speed continuous speed (between 1 to 3 frames per second)
D. Display/PC – Set TV/PC connectivity settings, toggle live view boost & face detection and amount of information shown in shooting/playback
E. Exposure/Metering/ISO – Set ISO and exposure step increments (1/2, 1/3 or 1 full stop), Auto ISO range, preset bulb mode period and mirror lockup delay
F. Flash settings – Set flash sync speed, flash exposure compensation and auto popup when using auto or one of the camera's scene modes
G. Quality/Aspect/Color/White balance – Set noise reduction, white balance settings, vignetting reduction, image resolution and aspect ratios available to choose from
H. Record/Erase – Determine how the camera names picture files (default is Pxxxyyyy where x is the folder number, y is the image number), set primary/secondary memory card order and a whole lot of settings covering 'how photos are deleted'
I. Utilities – Pixel mapping, external white balance sensor, sensor cleaning, exposure shift, battery warning and 'AF Focus Data'
There's one feature worth covering from the AF/MF section – since Four Thirds lenses use electronic manual focusing (The lens is electronically directed when you turn the focus ring; not direct control over a focus element), you can choose whichever turning direction you'd like to use with the camera. That's quite a neat feature.
Not only can you control the focus ring direction, but the Olympus E30 also offers a lot of customization in terms of its controls. You can set the action and direction of the command dial as well as three of the camera's buttons.
I've explained pretty much everything of the next few sections in the Custom Menu and we'll head on to the Utilities section which holds two very interesting features. The Pixel Mapping feature allows you to map and remove hot pixels and dead pixels from the camera's sensor. There's also AF Focus Data, a HUGE feature that all digital SLR ought to have (If you've owned a digital SLR with many lenses over the years, you'd agree with me) – it allows you to tune up to 20 lenses to compensate for front/back focus up to +/- 20 steps.
Setup menu
The final tab in the E30's menu system covers setup (I'll talk about the Playback section later). There are only six items in this part of the menu:
Set date and time
Set camera language
Filename – customize how the camera names images
LCD brightness and color
Image review time
Camera and lens firmware version
Other scene modes and macro
The other scene modes available on the camera include children, high key, low key, digital image stabilization (This merely boosts ISO as high as needed), nature macro, candle, sunset, fireworks and documents. The minimum focusing distance depends on the lens being used on the camera. Olympus makes two dedicated Four Thirds macro lenses – the 35 mm f3.5 macro and 50 mm f2.0 macro.
Video Recording
The Olympus E30 does not have a movie mode.
Performance
All performance testing of the Olympus E30 was performed using a high-speed, UDMA enabled 8 GB SanDisk Extreme IV Compact Flash card. A high-speed memory card is definitely recommended if you want to get the most out of the camera in terms of performance.
The Olympus E30 has a boot up time of 1.1 seconds, after completing the dust reduction process, which I doubt most users would mind - if you need quick response, then I'd suggest keeping the camera on beforehand. Focusing speeds will depend largely on lens choice – using the 14 – 42 mm kit lens, auto focusing can take between 0.1 to 0.6 seconds, longer if lighting isn't that good. Olympus says their E30's focusing is super-fast and on par with their flagship E3 if paired with their new 12 - 60 mm Four Thirds lens.
Live view focusing using Phase Detection AF (which is how the camera will normally focus, plus a lot of mirror flipping) will add 0.6 to 0.8 seconds of delay to focusing times. With Contrast Detection AF, you won't get the temporary LCD blackout that happens with Phase Detection AF, but do expect focusing times to rise to a sluggish 2 to 3 seconds… to make things worse, Contrast Detect AF can only be used with select Four Thirds lenses. Hybrid AF is a combination of the previous two; using Contrast Detection AF to initially focus and then swapping to regular Phase Detection when you fully press the shutter button – it's slightly faster the Contrast Detection on its own but there's still a noticeable delay of 1.4 seconds while the camera focuses.
The camera has a built-in flash strobe AF-assist system but it becomes unavailable in live view mode; or if you want even better & faster AF-assist, external flash units have a laser-based system.
Shot-to-shot speed - 1 shot as fast as you can press the shutter button; very fast
Flash recharge time using a fully charged battery - 3 seconds on average (built-in flash)
Like other midrange digital SLR cameras, the Olympus E30 offers two continuous shooting modes: low and high speed. You can select frame rate from 1 to 4 frames per second in low speed mode. In high speed mode, the E30 shoots at a fixed rate of 5.0 shots per second until the card fills up with Large/Normal JPEG photos or up to 14 RAW photos before slowing down. The good thing here is that the camera continues to shoot at a reduced frame rate if you fill its buffer. And the E30 happens to have a fairly large buffer size of around 100+ MB (my estimate).
The Olympus E30's performance was nothing short of impressive with fairly fast focusing times with the bundled kit lens (faster if you use certain, pricey lenses) and excellent continuous shooting mode. Some may argue the E30's 5 FPS isn't "up there" with higher end cameras like the Canon 50D/7D and Nikon D300/D300s, but that is not the E30's job – those are competitors to the aging E3 flagship. In order to reap maximum performance like I did with the Olympus E30, you'll have to use a high-speed Compact Flash card, preferably a UDMA enabled card that's rated at least 133X (yes I said Compact Flash; using an xD-Picture card creates a bottleneck for writing speed).
Live view focusing was the only thing unimpressive about the Olympus E30, with sluggish focusing times. Slow live view focusing is an issue that's been plaguing almost all "big sensor" cameras and digital SLRs (except the Micro Four Thirds cameras). Live view is still comes in handy for manual focusing and shooting non-moving subjects, however.
Image Quality
Time to take a look at the Olympus E30's image quality:

ISO 100 (f4.4, 1/8 sec)
ISO 200 (f4.4, 1/15 sec)

ISO 400 (f4.4, 1/30 sec)

ISO 800 (f4.4, 1/60 sec)
ISO 1600 (f4.4, 1/125 sec)

ISO 3200 (f4.4, 1/250 sec)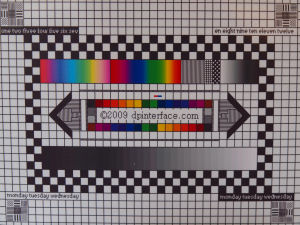 Photo gallery
As usual, there's a photo gallery which goes along with the review of the Olympus E30.
Playback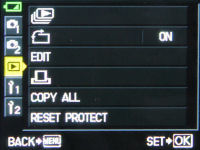 The Olympus E30 has a fairly elaborate playback mode for a digital SLR camera. You can play back photos with 14X magnification available to confirm focus and details. The usual playback basics such as print marking, slideshows, image protection and auto rotation are here. You can playback photos individually, by date in calendar view or your choice of 4 to 100 thumbnails.
There are a bunch of useful tools in the camera's EDIT menu. First off, there's RAW processing that allows you to convert RAW files into JPEG photos directly in the camera. You won't get a whole comprehensive suite of controls as you would in a computer (plus you'd have to go through the tedious process of adjusting your desired settings in shooting mode, before heading back to playback for conversion); but I suppose the main use of this feature is to conserve space, if you suddenly change your mind about a RAW image and think 'JPEG is good enough' for it.
On the JPEG side, there are features such as Shadow Adjustment (brighten dark areas of your photos), redeye removal, saturation adjustment, image resizing and black & white/sepia conversion. You can also use Multiple Exposure in playback to produce a JPEG photo by selecting 2 to 4 RAW images to be overlaid on each other.
There's also a 'split screen' view where you can compare two pictures side-by-side and a 'copy' function to move your photos between the camera's Compact Flash and xD-Picture cards. Obviously, you'll have to fill both slots with their respective cards to use this function.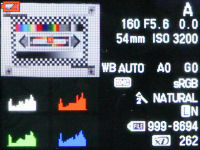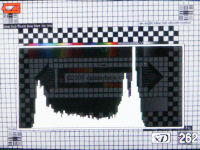 By default, the Olympus E30 only shows the image resolution/compression and shutter speed of your photos. Press the INFO button and the E30 brings out a lot more information: from shooting details, mode, full exposure info and up to four histograms on screen for brightness and individual RGB colors. There's also a highlight/shadow alert feature which "blinks" both underexposed and overexposed areas of your photos to warn you about them.
Conclusion
The Olympus E30 is a midrange digital SLR with much to offer: 12 megapixels, a flip out and rotate LCD with live view, full manual controls and excellent battery life. First off, I have to mention that the camera is very fast and handles just the way you'd expect a midrange SLR would. The Olympus E30 won't have you waiting around and the camera does well in terms of continuous shooting – its 5 FPS speed is faster than entry-level digital SLRs, but is notably slower than some other midrange SLRs (Canon 50D, Nikon D300).
The Olympus E30 has a big bunch of manual controls – full exposure manipulation as you'd expect, along with advanced white balance options and four bracketing modes. There are also useful features such as wireless flash control and lens fine-tuning (up to 20 lenses). The E30 is also right up there with other cameras with plenty of physical controls so constant diving into the Menu is rare.
For beginners and amateurs, there are various scene modes and the Olympus E30 has its fair share of point-and-shoot features, including face detection and Art Filters (which enthusiasts can also make use of, by the way). The ability to vary the effects of Art Filters would've been nice, but I guess we'll have to wait till Olympus' future SLRs for that, huh?
Like most other SLR cameras, the Olympus E30 has a rather sluggish live view mode that's only useful for still life subjects and studio shooting. Manual focus enlargement and a live histogram are available in live view mode. The camera's rotating 2.7 inch display somewhat makes up for slow live view focusing by allowing you to shoot at "creative" angles and manually focus above heads in a crowd to get a shot (hopefully). The Olympus E30 lacks a movie mode (much like the Canon 50D and Nikon D300), which you may or may not miss – but most entry-level SLRs have it for marketing purposes; to check more "boxes" on consumers' shopping lists.
The Olympus E30's image quality is similar to that of the E620, which isn't surprising, considering they share the same 12 megapixel image sensor. Image quality is very good with controlled noise levels (usable till ISO 1600) and satisfactory detail resolution (even with the kit lens). However, it is worth noting that the Olympus E30 is at a slight disadvantage versus APS-C sensor SLRs thanks to its smaller image sensor; and produces images which are a little noisier than the competition.
In and of itself, the Olympus E30 is a fantastic digital SLR camera but there's a problem: it's a bit on the expensive side once you consider its capable sibling, the E620, does almost the same thing at two thirds the price. I would recommend checking out the list of differences at the beginning of the review and from there; decide if you'd like to save some cash with the E620 or go with the more feature-ful E30. Also, for almost the same price, and if you haven't invested in any SLR system yet, you can get the Canon EOS 50D which is very competitive in terms of feature set.
What's hot:
Very good image quality; plenty of detail in photos with good sharpness
Rotating 2.7 inch LCD with good legibility
Solid build quality, plenty of external controls and dual memory card slots
Live view paired with rotating screen is useful; shows a live histogram and manual focus enlargement
Full manual controls; flash hotshoe, RAW mode, white balance tuning, four bracketing modes
Built-in wireless flash setup and control
Excellent battery life; optional portrait battery grip available
Impressive performance; very nice continuous shooting mode
Built-in lens front/back focus tuning; plenty of custom functions
RAW to JPEG processing and many JPEG editing features in playback
What's not:
Questionable value compared to Olympus E620 and Canon EOS 50D
Slightly higher noise versus competition with bigger sensors
Optical viewfinder is smaller than APS-C competitors
Slow autofocus in live view mode
No settings to tweak Art Filters; increased processing times when using them
Recommended Accessories:
4 GB or larger high-speed CF memory card