I've just reviewed the Nikon D3000, Nikon's latest affordable, entry-level digital SLR. Visit Nikon D3000 photo gallery as well for full-sized photos taken using the camera. Hit the link for the full review.
DPInterface Nikon D3000 digital SLR Review
Brad Soo – February 10th, 2010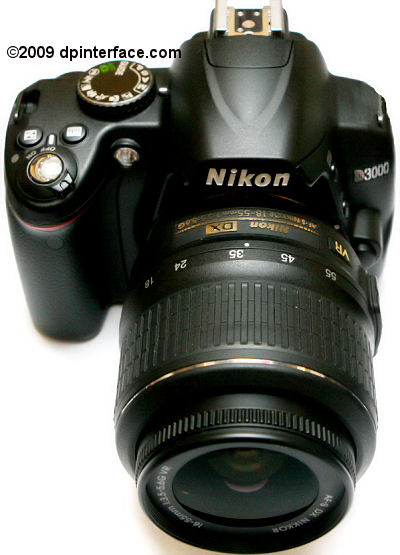 The D3000 is Nikon's new basic digital SLR. Targeting the group of people taking their first step into the SLR world (or just want to show they own a big black camera like the Smiths next door), the Nikon D3000 gives you control over various camera settings while not breaking the bank with its affordable price tag.
10.2 effective megapixel image sensor
3.0 inch LCD display (230,000 pixels)
3 FPS continuous shooting mode
ISO sensitivity range of 100 - 3200
Full manual controls with auto and scene modes available
Guided shooting mode for beginners
Elaborate playback mode with many retouch features
How well does the Nikon D3000 perform? Let's find out now.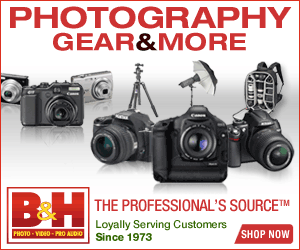 Size and Weight
(326.8) 145.5 x 107.8 x 73.5 mm (730 g) – Canon EOS 50D
(288.2) 128.8 x 97.5 x 61.9 mm (480 g) – Canon Digital Rebel T1i aka EOS 500D*
(284.0) 126.0 x 94.0 x 64.0 mm (485 g) – Nikon D3000
(284.0) 130.0 x 94.0 x 60.0 mm (475 g) – Olympus E620
(226.9) 120.6 x 69.9 x 36.4 mm (335 g) – Olympus E-P1*
(258.8) 124.0 x 89.6 x 45.2 mm (385 g) – Panasonic Lumix G1/GH1*
(281.0) 122.5 x 91.0 x 67.5 mm (525 g) – Pentax K2000 aka K-m
(296.7) 128.0 x 97.0 x 71.7 mm (490 g) – Sony Alpha A380
*Features a movie mode (Video recording with sound)
All the weight figures above show when the camera is empty without any lens, battery or memory card
The Nikon D3000 measures the exact same dimensions as the camera it replaces. Compared to other entry-level offerings, the D3000 sits in the middle of the group in terms of size and weight.
Inside the camera box
The Nikon D3000 comes with an average bundle:
Nikon D3000 camera body
EN-EL9a rechargeable lithium-ion battery
Battery charger
Viewfinder eyepiece (attached to the camera out-of-the-box)
Body cap
Neck strap
USB and A/V cables
Camera software CD (Nikon Software Suite disc)
User's manual
Nikkor AF-S 18 – 55 mm f3.5 – f5.6 VR lens
Like all digital SLR cameras, you won't find any memory card inside the Nikon D3000's box. You'll have to use your own memory cards with the camera and the D3000 will take either SD or SDHC cards. Chances are you'd probably have one lying around from an existing compact camera, and the D3000 will readily accept your SD/SDHC. If you're getting a new memory card, I would recommend starting with at least a 4 GB high speed SDHC card. A high speed card is definitely recommended to boost writing speeds when storing photos.
The Nikon D3000 uses the EN-EL9a lithium-ion rechargeable battery and includes a charger in the box. Using the optical viewfinder, the D3000 with its 550 shot per charge rating (CIPA Standard) is on par with other entry-level class digital SLRs of its class. The D3000 does not have any live view functionality, so there aren't any battery life numbers for that.
Accessories
Despite being an entry-level offering, the Nikon D3000 is still compatible with a large range of accessories that you would expect from a digital SLR. The D3000 can take just about any Nikon/Nikkor F lens on the camera, though the camera does lack the lens 'screw drive' mechanism and will only autofocus with AF-S and AI-S type lenses. Some examples of lenses that can autofocus with the D3000 include the Nikon AF-S 18-55 mm f3.5-5.6 VR or AF-S 90 mm f2.8 VR Macro; so be sure to look out for the AF-S/AI-S designation if you want autofocus.
Do you need the mentioned body lens motor? If you're new to the digital SLR world and don't have/don't plan on using 'old' lenses, then chances are you won't miss it. Nikon is slowly phasing out the screw-driven lens system and moving towards in-lens focusing mechanisms, and it just happens that they want to maintain full compatibility on their higher-end models for now.
You can also add on external flash units to the D3000 as well as various flash accessories such as macro lights and brackets. The current Nikon external flash models are the SB-400, SB-600 and SB-900, with the latter able to control (master) additional flash units in a wireless setup. Unlike higher-end Nikon models, the D3000 does not have built-in support for wireless flashes so you'll have to get the Speedlight Commander or SB-900 to be able to create and control multiple flashes wirelessly. Third party flash units work with the D3000 as well, but only Nikon models will sync automatically with the camera.
The Nikon D3000 can be controlled from a distance as well since it supports optional wireless and wired remote controls. Other things like camera bags and cases and AC adapter are available for the camera as well.
What's missing here? Battery grip support and HDMI connectivity. While I suppose most users won't mind, it's worth noting there are some entry-level digital SLRs that are compatible with battery grips (which can not only make your camera last longer, but serve as a comfortable way of holding the camera vertically)
Similarities and differences versus Nikon D5000
Similarities between the Nikon D3000 and Nikon D5000:
Autofocus with AF-S/AI-S type lenses only
11 point autofocus
Shutter life; rated at 100,000 shots
Menu system and user interface design
Differences between the Nikon D3000 and Nikon D5000:
D5000 has a flip-and-twist 2.7 inch screen (230,000 pixels); D3000 has a fixed 3 inch screen (230,000 pixels)
D5000 has a slightly higher continuous shooting frame rate (D5000 shoots at 4 FPS, D3000 shoots at 3 FPS)
D5000 has slightly smaller viewfinder magnification (95% coverage, 0.78X magnification on D5000; versus 95% coverage, 0.80X magnification on D3000)
D5000's maximum ISO is 6400; D3000 maximum ISO is 3200
D5000 has live view functionality and 720p HD movie mode with sound; D3000 has neither of these
D5000 has exposure bracketing, interval shooting options and more playback retouch/scene modes
The D5000 may be more feature-packed than the D3000, but it's also quite a bit pricier and slightly larger/heavier.
Camera Tour
The Nikon D3000 (not the D5000, as many were led to believe) is the direct successor to the old D60. Being an entry-level offering, the Nikon D3000 has fewer buttons than your average digital SLR so it isn't very intimidating for a first-time user to pick up the camera and use it. There's still a single command dial (like other entry-level SLRs) for changing settings quickly and a Function button which you can customize.
Build wise, the D3000 is made of plastic but remains solid in hand. The camera has a decent-sized grip for your right hand, with rubber coating and all of the camera's controls are within easy reach for fingers on both hands.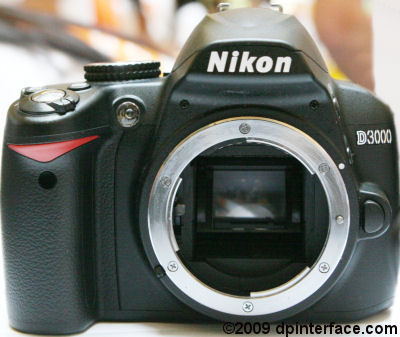 The first thing you will see on the front of the Nikon D3000 is the camera's lens mount. The camera will take just about any Nikon F-mount lens, though autofocus can only be used with AF-S and AI-S type lenses. Why? Because the Nikon D3000 lacks a body-based lens 'screw-driven' motor, hence autofocus only works with in-lens motors – Don't worry, there are plenty of AF-S/AI-S type lenses out there as Nikon is in the transition process to make all its lenses with built-in focus motors; for now, just make sure you buy the right lenses if you want autofocus. All lenses attached to the D3000 will be subjected to the 1.5X crop factor of the camera's APS-C sensor (ie the 18 – 55 kit lens becomes equivalent to 27 – 83 mm in 35 mm terms). To the right of the lens mount is a button for releasing the attached lens.
The Nikon D3000 has a two-tier dust reduction system (unfortunately, both approaches only seem to be effective in removing large/loose dust particles while smaller particles still remain). This two part system consists of a passive side, Nikon's 'airflow control' which uses air movement from the camera's mirror to lead dust away into a chamber below the mirror box, and an 'active' side, which uses the common method of 'shaking' away dust on the sensor filter. You can also opt to manually clean the sensor.
Directly above the lens mount is the Nikon D3000's built-in flash. The flash has a pretty standard guide number of 12 m at ISO 100. For added power and flexibility, you can attach an external flash or wireless controller unit to the camera's hotshoe. Unlike Nikon's more expensive cameras (ie D90), the D3000 cannot wirelessly control other flashes without the use of an optional accessory.
Situated between the lens mount and grip is a lamp which does three things – it acts as an autofocus assist light (to help autofocus in low-light), self-timer visual countdown and redeye reduction. It's a good thing the D3000 has a dedicated AF assist lamp since other digital SLRs normally use the more annoying (blinding) flash strobe method in low-light. There's also a receiver for the optional wireless remote control located on the grip.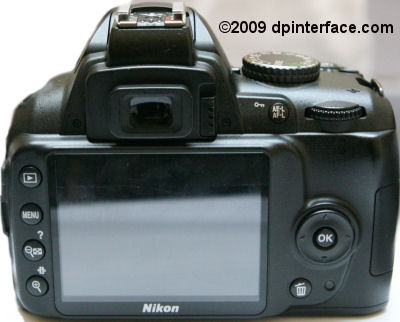 The Nikon D3000 has a 3 inch fixed position LCD screen. Since the D300 lacks a live view feature, the only things you'll be using it for are playing back photos and adjusting camera settings. This 3 inch screen has a 'decent' resolution of 230,000 pixels, which means that it's still usable but not nearly as sharp as 921,000 pixel displays found on Nikon's more expensive models. I found the Nikon D3000's screen to be legible in both low and bright light conditions.
Above the Nikon D3000's LCD display is the optical viewfinder. The viewfinder here is of average size, with 95% coverage and 0.80X magnification. Take a peek into the viewfinder and you'll find the camera shows a good amount of information under your viewfinder image; including exposure (ISO, shutter speed, aperture value), battery level, flash and general shooting details (ie remaining shots, burst buffer remaining). Right next to the viewfinder is the dioptric correction slider, used to focus the viewfinder image (usually for glasses wearers and users without 20-20 vision).
There are just four buttons on the left side of the Nikon D3000. Let's have a look at the functions they perform:
Playback mode
MENU
Zoom out/help menu
Zoom in/info – change settings
The Nikon D3000 has a built-in guide/help system which allows you to bring up on-screen tooltips and details about the camera's various shooting functions – pretty handy if you're new to digital SLRs but don't want to study the whole user's manual.
On the upper right side of the camera, there's the focus/exposure (AF/AE) lock button, which is customizable, as well as the camera's command dial. Like other entry-level class cameras, the D3000 has only one command dial.
Lower down, you'll find the D3000's five way navigation pad, delete photo button and camera activity indicator light.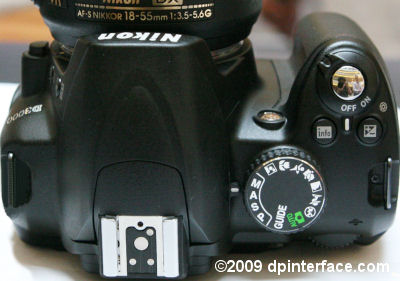 At the top of the Nikon D3000 is the flash hotshoe which allows you to attach any flash (though only Nikon ones will sync automatically with the camera). The Nikon D3000 can sync as fast as 1/200 sec with an external flash. Unlike higher end Nikon cameras, you can only control a wireless flash setup using the optional flash transmitter or Nikon SB900 flash as the master unit – the D3000 cannot control an external flash(es) right out of the box. There's no Auto FP high-speed sync available either.
On the right side, there's the D3000's mode dial:
Automatic shooting
Guide mode
Program mode – the camera will select both shutter speed and aperture; there's program shift available so you can tweak the shutter/aperture combinations
Shutter priority – pick a shutter speed (between 1/4000 to 30 seconds in your choice of 1/3 or 1/2 step increments) and the camera will select a matching aperture value
Aperture priority – pick an aperture value (depends on lens) and the camera will select a matching shutter speed
Manual mode – you get full control over both shutter speed and aperture; bulb mode up to 30 minutes is available
Night portrait scene mode
Close-up scene mode
Sports scene mode
Children scene mode
Landscape mode
Portrait mode
Flash off mode
The Nikon D3000 has a unique Guide Mode aimed squarely at beginners. It offers a simplified interface which allows you to pick from several pre-defined actions (such as freezing motion) but also gives you the option to vary some of the camera's settings.
There's the shutter button with a power switch around it along with two other buttons towards the camera's grip. The buttons are for bringing up the camera's LCD info display and adjusting exposure compensation (+/-5 in 1/3 step increments) respectively.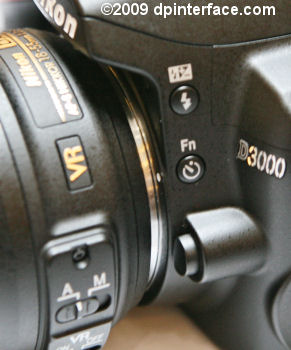 Over here, you'll find two buttons. First is the button for releasing the built-in flash, choose a flash setting (auto, on, slow sync; redeye reduction option available) as well as adjusting flash exposure compensation (+/-5 EV) – yes, one button that does three things. The second button is the camera's Function button – by default, it toggles self-timer on/off, but you can assign it to another function if you want.
On the same side of the camera, there are two ports hidden under a rubber flap for A/V out and USB connectivity respectively.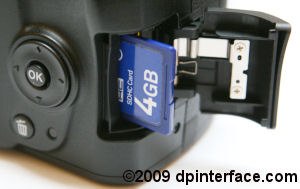 The D3000's memory card slot is located on the other side of the camera. As I mentioned, the camera takes SD and SDHC cards.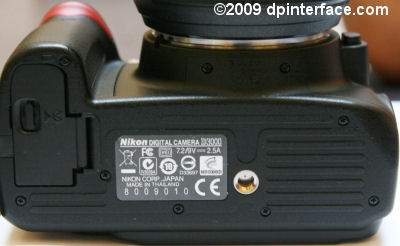 At the bottom of the Nikon D3000 are its metal tripod mount (in-line with the lens) and battery compartment.
Taking pictures (Shooting mode)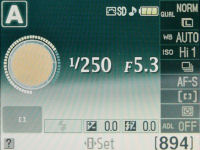 Here's the info display screen of the Nikon D3000; you can change settings directly by pressing the edit settings button (bottom left button on the back). Here are the settings you can change in the column on the right:
Image resolution and compression
White balance
ISO sensitivity (100-3200)
Drive mode (Single shot, continuous shooting, self-timer, remote control, quiet shutter)
Autofocus mode (AF-S single, AF-C continuous, AF-A auto, MF manual focus)
Focus area (Single point, dynamic, auto, 3D tracking)
Metering mode (Matrix, center-weighted, spot)
Active D-Lighting
Flash exposure compensation and exposure compensation
Flash mode
The Info screen also automatically rotates based on the D3000's orientation
The Nikon D3000 has the same great, 11 point autofocus system shared by its 'big brothers', the D5000 and D90. Out of the 11 points, only the center one is cross-type. Single-point AF uses just the center focusing point, while the dynamic and auto modes do a similar task of selecting any autofocus point(s) out of the eleven available. 3D tracking is self-explanatory – it tracks your subject using the available focus points.
The Nikon D3000 does not have any bracketing functions.
Live view
The D3000 is Nikon's most basic, entry-level digital SLR and does not have live view functionality.
Shooting settings
The Nikon D3000 has just three image resolution options: 10 MP, 5.6 MP and 3.2 MP. There are three compression settings available (Fine, Normal and Basic) for each resolution setting as well as RAW and RAW+JPEG image modes for the 12 MP setting. A 4 GB card will hold around 550 Fine/10 MP images or if you're using Normal compression, 1000 Normal/10 MP photos.
RAW photos are about 9 MB each and a 4 GB card will hold 250 RAW images. If you're wondering what RAW images are for, they're useful as you'll get complete control over almost every single aspect of the image: white balance, noise reduction, contrast, saturation, exposure, colors, etc. If you messed up some camera settings but took the picture in RAW format, then most likely you'll be able to correct it later on your computer. You can pair RAW shots with JPEG photos in RAW+JPEG mode as well, and you'll probably want a high-speed memory card here so the camera can write those huge files quicker. RAW shots are fixed at 10 MP though.
Now, the thing about RAW images is that you'll need to have some knowledge about photo processing software (such as Photoshop) and the willingness/time to work on each of your photos. You'll also need plenty of hard drive space if you're looking to keep individual RAW files.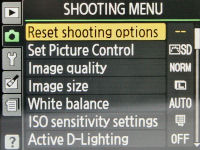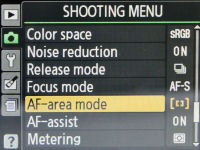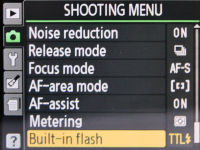 The Nikon D3000 has Nikon's usual tabbed digital SLR interface. Here's the stuff in the tab that covers shooting functions:
Reset settings
Picture Control – more on this in the dedicated section below
Image resolution and compression
White balance (Auto, incandescent, fluorescent, sunlight, cloudy, shade, flash, custom)
ISO sensitivity – you can also set maximum ISO Auto speed and minimum shutter speed
Active D-Lighting (Off, on)
Color space (sRGB, Adobe RGB)
Noise reduction – one setting for both long exposure and high ISO
Autofocus mode and area
Autofocus assist light
Metering mode (Matrix, center-weighted, spot)
Flash power setting
The D3000 features adjustable white balance, where you can tweak any of the preset settings up to +/-9 steps along the amber-blue and green-magenta axis's respectively. There isn't any way you can set white balance by color temperature though.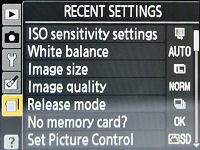 The Nikon D3000 has a dedicated menu page which remembers a list of recent settings used on the camera.
Picture Controls
The Nikon D3000 features a bunch of Picture Controls, which are sets of image parameters you can tweak and switch between quickly. There are six preset Picture Control parameters, each allowing you to adjust sharpness, contrast, brightness, saturation and hue. If you're shooting in monochrome, then you can even choose filter and toning effects for photos.
The six preset Picture Control options available:
Standard
Portrait
Landscape
Neutral
Vivid
Monochrome
The D3000 has two color space options: sRGB and AdobeRGB.
Setup menu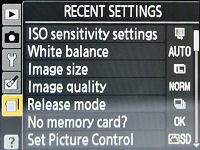 Of course, the Nikon D3000 has a setup section in its menu system which allows you to set things like the date and time, screen brightness and perform sensor cleaning (both auto and manual). It is also here that you can customize the AE/AF lock and function buttons as well as tweak self-timer countdown/remote control settings.
Scene modes and macro
I've already listed the camera's six scene modes when talking about the mode dial in the previous section, so let's skip on to the D3000 and its macro abilities. The minimum focusing distance depends on the lens being used on the camera. Nikon makes several dedicated macro lenses – including the famous AF-S 90 mm f2.8 VR macro, which can autofocus with the D3000.
Video Recording
As Nikon's most basic offering, the Nikon D3000 does not have any movie recording capabilities. For that, you would have to step up to the D5000 or higher.
Performance
All performance testing of the Nikon D3000 was performed using a high-speed 8 GB SanDisk Extreme IV SDHC card. A high-speed memory card is recommended if you want to get the most out of the camera in terms of performance.
The Nikon D3000 starts up in 1.5 seconds, after completing the dust reduction process which you can cancel by half-pressing the shutter button. Without running the dust reduction process, the camera is able to startup close to instantly.
Auto focusing times depend on the lens being used. I tested the D3000 with the Nikon AF-S 18-55 mm f3.5 – f5.6 VR kit lens, whose focusing times were fairly average for a digital SLR lens: ranging between 0.1 to 0.4 seconds, depending on lighting conditions. In very dimly lit places, expect focusing to take up to 1 second. Low-light focusing was accurate thanks to the AF assist system helping to illuminate the subject.
Shot-to-shot speed - 1 shot as fast as you can press the shutter button; very fast
Flash recharge time using a fully charged battery - 4 seconds on average (built-in flash)
The Nikon D3000 has a continuous shooting mode which shoots at 3 frames per second which isn't too shabby for the most basic of digital SLRs. For the sake of comparison, the D5000 shoots at 4 FPS while the D90 shoots at 4.5 FPS. Like the D5000 I tested, the camera seems to be hardcoded to take only 100 JPEG shots in a single burst, though you can take more after reaching that limit by letting go of the shutter button briefly, then pressing it down again for another 100 shot burst. In RAW mode, the camera can shoot at the same 3 FPS rate for up to 6 RAW/RAW+JPEG shots.
The D3000 is not a camera you should underestimate. Despite being positioned as Nikon's most basic digital SLR, the D3000 doesn't compromise any performance – it's just as fast as its higher end sibling, the D5000 thanks to a lot of 'component sharing' (notably the 11 point AF system), save for burst mode where it shoots slightly slower and has a smaller buffer for RAW.
Image Quality
Right, let's have a look now at the Nikon D3000's image quality:

ISO 100 (f5.3, 1/15 sec)

ISO 200 (f5.3, 1/30 sec)

ISO 400 (f5.3, 1/60 sec)
ISO 800 (f5.3, 1/125 sec)

ISO 1600 (f5.3, 1/250 sec)

ISO 3200 (f5.3, 1/500 sec)
The Nikon D3000 has a base ISO range of 200-3200. The first three crops are essentially smooth and clean with little visible noise unless you zoom in on full-screen, so feel free to use any setting between ISO 100 to 400 for everyday shooting. Going up to ISO 800, you can start spotting some noise but that's no problem since image quality remains fairly clean and usable at this point.
More noise appears at ISO 1600 but you should have no problems using images straight out of the camera for medium to large display/prints. This would be the most you should go if you can help it. At ISO 3200, noise becomes apparent enough to force you to either keep print sizes down (postcard size) or run images through noise reduction software on your computer if you want them to be usable at larger sizes.
Lens characteristics such as chromatic aberration (color fringing), distortion and vignetting/edge sharpness typically depend on your choice of lens. With the 18-55 mm VR kit lens, there was little to no chromatic aberration to be seen (color fringing) and very low levels of distortiong) to be seen as well as minimal distortion. Overall sharpness is a tad below average, a common trait of 'cheap' lenses. The kit lens should serve fairly well as a starter lens, though you may want to consider stepping up to other more versatile/better quality lenses in the future.
Redeye was not a problem with the Nikon D3000, even using the built-in flash. In case you ever come across any redeye, you can always use the redeye removal playback tool or use an external flash. Photos in general have fairly good detail levels, nicely saturated colors (perhaps a little too vivid at times) and decent dynamic range
The Nikon D3000 offers very good image quality and ISO performance similar to that of its sibling, the D5000. If there was one reason to move up from a compact camera to the Nikon D3000 SLR, it would be image quality. The D3000 produces images which are print/display ready right out of the camera and require minimal/no post-processing in order to look appealing.
Photo gallery
Head on to the Nikon D3000 photo gallery for full-sized sample photos taken straight out-of-the-camera.
Playback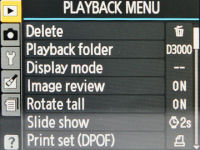 The Nikon D3000 has a full-fledged playback mode which comes with several editing features you can play around with. You can play back photos with magnification available to confirm focus and details. Basic functions like print marking, simple slideshows, image rotation and protection are all present. Photos can be viewed one at a time, by date in calendar view or in sets of thumbnails (various sizes).
There's just so much stuff in the D3000's retouch menu, I'll put them in a list here:
D-Lighting (low, medium, high)
Redeye correction (software based)
Image trimming aka cropping
Monochrome conversion
Filter effects (R/G/B, softness, warm, skylight, cross filter)
Color balance correction
Small picture – resizes photo for web display
Image overlay – overlay (combine) two photos; only can be used with RAW shots
NEF (RAW) processing
Quick retouch
Color outline
Miniature/tilt-shift effect
Stop-motion movie – create a silent VGA motion clip using a combination of up to 100 several pictures (great when paired with the interval shooting feature)
There's D-Lighting in playback mode, but what's the difference between D-Lighting and Active D-Lighting? Active D-Lighting brightens photos as they are taken, and is able to improve image contrast slightly but increases processing times by quite a margin (ie, you can't use burst mode at full speed). D-Lighting allows you to take normal photos without compromise in shooting performance and brighten photos later in playback, but it isn't as effective as Active D-Lighting (though I don't think it'll make a huge difference).
One important playback tool that I'm glad Nikon kept here in the D3000 is the NEF (RAW) processing feature. It allows you to process RAW images and convert them into JPEG photos right in the camera. However, you won't get a whole comprehensive suite of controls as you would in a computer – you can only define image resolution, compression, basic brightness (using an exposure compensation scale), white balance and Picture Control. So, while it's not a complete replacement for RAW processing on your computer, the RAW conversion feature is useful if you suddenly change your mind about a photo shot in RAW and think 'JPEG is good enough' for it (or if you find yourself in need for additional memory space).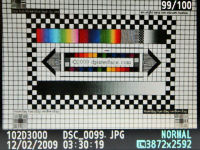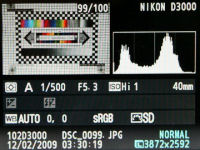 The Nikon D3000 is able to show you a ton of information about your photos in playback. You can check out shooting details, mode, full exposure information (with shutter speed and aperture value), a brightness histogram (an option for RGB histograms with their respective color channels is available) and even the lens used and focal length! The camera can even make overexposed areas (highlights) of your photos blink and show you the Picture Control setting used along with other details.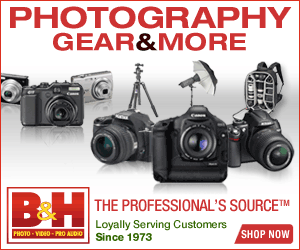 Conclusion
By now you would've read enough to know that the Nikon D3000 is Nikon's most basic camera in their digital SLR lineup (and also the most affordable). Despite its low price tag and "entry-level" title, the Nikon D3000 is a very capable digital SLR with few compromises made to 'differentiate' it from the pricier D5000.
The Nikon D3000 is a great camera for new users to test the waters of the digital SLR world – it offers the core experience of using an SLR: good image quality, full manual controls and quick operation. The camera is fairly small, but at the same time comfortable to hold and simple to use. The D3000's number of controls are well-thought out (not too few, but not too many either) and well placed. There's a big 3 inch LCD on the back which you'll be using to playback photos and change the camera's settings. Unlike higher end models, the D3000 offers just 'basic' photo-oriented features and functions – that means you won't find any live view or movie mode on this camera.
The menus and interface of the D3000 is also oriented towards beginners, with cut down menu items versus Nikon's other SLRs and more help tooltips and functions to guide users along when using the camera. There are full manual controls along with a decent level of white balance tuning. However, what's obviously missing from the D3000's feature set is an exposure bracketing feature, which even a good number of compact cameras have nowadays.
The D3000 did show off responsive operation and performance times, rivaling that of its sibling the D5000. Of course the D3000's 3 FPS burst mode is slightly slower, but other aspects of performance (from autofocus to regular shot-to-shot times) remain similar to the D5000 and other entry-level digital SLRs. Speaking of focusing, the D3000 only supports autofocus with AF-S/AI-S type lenses, a move by Nikon to slowly phase out 'legacy' lenses starting from the bottom of their digital SLR line. I don't expect beginners to be buying old-school, manual focus lenses, however – unless they happen to know someone who has a few lying around. There's also no built-in wireless flash control on the D3000; you'll have to pony up for an optional wireless flash controller for that feature.
In terms of image quality, the D3000's output is very good and usable without any off-camera tweaking. Noise levels are low, making images usable till ISO 1600. You'd want to use some noise reduction software or have good lighting around with the ISO 3200 setting. To further ease the transition from the compact camera world, the D3000 also produces photos that 'pop' with vivid colors and good sharpness, though you can opt to change that by playing around in the camera's Picture Controls area. My only quibble here is regarding kit lens sharpness: like most cameras and their bundled kit lenses, the one here sometimes produces soft-ish photos – you can get much sharper/detailed photos if you're willing to go for higher-end lens options.
If a basic and affordable digital SLR is all that you need, then the Nikon D3000 is a good potential candidate. The D3000 offers a fair amount of simplicity for those starting out and helpful guidance (built-in to the camera) for those learning to use the camera to its full potential. The D3000 performs very similarly to the D5000 which is almost 200 bucks more expensive. However, it's up to you to decide if you want to pay that much extra for the twist/swivel LCD, live view, movie mode and several extra functions the D5000 has, that this camera doesn't.
What's hot:
Impressive image quality; on par with some higher end Nikon models
Relatively compact for a digital SLR, simple control layout
User-friendly interface and help screens; basic scene modes included
Full manual controls; flash hotshoe, RAW image mode
Customizable Function button and recent settings page
Responsive operation and good performance
Elaborate playback mode with plenty of retouch tools
What's not:
Kit lens is usable but not the sharpest lens around
Autofocus possible with AF-S/AI-S lenses only; lacks support for AF with legacy lenses
Limited RAW buffer in burst mode
No live view, exposure bracketing or battery grip support
"Low pass filter shake" and airflow methods not effective in removing smaller dust particles
Recommended Accessories:
4 GB or larger high-speed SDHC memory card