I've just published my review of the Canon PowerShot A1000 IS, another entry-level camera from Canon – this one has a 4X zoom lens, 2.5 inch LCD and an optical viewfinder. I've also got the Canon PowerShot A1000 IS photo gallery up, so have a look at that too. The full review of the Canon A1000 awaits you after the link.
DPInterface Canon PowerShot A1000 IS Review
Brad Soo – December 22nd, 2008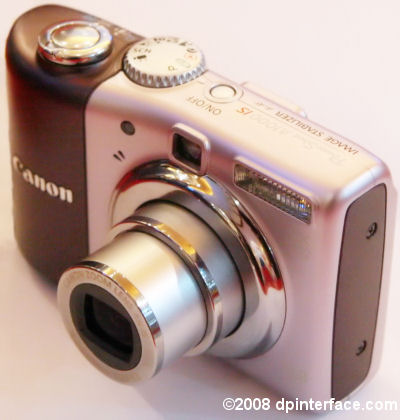 Canon's other entry-level camera from fall 2008 is the PowerShot A1000 IS, a compact with a 4X zoom lens, 2.5 inch LCD and optical viewfinder. The PowerShot A1000 is placed just a step down from the A2000 I reviewed last week and besides the few differences (LCD, battery life, viewfinder, lens and obviously, price), both cameras are really similar.
So now we have the question that's about to be answered: is the Canon PowerShot A1000 for you? Find out now.
Size and Weight
(188.8) 95.4 x 62.4 x 31.0 mm (155 g) – Canon PowerShot A1000 IS
(197.3) 101.9 x 63.5 x 31.9 mm (185 g) - Canon PowerShot A2000 IS
(172.5) 92.0 x 57.9 x 22.6 mm (146 g) - Fujifilm FinePix J150w
(192.8) 89.5 x 64.3 x 39.0 mm (164 g) - Kodak EasyShare Z1085 IS
(171.0) 93.0 x 54.5 x 23.5 mm (130 g) – Nikon Coolpix S560
(174.2) 94.7 x 56.7 x 22.8 mm (128 g) – Olympus FE370
(192.8) 97.5 x 62.0 x 33.3 mm (141 g) - Panasonic Lumix LZ10
(177.5) 97.5 x 56.5 x 23.5 mm (130 g) – Pentax Optio V20
(174.3) 94.0 x 61.0 x 20.3 mm (140 g) – Samsung TL9
(175.7) 93.7 x 58.0 x 24.0 mm (142 g) - Sony Cyber-shot W170
All the weight figures above show when the camera is empty without a battery or memory card
The Canon PowerShot A1000 is a tad smaller and lighter than its 6X zoom sibling, the A2000. Compared to other cameras, the A1000 isn't quite as slim but still slips into your pocket with ease.
Box contents
The Canon PowerShot A1000 IS comes with the standard box contents of a digital camera, which include:
2 AA alkaline batteries
32 MB SD memory card
Wrist strap
USB and A/V cables
Camera software CD (Digital Camera Solution Disk)
User's manual and quick start guide
The PowerShot A1000 IS comes with the same, equally useless 32 MB Secure Digital memory card like the A2000. The Canon PowerShot A1000 takes SD, SDHC (SD cards which are 4 GB and above) and MMC (typically slower than SDs) memory card; so you should consider buying at least a 2 GB memory card with the camera. A high-speed card here helps too since writing times decrease when you use one and you can take pictures more quickly.
The Canon PowerShot A1000 uses 2 AA batteries and the two alkaline ones bundled with the camera won't last long and cannot be recharged. You're gonna have to pick up a set of two, preferably four AA NiMH rechargeable batteries with a decent charger (those with two charging modes: trickle and fast charge, would be good).
450 shots – Canon PowerShot A1000 IS
500 shots - Canon PowerShot A2000 IS
150 shots - Fujifilm FinePix J150w
250 shots - Kodak EasyShare Z1085 IS
160 shots – Nikon Coolpix S560
200 shots - Olympus FE370
460 shots - Panasonic Lumix LZ10
200 shots – Pentax Optio V20
240 shots – Samsung TL9
390 shots - Sony Cyber-shot W170
All the cameras above are rated with rechargeable batteries with LCD on according to CIPA Standard
The Canon PowerShot A1000 performs above averagely in terms of battery life, outdoing just about every camera in its class except its 6X sibling and the Panasonic LZ10. Oddly enough, the Canon PowerShot A2000 with a larger LCD (which naturally SHOULD consume more power) fares 10% better in terms of battery life than the A1000 with the LCD on. But you do have an additional perk with the A1000 though; that's to turn the LCD off and use the viewfinder for even better battery life – and few of the cameras above have optical viewfinders.
Accessories
The Canon PowerShot A1000 IS also does away with the numerous (conversion lens) accessories that the A-series used to have. The only optional accessories now are an AC adapter, slave flash and various camera cases for the camera.
Camera Tour
As you may already know, the Canon PowerShot A1000 is the 4X sibling to the PowerShot A2000 IS I just reviewed last week. Both cameras look similar with the exception that the A1000 has a smaller LCD screen to make room for the optical viewfinder, plus a slightly slimmer (and dare I say, easier to hold) shape.
Despite being made entirely of plastic, the PowerShot A1000 doesn't feel flimsy or creak when you hold it. The camera comes in your choice of four colors, which are; gray, blue, brown and purple.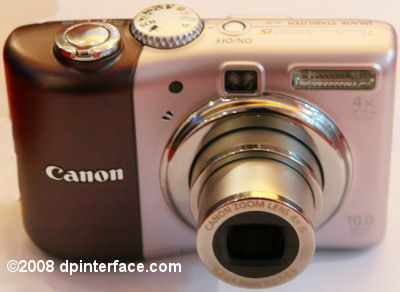 I've already talked about the size, weight and battery life differences between the two cameras, but here you'll find the first physical difference between the A1000 and A2000. The Canon PowerShot A1000 has a 4X optical zoom lens which covers 35 – 140 mm in 35 mm terms. The aperture range of f2.7 – f5.6 is average for such as lens – good at wide-angle but on the slow side at telephoto.
The A1000's flash is located to the top right of the camera lens. The flash here is more powerful at wide-angle than the one found on the A2000; at wide-angle and Auto ISO, it covers 30 cm to 4.0 m and the maximum range drops to 2.0 m at telephoto.
Directly above the lens is the A1000's optical viewfinder window and beside that, you'll find the autofocus assist lamp. Also, to the upper left of the lens rim, you'll find the microphone used to record voice clips and sound in movie mode.
On the back of the Canon PowerShot A1000 is the camera's 2.5 inch LCD, which is smaller than the 3 inch LCD on the A2000. There's only half the resolution here as well: just 115,000 pixels. Despite that, the screen's low-resolution isn't really noticeable unless you're viewing it in low-light or you've seen higher-res screens before. Speaking of low-light visibility, the LCD is usable (although a bit grainy looking) and it's also viewable most of the time in bright light. You may have to find the "correct angle" to view the LCD outdoors as the layer above the screen is reflective, but that's where the option of using the optical viewfinder comes in.
By the way, Canon managed to fit in an optical viewfinder here thanks to the shrunken LCD. The viewfinder is useful when you want to steady the camera to your eye or to converse power. Unfortunately, the viewfinder is on the small side and there's no dioptric correction here.
One thing that's gone here is an optical viewfinder, which is a compromise that has to be made to make room for a large LCD here. I doubt many people would mind, or even have much choice here since 95% of compact cameras nowadays lack an optical viewfinder. If you're keen, the A1000 IS and A720 IS – which are the A1000's lower end sibling and predecessor respectively – both have optical viewfinders.
Next to the Canon PowerShot A1000's LCD are the camera's buttons and controls. Closer to the top are the camera's speaker and playback button. The playback button allows you to access playback quickly and easily, even when the camera is turned off. After that in the next row, are the camera's Face Detection button and print button (which can also be assigned to a function in shooting mode).
As we approach the mid section of the column of buttons, there's the five-way controller used to navigate menus, browse pictures and of course, access these functions directly:
Up – ISO (Auto, Auto high, 80, 100, 200, 400, 800, 1600)/Playback jump
Down – Drive mode (Single shot, continuous, self-timer [10 seconds, 2 seconds, custom])/Delete photo
Left - Focus mode (Normal, macro, landscape)
Right - Flash setting (Auto, on, off; red-eye reduction and slow sync are turned on/off in the menu)
Center – Function menu/Set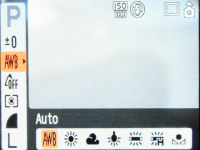 The function menu
Pressing the center button when you're taking pictures will bring up the function menu which contains a list of several settings you can adjust (most of them are available in program mode):
Exposure compensation (+/-2 EV in 1/3 steps)/Long shutter (1 to 15 seconds)
White balance (Auto, daylight, cloudy, tungsten, fluorescent, fluorescent H, custom)
My Colors (Normal, vivid, neutral, sepia, black & white, custom)
Metering method (Evaluative, center-weighted, spot)
Image size and compression
The custom option in the My Colors section allows you to adjust contrast, saturation and sharpness up to +/- 2 in 1/3 increments. Unlike more expensive Canon models, there are no individual color (RGB) and skin tone settings here.
Lastly, we have the DISPlay and MENU buttons. The DISPLAY button toggles the information being displayed on-screen and also toggle between the LCD and viewfinder, while the MENU button brings up the camera menu.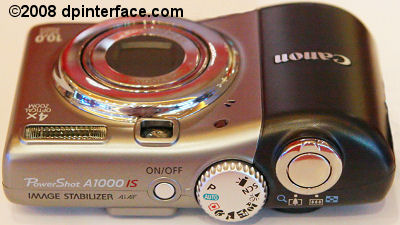 At the top of the Canon PowerShot A1000 IS, you'll see the camera's power button, mode dial and shutter button with a zoom controller surrounding it. You'll also notice from here that the camera is more contoured and thus, has a more substantial grip than the A2000.
Let's take a closer look at the modes available on the PowerShot A1000 IS, going anti-clockwise around the mode dial:
Program mode
Automatic shooting
Easy mode
Portrait mode
Landscape mode
Night snapshot
Kids and pets
Indoor
Other scene modes (Night scene, foliage, snow, beach, sunset, fireworks, aquarium, ISO 3200)
Movie mode
The Canon PowerShot A1000's mode dial features your typical camera shooting modes plus five directly accessible scene modes. The rest of the scene modes can be found under the "SCN" spot on the mode dial. Like its sibling the A2000, the PowerShot A1000 IS also features an "Easy Mode" which is so simple, there's only one option that can be adjusted – that is to turn the flash on or off.
Unfortunately, and like the A2000 as well, the A1000 IS has lacks manual controls. The most you'll get here for exposure control is long shutter in the function menu, which allows you to select a slow shutter speed between 1 to 15 seconds.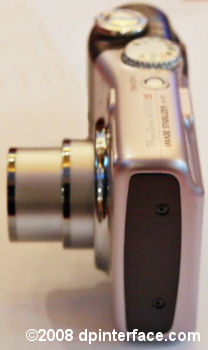 Not much here…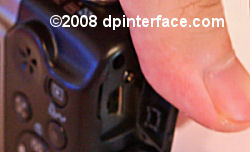 Over here is the camera's mini-B jack, used for both A/V out and USB 2.0 High-speed connectivity, and DC-IN port for plugging in the camera's AC adapter accessory.

Finally, we have the camera's battery/memory card compartment covered by a fairly sturdy door. There's also a plastic tripod mount here, whose placement will prevent you from swapping memory cards/batteries while the camera is on a tripod.
Taking pictures (Shooting mode)
The Canon PowerShot A1000 IS includes exposure information (shutter speed and aperture), camera settings and optional composition guide overlays on the screen when you're taking pictures. You can choose to display a 3:2 guide, 3 X 3 framing gridlines or both overlaid on the screen. There's no battery indicator or live histogram though.
The A1000 has the same "low battery" issue as the A2000 I reviewed. Basically if you unknowingly turn on the camera when the batteries are low on juice, the camera will extend the lens halfway and display the "change the batteries" warning… and then it just leaves that lens half extended and power off. The workaround here is to press the playback button so the camera will retract the lens but I'd prefer if the camera could just detect battery level and not turn on at all (like some of the Digital ELPH models), rather than extending the lens halfway and shutting down.
The Canon PowerShot A1000 IS has a few image resolutions for you to select from, including full 10 MP, 6 MP, 4 MP, 2 MP, VGA and widescreen. There are also three image compression modes here: Superfine, Fine and Standard… I'd recommend choosing Fine, which is a good compromise, since SuperFine file sizes are a bit large while Standard compresses pictures noticeably. A 2 GB memory card will hold around 750 full-res Fine, 10 megapixel pictures.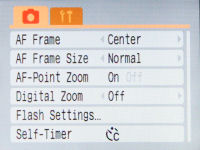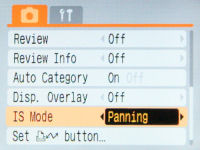 Most of the camera's main settings can be adjusted via the Function menu I described in the previous section, but now let's head on to the other settings in the camera's main menu:
Autofocus mode (Face detection, 9 point AF, center AF)
AF point size (Normal, small) – Choose how size of the camera's focusing point area
AF point zoom – magnify the focus point
Digital zoom – you should keep this turned off, it lowers picture quality
Flash settings – toggle red-eye reduction (lamp and software based) and slow sync
Custom self-timer settings – Set the countdown interval and number of shots that the camera should take
AF assist beam
Review – This option decides whether the camera will show the image on the LCD screen right after the picture is taken
Review info
Auto category – the camera attempts to organize your photos into categories automatically
Display overlay – Toggle grid lines, 3:2 guide, both or none
IS Mode – Off, Continuous, Shoot-only, Panning
Set print button – customize what this button does in shooting mode; you can assign it as a shortcut to a shooting function
The camera has three optical image stabilization modes which are continuous (the system is always on to make composition easier, which uses up more battery power) or shoot-only, where image stabilization only works when you take a picture, which is more effective. Panning mode is self-explanatory.
You can also assign one of seven "shortcut" functions to the print button I mentioned earlier. Those functions include exposure compensation, white balance, custom white balance, red eye correction, digital teleconverter, toggle grid lines and display off.
Finally, the Canon PowerShot A1000 features a 3 cm macro mode, which won't take you as close as the A2000's 1 cm macro mode, but is still nice and usable.
Video Recording
The Canon PowerShot A1000 IS features the same movie mode as the A2000 IS. The Canon A1000 can record VGA (640 X 480) movies with sound at 30 FPS up to 4 GB or 60 minutes (whichever is first) per clip. There are also the usual Long Play mode (which increases compression) and QVGA (320 X 240) 30 FPS options available to extend recording time. A 2 GB memory card will hold around 16 minutes worth of movie at the highest settings.
An "email movie" option records at 160 X 120 at a choppy 15 FPS. In this mode, each movie clip is limited to 3 minutes each.
All movies are recorded in AVI MJPEG format and exposure is automatically adjusted throughout the video recording session. You can also use optical image stabilization and the camera's 4X digital zoom while recording movies, but you can't do the same with optical zoom.
Movie quality was good, sound quality acceptable. A 2 GB memory card will hold 16 minutes worth of video at the highest settings. The entry-level Canon PowerShot A1000 IS won't be replacing your camcorder anytime soon but you'll be glad to know the A1000 IS can still record some good quality movies in case you don't have your video camera with you.
Performance
All performance testing of the Canon PowerShot A1000 IS was performed using a high-speed 4 GB SanDisk Ultra II SDHC (90X) card.
The Canon PowerShot A1000 IS has a speedy boot up time of 1.2 seconds (including time to extend the lens) and also focuses quickly. Autofocus times can vary between 1/5 to 1/2 second which is good. Focusing time can stretch up till over a second in low-light but the camera still manages to focus well thanks to the autofocus assist lamp.
Shot-to-shot speed - 1 shot every 1.7 seconds, above average
Flash recharge time using a fully charged battery - 5 seconds on average
The PowerShot A1000 IS also has a good continuous shooting mode which does 1.3 frames per second until the memory card fills up. The A1000 moves it 4X zoom lens from wide-angle to telephoto very quickly in just one second – but there are only eight, not very precise steps in between though. Power down time is two seconds, with the lens at full zoom. Despite being an entry-level camera, the Canon PowerShot A1000 is fast and does not compromise any camera performance.
Image Quality
Now, let's take a look at the Canon PowerShot A1000's ability to take pictures:
ISO 80 (f2.7, 1/4 sec)

ISO 100 (f2.7, 1/5 sec)
ISO 200 (f2.7, 1/6 sec)

ISO 400 (f2.7, 1/13 sec)

ISO 800 (f2.7, 1/25 sec)

ISO 1600 (f2.7, 1/80 sec)
The PowerShot A1000 IS produces good quality photos up till ISO 200 with low noise. At ISO 400, noise makes a jump, but pictures at this level can still be printed out or displayed at medium large sizes. Noise goes up again at ISO 800 and you should avoid this setting in low-light conditions. At ISO 1600, things are really bad, I doubt anyone would want to use this setting at all.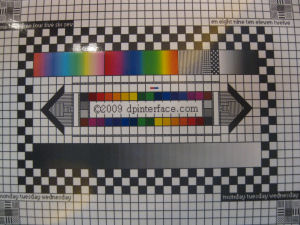 The A1000 IS has fairly low lens distortions and low vignetting. I did spy some soft edges and chromatic aberration (color fringing) at times though, so take note of that. Redeye is not an issue because the camera is able to remove it for you. Even if redeye does slip past, there's a redeye removal tool in playback mode and you can even pinpoint the location there.
The Canon PowerShot A1000 IS doesn't compromise much image quality as an entry-level point-and-shoot camera. The camera is able to take good photos in most conditions, save for low-light where you'd want to use a tripod to steady the camera (versus using high ISOs)
Photo gallery
Looking for full-sized photos? Visit the Canon PowerShot A1000 IS photo gallery!
Playback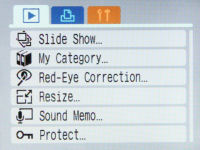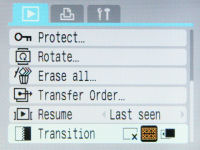 The Canon PowerShot A1000 IS shares the same playback mode as the A2000. You can browse through pictures (complete with two transition effects of your choice) and play back video with sound. Basic playback functions such as print marking, voice clip attachment, image resizing and rotation are all here. You can magnify still photos by 10X and pan around using the 4 navigational buttons; and sort them into categories as well.
Pictures can be played back as individual photos, in sets of nine thumbnails or by category. You can also use the JUMP feature to skip several photos at a time or to 'jump' right to a specific shooting date… not as convenient as the calendar view but it works. There's also a slideshow function so the camera flips through your photos automatically at an interval set by you.
Pressing the face detection button in playback mode automatically magnifies faces, if any, in photos so you can check focus easily. Pressing the DISPLAY button will cycle through several display layouts of information; one of them is an image inspection tool which magnifies the focus point(s) of your photos so you can check focus.
The red-eye removal tool in playback mode allows you to pin point redeye in photos and remove them (and yes, the camera's face detection does pick up mannequins as faces as well).
You can choose to delete single photos and all photos on the A1000 IS but you can't select multiple photos yourself and delete them. An "Easy" playback mode (you need the mode dial to be in Easy Mode as well for this to work) simplifies playback just as much as in shooting mode.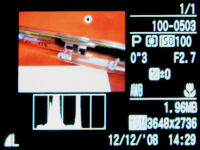 The Canon PowerShot A1000 IS shows you shooting details, mode, exposure information (with shutter speed and aperture value) and everything you need to know about your photos in playback – that includes a histogram as well. An overexposure warning feature makes overexposed areas of your photos "blink" to alert you of them.
Conclusion
The Canon PowerShot A1000 is a nice addition to Canon's entry-level line of cameras. It's just like the A2000 I reviewed, with a smaller 4X lens, screen size and the addition of an optical viewfinder. The main features of the camera are its 10 megapixel resolution, 4X zoom lens, 2.5 inch LCD and very good battery life.
The PowerShot A1000 changes three main things from the A2000: Lens, screen and to a lesser extent, design. The A100 is slightly smaller and lighter than the A1000, and it's also better shaped to include a subtle, but good right hand grip. There's the same point-and-shoot, numerous scene modes and simple operation here.
The camera also takes good quality photos which are mostly sharp and with well-controlled noise up till ISO 400. Performance and battery life were both very good, and very close to the A2000's numbers. Unfortunately the A1000, being so similar to the A2000, also shares some of its flaws; such as lack of any manual control and the lens not being very bright at telephoto (it's fine at wide-angle though).
If it's a decent, all-rounder point-and-snap camera you're looking for, then the affordable Canon A1000 is may just be for you. But before you spring for the camera, be sure to have a good look at its sibling though. The extra $30 buys you a bigger 6X zoom lens, 10% better battery life and a larger, higher-res 3 inch LCD on the A2000 (which sounds good to me).
What's hot:
Compact design with a fairly decent right hand grip and viewfinder
Generally good image quality (with one issue below though)
Very good battery life
Fast picture-taking performance
Effective red-eye removal and low color fringing
What's not:
No manual controls and no more conversion lens compatibility
Corners a tad soft (but I'm nitpicking here)
Reflective LCD needs "correct angle" outdoors, low in resolution
Lacks a battery indicator; lens doesn't retract if the camera is low on battery
Recommended Accessories:
2 GB high-speed SD memory card
Set of 4 AA NiMH rechargeable batteries and charger