DPINTERFACE EXCLUSIVE: Hey, check out my final review of the Canon EOS Rebel T1i aka EOS 500D digital SLR, Canon's latest entry-level digital SLR with 15 megapixels, a 3.4 FPS burst mode, new super-high resolution LCD and 1920 X 1080 HD resolution movie mode. For photos taken straight out of the camera, head on to the Canon EOS Rebel T1i aka EOS 500D photo gallery. Hit the link for the full review.
This review was written based on a full production, retail unit of the Canon EOS 500D using firmware v1.0.9.
DPInterface Canon EOS Digital Rebel T1i aka EOS 500D aka EOS Kiss Digital X3 Review
Brad Soo – May 10th, 2009 (Updated May 17th, 2009)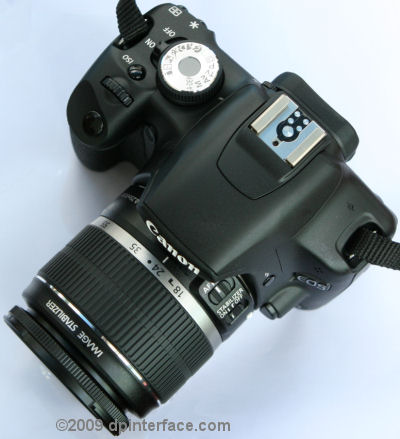 The Canon Rebel T1i aka EOS 500D is the latest, fifth-generation model in Canon's long-standing line of entry-level digital SLRs. Back in 2002, Canon introduced the game-changing original Digital Rebel/300D, which was the first ever digital SLR that could be afforded by anyone.
And over the years, Canon has shown a pretty consistent trend in their digital SLR releases (the pattern of upgrades from one model to the next being: minor-major-minor). This time around, the Canon Rebel T1i aka EOS 500D is an evolutionary upgrade to last year's Rebel XSi/450D model, here are the things that have changed:
Higher resolution sensor (15 effective megapixels vs 12 of the old model)
DIGIC 4 imaging processor
Higher resolution 3 inch LCD
Auto lighting optimizer, peripheral illumination (vignetting) correction and Quick Control menu
Improved burst mode: you can now take more pictures in a single burst
HD movie mode (1920 x 1080 resolution at 20 FPS, 720p option available)
Expanded ISO range of 100 - 12800
The biggest changes are sensor-related (Higher resolution, increased maximum ISO) and the introduction of a movie mode – this is the second Canon digital SLR to feature video recording.
Well, unlike the first generation EOS Digital Rebel aka 300D whose only competitor was from Nikon, the new Rebel T1i aka EOS 500D here faces competition from all angles – from the likes of Nikon, Olympus, Panasonic, Pentax and Sony (though the last two have yet to introduce new models this year). It doesn't matter if you have a bag of Canon glass or if you don't own a digital SLR yet, let's find out if the Rebel T1i/500D is worth your consideration time and money.
Canon likes to get creative when it comes to naming some of their cameras, especially their Digital IXUS/Digital ELPH models and entry-level SLR lineup. The digital SLR over here has been given three names by Canon… in the US, it's known as the Canon EOS Rebel T1i, in Japan, it's called the Canon EOS Kiss Digital X3 and elsewhere around the world, the camera is simply known as the Canon EOS 500D.
This review was written based on a full-production, retail unit Canon EOS 500D with firmware version 1.09.
Size and Weight
(326.8) 145.5 x 107.8 x 73.5 mm (730 g) - Canon EOS 50D
(288.2) 128.8 x 97.5 x 61.9 mm (480 g) – Canon EOS Digital Rebel T1i aka EOS 500D*
(284.0) 126.0 x 94.0 x 64.0 mm (495 g) – Nikon D60
(311.0) 127.0 x 104.0 x 80.0 mm (560 g) – Nikon D5000*
(284.0) 130.0 x 94.0 x 60.0 mm (475 g) – Olympus E620
(258.8) 124.0 x 89.6 x 45.2 mm (385 g) – Panasonic Lumix G1/GH1*
(281.0) 122.5 x 91.0 x 67.5 mm (525 g) – Pentax K2000 aka K-m
(304.0) 130.8 x 98.5 x 74.7 mm (582 g) – Sony Alpha A350
*Features a movie mode (Video recording with sound)
All the weight figures above show when the camera is empty without any lens, battery or memory card
The Canon Rebel T1i aka EOS 500D is a tad larger than most digital SLRs in the entry-level arena, with only Nikon and Sony's offerings and its own higher-end sibling, the EOS 50D, being larger. The Rebel T1i is at least 3 cm (about 1.4 inches) taller than other entry-level models but has one the lowest depth measurements.
The Rebel T1i is smaller and lighter than its closest rival, the Nikon D5000… but that model has a flip down and rotate LCD.
Box packaging
The Canon EOS Rebel T1i aka EOS 500D comes with the typical digital SLR camera bundle, nothing extra:
Canon EOS Rebel T1i aka Kiss Digital aka EOS 500D camera body
LP-E5 rechargeable lithium-ion battery
LC-E5 Battery charger
Viewfinder eyecup (attached to the camera out-of-the-box)
Body cap
Neck strap
USB and A/V cables
Camera software CD (EOS Digital Solution disc)
User's manual
EF-S 18 – 55 mm f3.5 – f5.6 IS lens (with kit lens option)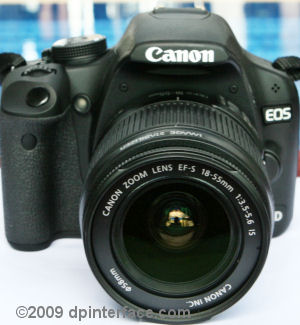 Canon EOS 500D with the 18 – 55 mm f3.5 – f5.6 IS kit lens
You can opt to purchase the Canon EOS Rebel T1i body only (RRP of $800) or get the camera with the 18 – 55 mm kit lens (RRP of $900). Canon USA bundles two booklets (Great Photography Is Easy and Do More with Macro) with the camera but I'm not sure if they do this with only certain units or whether this is a time-limited offer.
The Canon EOS Rebel T1i doesn't include any memory card in the box or built-in memory, so you'll have to use your own (or shell out a couple of bucks for one). Also like most other entry-level digital SLRs, the Canon EOS Rebel T1i takes SD/SDHC memory cards – so it's easy for compact camera users to 'step up' without changing memory format but some existing Canon SLR users who want a backup body may find it a hassle to carry another memory card format with them.
The EOS Rebel T1i is able to take advantage of high speed memory cards and perform faster. I'd recommend a 4 or 8 GB high-speed SDHC to begin with (and buying more/larger cards wouldn't hurt if you're planning to shoot in RAW or record many movie clips).
500 shots – Canon EOS Digital Rebel T1i aka EOS 500D
190 shots – Canon EOS Digital Rebel T1i aka EOS 500D (LCD live view)
500 shots – Nikon D60
510 shots – Nikon D5000
500 shots – Olympus E620
200 shots – Olympus E620 (LCD live view)*
300 shots – Panasonic Lumix GH1 (LCD live view)
330 shots – Panasonic Lumix G1 (LCD live view)
640 shots – Pentax K2000 aka K-m
730 shots – Sony Alpha A350
410 shots – Sony Alpha A350 (LCD live view)
*In-house testing done by DPInterface. Our tests were conducted as close as possible to CIPA's procedures
All the cameras above are rated with rechargeable batteries according to CIPA Standard; when using the viewfinder, unless noted otherwise
The Canon EOS Rebel T1i/500D uses the same LP-E5 lithium-ion rechargeable battery as other entry-level Canon digital SLRs and comes with a charger. Using the optical viewfinder, the EOS Rebel T1i scores 500 shots per charge (CIPA Standard) which is about average in its class, and using live view, you can take up to 190 shots per charge.
Here's a nice little chart I made which compares the battery life of current entry-level digital SLRs. All of the numbers below are from using the optical viewfinder (except the Panasonic which is a live-view only camera):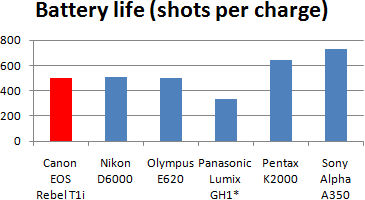 Accessories
As you'd probably expect (from a digital SLR), the Canon Rebel T1i can be outfitted with a plethora of lenses and accessories. You can put on any EF or EF-S lens on the camera (as well as the specialized MP-E 1-5X macro lens) with a 1.6X focal length multiplication factor applicable for every lens attached. What does this mean? Take the 18-55 mm kit lens for example – on a non-full frame camera like this one, its focal length becomes equivalent to 28.8 – 88 mm in 35 mm terms – and you'll have to perform this little bit of math when shopping for lenses.
You can also add on external flash units and macro ring lights to the Rebel T1i as well as attach flash brackets to hold those external flashes. The most current Canon external flash models are the 270EX, 430EX II and 580EX II, plus options for single and dual macro ring lights. Of course, you may use older flashes with the camera (I tried my trusty 430EX Mk I and it works fine) or opt for third party flash units, but note that only Canon models will sync automatically with the camera.
You can essentially double the Rebel T1i's battery life by using the optional BG-E5 battery grip. The battery grip also serves as a way to comfortably hold the camera in a portrait position and is able to hold either two LP-E5 batteries or 6 AA batteries for power. Canon offers wired and wireless remote control options for the camera too.
There are also other things like camera bags and cases, the usual AC adapter accessory as well as mini HDMI cables you can get anywhere to hook up the Rebel T1i with your high-definition TV.
Camera Tour
Canon EOS 500D in-hand with the optional BG-E5 battery grip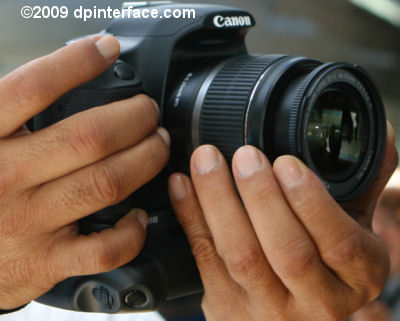 The optional BG-E5 battery grip does help ergonomics a bit
The Canon EOS Rebel T1i is a relatively small for a digital SLR and shares a body design identical to that of its predecessor the Rebel XSi (450D). Except for model badge change, the addition of a microphone and speaker on the camera, it's almost impossible to tell between the T1i and XSi (500D and 450D) without going in for close inspection.
Since the days of the Rebel XT (350D), Canon has tried very hard to improve ergonomics of their entry-level digital SLR line (the main beef being the tiny right hand 'grip') but as of the Rebel T1i (500D), I see they still need to go through more perfection and tuning – the grip here is still small and cramped. With a large lens like the 70-200 mm f2.8 or 100-400 mm attached to the camera, some people may find it a challenge holding the camera. Something worthy of note is that there are smaller digital SLRs which still have good ergonomics – so it isn't something impossible to achieve on a small camera.
It shouldn't come as a surprise that the Rebel T1i is meant to be held and used with both hands – while most of the controls are located on the right side of the camera, there are two buttons on the left and you'll have to use your left hand for zoom and/or manual focus as well.
The Rebel T1i has the decent build quality of a digital SLR in this class and feels sturdy in hand. Compare it to mid-range to high-end cameras and you'll find those cameras to be much larger and more heavy-duty (not to mention much more comfortable to hold).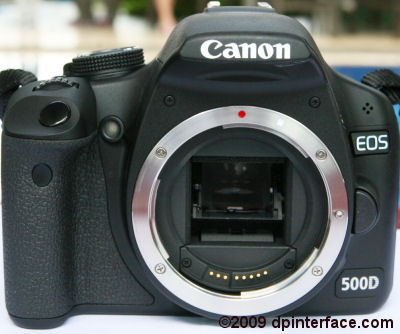 This is the front of the EOS Rebel T1i and from a quick glance, it doesn't look a lot different. What's changed here is behind that mirror – the camera's imaging sensor. The Rebel T1i features a new 15 megapixel CMOS sensor, up from 12 megapixels on the Rebel XSi (450D) – we'll see how things go once we reach the image quality section of my review. You can attach any EF and EF-S lens onto the camera; with all lenses being subjected to a 1.6X multiplication crop factor (ie the 18 – 55 kit lens becomes equivalent to 28 – 88 mm in 35 mm terms).
The Canon EOS Rebel T1i features a two-tiered dust reduction system – the camera can 'shake' away the dust on the low-pass filter in front (it only appears effective in removing loose, large dust particles) and if that doesn't work, there's software dust-mapping where you take a picture and mark dust reference points, run it through the bundled DPP software and poof, the dust is gone. The latter is very effective in removing dust in photos but requires the extra effort to run photos through computer software after they're taken. You can also opt to manually clean the sensor.
Directly above the Rebel T1i's lens mount is its popup flash unit which is released electronically via the flash button on the left side near the flash. The flash has a pretty average-sounding guide number of 13 m at ISO 100. If you want something more powerful, then you'll need to attach an external flash unit to the camera's hotshoe.
The built-in flash also doubles as an autofocus-assist lamp; raise it up and it'll fire several flash strobes to illuminate the subject… once focus is locked, you can choose not to take a photo with flash by closing the flash. For something less troublesome and annoying, you might consider attaching an external flash unit to the camera – then the flash will use its built-in laser AF-assist system.
You can also spot the camera's microphone directly above the EOS logo. Movies are recorded in mono sound and, unlike Canon's own full-frame EOS 5D Mark II (which is several times as expensive), you cannot attach any external microphone unit to the EOS Rebel T1i/500D.
Beside the lens mount is a button for ejecting the lens and below that is the camera's depth of field preview button. On the Rebel T1i's grip is a small round window – that's the built-in infrared receiver so you can release the shutter from a distance using the optional remote control.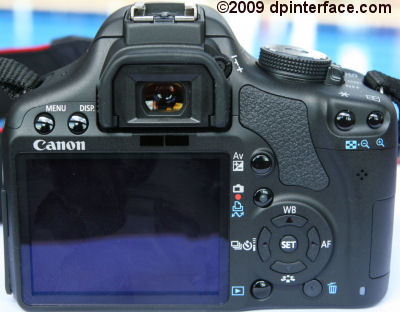 On the back of the Canon EOS Rebel T1i is a big 3 inch LCD. Hey, what's the big deal? At first sight, it looks the same as the old Rebel XSi's screen (450D)… yes, the size remains the same but resolution has been increase significantly. This 3 inch screen features 920,000 pixels and is very sharp. Besides live view and manual focus enlargement, the high resolution comes in handy when inspecting details in playback.
LCD visibility in bright light was very good while low-light visibility was just average (the Rebel T1i's CMOS doesn't boost brightness as much as some compact camera sensors). In live view mode, the screen provides 100% frame coverage – what you see is what you get, no nasty surprises or post-shot cropping required. The screen gets dirty with smudges from your nose and fingerprints really quickly though.
Directly above the LCD screen is the EOS Rebel T1i's optical viewfinder. The viewfinder shows a good amount of information; but is a bit on the small side (For a digital SLR) with 0.87X magnification and 95% coverage. Inside the viewfinder chamber, you'll also get to see info about autofocus, exposure, flash and general shooting details (ie remaining shots, burst buffer remaining, custom white balance). Right below the viewfinder is a proximity sensor which detects if your eye is against the viewfinder window and turns off the LCD screen automatically. The viewfinder has dioptric correction too, adjustable via the knob to the upper right of the viewfinder.
To the left of the viewfinder are two buttons. One is MENU button while the DISPlay button, the latter is used to toggle LCD display information. To the upper right corner of the Canon EOS 500D are two buttons: one is the customizable AF/AE Lock button (commonly known as the 'Asterisk' or 'Star' button) while the other is for focus point selection. Both buttons double as zoom in/out buttons for playback zoom. Directly below that is the camera's speaker – new to the Rebel T1i – so you can playback videos with sound.
Next up are the controls to the right of the LCD panel: there are four buttons plus a 5-way navigation pad. The largest, most accessible of the bunch is the AV/Exposure compensation button – it's used for exposure compensation in most modes (naturally +/-2 EV in 1/3 step increments) and in manual mode, it's used to switch between adjusting shutter speed and aperture (Since the camera has only one command dial).
Below that is the infamous Canon print button. This time, it actually serves the purpose to toggle live view on/off and also doubles as a dedicated movie button to toggle video recording in movie mode. That's pretty neat – with a dedicated movie button, you can also take a regular still photo while recording video by pressing the 'regular' shutter button on the grip. My tiny gripe: I wish the little blue LED would light up when video is being recorded, that would've been pretty neat.
Then there's the five way navigation pad, used for navigating menus and, like on a compact camera, they also provide direct access to a few functions. The functions here have been reshuffled since the Rebel XSi (450D) and goes back to the Rebel XTi (400D) arrangement:
Up – White balance (Auto, daylight, cloudy, shade, tungsten, fluorescent, flash, custom, color temperature)
Down – Picture Style (6 presets and 3 custom settings)
Left – Drive mode (Single-shot, continuous mode, self-timer [2 or 10 seconds], remote control)
Right – Autofocus mode (One-shot, AI Servo continuous, AI Focus)
Center – Set/Function
One of five functions (Quick control screen, image resolution, flash exposure compensation, toggle LCD and MENU) can be assigned to the center SET button via the camera's Custom Function menu. By default, the SET button isn't assigned to anything.
In continuous focusing, the camera focuses continuously to reduce time from pressing the shutter to the shot being taken. However, this setting is not available in live view mode. AI Focus mode supposedly comes in handy if you're planning to take photos of a mix of still and moving subjects – it automatically switches between One-Shot and AI Servo Continuous focusing.
The EOS Rebel T1i also features advanced white balance controls – you can either set color temperature or adjust white balance up to +/-9 steps along the amber-blue and green-magenta axis's respectively. White balance bracketing is available here, where you can take three pictures in a row (Adjustable to +/-3 stops in 1 step increments on either color axis).
The last two buttons are for entering playback and deleting photos respectively.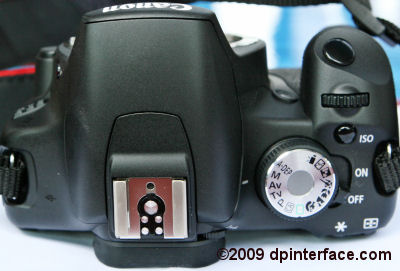 Lucky for us, there are just a few more things at the top of the Rebel T1i, comparably less versus mid-range SLRs. The first thing is the flash unit and external flash hotshoe, which is naturally aligned to the lens.
You can use any external flash with the camera's hotshoe but only Canon ones will sync automatically with the camera. The Canon EOS 500D can sync as fast as 1/200 sec with an external flash or up to 1/4000 using high speed sync. Unlike some of its competitors (especially the Olympus E620 I reviewed a month back), you can only control a wireless flash setup using the optional flash transmitter or Canon 580EX series flash as the master unit – the Rebel T1i doesn't let you control an external flash(es) right out of the box.
On the right side is the Canon Rebel T1i's mode dial:
Auto Depth-of-field (ADEP) – the camera will analyze the scene and try to keep everything in focus (normally using a larger F-stop number)
Manual mode – you get full control over both shutter speed and aperture; bulb mode up to 30 minutes is available
Aperture priority – pick an aperture value (depends on lens) and the camera will select a matching shutter speed
Shutter priority – pick a shutter speed (between 1/4000 to 30 seconds in your choice of 1/3 or 1/2 step increments) and the camera will select a matching aperture value
Program mode – the camera will select both shutter speed and aperture; there's Program Shift available so you can tweak the shutter/aperture combinations
Creative Auto mode
Automatic shooting
Portrait mode
Landscape mode
Close-up mode
Sports mode
Night portrait mode
Flash off mode
Movie mode
Creative Auto is practically a little bit of Program Shift and automatic shooting – you get to manipulate what kind of exposure and background blur you want, while the camera chooses the appropriate settings to produce the desired outcome (shutter speed and aperture).
Directly beside the mode dial is the Rebel T1i's power switch. Next up is the ISO button where you can select an ISO value between 100 to 3200 in 1 stop increments (no 1/3 step increments here, folks). ISO can be expanded up to 6400 and 12800 by activating the 'ISO Expansion' custom function.
Placed on the Rebel T1i's right hand grip are the shutter button and the camera's single command dial.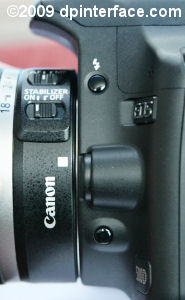 Over here is a better view of the flash release, lens release and depth of field preview buttons I mentioned earlier.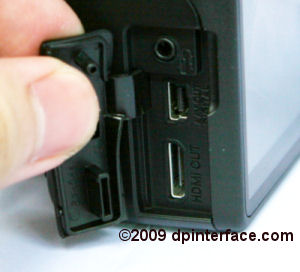 There are also a couple of ports hidden behind a rubber flap. The first port (which looks like a headphone jack) is for the optional wired remote control, followed by the single mini-B port for both USB and A/V Out connectivity. The final port is for HDMI connectivity, to hook up the Rebel T1i with your high-definition TV.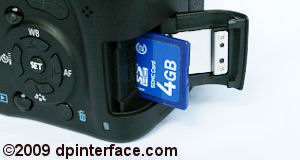 On this side of the Canon EOS Rebel T1i's memory card compartment. The compartment door has a metal hinge and is of decent quality.
At the bottom of the Canon EOS 500D are its metal tripod mount (in-line with the lens) and battery compartment. The compartment door is quite sturdy and is removable in order to insert the optional battery grip's connector.
Taking pictures (Shooting mode)
*Note: My apologies for the quality of some of the screenshots, the camera's LCD gets smudged with noseprints and fingerprints very quickly.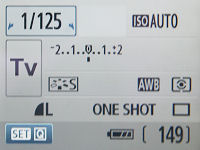 Move your eye away from the viewfinder or press the display button and the EOS Rebel T1i will bring up its shooting information screen. You can change settings directly on the LCD/Quick Control panel by pressing the SET button. The many details and shooting aspects in the screens above are what you'll get and from here, you can change the various settings from the on-screen items.
The Canon EOS Rebel T1i aka 500D has 9 autofocus points when using the optical viewfinder, the center AF point is a cross type point.
Live view
Live view comes in handy for studio and macro shots as well as when using remote capture from a computer (you'll have to install Canon's bundled software first). As I mentioned when discussing the LCD, the camera shows 100% of the frame with shooting and exposure information. There are also optional framing gridlines (2 patterns available), a live histogram (not shown here) and focus enlargement up to 5X or 10X; the latter helps a bunch in manual focusing.
One nice thing is the fact you can toggle exposure and white balance simulation in live view, so you know how bright your picture will turn out along with its color tone. There are two ways of focusing: Quick AF uses the camera's phase-detect autofocus, and does a whole lot of mirror flipping in the process. Live AF is essentially contrast-detect focus via the camera's sensor.
The good things about contrast-detect focusing are face detection is available and there's no screen blackout while the camera is focusing (unlike Quick AF which temporarily shuts off live view when flipping mirrors to focus). The bad side? Quick AF mode already adds quite a bit of delay to focusing/taking a shot, and Live AF is even slower than that – it typically takes up to several seconds to focus in Live Mode! (which is unlike compact cameras which typically "snap" into focus in under a second).
Unlike more expensive models like the 50D and 5D Mark II, there's no "Silent Shooting" mode available here on the Rebel T1i/500D. Silent shooting allows the camera to "hold" its position (mirror and shutter curtain won't be lowered/closed) and not make any noise until you let go of the shutter button… I guess Canon decided that users of the Rebel T1i won't need this feature.
Shooting settings
The Canon EOS Rebel T1i/500D has just three image resolution options: 15 MP, 7 MP and 3 MP. You can choose between two compression settings: Fine and Normal, as well as (14 bit) RAW and RAW+JPEG image modes. A 4 GB card will hold around 800 Fine/12 MP images or double that amount if you're using Normal compression.
RAW file sizes are much larger (around 20 MB per shot) but you'll get complete control over almost every single aspect of the image: white balance, noise reduction, contrast, saturation, exposure, colors, etc. If you messed up some camera settings but took the picture in RAW format, then most likely you'll be able to correct it later on your computer. You'll probably want a high-speed memory card here so the camera can write those huge files quicker. You can store about 200 RAW on a 4 GB card.
RAW photos on the Rebel T1i are taken at the 15 MP setting by default. There's no "Small RAW" option to shoot lower resolution (Smaller file size) RAW images; you'll have to step up to a higher-end model for that.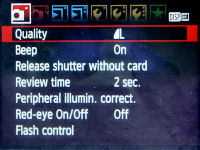 Unlike the simple grid menus on their compact cameras, the menus on Canon digital SLRs are more comprehensive and are split into eight main tabs (including the custom menu). The first two of which on the Canon EOS 500D cover shooting functions:
Image resolution and compression
Camera beep sounds (On/off)
Shoot without memory card (On/off)
Review time – how long the image is displayed on-screen after a photo is taken
Peripheral illumination correction
Redeye reduction (On/off)
Flash control – see below
Exposure compensation and exposure bracketing functions
Metering mode (Evaluative, center-weighted, partial, spot)
Set custom white balance
White balance adjustment and bracketing
Color space (sRGB, Adobe RGB)
Picture style
Dust delete data – software-based dust mapping
The Rebel T1i aka 500D has all the metering mode options you could want – evaluative, center-weighted, 9% partial metering and 4% spot metering.
The flash control section is new to the Rebel T1i aka EOS 500D: you are able to control and change settings of your external flash unit directly from the camera (flash power, wireless channel/group. Naturally, there's flash exposure compensation too, where you can adjust +/-2 compensation in 1/3 or 1/2 step increments.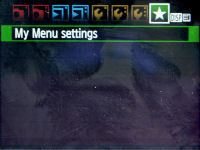 The Canon EOS Rebel T1i also features a customizable My Menu area like other Canon digital SLR cameras. You can put any 6 of your favorite menu items/settings here for easy accessibility.
Picture Styles
Picture Styles are not new to Canon digital SLRs – they are essentially sets of image parameters you can tweak and switch between quickly. I'm not sure if the Picture Styles feature deserves its own button though, since they don't really matter if you're gonna do your own editing/processing on the computer anyway. The EOS 50D has 6 preset and 3 custom Picture Styles, where you can adjust sharpness, contrast, saturation and color tone for each Picture Style (including the preset ones). If you're shooting in monochrome, then you can even choose filter and color tones for photos.
Here are the 9 Picture Style options available:
Standard
Portrait
Landscape
Neutral
Faithful
Monochrome (Default is Black & white)
3 custom settings
The EOS Rebel T1i has two color space options: sRGB and AdobeRGB.
Setup menu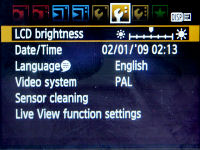 Here's the setup area of the Rebel T1i's menu system:
Auto power off time
File numbering (Continuous, auto or manual reset)
Image auto rotation (Off, computer only, computer and camera)
Format memory card
LCD auto off – toggle the camera's viewfinder proximity sensor to turn on/off the LCD when appropriate
Screen color – change the color scheme of the Quick Control menu
LCD brightness – adjust LCD brightness, 7 steps available
Date and time – excuse my forgetfulness to set the proper date and time
User interface language
Video system (NTSC/PAL)
Sensor cleaning (Auto cleaning, activate cleaning, manual cleaning)
Live view function settings – toggle live view, exposure simulation, framing gridlines display and live view focus mode
Custom Function menu
Clear settings
Firmware version – final firmware v 1.0.9 here
Custom Function menu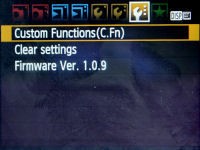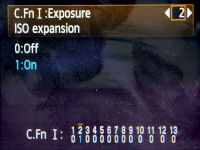 The Canon EOS Rebel T1i aka EOS 500D features a total of 13 custom functions:
Exposure compensation/adjustment increments (1/3 or 1/2 stop)
ISO expansion – extend ISO range to include 6400 and 12800 settings
Flash sync speed in Aperture Priority (1/200 fixed, Auto)
Long exposure noise reduction
High ISO noise reduction
Highlight tone priority
Auto Lighting Optimizer
AF-assist system
Mirror lockup
Shutter and AE lock buttons – customize what these buttons do (AE lock only, AF lock only, AE/AF lock, AF)
Assign a function to center SET button
LCD when you turn the camera on (On/off)
Original decision data – this is for the camera to store data to verify the originality of a photo taken via the optional software kit
Well, I think everything above is pretty self-explanatory, with just two features that I need to elaborate on. Highlight tone priority attempts to preserve bright areas in photos from being 'blown out' (all white, with no detail) while Auto Lighting Optimizer improves photo contrast to even out exposure.
It's worth noting that the Rebel T1i aka EOS 500D doesn't have any lens AF micro-adjustment (which allows you to tweak individual lenses to compensate for backfocus or frontfocus). You can only get AF micro-adjustment starting from the EOS 50D and above.
Scene modes and macro
Besides the five preset modes on the Rebel T1i's mode dial, there aren't any additional scene modes on the camera.
The minimum focusing distance depends on the lens being used on the camera. Canon makes several dedicated macro lenses – including the EF-S 60 mm f2.8 macro, EF 100 mm f2.8 macro and EF 180 mm f3.5L macro.
Video Recording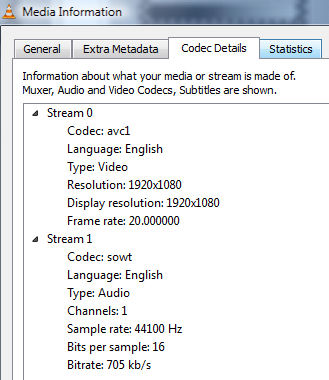 "Media info" from VLC confirms the Rebel T1i/500D records 1080p videos at just 20 FPS
The Canon EOS Rebel T1i aka EOS 500D features a movie mode which can record up to 1080p resolution video with sound. Just turn that mode dial to the "Movie mode" position, press the "Asterisk" button to focus and hit the dedicated movie button (aka Print button) to start recording. The movie resolution/frame rate options available are:
1080p high definition (1920 x 1080) at 20 FPS
720p high definition (1280 x 720) at 30 FPS
VGA (640 x 480) at 30 FPS
As you can see, the "Full HD 1080p" movie mode that Canon has been touting falls short of that claim with a weird (and a little choppy) 20 FPS frame rate. It's definitely a shame that Canon crippled the frame rate at the highest setting, instead of letting the camera record at the standard 24 or 30 FPS. The EOS 5D Mark II can record the real deal at 30 FPS. Also unlike the expensive EOS 5D Mark II, you cannot attach an external microphone to the Rebel T1i, so you're stuck with the built-in mono speaker.
I'd recommend sticking to the 720p option unless you definitely have a purpose for big screen-filling video clips. For the two high-definition options, I'd also recommend the use of a high-speed memory card since you'll be consuming at least 3 to 5 MB of memory each second. The Canon Rebel T1i/EOS 500D records all movie clips in MOV format, using the efficient H.264 codec, and there's a "4 GB per movie clip" limit – a 4 GB card will hold 12 to 13 minutes worth of 1080p 20 FPS video.
You can manually operate zoom and focus while recording a movie… but expect a bit of jitter and shake in your videos when you do. It's not as easy as it sounds either – you will probably have to refocus after zooming in/out and focusing manually is a pain since there's no manual focus enlargement available during recording (hey Canon, how's about a continuous autofocus option?). Alternatively, you can press the "star" button again for the camera to activate autofocus (this does not mean continuous focusing since the camera doesn't continually "track" your subject)… if you're using a non-USM drive lens, expect the camera to pick up the sound of the lens' focusing mechanism at work.
A familiar "movie snap" feature (As seen on Canon's PowerShot SX1/SX10 super-zoom cameras) allows you to take a full-resolution 15 megapixel still photo while recording video by pressing the camera's shutter button. The catch is that there will be a brief pause in video recording but audio recording continues (The camera uses the last 1 frame to cover the intermission) – you can see precisely what happens in the sample video below.
Video quality was very good while audio was just average. Here's a sample movie recorded at 1080p resolution at 20 FPS for your viewing pleasure (Direct link to the video; be sure to hit the "HD" button):

In the movie, I slowly zoomed in/out, and between the 6th to 7th seconds, I took a still photo – this is when you'll notice a brief pause in video and hear the shutter "click".
Performance
All performance testing of the Canon EOS 500D was performed using a high-speed 8 GB SanDisk Extreme IV SDHC card. A high-speed memory card is definitely recommended if you want to get the most out of the camera in terms of performance.
The Canon EOS Rebel T1i aka EOS 500D starts up within 1 second, after its dust reduction cycle – but if you're in a hurry, you can always intervene and cancel dust reduction by half-pressing the shutter button. Focusing times depend a lot on your choice of lens.
Using the Canon EF-S 18-55 mm f3.5 – f5.6 IS lens, focusing can vary between 0.2 to 0.4 seconds with decent to good lighting while focusing in low-light can stretch up to 0.8 to 1 second. Higher end lenses like the Canon EF 24-70 mm f2.8L and EF 70-200 mm f2.8L focus almost instantly in good light and no more than 1 second in low-light (with little hunting).
If you're using live view, focusing in Quick AF mode will around 1/2 to 1 second to focusing times, or an even more sluggish additional 2 to 3 seconds if you're using contrast detection mode. The camera has a built-in flash strobe AF-assist system but is able to use the external flash's quicker and more precise laser-based system, if you have one attached to the camera.
Shot-to-shot speed - 1 shot as fast as you can press the shutter button; very fast
Flash recharge time using a fully charged battery - 3 seconds on average (built-in flash)
The Canon Rebel T1i aka EOS 500D has a continuous shooting mode which shoots at a consistent 3.4 frames per second. There seems to be no limit to the number of JPEG shots you can take in a row, if you're using a fast memory card. RAW continuous shooting has improved since the days of the old Rebel XSi/450D (6 RAW shots at 12 megapixels, versus 9 RAW shots at 15 megapixels here). On the Rebel T1i, you can shoot at 3.4 frames per second up to 9 RAW images before frame rate starts to slow down – I still see room for more improvement here though.
If you're using RAW + JPEG with the camera's burst mode, you can take around 5-6 shots at 3.3 frames per second before seeing frame rate fall off and become inconsistent (the camera will take 1-2 shots now and then once there's room for more in the buffer).
Overall, the Canon Rebel T1i gives you the performance you'd expect from a modern digital SLR – responsive shooting, quick shot-to-shot times, a nice burst mode and sadly, sluggish live view focusing (I have yet to see a digital SLR focus quickly when it comes to live view). Besides live view focusing, RAW/RAW+JPEG buffer depth is another area that could be improved. The reason may not be immediately obvious (hey, how many digital SLR newbies would use the burst mode with RAW?), but one should consider the fact the Rebel T1i is also positioned to be a backup 'compact' body to existing Canon digital SLR system users… or for photography novices who know what they're doing.
Image Quality
Time to take a look at the Canon EOS 500D's image quality:

ISO 100 (f8.0, 1/50 sec)

ISO 200 (f8.0, 1/100 sec)

ISO 400 (f8.0, 1/200 sec)

ISO 800 (f8.0, 1/400 sec)
ISO 1600 (f8.0, 1/800 sec)

ISO 3200 (f8.0, 1/1600 sec)

ISO 6400 (f8.0, 1/3200 sec)

ISO 12800 (f8.0, 1/4000 sec)
Throughout the first three ISO settings; 100, 200 and 400, image quality is very good and clean. At ISO 800, there's a little bit of grain but image quality is still more than usable at this point. One of the beauties of using a digital SLR is that image quality is STILL good at ISO 1600 and 3200, which means you can continue using photos here for many purposes.
It is only at the two higher ISO settings (which you won't see until you turn "ISO Expansion" on) when noise begins to interfere with details and picture quality. However, with some cleaning up using noise reduction software and/or if you shoot in RAW, I don't see why you couldn't save such photos for small-to-medium prints to be given to friends and family or your coffee table album.
Lens characteristics such as chromatic aberration (color fringing), distortion and vignetting/edge sharpness will obviously depend entirely on what lens you're using with the camera. I used the EF 24-70 mm f2.8L (my 'walk-around' lens on my EOS 30D) with the Rebel T1i and with a lens like this, it's not surprising that edge sharpness was good with low distortion. Chromatic aberration was very low but still somewhat visible.
One thing about the Canon Rebel T1i's high resolution sensor is that it is taxing on lenses and it shows lens flaws and such easily. The workaround for this is to stop down your lens' aperture and/or use more expensive lenses with the camera.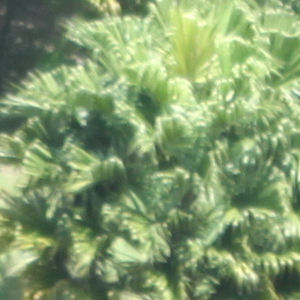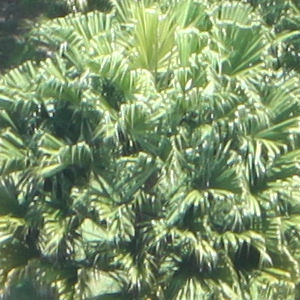 EF-S 18-55 mm kit lens crop on the left, EF 24-70 mm L crop on the right
The two 100% crops above were taken from the center of a foliage/scenery shot, taken at around 55 mm, at f5.6 using both lenses (wide open for the 18-55 mm, and stopped down on the 24-70 mm). I'm sure many of you have seen in various reviews around the web that the 18-55 mm IS is by no means a crummy lens. In fact, it's image quality is pretty impressive for a kit lens (especially when stopped down). Unfortunately, the camera's sensor is pushing it here and the 18-55 mm lens has double handicap in this situation – it costs significantly less than the 24-70 mm it's competing with (and when it comes to lenses, you pay for what you get) and it's being used wide-open at f5.6. This proves my point that you'll need to either stop down aperture or use an expensive lens to get the best out of the Rebel T1i's 15 megapixel sensor. If you wanna see what a nice lens like the 24-70 mm can do, this shot is another good example… or you could just head on to the Rebel T1i photo gallery for everything else.
There was little to no redeye in photos taken using the Rebel T1i's built-in flash. If you need more flash power or eliminate redeye completely without bothering with the playback tool, then you can get an external flash to go with the camera.
Dynamic range here was average for a crop-sensor digital SLR with only clipped highlights in high contrast scenes (such as a building or portraits against very bright backgrounds). Shadow detail was good. Turning on the camera's Auto Lighting Optimizer and/or Highlight Tone priority can help slightly, at the cost of longer shot-to-shot times.
Image quality produced by the Rebel T1i aka EOS 500D was very good with low noise, good color accuracy and detailed photos. Everything's pretty good with just one main issue: the 15 megapixel sensor mercilessly shows flaws and softness of lower-grade lenses… and I've explained two workarounds to that issue. If you're willing to either stop down aperture (which comes at the expense of shutter speed) or shell out some Benjamins for good quality lenses, the image quality doesn't fall short of anything.
Photo gallery
Check out full-sized, unedited photos taken straight out of the camera in the Canon EOS Rebel T1i aka EOS 500D photo gallery.
Playback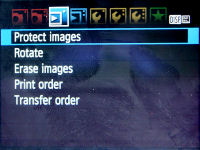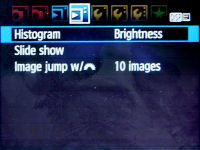 The Canon EOS Rebel T1i/500D has a comparatively simple playback mode versus other entry-level digital SLRs. You can play back photos with 10X magnification available to confirm focus and details. The usual playback basics such as print and transfer marking, slideshows, image protection and auto rotation are here. Thumbnail playback (4 or 9 photos) is available)
You can also specify the exact function of the "jump" feature (jump 10 or 100 images, or to a specific shooting date). Other than that, there's nothing else – no editing features or redeye correction and no in-camera RAW development.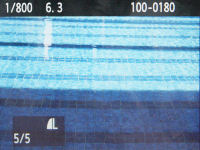 By default, the Canon EOS 500D only shows the image resolution/compression and shutter speed of your photos. Press the DISPlay button and the EOS 500D brings out a lot more information: from shooting details, mode, full exposure information (with shutter speed and aperture value) and including a choice of either a Brightness or RGB histogram. A third view sacrifices some shooting details to display all 4 histograms (RGB and brightness) on screen at once. There's also a highlight/shadow alert feature which "blinks" both underexposed and overexposed areas of your photos to warn you about them.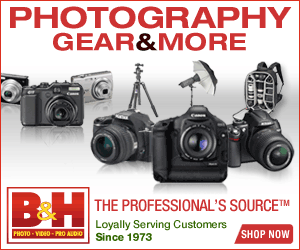 Conclusion
The new Canon EOS Rebel T1i aka EOS 500D is a relatively small digital SLR camera with 15 megapixels, a nice and large 3 inch LCD (which is as sharp as tacks), 3.4 FPS burst mode and it delivers good image quality. Perhaps someone got too focused on "keeping things small" and forgot about ergonomics – the Rebel T1i's grip is too narrow and cramped for most people; this, of course, is subjective but don't say I didn't warn you.
As you'd expect from a digital SLR camera, the Rebel T1i can be souped up with an array of lenses, flashes and accessories (including wired and wireless remote control support). The bundled software is good too – Digital Photo Professional has an intuitive RAW image development interface and there's even a piece of software which allows you to control the camera from your computer.
Though the Canon Rebel T1i doesn't provide as many stepping stones as its competitors (the Rebel T1i doesn't have as many scene modes and has a very simple playback mode) for compact camera users to step up to the digital SLR world, it still is an easy-to-use camera with clearly labeled buttons, 5 preset scene modes and a Creative Auto mode which allows you to test the waters of manual exposure/depth of field control.
Battery life here is about average – the camera can take up to 500 shots per charge, or double that if you're using a battery grip. The Rebel T1i performed well in terms of speed with responsive operation, quick focusing (especially with USM drive lenses) and very good shot-to-shot times with low viewfinder blackout times. What can be improved here? RAW burst buffer depth – while you can take a whole lot of JPEG photos in a row at 3.4 FPS, you're limited to just 9 RAW photos (roughly 2.6 seconds of action) in a single burst before things slow down and frame rate becomes erratic.
The Rebel T1i has LCD live view functionality, which allows you to compose shots via the LCD like you would on a compact camera. Face detection, compositional gridlines and a live histogram are all available on-screen as you shoot. Do note, however, that the competition (Nikon D5000, Olympus E620, Sony A380) are more flexible in a way, since they have either tilt-able or flip-out and rotate LCD screens for high/low angle shots. Autofocus in live-view mode was very sluggish too, making live view shooting suited mostly for studio and still life picture taking, NOT action shots. This issue isn't specific to the Rebel T1i though - slow live view AF is a problem that currently plagues all digital SLRs except Panasonic's mirror-less G1/GH1 interchangeable lens cameras.
The Rebel T1i features a movie mode too, which allows you to shoot high-definition (Your choice of 1080p, 720p or regular VGA) movies with sound and start/stop recording via a dedicated button. For those thinking "wow this is the best thing since sliced bread!", I hate to break it to you but… the 1080p setting has a crippled frame rate of just 20 FPS (The norm is 24 or 30 FPS), and you can't attach an external microphone to the camera for better sound recording. On the positive note, you can operate zoom and manual/auto focus while recording (albeit in a clumsy manner), video quality is impressive (but not the frame rate at the highest setting) and you can take a still photo in the middle of a recording session (the catch being there'll be a brief pause in video). Hopefully Canon will up the 1080p setting frame rate to 24 or 30 FPS via a firmware update, please?
Low noise has always been Canon's advantage in the digital SLR arena and the Rebel T1i carries forward this heritage. Image quality produced by the Canon Rebel T1i aka EOS 500D was very good with low noise and very usable pictures up till ISO 3200. And those who know their way or have the time to make use of post-processing and noise reduction software can scavenge ISO 6400 and 12800 shots for small to midsize prints/display too. A particular problem that seems to be growing as digital SLR image sensors increase in resolution is lens flaws and sharpness. The Rebel T1i performs best when you stop down lens aperture (bigger F-numbers) and/or use higher grade (and thus, pricier) lenses. As demonstrated in my foliage test shot, using the kit lens versus a higher-end lens (and stopping down) can make a big difference.
If you're looking to step up from using compacts, the Canon EOS Rebel T1i aka EOS 500D is worth a look (though it isn't heads and shoulders above other brands' offerings in terms of feature set). The entry-level digital SLR arena is pretty competitive, so be sure to consider and compare various brands and their options too. For current Canon digital SLR owners, the Rebel T1i/500D is a decent choice if you want a smaller/lighter backup camera body to carry around.
What's hot:
Very good image quality with low noise till upper ISO speeds
Very sharp 3 inch high-res LCD with good visibility
Compact design for a digital SLR
Compatible with many accessories (unsurprising for a digital SLR)
Decent automatic shooting with scene modes and Creative Auto mode
Full manual controls; flash hotshoe, RAW image mode and white balance tuning
Customizable "My Menu" and center SET button
Good battery life; can be prolonged by using optional battery grip
Great performance with good continuous shooting speed
Movie mode records at 720p at 30 FPS or 1080p at 20 FPS; you can take a still photo while recording
Nice software bundle with RAW editor and remote control with live view
What's not:
Noisy images at ISO 6400 and 12800; camera's high-resolution sensor is taxing on lenses
No 'out of the box' wireless flash support
Small grip; worse ergonomics than some other SLRs
Crippled movie frame rate (20 FPS) at 1080p resolution, no continuous autofocus
Limited RAW buffer in burst mode
Slow autofocus in live view mode
"Shake off the dust" method not effective
Support us – visit our site sponsors or donate!

Recommended Accessories:
4 GB or larger high-speed SDHC memory card