DPInterface Olympus Stylus 1030SW Review
Brad Soo - October 17th, 2008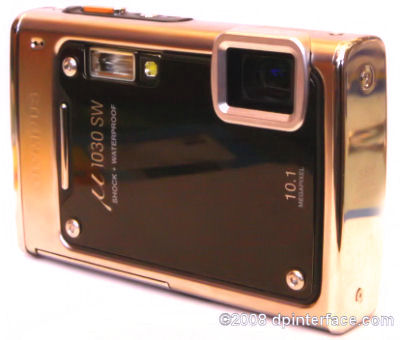 Olympus has come a long way from their first shock and waterproof compact camera to the Stylus 1030SW which can survive more abuse than probably any other camera out there. The Stylus 1030SW is a 10 megapixel camera which is shockproof, waterproof, crushproof and freezeproof, means you can take it almost any where with you. Of course we aren't concerned whether the Stylus 1030SW can double as a construction tool and literally take a bashing, we wanna know if it takes good pictures. And that's what we're gonna find out now.
The Olympus Stylus 1030SW is also known as the Olympus mju 1030SW in other parts around the world.
Size and Weight
(163.6) 86.8 x 54.8 x 22.0 mm (125 g) - Canon PowerShot SD1100 IS Digital ELPH
(160.4) 86.0 x 54.0 x 20.4 mm (130 g) - Canon PowerShot SD770 IS Digital ELPH
(160.4) 89.7 x 51.7 x 19.0 mm (100 g) - Casio Exilim Z85
(174.1) 96.7 x 57.3 x 20.1 mm (126 g) - Casio Exilim Z150
(167.7) 92.0 x 55.7 x 20.0 mm (150 g) - Fujifilm FinePix Z200fd
(172.2) 93.7 x 57.8 x 20.7 mm (126 g) - Kodak EasyShare M1033
(179.5) 97.5 x 60.0 x 22.0 mm (145 g) - Nikon Coolpix S60
(175.8) 93.6 x 60.9 x 21.3 mm (170 g) - Olympus Stylus 1030SW
(174.3) 93.0 x 62.0 x 19.3 mm (152 g) - Olympus Stylus 1050SW
(170.8) 94.9 x 53.4 x 22.5 mm (119 g) - Panasonic Lumix FS5
(168.6) 94.7 x 51.9 x 22.0 mm (125 g) - Panasonic Lumix FX37
(180.4) 99.0 x 56.0 x 25.4 mm (145 g) - Pentax Optio W60
(165.8) 93.6 x 57.2 x 15.0 mm (126 g) - Sony Cyber-shot T77
(174.7) 94.0 x 59.3 x 21.4 mm (151 g) - Sony Cyber-shot T300
The Olympus Stylus 1030SW is one of the larger and definitely the heaviest camera of the bunch, which you can't blame on a camera that's pretty much all abuse-proof. Still, all those cameras above are compact enough to be pocketable, it's just that the Stylus 1030SW isn't as petite as some.
Box packaging
Along with the Olympus 850SW, you'll also find the following box contents:
LI-50B rechargeable lithium-ion battery

Battery charger

microSD to xD-Picture card adapter

Wrist strap

USB and A/V cables

Camera software CD

User's manual
The Olympus Stylus 1030SW comes with a petty 14.7 MB of internal memory. So it is best to get a memory card with a minimum of 2 GB with the camera. The Stylus 1030SW supports xD-Picture cards but is able to use microSD/microSDHC memory cards as well via an adapter. It might be a better idea to start using microSD cards with the camera, unless you already have some xD-Picture cards on hand; the reason being microSD's are more widely used (in electronic devices such as mobile phones) and available in capacities up to 16 GB (versus 2 GB for xD cards).
The Olympus Stylus 1030SW uses the LI-50B lithium-ion battery. The battery is rechargeable and a charger comes bundled with the camera. The Stylus 1030SW's battery life rating of approximately 260 shots (CIPA Standard) is a tad above average in its class; the average being 240 shots:
240 shots - Canon PowerShot SD1100 IS Digital ELPH
300 shots - Canon PowerShot SD770 IS Digital ELPH
240 shots - Casio Exilim Z85
280 shots - Casio Exilim Z150
170 shots - Fujifilm FinePix Z200fd
275 shots - Kodak EasyShare M1033
140 shots - Nikon Coolpix S60
260 shots - Olympus Stylus 1030SW
200 shots - Olympus Stylus 1050SW
300 shots - Panasonic Lumix FS5
310 shots - Panasonic Lumix FX37
205 shots - Pentax Optio W60
220 shots - Sony Cyber-shot T77
260 shots - Sony Cyber-shot T300
All the battery life numbers above are rated according to CIPA Standard.
Extras
In terms of accessories, there's a waterproof case available for the Olympus Stylus 1030SW which allows you to bring the camera deeper into water - up to 40 meters, compared to without the case. There's also various camera cases, including one which allows you to attach the camera to your arm, and an AC adapter too.
Camera Tour
Even the Olympus Stylus 1030SW's design makes it look sturdy (without compromising much style either), from the thick bolts on the front of the camera to the protective glass layer over the LCD and the rubberized seals around the openings of the camera (ie battery compartment). As you'd expect, the metal build quality of the Stylus 1030SW is very good, with the exception of that plastic tripod mount (why is it even here?!).
Just to recap, the Olympus Stylus 1030SW is waterproof up to 10 meters, crushproof to 220 lbs, shockproof to 1.5 meters and freezeproof to -10 degrees Celcius. The Stylus 1030SW even has a display of atmospheric pressure and altitude on-screen.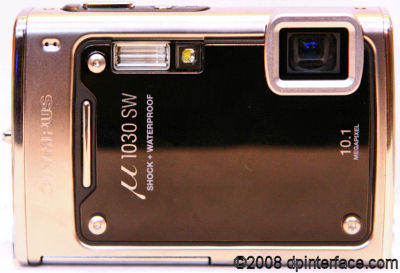 The Olympus Stylus 1030SW features an internal lens on the front of camera. This means that the 3.6X optical zoom lens doesn't protrude at all from the camera. The lens is equivalent to 28-102mm in 35mm terms and aperture range of f3.5-5.1, which isn't as bright as a lens which starts at f2.8. A built-in cover closes shut to protect the lens when you turn the camera off.
To the left of the lens is a LED light and flash unit. The LED light does a LOT of things: it acts as a visual self-timer countdown, a macro illumination lamp, video lamp and there's even a torchlight function like on some mobile phones. Then there's the flash which does its usual thing; it has a range of up to 4.1 at wide-angle and 2.7 at telephoto. The two tiny holes at the very left of the Stylus 1030SW is the microphone.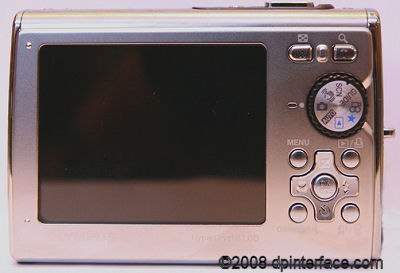 There's the Stylus 1030SW's 2.7 inch HyperCrystal II LCD on the back. Olympus says the display is brighter and even easier to see in bright light than on previous cameras and it surely lives up to its claim. The display does brighten up in low-light and outdoors so you can see what you're framing.
The Olympus Stylus 1030SW follows a pretty standard control layout of Olympus' Stylus line of cameras - all the buttons are located on the right hand side (making picture taking with one hand possible), there's a mode dial below the zoom controller and four buttons surrounding the 5-way controller.
At the top right is the zoom controller I was talking about, and then that's followed by the mode dial. The mark which points to the selected mode is, in fact, an activity indicator light as well which blinks red as the camera reads/writes photos from the memory card. Here are the positions labeled on the Stylus 1030SW's mode dial:
Auto mode

Shooting mode - essentially program mode where you can decide and change everything except shutter speed and aperture

Scene mode - select one of the scene modes available, and there are many:

Guide - A guide which gives useful tips on taking better pictures. It's almost like an in camera user's manual which is simple to understand.

Movie mode - Record VGA videos at 30 FPS, more on movie mode in the dedicated section in this review

Favorites - Essentially like a photo album: Select and view your 'favorite' photos

Playback mode - Browse through photos you've taken
Then we have four buttons around the directional pad on the camera, which makes the 5-way controller not so easy to operate if you have big fingers. They are the MENU and playback/print marking button on top and the bottom two are the DISPlay button (which toggles the information you see on the LCD display) and a button to turn on Shadow Adjustment. Both buttons double as help and delete buttons respectively in playback mode.
Shadow Adjustment brightens dark areas of your photos at the cost of increased noise in your photos. It seems that such a feature is all in the rage nowadays, coming under many different names (such as D-Lighting for Nikon cameras), but basically, they all do the same thing.
When you hold down the DISPlay button, it can also activate the torchlight function of the Stylus 1030SW.
Then we'll move to the five-direction controller, each with their respective short-cut functions in shooting mode:
Up - Exposure compensation (+/- 2 EV in 1/3 increments)

Down - Self-timer (On/off)

Left - Macro mode (Off, macro, super-macro)

Right - Flash setting (Auto, auto with red-eye reduction, on, off)
The center button acts as a 'confirm' button for the usual menu item selection and settings. It also brings up the FUNCtion menu, which let's you quickly change a handful of important camera settings, namely white balance, ISO sensitivity, drive, metering, image size and quality.

The top of the Stylus 1030SW features an on/off button for the camera and a shutter button to take pictures.
And as you can see over here, the Stylus 1030SW's lens is all internal so there are no moving parts which extend outside the camera.
While one side of the camera was bare, over here on the other side of the Stylus 1030SW is a wrist strap eyelet, speaker as well as a single port covered by a sealed door. This port is used to connect the Olympus Stylus 1030SW to your computer, printer or television via the supplied in-the-box cables.
At the bottom of the Stylus 1030SW is a plastic tripod mount (gasp!) and a battery/memory card compartment. The door is very sturdy and the compartment itself is sealed (you can see the rubber seals around the door) to keep water and the elements out of this waterproof camera, and the locking mechanism on the door completes the high build-quality of the camera. I can't see why Olympus couldn't use a metal tripod mount here though.
Taking pictures (Shooting mode)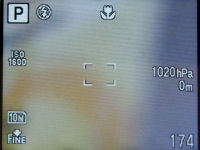 The Olympus Stylus 1030SW shows a nice amount of information on its display, everything's shown here; including the atmospheric pressure and altitude display I mentioned earlier. You have the option of putting on a live histogram as well as a simple 3X3 framing grid.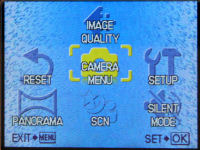 Hitting the menu button on the camera brings up a grid of submenus, some settings are actually accessible via the FUNCtion menu, but they're here as well in case you can't find them:
Image quality - Set the camera's image quality (You can do this via the FUNCtion menu).

Reset - Performs a reset so all settings will be restored to their default values.

Camera menu - Change settings on the camera, there's everything from the Function menu here as well as other things like focus mode and you can also turn on digital zoom too (not that you'd want to).

Setup menu - For your first time with the camera when you set the date/time, language, screen brightness, etc.

Panorama - The camera sets itself up to guide you to take up to ten photos so they can be combined into a single large 'stitched' photo. A 'combine on camera' option does the same thing for up to 3 shots but saves you the hassle of stitching it later on the computer. An Olympus-branded xD-Picture card is required for panorama.

Scene mode - Pick another scene mode (only available when using scene modes, of course)

Silent mode - Turns off all the camera sounds; great when taking photos during a presentation or play
You can select a range of image resolutions from 10 megapixels (with a widescreen 16:9 setting) to VGA with two compression options. The widescreen image option shoots at 1080p resolution (1920 x 1080) which is essentially two megapixels and enough to fit your television perfectly. Other image resolution options available in between include 5 MP, 3 MP, 2 MP, 1 MP and VGA.
The Olympus Stylus 1030SW features a "Fine Zoom" option, another feature found on many compact camera recently. Fine Zoom enables you to extend your zoom range by using reduced resolution. Instead of digital magnification (Which lowers image quality) used by digital zoom, Fine Zoom crops the center of the photo in order to get closer to your subject.
Perfect Shot Preview on the Stylus 1030SW allows you to preview various photo effects and make changes to achieve the desired effect before taking a photo. Kudos to Olympus for introducing such a useful feature; it saves the time and hassle needed to take multiple photos and sort thru them.
The Olympus Stylus 1030SW has three macro modes. Normal macro allows you to get as close as 30 cm at wide-angle while super macro mode zooms into your photo a little, allowing you to go as near as 2 cm but locks the zoom after that. There's a second Super Macro mode available, being identical to the first one except it turns on the camera's LED illuminator to provide external lighting to the scene.
In terms of scene modes, the Olympus Stylus 1030SW has plenty of them. They include: Portrait, landscape, landscape+portrait, night scene, night portrait, sports, indoor, candle, self-portrait, available light portrait, sunset, fireworks, cuisine, behind glass, documents, auction, shoot & select (two modes here), beach, snow, underwater snapshot and 2 underwater wide modes. Face Detection works but it doesn't get all the faces at one go most of the time (usually it detects just two or three).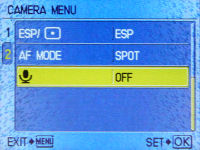 Other camera settings you can adjust on the Stylus 1030SW include:
White balance (Auto, daylight, overcast, tungsten, fluorescent, underwater)

ISO speed (Auto, 80, 100, 200, 400, 800, 1600)

Metering method (ESP, spot)

Autofocus mode (iESP, spot center, Face Detect)

4 second audio narration for each picture (On/off)
And did I mention you can change the look of the menu too. You can see the more interesting 'underwater' background in the screenshots above.
Video Recording
The Olympus Stylus 1030SW has a standard 30 FPS VGA movie mode with sound. A 2 GB memory card will hold about 20 minutes of video at the highest quality and frame rate settings. You also have the option to reduce the resolution to QVGA (320 x 240), cut the frame rate in half (15 FPS) or both, which naturally allows you to record longer video clips.
Two other modes; pre-capture and underwater movie, are available. The latter cuts out sound (you won't be needing it anyway) and adjusts white balance so underwater movies look more natural.
You can't autofocus or use optical zoom while recording regular videos on the Stylus 1030SW. Video and audio quality were both good.
Performance
The Olympus Stylus 1030SW starts up almost instantly when you press the on button, that's snappy. It normally takes about 1/5 to 1/3 second to focus; taking longer in low-light so you might wanna use the 'torchlight LED' to help lock focus.
Shot-to-shot speed - 1 shot every 2.1 seconds, about average

Flash recharge time using a fully charged battery - 6 seconds on average
There's just a little shutter lag when using the camera in dark places, but otherwise, it's not an issue.
The Olympus Stylus 1030SW has two continuous shooting modes. The regular burst mode can continuously snap full resolution photos at a little over 0.7 FPS since the camera focuses after every shot. High speed mode took 15 photos at 5 FPS. The catch here is that the resolution is cut down to 3 megapixels.
The Stylus 1030SW moves its lens from wide-angle to telephoto in about 1.5 seconds and powers down instantly when you close the sliding cover. Although its burst mode is slow, the Olympus Stylus 1030SW is a quick snapper in general.
Image Quality
Time to check out the Stylus 1030SW's image quality:


ISO 80 (f3.5, 1/6 sec)


ISO 100 (f3.5, 1/8 sec)


ISO 200 (f3.5, 1/15 sec)

ISO 400 (f3.5, 1/30 sec)


ISO 800 (f3.5, 1/60 sec)

ISO 1600 (f3.5, 1/125 sec)
Let's start out like we usually do at low ISO speeds. The lowest setting, ISO 80, is clean as expected. Picture quality is still good at ISO 100 and ISO 200. ISO 400 shots do get a little noisy and there's noise reduction. ISO 800 only gets worse and by 1600, things are completely messy. I wouldn't use the last two ISO options if I were you.
Barrel distortion levels were moderate with the Stylus 1030SW, being noticeable only when shooting straight lines, while pincushion distortion was not an issue. Chromatic aberration (color fringing) levels were low while vignetting was an issue in most shots. Redeye did appear in photos, which isn't surprising considering the proximity of the flash to the lens, but at least there's a software based redeye removal tool in playback that works.
Overall image quality was not stunning on the Stylus 1030SW. If you're looking to just 'take pictures' in any situation (whether it's freezing cold or burning hot), then the rugged 1030SW does just that. But if you're looking for good pictures, the Stylus 1030SW does fulfill a part of that but other cameras still have better image characteristics.
Photo gallery
Looking for full-sized sample photos? Well, check out the Olympus Stylus 1030SW photo gallery!
Playback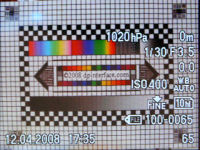 The Olympus Stylus 1030SW has a playback mode equipped with some editing functions that make things more interesting. First off are the usual core playback features are all here: Image protection, print marking, play slideshows, voice clip recording, image rotation, cropping and resizing. You can magnify still photos by 10X and take a look around using the 4 arrow buttons.
There are also several ways you can view your images: as single photos, thumbnails of four, nine, sixteen or even twenty-five and also by date in calendar view.
Then we have the image editing functions (Olympus calls it Perfect Fix), most of which are actually quite useful. You can apply Shadow Adjustment and red-eye correction to photos, and also add frames and text to them.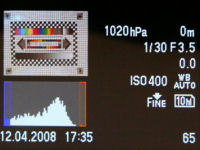 The Olympus Stylus 1030SW displays all you need to know about your photos in playback, that covers shooting info, exposure information, a histogram and the altitude/pressure stats I mentioned earlier. - everything's complete here.
Conclusion
The Olympus Stylus 1030SW has the features you'd expect in a compact camera, with the protection against the elements and accidents thrown in. This 10 megapixel camera sounds like the absolute choice for clumsy people, mountain climbers (or outgoing and adventurous people in general), people who are too used to severely abusing their 1Ds/D3 every time they take pictures and even kids, who usually aren't too careful with things.
Of course, the focus isn't all on build quality. The Stylus 1030SW has support for two kinds of memory card, a very usable LCD and lots of useful shooting and playback tools to make your pictures better. Two of the more useful features are shadow adjustment which brightens photos and redeye removal. Performance of the camera was average, not too sluggish but it isn't really that speedy either. At times, you may have to wait for a second or two between two shots because the camera needs to save the picture first.
The Stylus 1030SW's operation is mainly automatic. There's nothing you can do to directly control shutter speed or aperture, it's all up to the camera. There's no custom white balance either, which means if you're shooting in weird lighting, you're outta luck with color cast. Thankfully there's several underwater modes which have preset settings for underwater white balance though.
As of whole, image quality produced by the camera was just satisfactory. Noise levels were controlled until ISO 400 where it started to get muddy and barrel distortion on the camera's 28 mm lens was present in most cases. What I'm trying to say is the Stylus 1030SW doesn't produce the best image quality in its class and other cameras do better.
The Stylus 1030SW is the perfect camera for adventurers, and also a solid choice (no pun intended) as a point-and-shoot camera for typical consumers too. Of course, if you would treat your camera well, for the same price or less, there are many competitive choices out there which produce better pictures and have optical image stabilization.
What's hot:
Very sturdy construction: water, drop, crush and freeze proof

Compatible with both xD-Picture and microSD cards

Very usable LCD outdoors and indoors

Handy LED lamp (for AF assist, macro lighting and torchlight)

Helpful built-in guide and help system

Perfect Shot Preview is useful to view effects before snapping

Shadow Adjustment brightens photos; available in playback too

Calendar view and red-eye fix in playback mode are useful

Good image quality below ISO 400
What's not:
No manual controls, not even long exposure or custom white balance

Slow burst mode when using full resolution

No optical image stabilization

Plastic tripod mount (!) and cramped buttons on the back

Redeye (removable via playback tool)

Image overall softness, especially corners
Recommended Accessories: