DPInterface June 2008 News Archive
June 10th, 2008
It's the baby XSi!
Canon announced the middle child of the Canon Rebel XTi and XSi today... and it's called the Rebel XS, aka EOS 1000D in some places.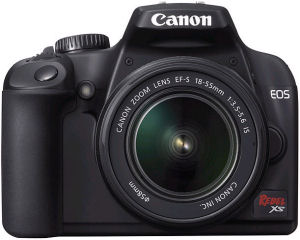 Canon Rebel XS aka EOS 1000D
10.0 effective megapixels (CMOS sensor)

Canon EF and EF-S lens mount (1.6x crop factor)

DIGIC III processor

Dust reduction

2.5 inch LCD

7-point AF and NO spot metering

95% coverage optical viewfinder with 0.81X magnification

Full manual controls with RAW mode and hotshoe

Auto Lighting Optimizer

Live view with contrast detect AF

3 FPS burst mode (unlimited JPEG); 1.5 FPS for RAW up to 6photos

SD/SDHC memory card slot

Uses LP-E5 lithium-ion battery; takes up to 500 shots (CIPA Standard, live view turned off)

Available in July, price to be announced

Comes in your choice of silver and black (black only in most parts of the world)
Canon also released the new 430EX II external flash unit, which comes to replace the 430EX (of course). The new flash features more manual controls and a metal foot and new locking mechanism (same as the 580EX II).