DPInterface May 2008 News Archive
May 30th, 2008
Pentax released two cameras, silently
In other news, Pentax announced two cameras under the radar this month.
On May 19th, it was the Optio V20 and more recently on the 23rd, it was the waterproof Optio W60. C'mon Pentax, don't need to be shy and make camera announcements so discreetly =)
March 28th, 2008
New Fujifilm cameras
Fujifilm released two new cameras today; an entry-level camera and a new thin camera.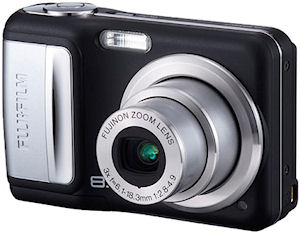 Fujifilm FinePix A850
8 effective megapixels

36 - 108 mm (f2.8 - f4.5) 3X zoom lens

2.5 inch LCD

No manual controls

VGA 30 FPS movie mode with sound

Takes SD/SDHC cards

Uses 2 AA batteries

Available in July; pricing to be announced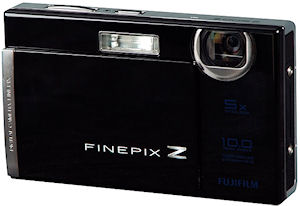 Fujifilm FinePix Z200fd
10 effective megapixels

33 - 165 mm (f3.8 - f4.8) 5X zoom lens

2.7 inch LCD

Face Detection, couple and group timer modes

No manual controls

VGA 30 FPS movie mode with sound

Takes Xd/SD/SDHC cards

Uses a lithium-ion battery

Available in August; pricing to be announced

Comes in your choice of black, silver, pink and red/black
May 13th, 2008
New Olympus E520 digital SLR
Olympus released their new digital SLR, the E520 today. It's just an incremental upgrade, nothing ground breaking, but users will be delighted that they have yet another entry-level digital SLR to choose from (if they haven't stepped into the dSLR world yet).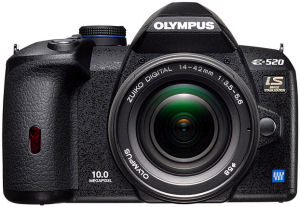 Olympus E520
10.0 effective megapixels (LiveMOS sensor)

Four Thirds system lens mount (2x crop factor)

Sensor-shift image stabilization

SuperSonic Wave Filter dust removal

2.7 inch HyperCrystal II LCD

Full manual controls with RAW mode and hotshoe

Shadow Adjustment Technology, wireless flash control and Perfect Shot Preview shows previews of shots with different settings

Live view with face detection; has 3 autofocus options: contrast detect AF (no mirror flipping), normal AF and a hybrid mode, which is a mix of contrast and normal AF

Shoots at 3.5 FPS in burst mode

Dual memory card slots: CF card (Type I and II) and xD-Picture card

Uses BLM-1 lithium-ion battery; takes up to 650 shots (CIPA Standard, live view turned off)

Available in July for $600 (body only) or $700 (with 14-42 mm kit lens)
Olympus also released their new 9-18 mm f4-5.6 ultra-wide zoom lens, equivalent to 18-36 mm on FourThirds cameras and will be available for $600 in the 3rd quarter of 2008.