DPInterface November 2006 News Archive
November 30th, 2006
Panasonic Lumix FZ50 review
And now, I have the Panasonic Lumix FZ50 review done together with the Panasonic FZ50 photo gallery available. Check them out now.
November 29th, 2006
Reviewed: Canon SD40 Digital ELPH
Even more reviews to come. But first, the Canon PowerShot SD40 Digital ELPH review and Canon SD40 Digital ELPH photo gallery. This camera is tiny stylish... but can it take the shooting conditions it's meant to handle?
November 24th, 2006
Natural light studio
I'm working on a setup to make DPInterface's camera shots in reviews less cluttered and so the cameras can be seen more clearly. Also is a constant subject for photo tests so cameras' image quality can be compared against one another. Expect to see these fully implemented very soon.
November 17th, 2006
Sony Cyber-shot T50 reviewed
It's another ultra-thin camera from Sony. This time, it's the Sony Cyber-shot T50 review along with the Sony T50 photo gallery.
November 16th, 2006
Nikon D40 is official
Nikon announced their latest entry-level digital SLR today, the D40.

Nikon D40
6.1 effective megapixels (CCD sensor), not from the D50/D70/D70s

Nikon lens mount (1.5x crop factor); no built-in motor so only AF-S/AF-I lenses can be used for autofocus

2.5 inch high-resolution LCD; no status panel

ISO sensitivity from ISO 200 to ISO 1600 (ISO 3200 with expansion)

Full manual controls plus scene modes

Shoots at 2.5 FPS up to 100 JPEG or 6 RAW/RAW+JPEG

3 point AF

Assist Images and Retouch features

Takes SD/SDHC cards

Uses a lithium-ion battery

Available in December for $599 with the 18 - 55 mm lens mentioned below
Nikon also released a new lens today, the D40's kit lens, which is the AF-S 18 - 55 mm f3.5 - f5.6 II. This lens has its own motor so autofocus is functional when used on the D40.
Nikon also released a new entry-level external flash unit, the SB400 Speedlight ($129) which can tilt up to 90 degrees and has a guide number of 20 m at ISO 100.
November 13th, 2006
Sony Cyber-shot T10 review
It's here: Check out my Sony Cyber-shot T10 review and Sony T10 photo gallery. This camera has a lot in common and a cross between the T9 and T30.
November 9th, 2006
Fujifilm FinePix Z5fd
Fujifilm released their third camera this year with their face detection feature, now in the latest ultra-compact camera.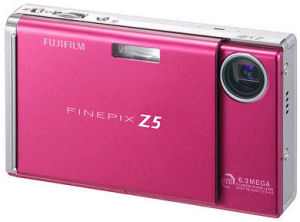 Fujifilm FinePix Z5fd
6 effective megapixels

36 - 108 mm (f3.5 - f4.2) 3X zoom lens

Face Detection technology

2.5 inch LCD

ISO sensitivity up to 1600

No manual controls

Unlimited VGA movies at 30 FPS with sound

Takes xD cards

Uses a lithium-ion battery

Available in January 2007 for a to-be-announced price
November 7th, 2006
Panasonic FX3 review
I've posted my review on the Panasonic Lumix FX3 as well as the Panasonic FX3 photo gallery. How did this small, low-priced camera perform? Find out after the links.
November 5th, 2006
Canon SD900 review
I've just published my review on the Canon PowerShot SD900 Ti Digital ELPH, which uses the same sensor found on the G7, as well as the Canon SD900 photo gallery.