EXCLUSIVE: In-depth review of the Canon PowerShot SX260 travel-zoom camera. This new 2012 Canon camera's highlights include a 20X optical zoom lens, GPS, better Smart Auto mode, new silent shooting mode and camera body redesign (for the better). Visit the Canon PowerShot SX260 HS photo gallery to view sample pictures taken using the camera.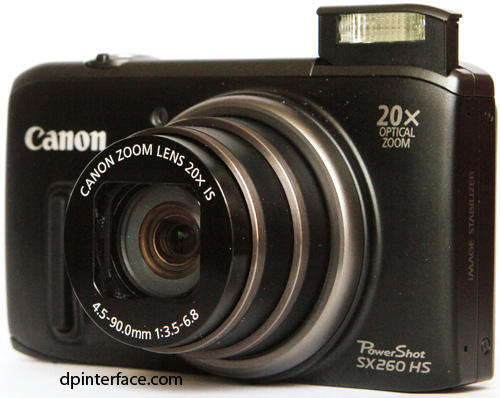 The Canon PowerShot SX260 HS is a new 2012 Canon compact super-zoom digital camera. The PowerShot SX260 HS represents a sizeable leap from last year's model, the PowerShot SX230 we reviewed, as the camera has received a complete redesign (for the better), there's a new 20X optical zoom lens (up from 14X on last year's model), better battery life, different 3 inch screen, addition of face recognition, improved Smart Auto mode, Discreet shooting mode and a new high-speed continuous shooting mode.
Some features carried over from the previous model include the 12 megapixel backlit CMOS image sensor, built-in GPS, scene modes and manual exposure controls with manual focus, scroll wheel for adjusting settings and Full HD movie mode. Is the Canon PowerShot SX260 the ultimate travel zoom digital camera for 2012?
The Canon PowerShot SX260 also has a European twin called the PowerShot SX240, which is essentially the same camera minus built-in GPS functionality. If you live in Europe and don't need GPS (read this review and decide if GPS is useful to you), then you can save a couple of Euros by going for the cheaper Canon PowerShot SX240 HS. And to clear things up, both the Canon PowerShot SX240 and SX260 will be available at the same time, so folks not living in America will benefit from the additional choice.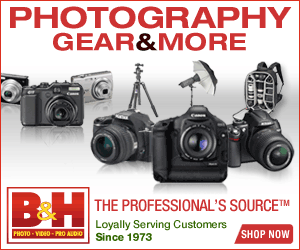 In the camera box
The Canon PowerShot SX260 comes with a decent bundle:
Canon PowerShot SX260 HS camera
NB-6L lithium-ion rechargeable battery
Standalone battery charger
Wrist strap
USB cable
Camera CD and digital user's manual
The Canon PowerShot SX260 HS supports SD, SDHC and SDXC memory cards and can perform faster with a high-speed card. I would recommend getting at least a high-speed 8 GB SDHC card for taking pictures, though you can always go for a larger 16 GB card if you plan on going on long trips with the camera or taking a lot of videos.
The Canon PowerShot SX260 comes with the slim NB-6L lithium-ion rechargeable battery used by some of Canon's other PowerShot cameras. The camera comes with a dedicated battery charger which is nice considering most camera makers nowadays have switched to USB charging. The good thing about having a dedicated battery charger is that you can leave a spare battery charging at home or in a hotel room while you bring the camera out with you to take pictures. The Canon PowerShot SX260 has a battery life rating of 230 shots per charge, up from 210 shots on the PowerShot SX230. Compared to other compact super-zoom cameras, that's still pretty average; you might consider getting a spare battery with the camera.
Accessories
There aren't many accessories available for the Canon PowerShot SX260. There's an optional AC adapter, A/V and HDMI cables, slave flash (it fires when it detects the camera's onboard flash firing) and underwater case that allows you to bring the camera down to 40 meters (120 feet) underwater.
Camera Tour
Canon PowerShot SX260 compared to the Google Galaxy Nexus
The Canon PowerShot SX260 HS is compact in size, measuring just 106.3 x 61.0 x 32.7 mm (4.2 x 2.4 x 1.3 inches) which is around the same size as its predecessor, the Canon SX230. The Canon SX260 isn't too hefty, coming in at 231 grams (8.1 ounces) when loaded with its battery and memory card. While its predecessors (the SX210 and SX230) had more curves and rounded corners in their designs, making them look and feel like a bar of soap, the Canon PowerShot SX260 has received a complete redesign with sharper edges but sleeker look.
The Canon PowerShot SX260 has good build quality and improved ergonomics over previous models. The Canon SX260 does away with the widescreen LCD in favor of a regular LCD (though size remains the same as before: 3 inches diagonally) which frees up room on the right side for larger buttons, the popup flash has finally been fixed to remain closed until it's actually needed (on older models, it used to popup automatically each time the camera was turned on) and the power button has been moved to a more accessible location on the top of the camera.
The Canon PowerShot SX260 HS comes in your choice of four colors: silver, black, red or green. This is, without a doubt, the black colored Canon SX260.
Despite being the same size as its predecessor, the Canon PowerShot SX260 manages to cram in a big 20X optical zoom lens in its pocketable form factor (versus just 14X on the previous model). The lens is equivalent to a very versatile 25 – 500 mm, which covers both ultra-wide angle and extreme close-up ranges. The aperture range of f3.5 – f6.8 is a little dark but a necessary compromise for covering such a big zoom range. The Canon PowerShot SX260 has optical image stabilization which helps reduce chances of taking blurry photos caused by camera shake; the camera also has Intelligent IS where the SX260 can automatically optimize image stabilization mode by detecting the direction of camera movement.
Near the lens of the PowerShot SX260 is the camera's autofocus assist light/self-timer count down lamp and to the upper right corner of the camera is the motorized popup flash. Unlike its predecessor, the popup flash on the PowerShot SX260 will only rise when needed or when you enable it via the flash setting button. Unfortunately, the flash is just same weak flash used in its predecessor, with a range of 50 cm to 3.5 meters (11 feet) at wide-angle and maximum reach of just 2 meters (6.6 feet) at full zoom.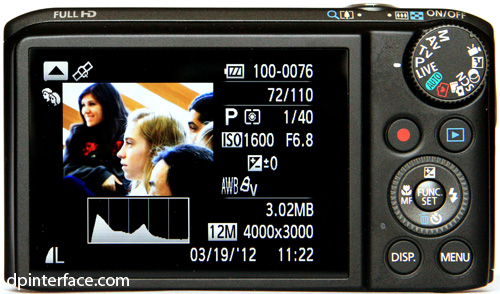 On the back of the Canon PowerShot SX260 is a 3 inch LCD display. The display is no longer a widescreen; instead it has a more commonly used 4:3 ratio which is beneficial when composing photos. The 3 inch display has the same resolution as before, 461,000 dots, which isn't very high compared to the competition which have displays nearing 1 million dots. Still, it's nice and sharp (again not as sharp as it could be with more resolution), and the screen has good visibility under bright light and low light.
Photo and Scene modes
Moving along to the right side of the camera, the shift away from widescreen has given Canon more room for larger buttons on the PowerShot SX260. At the upper right corner is the camera's mode dial which looks a lot cleaner compared to previous models. There are the usual exposure control modes: Program mode, manual mode, aperture and shutter priority modes; along with quick access to Auto, Easy mode, movie digest, scene modes, Creative Filters, movie mode and the new Live View Control and Discreet modes. There is no bulb mode on the Canon SX260. The camera has a rather limited selectable aperture range of f3.5/f6.8 to f8.0 (this means you only get two aperture choices towards the maximum end of zoom) and shutter speed range of 1/3200 – 15 seconds.
New Live View Control and Discreet modes on the PowerShot SX260
The Canon PowerShot SX260 has two new shooting modes on its mode dial. The first of which is Live View Control which is aimed at beginners and takes the confusion out of adjusting exposure, color and white balance by replacing those three terms with simplified and more comprehensible words: dark/light pictures, neutral/vivid colors and cool/warm color cast. The other new mode is Discreet mode which is useful when taking photos at plays and concerts, museums and other similar places; the camera automatically disables beeps and sound and prevents the flash from being used while shooting.
The Canon PowerShot SX260 has Creative Filters that we've seen on other Canon cameras (you can learn more about the filters in this comprehensive article we've written. There's also Movie Digest that takes brief video clips with each picture and combines them into a single movie at the end of the day.
Some notable shooting modes hidden in the Canon PowerShot SX260's scene mode section include:
High speed burst HQ: The Canon SX260 can take 10 photos quickly at 10 frames per second, though live view becomes unavailable and focus is fixed at this time
Handheld night scene: The SX260 takes a few photos in a row and combines them into one image to reduce blur
Smart Shutter: Various triggers for the camera to automatically start taking photos/activating self-timer countdown; choose from smile, face and wink detection
Controls and navigation pad
There is a cluster of four buttons surrounding the navigation pad and they are: the movie start/stop and playback buttons, and display and menu buttons (for toggling on-screen information and accessing the camera's menu respectively).
At the center of all the action is the camera's five-way navigation pad which is surrounded by a scroll wheel. The scroll wheel comes in handy when adjusting camera settings, moving through menu items and photos in playback; it also has nice tactile clicks and there's no way you'll bump it unintentionally. As usual there are camera functions that you can access directly via the navigation pad:
Up – Exposure compensation (+/- 2EV in 1/3 step increments)
Down – Self-timer mode (Off, 10 or 2 seconds, custom timer)
Left – Focus mode (Auto, macro, manual focus)
Right – Flash setting (Auto, on, off, slow sync; redeye reduction and other flash settings available in menu)
Center – Function menu/Set
Manual focus and macro mode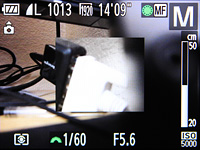 Manual focus with center enlargement (screenshot from PowerShot G1X review)
The Canon PowerShot SX260 has a manual focus mode which allows you to manually focus using the scroll wheel around the navigation pad. A distance scale and center frame zoom appear in manual focus mode to help you to adjust focus.
The Canon PowerShot SX260 HS also has a pretty good macro mode that lets you go as close as 5 cm (2 inches) to your subject at wide-angle and a minimum of 1 meter (3 feet) at maximum zoom.
Taking pictures
Live view on the Canon PowerShot SX260
The Canon PowerShot SX260 shows plenty of information on its live view display. There's exposure and shooting information along with zoom and battery indicators. There are also optional 3:2 ratio guide and framing gridlines that you can enable. The only thing that's missing is a live histogram.
Function menu on the Canon PowerShot SX260
The Canon PowerShot SX260 has Canon's standard flashy Function menu which contains a list of camera settings available for you to adjust. These settings include metering mode, My Colors (you can adjust sharpness, color saturation, contrast and skin tones or choose from several presets), white balance (there is custom white balance available, but no white balance tuning unlike the more advanced PowerShot G1X we reviewed recently), ISO setting, flash exposure compensation and more. You can also enable/disable GPS functionality from this menu.
The Canon PowerShot SX260 has a main menu where you can adjust more advanced camera settings and various other things such as continuous focusing, focus tracking (called Servo AF), flash settings, iContrast (for improving brightness and image contrast), date stamp for photos and more.
New to the Canon PowerShot SX260 is the availability of face recognition technology (called Face ID) which allows you to store up to 12 faces along with their associated names and ages; the camera will give them priority when taking pictures and adjust settings according to the age of your subjects (example: automatically disabling flash for baby pictures and enabling focus tracking for moving children). You can also search for images by who's in them later on in playback mode.
GPS functionality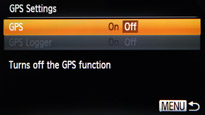 Just like the camera before it, the Canon PowerShot SX260 has built-in GPS functionality that can record the location of your photos as you take them. The camera's main GPS settings are located in the Setup section of the menu where there are options to enable/disable it as well as toggle the GPS Logger feature which updates the location of the PowerShot SX260 from time to time so you don't need to wait as long to acquire a signal.
The camera still lacks a landmark or location database, which competing cameras from Fujifilm and Panasonic have, that give places a name when you take pictures (you get just location coordinates/numbers with the Canon SX260). And just like your phone, GPS works most effectively in open spaces and outdoors; it might be difficult (sometimes impossible) for the camera to get accurate location data when used indoors.
At the top of the Canon PowerShot SX260, you'll find a pair of microphones used for recording stereo sound with the camera, holes for the speaker, shutter button with zoom controller wrapped around it and to the very edge, a power button for turning the camera on/off. The location of the power button is slightly unusual since it's usually placed on the other side of the shutter button, but that's not a big issue and you'll get used to it over time.
You can also spot the addition of a raised rubber-coated 'grip' of sorts which gives you something to hold onto when using the camera; versus the completely smooth surface of the cameras before the PowerShot SX260.
On one side of the Canon PowerShot SX260, you'll find two connectivity ports (for USB + A/V out and HDMI respectively) hidden under a rubber cover and a wrist strap loop. The other side of the camera is blank. You can also see the camera's lens at maximum zoom position in this photo.
At the bottom of the camera is the battery and memory card compartment, covered by a fairly sturdy door. There's a metal tripod mount on the Canon SX260 which is obstructed here by the open compartment door.
Video Recording
The Canon PowerShot SX260 has a Full HD movie mode that can record 1080p videos with stereo sound and optical zoom. There are three movie sizes to choose from but you cannot choose your own frame rates; which may be an annoyance to some folks may think that 24 frames per second is a little choppy but recording at a smoother 30 FPS requires you to lower movie size to Standard HD (720p):
Setting
Video resolution
Frame rate
Full HD 1080p
1920 x 1080
24 FPS
Standard HD 720p
1280 x 720
30 FPS
As usual, there's a limit of 4 GB or 30 minutes per video file, whichever comes first. You will reach the 4 GB limit in 14 minutes when recording in Full HD or in 20 minutes when recording at Standard HD resolution. The Canon PowerShot SX260 allows you to use optical zoom, continuous autofocus and optical image stabilization; there's also a wind filter setting inside the camera menu.
The Canon PowerShot SX260 has high-speed, slow motion movie options where you can record at VGA (640 x 480) videos at 120 FPS or QVGA (320 x 240) at a whopping 240 FPS. The camera then plays them back at 30 FPS, which is 4 to 8 times slower than when they were recorded; this gives videos a 'slow motion' effect. Sound is not recorded when using high-speed movie mode. Canon has also wisely moved the option for High-speed video mode to a more accessible location alongside other movie resolutions, instead of it being hidden in the Scene modes section on previous cameras.
Here are two sample videos taken using the Canon PowerShot SX260 HS:
Performance
Performance testing of the Canon PowerShot SX260 HS was done using a high-speed 45 MB/s Sandisk Extreme Pro SDHC card.
Good light
0.2 to 0.6 seconds
Average
Low light
0.4 to 1.5 seconds
Average
Shot-to-shot
2.0 seconds
Average
The Canon PowerShot SX260 HS is performs decently in terms of speed. The camera's autofocus is accurate but speeds are just average, not sluggish but its competitor do outpace it. However, the Canon PowerShot SX260 does address the continuous shooting rants we had on last year's model. While the old camera could only shoot at one speed at full and reduced resolution respectively, the Canon PowerShot SX260 HS offers a multitude of continuous shooting modes and speeds.
The 'standard' continuous shooting mode on the Canon PowerShot SX260 can take full resolution (12 megapixel) photos at 2 FPS until the memory card fills up, while the High-speed Burst HQ mode, hidden in the Scene modes section of the camera, allows you to take 10 full-resolution photos at a whopping 10 FPS. The camera also has continuous live view and continuous focus modes, which allow you to view live view and let the camera refocus between photos respectively. Both modes shoot at a steady but slow 1 photo every 1.3 seconds (0.8 FPS) until the memory card fills up.
Image Quality
ISO 100
ISO 200
ISO 400
ISO 800
ISO 1600
ISO 3200
The Canon PowerShot SX260 HS produces generally clean and detailed photos at lower ISO settings, ISO 100 and 200, with little degradation at ISO 400. Colors are nicely saturated and sharpness is good. Photos don't become noisier at ISO 800, but instead, we see a slightly loss in detail as a result of noise reduction (notice the textured surface of our test chart disappearing in this crop?). However, it isn't too bad and the camera still retains some finer detail (See the squirrel photo in our photo gallery). Photos can still be used for large prints and display.
Photos become soft and slightly muddy at ISO 1600 with a minor drop in saturation. You might want to drop uses of photos taken at this setting to medium prints and display. At ISO 3200, details drop even more as photos become softer and noisier. However, you could still use ISO 3200 as a back up setting for small prints.
For a camera with an insanely ambitious zoom range of 20X optical zoom, the Canon PowerShot SX260 performs surprisingly well in terms of lens characteristics. There's good edge sharpness which is definitely above average and lens distortion levels are low. Color fringing (chromatic aberration) levels depend on the scene you're shooting; it's generally a non-issue for most picture-taking situations until there's a high-contrast scene with bright lighting, which usually happens outdoors. In such scenes, color fringing appearance can vary from subtle to prominent, so that's something to look out for (you can remove color fringing later on by processing photos on your computer, via software like Photoshop).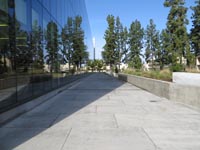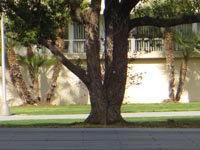 Left to right: 1X, 20X optical zoom and 39X with digital zoom
Overall image quality of the Canon PowerShot SX260 is above average and very good for a travel-zoom camera. View full sized images of the photos above and more in the Canon PowerShot SX260 photo gallery!
Photo gallery
Visit the Canon PowerShot SX260 HS photo gallery to examine photos taken using the camera.
Playback
The Canon PowerShot SX260 HS has a nice playback mode with fancy slideshow options, image resize, cropping, protection and print marking. There are things like Smart Shuffle (displays 4 related, but actually random, photos to navigate to) and Photobook creation to spice things up; you can also tweak My Colors settings, iContrast (brightness and contrast) and digitally remove redeye.
However, there isn't any movie editing functions on the camera other than the ability to trim the start/end of movies. You can also sort photos by category or faces in them (if you have Face ID set up).
The Canon PowerShot SX260 tells you everything you need to know about your photos, down to exposure information, shooting details, a brightness histogram and GPS location coordinates. Again, I wished they would have some actual location names and landmarks on places, but I guess that will have to wait till the Canon PowerShot SX270!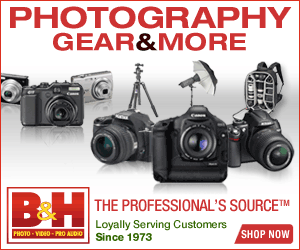 Conclusion
The Canon PowerShot SX260 HS (along with its GPS-lacking twin, the PowerShot SX240) represents a sizeable change over the compact travel-zoom models that Canon had in the past. Chief among these changes is the new 20X optical zoom lens that spans an incredible 25 – 500 mm and is equipped with optical image stabilization. It also displays great lens characteristics, as our image quality tests proved, with low lens distortion, very good (surprise!) edge sharpness and color fringing that only becomes an issue in very bright and contrasty scenes. The camera also performs respectably in other aspects of image quality with competitive noise characteristics and good detail levels.
If you've read our review of last year's model, it would appear that Canon noted most of the rants we had and corrected them in the PowerShot SX260. The Canon SX260 has received a design overhaul which fixes just about all the design annoyances of the previous model; though we'll note that the camera is in need of a more powerful flash. The usefulness of the GPS feature on the PowerShot SX260 is still questionable since it only shows a bunch of numbers, location coordinates, of where photos were taken; while competitors from Fujifilm and Panasonic can actually name the places. For our readers living everywhere around the world except America, you can choose to save some money and get the PowerShot SX240 which is the same camera minus the GPS feature.
Manual controls remain the same (you get your usual P/A/S/M shooting modes) and the PowerShot SX260 carries over the scroll wheel found on Canon's other models, which is useful when scrolling through lists, photos and manual settings. The camera has received some improvements in its Smart Auto mode where the camera can identify and pick out the appropriate shooting settings for more photo situations. There's also Face Recognition which influences camera settings based on the age of your subjects; you can later on pick out photos with familiar faces for playback.
The PowerShot SX260 still lacks automatic panorama stitching, which isn't an issue for those willing to use their computers for processing panoramas, but the feature is still very convenient for casual users and even photography enthusiasts who want to capture a quick and easy wide panorama. And call us pampered from recently reviewing the high-endCanon PowerShot G1X, but we wished the PowerShot SX260 also had HDR and dynamic range boost options like that camera.
The Canon PowerShot SX260 HS maintains the good (though not class-leading yet) performance of its predecessor and throws in a range of new continuous shooting options to make everyone happy. Choose from unlimited burst at 2 FPS or high-speed at 10 FPS, or have the camera refocus between shots at a little under 1 FPS. The camera's movie mode tops out at a familiar 1080p Full HD, 24 FPS like Canon's other PowerShot models… and we're still wishing for the ability to record Full HD at 30 FPS and some frame rate options.
We really like the Canon PowerShot SX260 HS and will definitely recommend it to everyone who wants a nice and small camera which possesses a versatile zoom range and set of features for travelling and bringing everywhere. The PowerShot SX260 isn't perfect but it surely is close; the very minor annoyances we've mentioned shouldn't be an issue to a large majority of camera users.
What's hot:
Very good image quality; surprisingly good lens quality
New design is much better: popup flash only comes up when needed, standard 4:3 ratio LCD, bigger buttons, small raised bump on the front for better grip
Scroll wheel is useful for adjusting settings, built-in GPS (though it only shows location coordinates), good LCD visibility
Full manual controls with manual focus and custom white balance
Good performance; improved continuous shooting now gives you different burst speeds/options to suit your needs
Lots of scene modes, Smart Auto for beginners, face recognition and Creative Filters
Nice playback mode with ability to playback photos by face/person
Full HD movie mode with stereo sound, wind-filter, optical zoom, image stabilization and continuous autofocus
Optional underwater case and external slave flash
What's not:
Better battery life would have been nice
LCD resolution could be higher and autofocus performance is just 'average'
Weak flash
No automatic panorama mode, no HDR or dynamic range boost option
Limited GPS usefulness; no GPS location names/landmark database
No frame rate choices in movie mode; 30 FPS smoothness only available with Standard HD or lower