Here's my review of the Canon PowerShot SD990 IS Digital ELPH aka Digital IXUS 980 IS; a sleek little camera which packs a massive 14.7 megapixels of resolution, a full manual mode and lots of other features. Oh, and be sure to check out the Canon SD990 Digital ELPH/Digital IXUS 980 IS photo gallery too. Hit the link for the full review of the camera.
DPInterface Canon PowerShot SD990 IS Digital ELPH/Digital IXUS 980 IS Review
Brad Soo – November 27th, 2008 (Updated November 28th, 2008)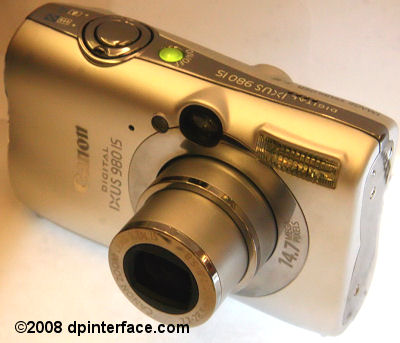 Dude, the megapixel race isn't over yet! Introducing the new 'ultimate' Digital ELPH, the SD990 IS… with 14.7 megapixels. So now you can have even bigger prints and more cropping headroom for photos. The SD990 IS Digital ELPH is also the first ever Digital ELPH to (finally) feature manual controls and a professional looking all-black design. Among the other new features, you also get Canon's latest processor just introduced in fall this year - DIGIC 4, iContrast (it brightens up photos), a re-introduced Quick Shot mode and a live histogram.
Right, now pick up that jaw and we'll find out if this drool-worthy compact camera is for you!
The Canon PowerShot SD990 IS Digital ELPH is also known as the Canon Digital IXUS 980 IS in other parts of the world. For the sake of consistency, I'll be using the SD990 IS name throughout this review.
Size and Weight
(186.8) 96.7 x 62.2 x 27.9 mm (160 g) - Canon PowerShot SD990 IS Digital ELPH
(174.6) 92.5 x 59.2 x 22.9 mm (163 g) - Fujifilm FinePix F60fd
(192.8) 89.5 x 64.3 x 39.0 mm (164 g) - Kodak EasyShare Z1485 IS
(163.0) 90.0 x 55.0 x 18.0 mm (145 g) – Nikon Coolpix S710
(175.5) 96.7 x 54.0 x 24.8 mm (151 g) - Panasonic Lumix FX150
(174.3) 94.9 x 59.5 x 19.9 mm (138 g) – Samsung TL34HD
(180.1) 94.3 x 59.0 x 26.8 mm (156 g) - Sony Cyber-shot W300
All the weight figures above show when the camera is empty without a battery or memory card
In terms of size, the SD990 IS is a little larger than all those tiny Digital ELPH models you've been seeing out there. But we're talking a couple of millimeters here; the SD990 IS Digital ELPH is still compact for a digital camera and it definitely fits in pockets.
There's already some competition which also pack close to 15 megapixels; namely the cameras from Nikon, Panasonic and Samsung. And the Canon SD990 IS is both larger and heavier than its three direct competitors. The Kodak EasyShare in the list above is also 14+ megapixels but considering its size, it's more suited for a camera bag or carrying case, rather than your pocket.
Box packaging
The Canon PowerShot SD990 IS Digital ELPH has your average digital camera box contents – no surprises here:
Rechargeable lithium-ion battery (NB-5L)
Battery charger
32 MB SD memory card
Wrist strap
USB and A/V cables
Camera software CD
User's manual
The Canon SD990 IS comes bundled with a 32 MB Secure Digital memory card which is laughable for a 14.7 megapixel camera; a pretty mean joke at that. At most, that 32 MB card fits seven 'fine' or just FOUR 'superfine' images. You'd need to buy a larger memory card with the camera right away.
The PowerShot SD990 IS supports SD, SDHC (SD cards which are 4 GB and above) and MMC (typically slower than SDs) memory cards. I would recommend starting out with a 2 GB SD card, and if you're the kind of person who takes lots of pictures and movie clips, it would be even better if you opted for a 4 GB or 8 GB SDHC – hey, memory is cheap nowadays and a larger card means you'll have to worry less about running out of memory when out and about.
The Canon SD990 IS also takes advantage of high-speed memory cards so you may want to pick one up for better camera performance (60X to 80X speed is the sweet spot, anything higher would be an overkill. I did notice a decrease in writing times and faster shot-to-shot speeds when using my SanDisk Ultra II (90X) SDHC card with the camera.
The SD990 IS uses the NB-5L rechargeable lithium-ion battery shared by some other Digital ELPH models, and it also comes with a charger. The camera is rated to 280 shots (LCD on) or 700 shots (LCD off) per battery charge.

280 shots - Canon PowerShot SD990 IS Digital ELPH
230 shots - Fujifilm FinePix F60fd
250 shots - Kodak EasyShare Z1485 IS
250 shots – Nikon Coolpix S710
330 shots - Panasonic Lumix FX150
200 shots – Samsung TL34HD
300 shots - Sony Cyber-shot W300
All the cameras above are rated with rechargeable batteries according to CIPA Standard
Here's the battery life comparison of the current high resolution compact cameras in the market. The Canon SD990 IS Digital ELPH's 280 shots per charge is about 10% above average in the group above. The SD990 IS is also one of the few compact cameras out there with an optical viewfinder. Hence you can extend battery life by almost three-fold to 700 shots per battery charge, if you turn the LCD off and use the optical viewfinder instead.
Accessories
There are several optional accessories available for the Canon SD990 Digital ELPH, including an AC adapter, waterproof case, slave flash and various camera cases, but no conversion lenses or filters to be found on such a small camera, folks.
Camera Tour
The Canon PowerShot SD990 IS Digital ELPH looks a whole lot like its high end Digital ELPH predecessors from top to bottom, back to front, with its 'perpetual curve' design, mini-mode dial on the back and optical viewfinder. There are some subtle changes to the design here compared to last year's 10 megapixel model but nothing too drastic: a rear command dial and 'more curves' which supposedly make the camera easier to grasp onto.
Ergonomics wise, the SD990 IS is easy to handle and the control layout remains similar (as good as) previous models. Your right thumb goes above the mode dial – which is stiff enough to not be accidentally bumped, and the left side has no controls for your hand to accidentally bump. I did find the rear command dial on the loose-side and it lacks pronounced 'clicks' when you turn it. Build quality is good, the camera feels very solid and the materials used here are fairly top-notch, including that metal tripod mount.
The Canon SD990 Digital ELPH comes in your choice of either silver or black. I got the silver one but I got a glimpse of the black one, and it looks quite stylish and professional.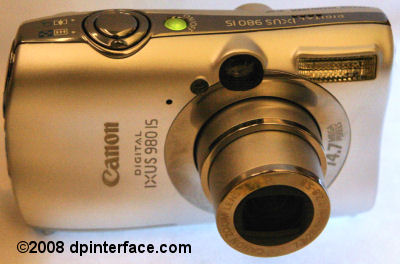 Let's have a look at the front of the SD990 IS Digital ELPH now. At first sight, you would have thought someone dropped some heavy equipment on the camera and now it's deformed. But no, the subtle bumps and dents are just part of the design to make the SD990 easier to hold – notice how one side of the camera is sorta 'dented' where your last three fingers would go, and the top of the camera being ridged towards the center.
So, back to the camera tour: first we have the Canon SD990's extending 3.7X optical zoom lens. The lens is equivalent to 36 – 133 mm, which is lacking in the wide-angle department. In fact, the competition, other 14.7 megapixel cameras, have lenses which start at 28 mm. The lens aperture range is f2.8 – f5.8, a tad slow on the telephoto end. It also has optical image stabilization which helps reduce motion blur caused by shaky hands.
Then we can go on to the camera's built-in flash on the top right; just be sure to not block it when holding the camera. The flash is fairly powerful at wide-angle with a range of 50 cm to 4.6 m at wide-angle but it drops to a just average 2.4 m at telephoto; both at Auto ISO.
Beside the Canon SD990's flash is the optical viewfinder window and the smaller circle beside it, being the camera's autofocus assist lamp which, like the name says, helps the camera to focus in low-light. The little hole to the upper left of the SD990 Digital ELPH's lens the microphone.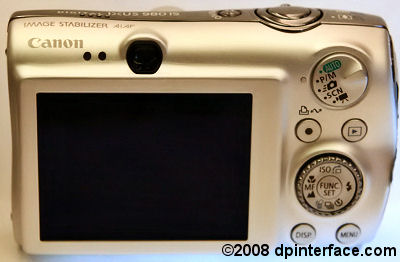 Alright, nice, now we'll go to the back of the Canon PowerShot SD990 Digital ELPH, where we'll find the camera's 2.5 inch PureColor II LCD. With 230,000 pixels, the screen is fairly sharp, and it brightens nicely in low-light and is viewable outdoors too. Compared to its 14.7 megapixel competitors, the Canon SD990 IS Digital ELPH has the smallest LCD (the others have either 2.7 inch or 3 inch displays), but the only one with an optical viewfinder.
Speaking of optical viewfinder, you'll find one above the LCD screen. Beside it are two indicator lamps which indicate focus and the camera's processing activity. Very few compact cameras nowadays have one, in fact I believe the SD990 is the only camera this size which has a viewfinder (other cameras are bigger; ie Canon's own PowerShot G10 or Nikon's P6000 'prosumer' cameras).
The presence of the viewfinder is another debatable issue by itself. On one hand, it's useful to conserve power to extend battery life, holding the camera up to your eye (versus an arm's length when using the LCD) is steadier and shooting becomes more discrete. On the other hand, the viewfinder here is nowhere close to one you'll find on a digital SLR – it's small and doesn't have full coverage of the frame you're shooting. Personally, I'm not picky about viewfinders on compact cameras – if it's there, I'll use it; if not, I'm alright with using the LCD.
There's a semi mode dial on the top right of the SD990 IS and it has five spots on it:
Automatic
Program/Manual mode – All the menus are unlocked, and you get full control over shutter speed and aperture, as well as flash power in Manual mode
Quick Shot mode – More on this in a moment
Scene modes
Movie mode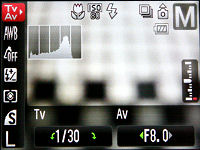 The SD990 Digital ELPH's manual mode
The Canon PowerShot SD990 is the first ever (and currently the only) Digital ELPH model to feature a full manual mode. Yes, that means you get full control over both shutter speed (1/1600 to 15 seconds) and aperture. You'll have to adjust them both at once though, since there are no aperture or shutter priority modes here. You also get to control flash exposure/power output.
The Quick Shot name isn't exactly new to neither Canon cameras nor the Digital ELPH line. The feature made its appearance on several Digital ELPH cameras back in 2003-2004 (I remember because I owned a Canon S500 Digital ELPH back then) before it mysteriously disappeared on later models. Now it's back again on the SD990 IS – though implemented a little differently, the main purpose of the feature remains the same.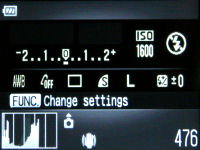 Quick Shot settings screen on the SD990 Digital ELPH
Based on the name of the feature, you'd probably have guessed that Quick Shot somehow tries to quickly take pictures. And that's exactly what it does. In Quick Shot mode, the camera's live view on the LCD is switched off and you'll have to use the viewfinder to take pictures – this reduces the lag time between the preview on the LCD and when the picture is taken – and continuous autofocus is activated as well. You also get a VERY digital SLR-like screen to adjust the camera's settings. Does Quick Shot really work? Based on my time with the SD990 IS Digital ELPH, yes it does, and I found myself using this feature more often than I thought I would (mostly for candid shots or taking a few snapshots when I come across anything interesting). The Quick Shot feature is certainly more useful than it sounds.
Below the mode dial, you'll find the SD990's print button (which can also be assigned as a shortcut button to a shooting function) and direct playback button.
That's followed by the camera's five-way controller with the rotary command wheel around it:
Up – ISO (Auto, Auto high, 80, 100, 200, 400, 800, 1600)/Playback jump
Down – Drive mode (Single shot, continuous, face self-timer, self-timer)
Left - Focus mode (Normal, macro, landscape, manual focus)
Right - Flash setting (Auto, on, off; red-eye reduction and slow sync are turned on/off in the menu)
Center – Function menu/Set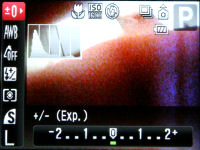 The function menu
The command dial around the five-way navigation is used to adjust settings such as shutter speed and manual focus, navigate menus and browse photos. The function menu contains several settings that can be changed:
Exposure compensation (+/-2 EV in 1/3 steps)/manual exposure (adjust shutter speed and aperture)
White balance (Auto, daylight, cloudy, tungsten, fluorescent, fluorescent H, custom)
My Colors (Normal, vivid, vivid [blue/green/red], neutral, sepia, black & white, positive film, lighter/darker skin tone, custom)
Flash exposure compensation (+/-2 EV in 1/3 steps)/flash output (1/3, 2/3, full power)
Metering method (Evaluative, center-weighted, spot)
Image size and compression
The custom option in the My Colors/Photo Effects area enables you to manually tweak contrast, saturation, sharpness and individual red, green, blue and skin tone levels; all up to +/- 2 in 1 step increments)
Lastly, we have the DISPlay and MENU buttons. The former toggles the information being displayed on-screen while the latter brings up the camera menu.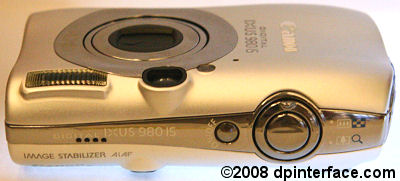 At the top of the Canon SD990 IS, you will find the camera's speaker, power button (which glows bright yellow when the camera is on) and shutter button. There's a zoom controller wrapped around the shutter button. This angle shows the SD990's bumpy-curvy design nicely too!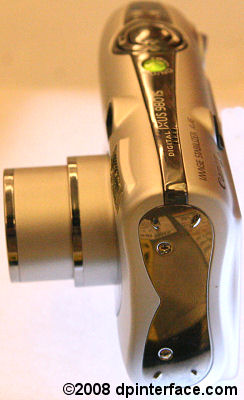 This side of the Canon SD990 IS is blank. You can see the power button glowing yellow over here and the camera's lens which extends when it's turned on.
The other side of the camera features a single mini-B jack under a cover which is used for the A/V out and USB 2.0 High-speed connectivity.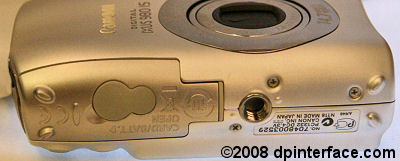 We're gonna end our tour of the SD990 with a view of the bottom of the camera, where you'll see the battery/memory card compartment under a sturdy, hinged door and a metal tripod mount.
Taking pictures (Shooting mode)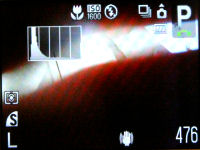 The Canon PowerShot SD990 IS Digital ELPH tells you a lot on its display when taking pictures. The information shown includes exposure information, camera settings, a simple battery indicator and there's even a live histogram (that's a first for a Digital ELPH camera). The only thing that the camera lacks is a zoom indicator but I doubt many people would mind, since there are very few zoom steps in between.
The SD990 IS Digital ELPH has several image resolutions for you to select from, including full 14.7 MP, 9 MP, 5 MP, 2 MP, VGA and widescreen. There are also three image compression modes here: Superfine, Fine and Standard… I'd recommend choosing Fine, which is a good compromise, since SuperFine file sizes are a bit large while Standard compresses pictures noticeably. A 4 GB memory card will hold around 1,000 full-res Fine, 14.7 megapixel pictures.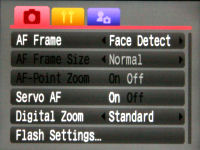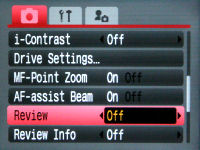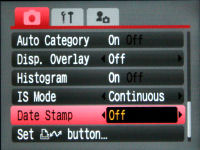 Most of the camera's main settings can be adjusted via the Function menu I described in the previous section, but now let's head on to the other settings in the camera's main menu:
Autofocus mode (Face detection, 9 point AF, center AF)
AF point size (Normal, small) – Choose how size of the camera's focusing point area
AF/MF point zoom – magnify the area the camera focused on
Servo AF – Turning this on will make the camera focus continuously; turn it off and the camera only auto focuses when you half-press the shutter button
Digital zoom – you should keep this turned off, it lowers picture quality
Flash settings – turn red-eye reduction and slow sync
iContrast – see below
Drive settings
AF assist beam
Review – This option decides whether the camera will show the image on the LCD screen right after the picture is taken
Review info
Auto category – the camera attempts to organize your photos into categories automatically
Display overlay
Histogram – Activate the live histogram display
IS Mode – Off, Continuous, Shoot-only
Date stamp (Date, date and time)
Set print button – customize what this button does in shooting mode; you can assign it as a shortcut to a shooting function
The Canon PowerShot SD990 IS Digital ELPH has a new iContrast feature – which is a fancy name for a feature which attempts to brighten up dark areas in your photos – and it has several levels you can choose from (Off, auto, low, medium, high). I found it only effective in certain situations; here's a little demonstration on the effects of iContrast:

iContrast off

Left: iContrast Auto; Right: iContrast Low

Left: iContrast Medium; Right: iContrast High
The SD990 IS Digital ELPH also has a Face Self-timer function which works in conjunction with the camera's face detection technology. Basically, in this mode, the camera will watch the scene until an 'extra face' is detected, then start counting down to take up to 10 pictures in a row.
For a compact camera with a full manual mode, the SD990 IS Digital ELPH also has its share of numerous scene modes, which include portrait, foliage, snow, beach, sunset, fireworks, aquarium, underwater, ISO 3200, indoor, kids & pets, night snapshot, color accent, color swap and stitch assist. The Canon PowerShot SD990's face detection feature is able to work in just about any shooting mode. The camera's macro mode enables you to go as close as 5 cm to a subject at wide-angle. If you select the Digital Macro scene mode, it can do the same thing with the exception you can use digital zoom to go even closer.
Video Recording
For the flagship Canon Digital ELPH, the SD990 IS has a pretty ordinary VGA movie mode with sound. The SD990 IS Digital ELPH is able to record VGA (640 X 480) movies with sound at 30 FPS and only has one option to extend recording time: that is to lower resolution to QVGA (320 X 240) at 30 FPS. There's a limit of up to 4 GB or 60 minutes, whichever comes first, per movie clip. So you can have two 4 GB movies on an 8 GB card, instead of a single massive one.
Speaking of recording time, the amount of movies you can record has increased by about 55% compared to previous Canon cameras thanks to the new H.264 recording codec, compared to AVI MJPEG on cameras dating back to 2003! A 4 GB memory card holds around 48 minutes of video at VGA/30 FPS.
You can record movies using the color accent and color swap features I mentioned above as well as change most of the settings in the function menu. Exposure is automatically adjusted while recording movies and you cannot use optical zoom. You can, however, use the 4X digital zoom on the camera.
Movie quality was good – there was a little "smooth" look to videos sometimes but I doubt many people would mind - and sound quality was decent as well. Well, it's winter 2008, and almost 2009… and I would really expect a higher resolution movie mode on a premium compact camera like this one (some cheaper cameras are already offering 720p recording, so why not?)
Performance
All performance testing of the Canon PowerShot SD990 IS Digital ELPH was performed using a high-speed 4 GB SanDisk Ultra II SDHC (90X) card.
The Canon PowerShot SD990 IS Digital ELPH has a very quick start up time of one second – that includes the time taken to extend the lens! Auto focusing is very fast too; it takes around 1/6 to 1/3 second to focus and though it takes a little longer, up to a second to focus in low-light, the camera had no problem locking focus. Response time using manual focus or focus locked was instantaneous.
Quick Shot mode was very responsive too, since autofocus is continuously operating and using the optical viewfinder makes "LCD preview lag" just about non-existent, taking a picture in this mode was very speedy.
Shot-to-shot speed - 1 shot every 1.8 seconds, very fast and above average
Flash recharge time using a fully charged battery - 4 seconds on average
The SD990 IS Digital ELPH also has a nice continuous shooting mode which constantly shoots at 1.4 frames per second without stopping, until the memory card fills up. You'll probably need a high-speed card for this, which is why I recommended getting one at the beginning of the review.
The camera's lens moves from wide-angle to telephoto in under 1.4 seconds. The zoom mechanism may be fast but there are few steps in between and the motor sound is audible.
I'm really impressed with the Canon PowerShot SD990 IS Digital ELPH's performance. Response time is great, and the camera takes pictures and operates quickly. In fact, if not for the indicator light, you wouldn't even know the camera was crunching those huge 14.7 megapixel files quickly in the background.
Image Quality
Yes, it's the moment of truth; let's check out how the Canon PowerShot SD990 IS Digital ELPH performs in terms of image quality:


ISO 80 (f2.8, 1/8 sec)


ISO 100 (f2.8, 1/10 sec)


ISO 200 (f2.8, 1/20 sec)

ISO 400 (f2.8, 1/40 sec)

ISO 800 (f2.8, 1/80 sec)


ISO 1600 (f2.8, 1/160 sec)
The Canon PowerShot SD990 IS Digital ELPH has fairly low noise at ISO 80 and ISO 100. There's a slight increase in noise at ISO 200 and again at ISO 400, but not as much as you'd have expected for a 15 megapixel camera.
ISO 800 is where you'll see quite a bit more noise, but with a little cleaning up using Photoshop, I don't see why you couldn't squeeze a small print or display out of this. Cleaning up is effective if you shot the photo with at least some light – it doesn't work very well in photos shot in pitch black conditions or night shots. At ISO 1600, photo quality becomes unacceptable and not useful for anything.
The SD990's lens performs quite well with little barrel and pincushion distortion. There was also not much vignetting (dark corners) to be found and in most cases, very low amounts of chromatic aberration (color fringing). It's only in the most extreme of cases that you will find that color fringing is noticeable.
By default, the SD990 Digital ELPH performs a very effective 2 step red-eye reduction process when you use the "Redeye reduction" flash mode. First there's the red-eye reduction lamp and after the shot is taken, the camera looks for redeye and automatically removes it. If any cases of redeye manage to slip through that (which, with the effectiveness of the system, is rare), you can manually pin-point the location of the redeye in playback mode and remove it there.
Overall the SD990 IS Digital ELPH takes pictures very well. Colors were accurate, pictures were sharp with low noise till the ISO 400/800 range and the camera's redeye removal features were very effective. Depending on your personal preference, you may want to stick to ISO 400 at max for regular shooting, but don't be afraid to use ISO 800 in some cases (Post processing will clean it up nicely).
Photo gallery
Take a look at full-sized photos taken by the Canon PowerShot SD990 IS Digital ELPH aka Digital IXUS 980 IS in the photo gallery.
Playback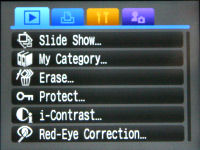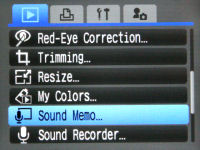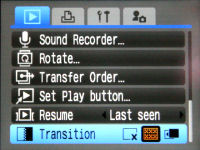 The Canon PowerShot SD990 IS Digital ELPH has a comprehensive yet ordinary playback mode. You can browse through pictures (complete with transition effects) and play back video with sound. All the basic playback functions such as print marking, slideshows, voice clip attachment, image resizing, trimming and rotation are all here. You can magnify still photos by 10X and pan around using the 4 navigational buttons.
Pictures can be played back as individual photos, in sets of nine thumbnails or by category. You can also use the JUMP feature to skip several photos at a time or to 'jump' right to a specific shooting date… not as convenient as the calendar view but it works.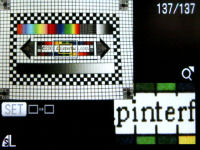 An Image Inspection mode (shown above) is activated when you press the DISPlay button. It magnifies the focus point of the photo so you can check if the picture is in focus. You can also apply My Colors (photo effect) and iContrast to photos as well as manually remove red-eye.
There are many ways you can delete photos as well. You can delete single images or select multiple pictures, choose by date, category or folder for deletion as well. As for movies, you are able to "cut" sections of a movie clip or delete the whole movie clip all together.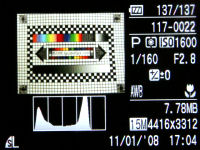 The Canon PowerShot SD990 IS Digital ELPH tells you a LOT about your photos. You can choose to bring up all there shooting details, mode, exposure information (with shutter speed and aperture value) and a histogram as well. An overexposure warning feature makes overexposed areas of your photos "blink" to alert you.
Conclusion
The 14.7 megapixel Canon PowerShot SD990 IS Digital ELPH sounds like the most perfect compact camera ever made. High resolution, good battery life, optical image stabilization and a full manual mode with flash control and manual focus; all packed into a pocketable camera with a solid, stylish design which stands out from the crowd (You really will get weird looks when you hold up a dented-looking camera… but it's all part of the design).
The SD990 IS Digital ELPH is a small camera which is easy to operate and hold. The camera is small and will go anywhere with you, but not tiny or excessively thin – so it is easier to get a steady grip on the camera. You'll get a 2.5 inch LCD display on the back which is both sharp and viewable in all sorts of conditions. In a world of cameras with 3 inch screens and phones with displays even larger than that, the SD990's LCD may seem a little small in comparison but I don't have any issues with that.
For conserving power, being stealthy or feeling retro, there's an optical viewfinder at your disposal on the SD990 IS Digital ELPH – a rarity that's just about gone on compact cameras of this size nowadays. Just be careful not to bump the command dial on the back though.
Manual controls are new to the Digital ELPH line of cameras and the SD990 IS is the first one to feature a full manual mode (Finally, after 8 years!). It would've been good if Canon had included aperture and shutter priority modes here too, since another 15 megapixel camera has them (No, I'm not gonna mention names here, but read the upcoming reviews of two more 14.7 megapixel compacts). The SD990 IS Digital ELPH also has other neat features – some of which are useful, such as iContrast (which works sometimes), a three-tier red-eye removal system, a face self-timer, fancy playback mode and other bells-and-whistles.
I don't have many other qualms with the SD990 IS Digital ELPH, though I must question, what's a 32 MB memory card doing in the same box as a 15 megapixel camera? And there are two main things I would've liked to see here: a HD movie mode, instead of plain Jane VGA, and a wide-angle lens – where the SD990 Digital ELPH's competition are ahead in those areas.
Image quality was good – photos were generally good up till ISO 800 in well-lit conditions, while the most you'd wanna go in low-light would be ISO 400. In fact I used the SD990 Digital ELPH with several other cameras in the 8 to 10 megapixel range and the SD990 was either on par or better than them (pretty impressive for a 14.7 megapixel camera eh?). Colors were accurate and the photos from the camera are sharp. There was perhaps a tad bit of color fringing in photos sometimes in extreme situations, but nothing big to complain about. And the camera's red-eye removal system works; so no rants about red-eye here.
The Canon PowerShot SD990 IS Digital ELPH is a capable high-resolution camera with good image quality, good battery life and lots of features. The amazing performance of the camera's ability at handling big files seals the deal. I'd recommend the SD990 IS Digital ELPH to anyone looking for a massive amount of resolution with good image quality in a small, stylish camera; who doesn't mind having a go at the camera's full manual mode every now and then – just remember to get a big, fast memory card and watch that rear command dial!
If you were looking for a wide-angle lens or shutter/aperture priority modes, then all hope is not lost – you might want to take a look at the competition before coming about your final decision.
What's hot:
Very good image quality, especially from a 14.7 megapixel compact
Stylish and solid design; has an optical viewfinder
Above average battery life
Blazing fast performance
Full manual mode, with flash output control and manual focus
Useful bells-and-whistles: iContrast and Face Self-timer
Effective red-eye removal tool and fancy playback mode
What's not:
Tiny bundled memory card is a joke for a 15 megapixel camera
Average, non-wide angle lens (all the competition have this)
Rear command dial is a little loose and lacks tactile 'clicks'
Lacks aperture/shutter priority modes and HD movie mode
Recommended Accessories:
2 GB or 4 GB high-speed SD/SDHC memory card