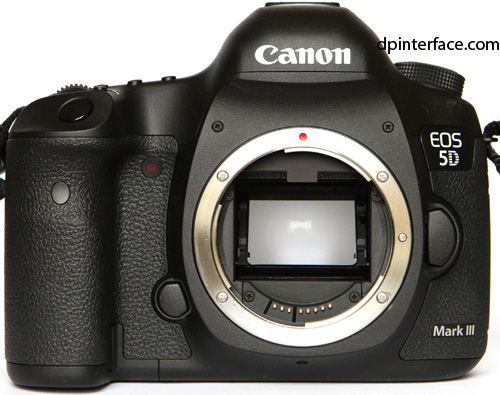 We've just posted our review of the Canon EOS 5D Mark III's menu system. Since the EOS 5D Mark III is such an advanced camera, paired with the introduction of a new menu system starting from 2012 Canon EOS models, the camera's menu system definitely deserves a review of its own. For the review on the camera itself, check out our Canon EOS 5D Mark III Review.

The Canon EOS 5D Mark III is the first Canon EOS digital camera to feature their reworked menu system (technically it appeared first when the EOS 1D X was announced earlier on but that camera won't be available for another few months). Though the menu system on the EOS 5D Mark III looks like something completely new, it's mostly a visual redesign which makes items more accessible (particularly things from the Custom Function area on old cameras) and adds room for a whole section dedicated to the Autofocus on the camera. The multiple tabs for each section have now been consolidated into 6 main tabs (shooting, autofocus, playback, setup, Custom Functions and My Menu) while each tab hosts 3 to 5 sub-tabs.
Functionally, it still works the same as previous cameras: top main dial to move between sub-tabs and back (Quick Control) dial to scroll through individual items. There is no way to jump between main tabs though and we certainly wished there was a way since it would be really convenient to jump, for instance, from the Setup tab to the Autofocus tab within 2 presses/clicks (instead of some 5 to 10 dial clicks). Or if Canon were to stick a dedicated button to access the AF section of the menu, we would be fine with that too.
The Canon EOS 5D Mark III is also the first Canon EOS digital SLR to have a full-featured guide and help system. Within each menu item, there's almost always a prompt to press the INFO button if you need any help. Unlike the short 2 to 3 line tooltips Canon has in the menus of their compact PowerShot and IXUS/ELPH models, the EOS 5D Mark III has full-on descriptions and paragraphs, and in some cases, explanations of what each setting does to affect image output.
EOS 5D Mark III Shooting menu
Shooting menu pages 1 and 2 on the EOS 5D Mark III
The Canon EOS 5D Mark III inherits most of the menu items that EOS camera users would find familiar. However, it does feature a few additions here and there; most notably Mirror Lockup has been moved out from the Custom Functions area and addition of an ISO settings submenu for more control over both manual and auto ISO.
Image quality (Size and compression for JPEGs, RAW size)
Image review – Time the picture is shown on the LCD right after it is taken
Beep
Release shutter without card – Whether you can take photos without any memory card; of course pictures are not saved
Lens aberration correction – Correction for vignetting (peripheral illumination) and color fringing based on lens profile
External Speedlite control – Adjust flash settings for any Canon flashes linked to the camera
Mirror lockup – Finally has its own spot for easy access
ISO speed settings – Adjust Auto ISO behavior and selectable ISO speed range
Auto Lighting Optimizer (Disable, auto, low, medium, high)
White balance setting (Auto, daylight, shade, cloudy, tungsten, fluorescent, flash, custom, color temperature)
Set custom white balance
White balance shift/direction (+/-9 in amber/blue and green/magenta directions and ability to set bracketing in various directions)
Color space (sRGB or Adobe RGB)
ISO setting and Speedlite control submenus on the EOS 5D Mark III
Within the ISO submenu on the EOS 5D Mark III are options for setting selectable ISO speed (this replaces the ISO Expansion option found on previous EOS models) where the default ISO range is 100 – 25,600 but can be expanded to 50 – 102,400, Auto ISO range and minimum shutter speed (Auto or can be manually set anywhere between 1/250 to 1 second).
Shooting menu pages 3 and 4 on the EOS 5D Mark III
The Canon EOS 5D Mark III has more items that used to be buried in Custom Functions on older EOS cameras moved over to its 3rd menu page, including settings for high ISO and long exposure noise reduction and highlight tone priority. The camera also includes options for its new Multiple Exposure and HDR modes (more about this later).
Picture Style (Auto, Standard, Portrait, Landscape, Neutral, Faithful, Monochrome, 3 User Defined modes)
Long exposure noise reduction
High ISO noise reduction
Highlight tone priority – Camera will prioritize preventing bright areas from getting 'blown out' to all white
Dust Delete Data – Set a reference image for dust spots so dust spots can later be digitally removed from photos
Multiple Exposure mode
HDR mode
Live view shooting (Enable/disable)
AF mode for live view (Live mode, face detection, quick mode)
Grid display (Off or select from 3 different grid display patterns; 3 x 3, 6 x 4, 3 x 3 with diagonal lines)
Exposure simulation in live preview
Silent live view shooting (Disable, Mode 1, Mode 2)
Metering timer – Timeout period for the camera to pause metering
The EOS 5D Mark III hosts the standard set of 6 preset Picture Styles and 3 Custom spots (though you can configure sharpness, contrast, saturation/color tone for all 9 settings). It also adds a new Auto Picture Style, first seen in Canon's Rebel series/entry-level EOS digital SLR cameras, where the camera can automatically pick a preset Picture Style based on shooting conditions.
The 4th page of the EOS 5D Mark III is reserved for live view options; some options are replaced in this section when you switch to movie mode. The camera has the usual live AF (face detection works the same way) which uses the slower contrast-detection focusing method, while quick AF makes the camera flip its mirror a lot but is slightly faster in terms of focusing speed. The EOS 5D Mark III also has 2 silent live view modes: Mode 1 introduces a slight delay to when the camera drops the mirror while in Mode 2, the camera 'holds' the mirror up and only drops it when you let go of the shutter button.
Check out some other Canon EOS 5D Mark III related content:
EOS 5D Mark III Autofocus menu
6 autofocus 'case' presets and AI Servo priorities on the EOS 5D Mark III
The Canon EOS 5D Mark III has a brand new section of its new menu system dedicated to Autofocus alone (same with the flagship EOS 1D X). The first part of the autofocus section provides easy access to the most crucial new feature on the camera. The EOS 5D Mark III now hosts 6 autofocus profiles (which Canon calls AF Cases here) with preset names/descriptions but individually adjustable tracking sensitivity, acceleration/deceleration (movement towards/away from camera) tracking and AF point switching (lateral movement across AF area).
Here are the 6 focus profiles on the EOS 5D Mark III:
Case 1: Versatile multi-purpose AF
Case 2: Continue tracking subjects while ignoring obstacles
Case 3: Focus on subjects entering autofocus area
Case 4: Subjects with quick acceleration/deceleration
Case 5: Erratic subjects moving in any direction
Case 6: Subjects that change speed and move erratically
The camera also allows you to set priority of the 1st image and subsequent images taken in AI Servo (tracking AF) mode. You can choose between priority of firing a shot (image release) or locking focus first (focus priority) or a balance of both for the first image. For subsequent images, you can choose between prioritizing frame rate (image speed) or keeping subjects in focus (focus priority).
Lens and focus area related settings on the EOS 5D Mark III
The Canon EOS 5D Mark III also has several other options in pages 3 and 4 of its autofocus menu section.
USM lens electronic MF – Set the behavior of the electronic focus ring found on lenses with electronic rings; presently the only lenses with electronic focus rings are the 2 versions of Canon's EF 85 mm f1.2L lenses
AF assist beam firing – For the autofocus assist light/infrared assist module on external flashes
Priority for taking photos in One-Shot AF mode (Release vs focus priority)
Lens drive when AF impossible – Whether the camera will continually try to focus when it didn't lock focus the first time
Selectable AF points
Selectable AF area
AF area selection method – Use either the top button or dial to switch between various AF area modes shown below
Orientation linked AF point – Whether the camera switches focus points when it detects a change between landscape/portrait orientations
Selectable AF points and AF area on the EOS 5D Mark III
You can configure selectable AF points (61 point, only the 41 cross type points, 15 points or 9 points) and selectable AF area:
Spot AF (smaller AF point than standard single-point)
Single AF point (default, cannot be unselected)
Expansion (the camera will evaluate 4 AF points directly next to the main selected point)
Surround (the camera will evaluate the 8 AF points around the selected point)
AF Zone (you can select one of several AF point clusters and the camera will auto select any one/few of them within it)
All AF points available
Other AF options and AF point display on the EOS 5D Mark III
The last page of the EOS 5D Mark III's AF section covers the direction that you can choose AF points, AF point display during autofocus, viewfinder display illumination and AF Microadjustment. We've already seen the AF micro-adjustment on various Canon EOS cameras so far and it allows you to correct back/front focusing lenses by lens model or in a single generalized direction for all lenses (if the body is front/back focusing).
The more interesting option is the AF point display option. By default, it's set to showing just the selected AF point(s) as seen on other EOS cameras, but you can also show them all the time, make them slowly become visible once focus is locked or during focusing or disable showing them altogether.
Check out some other Canon EOS 5D Mark III related content:
EOS 5D Mark III Setup menu
Setup menu on the EOS 5D Mark III
Despite a bunch of options being grouped under the Setup section of the menu, the EOS 5D Mark III actually has a Setup menu which organizes items in sectioned lists. The first page allows you to do things pertaining to setting up the memory cards on the camera. You can select whether photos and video are written to one memory card at a time or both cards (for backup purposes) as well as setup file names for images (a first for a non-1D series camera).
The second page has settings for general usage of the EOS 5D Mark III, including auto power off time, LCD brightness, time and date, language and toggling a superimposed grid shown in the viewfinder.
Other setup options on the EOS 5D Mark III
The next 2 pages allow you to access battery information, sensor cleaning settings, registering settings to the 3 custom mode dial spots on the camera, reset camera settings, setup copyright information that's embedded into photos and update firmware of the camera. You can also configure what sort of information the camera cycles through when the INFO button is pressed and what the RATE button does.
EOS 5D Mark III Custom Function menu
Custom functions for exposure and operation on the EOS 5D Mark III
The Canon EOS 5D Mark III has a new 'open' Custom Function menu which saves you a button press from diving into the Custom Function menu sections on older EOS models. There's a page dedicated to exposure settings (exposure and ISO increments, bracketing sequence, number of shots and auto cancel and exposure safety shift. On the display and operation side, you can configure viewfinder warnings, live view display, dial direction for settings adjustment, multi-function lock and customize controls on the camera.
Configuring viewfinder warnings and multi-function lock on the EOS 5D Mark III
New to the Canon EOS 5D Mark III is an in-viewfinder warning system. When set, the camera will display an exclamation mark icon in the bottom right of the viewfinder to warn you. This is to prevent unintentionally taking pictures using the wrong settings. You can choose to enable warnings when shooting in monochrome, with white balance corrected, with one-touch image quality (ie temporary change of image resolution, usually with RAW included), when using an 'expanded' ISO setting (50, 51,200 or 102,400) and when spot metering is used.
The warning system is definitely appreciated, though it isn't exactly super helpful since the warning is just a generic blinking icon and the camera doesn't tell you in specific what it's warning you about.
The other new function is the Multi Function Lock option. This makes the Lock switch, previously used only to disable the Quick Control dial, more useful since you can now use it to disable the main dial, Quick Control Dial, multi controller joystick or all three if you wished.
Configuring buttons and controls on the EOS 5D Mark III
Canon first introduced this one-stop control adjustment menu on the EOS 7D in 2009 and it's been appearing on higher-end EOS models ever since. The page looks exactly the same over here; you can configure the same 10 buttons and dials (one button is only found on super-telephoto lenses) on this camera except the EOS 5D Mark III adds a lot more functions and options for certain buttons. There are 13 things you can assign to the DOF preview button for instance, whereas on the EOS 7D, there are only 6 functions to choose from for this same button.
Other parts of the Custom Function menu on the EOS 5D Mark III
The last part of the Custom Function menu includes options for adding cropping info to photos and how the Erase function works on the camera.
EOS 5D Mark III My Menu
The last part of the menu system is the Favorites section (My Menu) where the EOS 5D Mark III allows you to pick and arrange any 6 menu items from the previous menus for quick access over on this page.
Conclusion
The Canon EOS 5D Mark III has a new menu system and is likely the first of many upcoming Canon EOS cameras to sport this improved interface. The menu features improved visuals and organization while functionally similar to the old menu system, making it intuitive and user-friendly.
Gone is the 'menu within a menu' system of the old interface (particularly noticeable with the Custom Functions area), and all menu items are more accessible on the EOS 5D Mark III. Another improvement comes in the form of a built-in guide system that allows you to bring up very detailed descriptions of menu items and options so you don't need to lug around the user's manual for quick reference.
We liked the new menu system that Canon has introduced here on the EOS 5D Mark III since it's a lot more organized and, consequently, smoother to use. Our only mini rant is we wished there was a way to jump quickly between main tabs in the menu.