By popular demand of our readers, here's my review of the Sony Cyber-shot W620, a compact and affordable digital camera model launched just a month ago at CES 2012. The Cyber-shot W620 has 14 megapixels, 5X optical zoom, 720p movie mode and current price tag of under $120. Check out the Sony Cyber-shot W620 photo gallery to view sample pictures taken using the camera.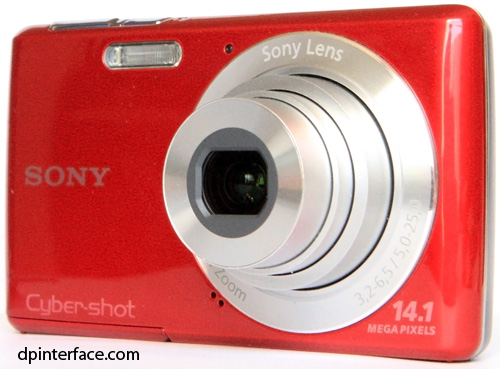 The Sony Cyber-shot W620 is one of three new cameras launched by Sony at the Consumer Electronics Show in Las Vegas last month. The camera is the middle model, sporting a 14 megapixel CCD image sensor, 5X optical zoom, 2.7 inch screen, point-and-shoot controls (basically automatic shooting) and 720p Standard HD movie mode. Ready to find out more about the camera? Let's go.
Since the 2012 Sony Cyber-shot W models are so similar, I've made this handy comparison of the three models that you can check out.
In the camera box
The Sony Cyber-shot W620 comes with a pretty decent bundle for such an affordably priced camera:
Sony Cyber-shot W620 camera
NP-BN lithium-ion rechargeable battery
Standalone battery charger
Wrist strap
USB cable
The Sony Cyber-shot W620 has a memory card slot that supports both SD/SDHC cards as well as Sony's proprietary Memory Stick Duo format. I would recommend sticking to the former for better speeds and lower prices; not to mention compatibility with a wide range of electronics. You could probably use your own SD/SDHC cards if you have some lying around; the Sony W620 does not show a significant performance boost to warrant getting its own high-speed card. However, if you're looking to get a new card anyway, 8 GB SDHC cards are pretty affordable these days and a good place to start.
The Sony W620 uses the Sony NP-BN lithium-ion battery and I was pleasantly surprised when I discovered it comes with a dedicated battery charger: camera makers have been shifting towards USB charging on a large scale since 2011, Sony themselves do not include standalone chargers with their pricier cameras (which is odd). The advantage of a battery charger compared to USB charging is that you can charge a spare battery while using the camera outside; your camera wouldn't be as useful if it had to be stuck to a wall socket or computer to charge the battery within. The Sony Cyber-shot W620 is rated to a decent 220 shots per charge, which is just average.
Accessories
There aren't any accessories available for the Sony W620 except replacement chargers and cables, as well as various camera cases. There is also Sony's universal GPS attachment accessory available.
Camera Tour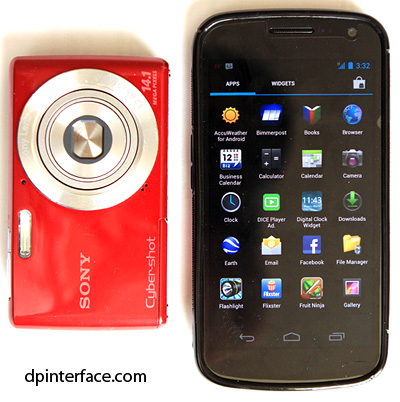 Sony Cyber-shot W620 compared to the Samsung Galaxy Nexus
The Sony Cyber-shot W620 is a compact and pocketable camera. It measures 97.7 x 56.2 x 19.8 mm (3.9 x 2.3 x 0.8 inches) and weighs just 116 grams (4.1 ounces) with its battery and memory card. The camera is definitely something you can easily fit in your pocket or purse to bring everywhere.
The Sony W620 doesn't have the most fantastic build quality but it will hold up well for an everyday camera. Ergonomics are good and the camera is easy to use, though its plastic buttons feel cheap and the power button at the top of the camera sticks out too much (this makes the camera come on far too easily by accident in pockets and much).
The Sony Cyber-shot W620 comes in your choice of three colors: silver, black and this glossy red Sony W620 right here.
The Sony Cyber-shot W620 sports a 5X optical zoom lens which covers a range of 28 mm to 140 mm. 28 mm isn't too wide nowadays with more cameras sporting "ultra-wide" 24 mm lenses, but it should be more than enough for camera shoppers on a shoe string budget. The lens has an aperture range of f3.2 to f6.5 which is quite a bit dimmer than average. The Sony W620 lacks real image stabilization to compensate for camera shake but gives you the option to boost ISO instead, not quite close or as desirable as real stabilization.
In comparison, the cheaper Sony W610 has a smaller 4X zoom lens and the slightly pricier Sony W650 also has 5X zoom, but uses a different wider lens. And if you want optical image stabilization, you will have to step up to the Sony Cyber-shot W650.
Other features on the front of the Sony Cyber-shot W620 include holes for its mono microphone, focus assist/self-timer light and flash. The flash of the camera isn't very powerful, reaching a range of 3 meters (10 feet) at wide-angle and just 1.5 meters (5 feet) at maximum zoom.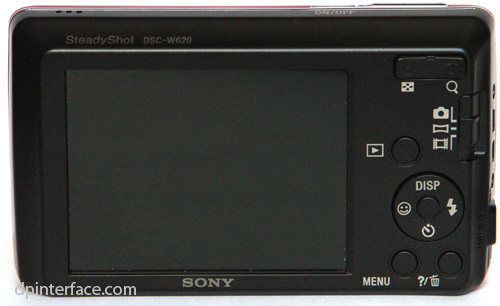 The Sony Cyber-shot W620 has a small-ish display which measures just 2.7 inches diagonally. The display has a resolution of 230,000 dots which is just adequate, but the low resolution does show if you're used to seeing high end smartphone displays. The LCD on the Sony W620 has decent visibility in low-light while outdoor visibility wasn't that great (you could still somewhat make out the display image though).
To the right side of the Sony W620 are all its buttons and controls. As previously mentioned, the buttons do feel a bit 'cheap' and plasticky, especially the navigation pad. To the upper right side are the zoom controller (there are just 10 steps through the Sony W620's 5X zoom range so it's difficult if you want precise zooming) and mode switch that moves you between shooting/scene modes, sweep panorama and movie modes.
The Sony W620 finally sports a Sweep Panorama mode, something previously reserved for more expensive Cyber-shot models, where the camera can make a panorama up to 360 degrees wide as you pan the camera from side-to-side.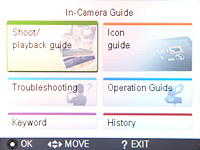 In-camera guide on the Sony W620
There are three buttons around the navigation pad: playback, menu and a help button that brings up tips and in-camera guide to help you with shooting; this same button is also used to delete photos in playback. The camera has a 5-way navigation pad that gives you access to a few things:
Up – Display (Toggle information shown on the LCD)
Down – Self-timer mode (Off, 2 or 10 seconds, portrait 1 and 2)
Left – Smile detection
Right – Flash setting (Auto, on, off, slow sync)
Center – OK/Focus tracking
The Sony Cyber-shot W620 has a portrait self-timer feature where the camera can start counting down and taking pictures when it detects one or two (your call) new faces entering the frame.
Taking pictures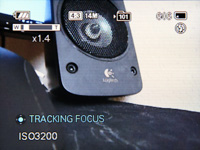 Main shooting screen on the Sony W620
The Sony Cyber-shot W620 shows a decent amount of information on its screen; there's a zoom indicator, simple battery indicator and shooting details, but no live histogram.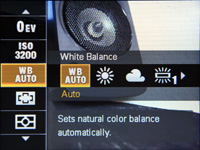 Menu options on the Sony W620
The Sony Cyber-shot W620 has the standard-issue modern Sony menu system with several options. The Sony W620 allows you to access other shooting modes (Intelligent Auto, Program mode, Picture Effects and scene modes), Easy mode (reduces the number of options and enlarges icons to make camera use as straightforward as possible), white balance (no custom white balance option here), metering mode and autofocus area. There's also the usual ISO, exposure compensation and other settings.
The Sony W620 has a digital image stabilization feature which is no substitute for actual image stabilization. The camera detects movement and boosts ISO as needed; something which you can actually do yourself by adjusting ISO speed. The Sony W620's Intelligent Auto mode can automatically detect shooting conditions and pick a scene mode automatically for you.
A dynamic range optimization (DRO) setting can help improve contrast and saturation of photos by boosting brightness in dark areas while trying to prevent bright areas from being blown out. This system isn't as heavy handed as adjusting brightness and contrast yourself in Photoshop, so you may notice just a slight improvement in photos. The two main compromises include higher noise levels and longer delays between taking photos while the camera does its processing.
Macro and Scene modes
The Sony Cyber-shot W620 has a paltry macro mode. The Sony W620 allows you to go as close as 10 cm (4 inches) to your subject at wide-angle and a whopping 100 cm (3.3 feet) at maximum zoom; neither distance is particularly close and there are plenty of other cameras out there that can go in closer.
The Sony W620 has a bunch of scene modes, though not as many as some of Sony's other cameras: high sensitivity, soft snap, soft skin, landscape, night portrait, night scene, gourmet, beach, snow and pet mode.