Pentax announced a brand new digital SLR, a new SLR lens and two new Optio compact cameras today. They're all pretty interesting if you asked me – the Pentax K-r digital SLR has a feature set similar to mid-range class SLRs while sporting a more affordable 'entry-level' price. The Optio RZ10 is Pentax's first attempt at the compact super-zoom camera market (As far as my memory can recall) while the entry-level Optio RS1000 introduces interchangeable faceplates (just like what you could do with some Nokia phones from ages ago).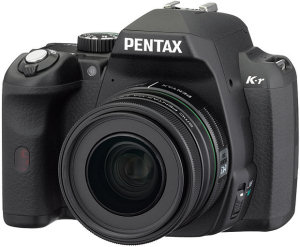 Pentax K-r
(Entry-level digital SLR camera)
12.4 effective megapixels (APS-C CMOS sensor, 1.5X crop)
Pentax lens mount (1.5X crop factor)
Sensor-shift image stabilization
3 inch LCD (921,000 pixels)
ISO speed range of 100 – 25600
0.85X optical viewfinder magnification with 96% frame coverage
6 FPS continuous shooting mode (12 RAW or 25 JPEG)
Built-in wireless flash control
Full manual controls with RAW mode and live view
720p HD (1280 x 720) movie mode with sound
Supports IrSimple infrared transfer and has various image effects you can play around with
SD/SDHC memory card slot
Uses a lithium-ion battery; can take 4 AA batteries using optional adapter
Available in October for $800 (body only), $850 (with 18-55 mm kit lens), $900 with (18-55 mm and 50-200 mm lenses) and $1000 (with 18-55 mm and 55-300 mm lenses)
Comes in your choice of black, white or red
Pentax also introduced a new lens today, which is the 35 mm f2.4 AL prime lens. That'll go for $220 once it becomes available next month.
Pentax Optio RZ10
(Compact super-zoom camera)
14 effective megapixels
28 – 280 mm (f3.2 – f5.9) 10X optical zoom lens
Sensor-shift image stabilization
2.7 inch LCD (230,000 pixels)
No manual controls (just point-and-shoot operation with scene modes)
720p HD (1280 x 720) 30 FPS movie mode with sound
Takes SD/SDHC memory cards
Uses a lithium-ion battery
Available in October for $220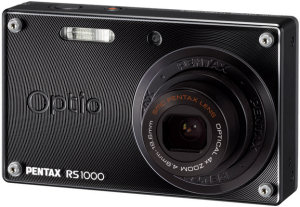 Pentax Optio RS1000
(Compact camera)
14 effective megapixels
28 – 110 mm (f3.2 – f5.9) 4X optical zoom lens
Interchangeable faceplates/skins, camera is bundled with 11 of them, and you can custom-make your own
3.0 inch LCD (230,000 pixels)
No manual controls (just point-and-shoot operation with scene modes)
In-camera panorama mode
720p HD (1280 x 720) 30 FPS movie mode with sound
Takes SD/SDHC memory cards
Uses a lithium-ion battery
Available in October for $150