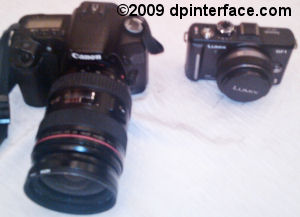 I recently attended a media event with Panasonic… which turned out to be a surprise (to me, at least) event unveiling their Lumix GF1 Micro Four Thirds camera. Yes, in addition to press releases and speeches by important people, and the usual media affair – they had several live, real, working Panasonic Lumix GF1 models there (in addition to 'people' runway models). The camera itself will be available to the masses next month (October)… so meanwhile, here's a teaser picture of how compact the camera is versus a conventional digital SLR.
On the right is a full-sized mid-range digital SLR with a nice lens slapped on, a 24-70 mm f2.8. On the left, is Panasonic's Lumix GF1 which is really petite (that's Panasonic's new 20 mm pancake lens attached, by the way). Without a lens attached, the Panasonic Lumix GF1 is not much larger than the Lumix LX3 – so it's understandably why people looking for an interchangeable lens camera that they can easily bring along anywhere are overly-excited about the Lumix GF1 (myself included).
More on the Panasonic Lumix GF1 later this week.