Here's my review of the Sony Cyber-Shot T700, an ultra-thin camera with 10 megapixels, 4X optical zoom and a huge 3.5 inch touchscreen display. Hit the link for the full review of the camera.
DPInterface Sony Cyber-Shot T700 Review
Brad Soo – February 25th, 2009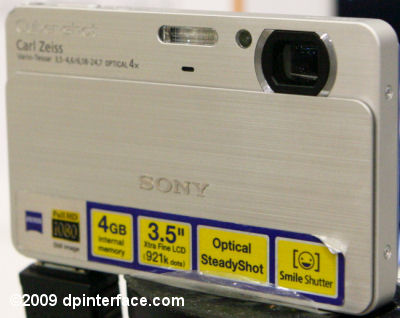 The Sony Cyber-shot T700 is an ultra-thin camera which packs 10 megapixels, 4X optical zoom and a huge 3.5 inch touchscreen display. With a metal design that comes in three colors (including pink), I'm also pretty sure it can double as a fashion accessory. But right now, we're gonna see how the T700 performs as a picture-taking device so read on…
Size and Weight
The Sony Cyber-shot T700 measures 95.0 x 58.4 x 16.4 mm which is very small and thin for a digital camera. The camera weighs 135 grams empty, without a battery or memory card. I believe you can squeeze the camera even into the tightest of pockets.
Box packaging
In the box, the Sony Cyber-shot T700 comes with the usual camera box items plus a "station plate" used for connecting the camera to the optional dock accessory:
NP-BD1 Rechargeable lithium-ion battery
Battery charger
Wrist strap
Paint pen (a fancy name for a touchscreen stylus)
Station plate F
Multi-connector cable (for USB and A/V Out)
Camera software CD (Picture Motion Browser)
User's manual
The Sony Cyber-Shot T700 has 4 GB of built-in memory which is a LOT more than the traditional several MB bundled with other cameras. With so much internal memory, you probably don't need to buy a memory card at all with the camera but in case you feel like it, the T700 has a Memory Stick Duo memory card slot. You probably don't need a high-speed card though, since there's not much of a difference in terms of performance when using one.
The Cyber-Shot T700 shares the same NP-BD1 rechargeable lithium-ion battery as other recent T-series cameras and the camera is rated to 200 shots per charge (CIPA Standard) which hovers a tad below average in the class of ultra-compact cameras. Do take into account however, that the T700 has a huge 3.5 inch LCD versus typical 2.7 or 3 inch displays on other cameras.
Accessories
There are several accessories available to the Sony Cyber-shot T700 which include an AC adapter, camera cases and high definition connectivity cable. Oh, there's a camera dock too.
Camera Tour
The Cyber-shot T700 is one of Sony's slimmer cameras, but nevertheless, it shares the same design elements as other T-series cameras – internal zoom lens in front, big display on the back and of course that large sliding cover. The camera is solidly built, with a nice brushed metal finish on the front. The Sony Cyber-shot T700 comes in your choice of silver, black or pink. Combined with the T700's appealing metal design, I'm sure the pink version will sell very well.
In fact, the T700 looks a whole lot like its sibling, the T77. The T77 comes in 5 colors, has a smaller LCD and weaker flash. The T700 you see here is the larger screen model.
Despite the stylish design, I'm disappointed that ergonomics are still as horrible as ever. The huge screen on the back means "finger space" is limited to the edges of the camera and the zoom controller is tiny – REALLY TINY as you'll see later. The touchscreen isn't always responsive either and will end up covered in fingerprints from the moment you use the camera. And one more thing, while trying to find some place to hold the camera, try not to block the lens with your fingers.
The Sony Cyber-shot T700 has a Carl Zeiss branded 4X zoom lens which is a decent step up from 3X lenses on older cameras. It's equivalent to 35 – 140 mm and has an aperture range of f3.5 – f4.6.The lens features Sony's Super Steady Shot optical image stabilization system which helps reduce blur caused by shaky hands. You'll probably notice that this lens' workings are all internal as well – it doesn't extend from the camera at all.
To the left of the T700's optical zoom lens is the autofocus assist/self-timer countdown lamp, flash unit and microphone. The flash is surprisingly powerful on this small camera; it covers a range of 8 cm to 4.3 m at wide-angle and 50 cm to 3.4 m at telephoto.
There's a big sliding cover on the front of the Sony T700 which serves to protect the lens and all when the camera is off as well as acting as a power switch. Sliding the cover down turns on the camera; slide it up to turn it off.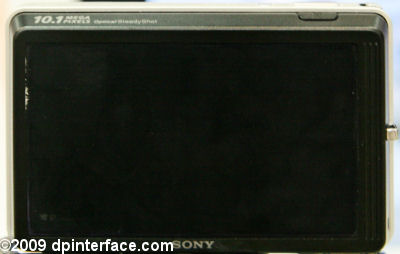 On the back of the camera is the massive 3.5 inch widescreen LCD I was speaking of. It's a touchscreen (so everything is operated by touch) and has a mind boggling 921,600 pixels – four times the resolution of a traditional LCD. Low-light visibility was good while outdoors, the LCD was just average.
My complaint about the touchscreen is that there's barely any space for your fingers on the back and the fact it tends to pick up a lot of fingerprints (whether you use the included stylus or not, your finger WILL eventually make contact with the screen). The screen also isn't very sensitive – you'll have to press the icons with quite a bit of pressure and after that comes a very brief but noticeable wait for the option to appear on-screen.
Above the LCD, towards the right side is the camera's playback button – I'm mentioning it now since it's not very visible in the next photo in our T700 camera tour.

At the top of the Cyber-shot T700 are three more things: the power and shutter buttons and the ridiculously tiny zoom controller at the very right edge of the camera.

Nothing to see here…
Over here is the camera's wrist strap loop and speaker towards the bottom edge of the camera.
At the bottom of the camera are the memory card/battery compartment, tripod mount as well as a single port for connecting USB, A/V Out and the optional camera dock (the Sony T700 supports USB 2.0 High-speed).
Taking pictures (Shooting mode)
When in shooting mode, the Sony Cyber-shot T700 displays exposure info, shooting details, a battery indicator and a live histogram around the screen image. An on-screen zoom indicator also appears when you use the zoom controller. Due to the widescreen LCD, there will be black borders on the sides of the display unless you select the widescreen image option.
There are several camera settings that line the sides of the T700's screen, which at first seem intuitive but changing a setting needs at least two to three "taps" (selecting the item, changing its setting, confirming with an "ok"), IF the LCD feels like responding to your taps. And whether you use the stylus or your fingers, you will have to readjust the camera and use both hands anyway (one hand to hold, one to tap the screen). Anyway, here are the items which surround the LCD image:
Smile shutter (on/off)
Self-timer (Off, 2 seconds, 10 seconds)
Shooting mode (Auto, program mode, twilight, twilight portrait, soft snap, landscape, beach, snow, fireworks, high speed shutter, high sensitivity, underwater, gourmet)
Autofocus mode (Multiple, center weighted, spot, focus preset)
Metering mode (Multi pattern, center weighted, spot)
ISO sensitivity (Auto, 80, 100, 200, 400, 800, 1600, 3200)
Exposure compensation (+/-2 EV in 1/3 step increments)
Macro mode
Flash setting (Auto, on, slow sync, off)
The T700 has a smile shutter feature which can only be used in Auto mode. When it's activated, all you got to do is press the shutter button and the camera will wait until it sees a smile. As long as there's a smile detected, the camera will take pictures until it fills up the internal memory/memory card! You can change the "smile sensitivity" level (low, medium, high) which sets what the camera defines as a smile (ie slight grin, a wide smile or a big laugh-out-loud smile).
At the three corners of the LCD are the HOME, MENU and DISPlay icons. The display icon toggles a screen where you can select what you want to see on-screen.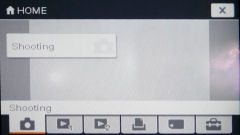 The HOME icon brings up the notoriously confusing Home menu. A rocket scientist or even Albert Einstein wouldn't be able to figure the logic behind the HOME menu. Some items repeat the options in the "normal", some take you to the same places that the normal Menu can take you (ie Setup area) while certain items just take you absolutely nowhere (ie the "Shooting" item in the "Shooting" tab takes you back to the main display).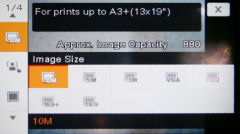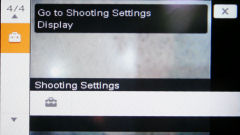 Finally is the MENU icon which brings up the camera's conventional menu system, whose flaw is the number of taps to reach an item and change its setting. Here are some notable the settings you can change:
Image size (10 MP, 5 MP, 3 MP, VGA, 16:9 widescreen, 3:2 mode)
Face detection priority (Adult priority, child priority, auto)
White balance (Auto, daylight, cloudy, fluorescent 1,2 & 3, incandescent, flash)
Flash power (Low, standard, high)
Dynamic range optimization (Boosts the brightness of dark areas in photos)
Optical image stabilization mode
Focus preset (1, 3, 7 meters, infinity)
Face detection
The Sony T700 has a decent macro mode whose minimum focus distance is 8 cm at wide-angle and 50 cm at telephoto. That's not as close as cameras which can do 2 or 5 cm in macro mode.
Video Recording
Unlike its higher end sibling, the T500 which has 720p HD recording with stereo sound, the Sony Cyber-Shot T700 has Sony's regular old VGA (640 x 480) movie mode which records at 30 FPS with mono sound. You can opt (but I would strongly discourage doing it) to lower the frame rate to 16.6 FPS or reduce resolution to QVGA (320 x 240) while recording at a very choppy 8.3 FPS. Movies are recorded in MPEG format and there's a 10 minute per clip limitation.
On the good side, both optical image stabilization and optical zoom are usable while recording movies. The only thing about the T700's movie mode is that movies are limited to just 10 minutes per clip. 10 minute per clip limitations aside, the Sony T700 produces good quality video and audio.
Performance
All performance testing of the Sony Cyber-Shot T700 was performed using a 1 GB SanDisk Ultra II Memory Stick PRO Duo card.
The Sony Cyber-Shot T700 boots up one second after sliding open its cover on the front. Autofocus was fast in general, the T700 takes about 0.2 to 0.7 seconds to focus, up to a second in low-light.
Shot-to-shot speed – 1 shot every 2.0 seconds, fast
Flash recharge time using a fully charged battery – 4 seconds on average
The Sony Cyber-shot T700 has a decent full-resolution continuous shooting mode which snaps at 1.5 frames per second for about fifteen photos before it started slowing down. The zoom lens moves silently from wide-angle to telephoto in 2 seconds. With no lens to retract, the T700 managed to power down instantly (just close the sliding lens cover). As of whole, the Cyber-shot T700 was a fairly quick performing camera but the burst mode could certainly be improved.
Image Quality
ISO 80 shots are fairly clean. ISO 100 and ISO 200 shots are do start displaying a little noise but this shouldn't be an issue for most people. Details start to get smudged away at ISO 400 and by ISO 800, things become unusable. You can probably forget using any settings higher than ISO 800 if you're looking for image quality that's usable.
The Cyber-shot T700 produced mild barrel distortion and some pincushion distortion to a lesser degree. A little color fringing (chromatic aberration) and redeye were both problems as well (though you can remove the latter in playback).
The Sony Cyber-shot T700 produced decent image quality (aka nothing to shout about) with several issues. There are certainly other compact cameras out there which take better pictures than this one.
Playback
The Sony Cyber-Shot T700 has a fancy playback mode. You can browse through pictures and play back video with sound, all via the touchscreen of course. Photos can be viewed one-by-one, by date in calendar view, by favorites or by folder. Functions include print marking, deletion, playback zoom, image protection and rotation.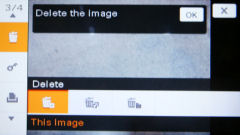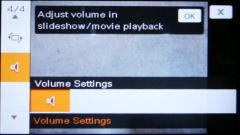 As for the fancier features, you can even "retouch" photos and apply various effects to them (including drawing on photos via the included "Paint Pen" aka stylus) as well as use the nice slideshow feature to automatically play back with transition effects and background music.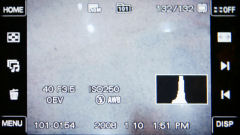 The Sony Cyber-Shot T700 shows you exposure information, shooting details and a histogram in playback mode.
Conclusion
The Sony Cyber-shot T700 is an ultra-thin camera with a big 3.5 inch touchscreen. While the screen is big with good visibility, it isn't very responsive and the touch-based menu system makes it hard to access some settings. The menu system isn't that intuitive either; having two (or three at times) different menu systems which occasionally link up to the same area or do nothing at all.
As expected from such a thin and stylish camera, the Cyber-shot T700 is obviously meant to be a fashion accessory and strictly point-and-shoot. There aren't any manual controls on this camera… however, there's a ton of built-in memory (4 GB to be exact) and many fancy playback features (gimmicky too) such as the ability to draw on photos via the touchscreen. Movie mode is just so-so; with the camera able to record VGA movies with mono sound for 10 minutes per movie clip. I would've expected something better from such an expensive camera. Battery life is below average too.
Despite its good looks and really thin design, the Cyber-shot T700 isn't a very good camera in terms of picture taking abilities and value. Image quality is just average and the camera sacrifices ergonomics and practicality. If you're looking for a camera which can take good pictures and functions like a normal camera (instead of a fiddly-to-use, beauty without brains kind of electronic device), then there are plenty of options out there, and they cost less than the Cyber-shot T700.
What's hot:
So-so image quality (with some issues)
Very thin design with 4X zoom lens and optical image stabilization
Huge touchscreen LCD with good visibility
Fast performance
Massive amount of internal memory (4 GB)
Fancy playback features
What's not:
Color fringing and some edge softness
No manual controls
Below average battery life
Bad ergonomics; little place to hold the camera, LCD attracts fingerprints, tiny zoom controller
Touchscreen interface needs hard presses and too many presses to reach certain settings
Unintuitive and confusing menu and "home menu" system
10 minute per movie clip limitation; highest resolution is only VGA
Recommended Accessories:
2 GB Memory Stick PRO Duo memory card